Offline education process will take place only if there are protective facilities in schools and universities. In addition, the final decision on the format of education is made by regional civil-military administrations together with the students' parents. If parents disagree with offline study, they may choose an online mode, an individual schedule, or transfer their child to home study.
A number of Russian media spread the news that President Volodymyr Zelensky allegedly "ordered" all schools and universities in Ukraine to open on September 1. "They urge parents to prepare their children for offline education," the media claim. Moreover, these articles report that parents unsuccessfully tried to oppose such a decision, and even put up posters asking not to expose their children to danger.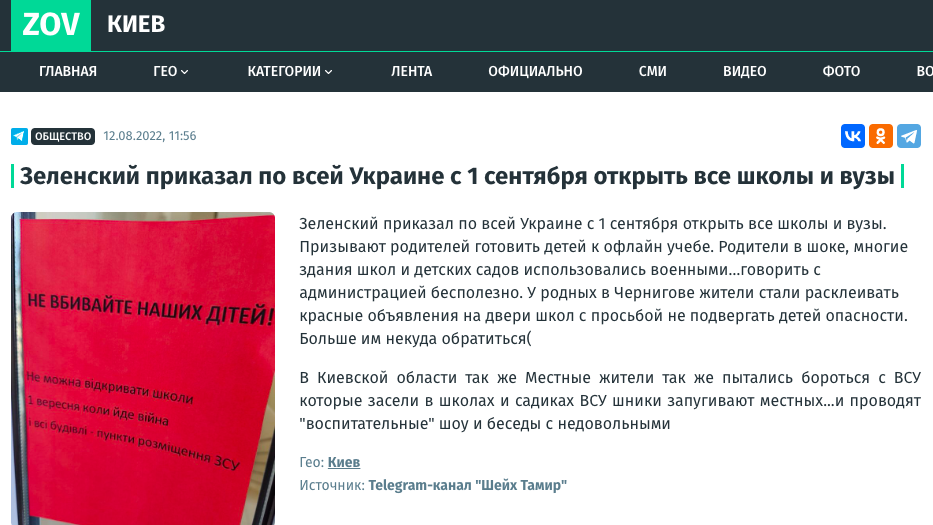 Such reports are just one of many disinformation threads spread by Russian propaganda. On the eve of the new academic year, Russia uses this topic to increase panic among Ukrainians. In reality, there is no mandatory offline education in Ukraine. It is also worth noting that Ukraine's President is not responsible for education policy; the regional government and local authorities are. The very fact of referring to the President with regards to alleged education decisions indicates how unreliable this news is.
According to a Ukrainian Cabinet of Ministers decree from June 24, the academic year in each region will be organized in accordance with the security situation in the area and the availability of protective facilities. The education process will be organized in full-time, online and mixed formats, depending on individual conditions in the region and in each education institution. This is reported by the Ukrainian Ministry of Education and Science. Education Minister Serhiy Shkarlet added that in addition to the decision of the military-civilian administrations on the format of education, the choice is also up to the students' parents.
"If parents do not agree with the full-time format of education, they can choose a distance learning format or an individual schedule, or transfer the child to an external or home format of education. For students whose parents choose online learning, the institution may organize separate virtual classes. No child will be out of the educational process" says Shkarlet.
Schools in Donetsk, Luhansk, Kharkiv and Kherson regions will work remotely. Full-time education institutions will not operate in the Zaporizhzhia and Odesa regions, the Ministry adds. In 17 regions schools will work in all of the above formats.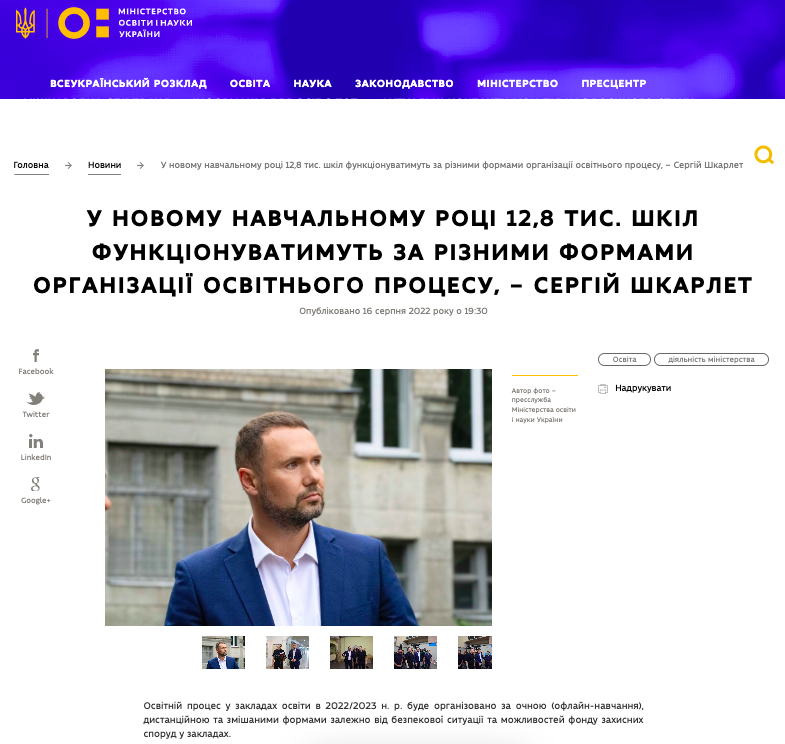 As for the parental "protests" in Chernihiv, reported by pro-Kremlin resources, not a single local media outlet reported on them. There is no information about it in local social media groups either. The posters that were allegedly put up around schools by local parents contain misspellings and push a typical Russian propaganda narrative, that all schools supposedly function as Ukrainian army bases. Such fakes originate from pro-Kremlin Telegram channels.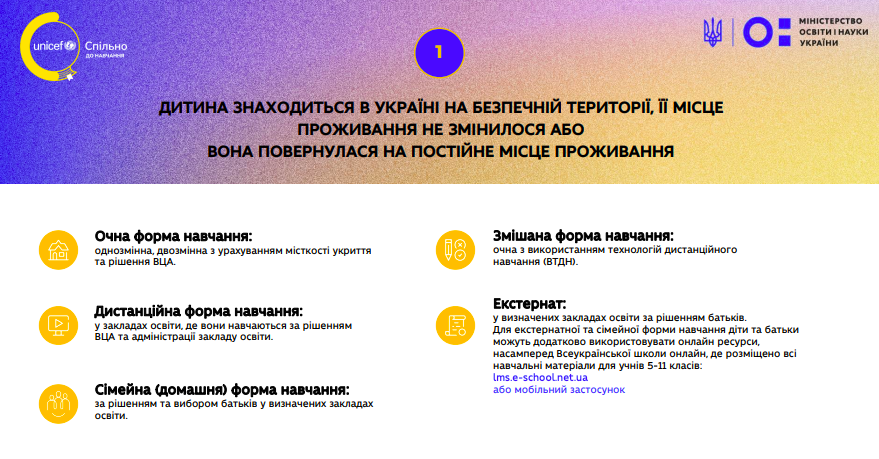 In Chernihiv, as elsewhere in Ukraine, the format of education is chosen together with parents. So, in the city 57% of parents chose virtual learning, and 43% opted in favor of going to school in person. According to the Chernihiv City Council, the main condition for full-time education is the mandatory availability of equipped shelters.