From the beginning of Russian's invasion of Ukraine, it is Russian occupying troops who relentlessly shell residential neighborhoods and civilians in the Donbas region. This has been documented by Ukrainian law enforcement agencies and several independent organizations.
Russian media and social media users are actively posting an interview with French journalist Anne Laure Bonnell which was broadcast on the French Fox-style news network CNews, in which she claims that the Ukrainian military is allegedly deliberately bombing Donbas civilians with Grad missiles. "Ukrainian authorities have killed 13,000 people in the region in eight years. This suits the Ukrainian government" Bonnell said.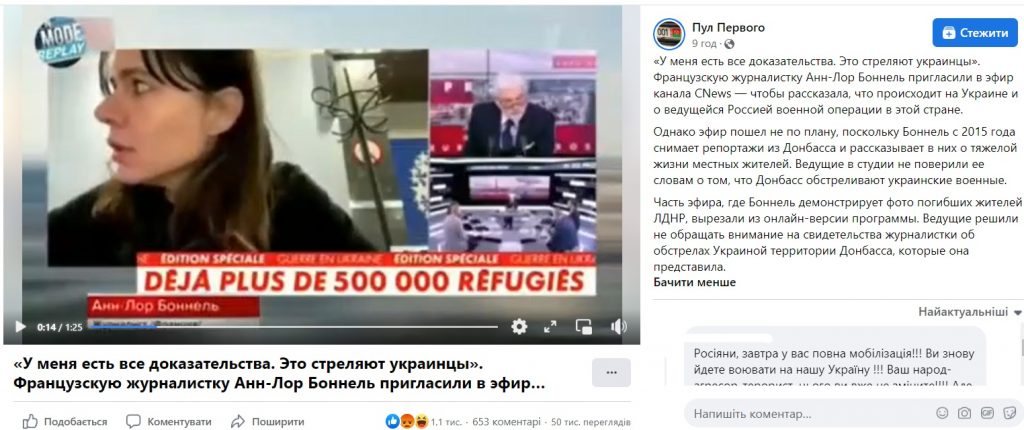 For years Russian propaganda has been constructing a narrative claiming that Ukraine was oppressing the rights of its Russian-speaking population and that there is a civil war in Donbas. Bonnell's claim that the Ukrainian government is bombing the Russian speaking population is part of this narrative.
StopFake has been debunking this type of information in stories such as Civil war and the help of big brother: leading fakes about the war in Donbas and why the language issue was not the reason for the war in Donbas.
According to the UN High Commissioner for Human Rights from April 3, 2014 through July 2021 some 13,200-13,400 people were killed as a result of the war in Donbas, at least 3,391 civilians, approximately 4,200 Ukrainian military and 5,800 Russian separatist militants. International organizations also point to the significant depopulation of the region because of the war. Based on the rates of drinking water and bread consumption, UN experts estimate the population of the Donetsk and Luhansk regions occupied by Russia to be approximately 2.8 million people. As Ukraine's Defense Minister Oleksiy Reznikov noted back in 2020, prior to the beginning of the war in 2014, some five million people lived in the Donetsk region, about two million in the Luhansk province. Since 2014 some have moved to Russia, some to Crimea, many moved to Ukraine controlled territory, some to other parts of the world. The exact points of destination for all refugees and displaced persons are not known. What is obvious is that in seven years the population of the Donbas region has halved, Reznikov pointed out.
The responsibility for the numerous civilian casualties and the humanitarian catastrophe in the region lies on the Russian Federation and the self-proclaimed Donetsk and Luhansk People's Republics (DPR, LPR) and the militant groups they control. Numerous investigations and reports prove that Russia is constantly transferring military equipment to the DPR and LPR. The following investigations and reports document the presence of Russian troops and materiel in Ukraine:
In November 2021 Conflict Armament Research, a UK based investigative organization that tracks the supply of conventional weapons and ammunition in contemporary armed conflicts published its report Weapons of the War in Ukraine listing weapons seized from the DPR and LPR armed groups. Of the nearly 5,000 munitions documented by the group between 2018 and 2021, the vast majority were manufactured in the Russian Federation, 41 of the 43 pieces of military equipment the group documented were made in Russia.
StopFake has refuted countless Russian disinformation narratives claiming that Ukrainian military are shelling civilians in the occupied territories, Ukraine's Joint Military Forces have always said that they do not shell civilians and residential areas. Both the Ukrainian Defense Ministry and the international investigative journalism group Bellingcat that specializes in fact-checking and open-source intelligence, have recorded shelling of residential areas by the militants.
Before Russia recognized the self-proclaimed DPR and LPR republics, on February 21, 2022, Russian militants intentionally began shelling residential areas in the occupied territories in order to escalate the situation. This is documented not only by independent investigations but also by intercepted militant communications recorded by Ukraine's Security Service. Since the onset of Russia's war against Ukraine, the Ukrainian military has recorded countless cases of Russian forces deliberately shelling civilians and civilian infrastructure in Donbas. On March 1, invading Russian forces opened fire on a Mariupol residential area with Tockha ballistic missiles with a cluster warhead. "The use of this missile in a densely populated residential area where there is no military presence, was aimed at killing women, children, and the elderly. Preliminary reports record 21 people injured" Ukraine's Joint Forces Operation reported. On March 2 Russian troops fired on residential areas in several Donetsk and Luhansk towns – Popasna, Severodonetsk, Novoaydar and others.
Russian invading forces are using banned weapons in other Ukrainian regions, including those with significant Russian-speaking populations. Russian troops are using unguided bombs and cluster munitions to bomb the eastern Ukrainian city of Kharkiv and the region.
StopFake has noted Bonnell's pro-Russian propaganda stance earlier, in 2017 she presented her "documentary" film Donbas. Dubbed into French for foreign audiences, the film regurgitates key Russian propaganda messages: that residents of eastern Ukraine were oppressed for speaking Russian and their pro-Russian positions, that the war in eastern Ukraine is a civil war, that Ukrainian military intentionally shell residential areas and use banned armaments, that the Ukrainian government is illegitimate, etc. A detailed analysis of this propagandist film can be found here.