One of the programs on France's Sud Radio on May 10, 2022 was dedicated to Ukraine. The guest of the studio, Adrien Bocquet, over the course of an hour told host Andre Bercoff that the crimes in Bucha were not at all the work of the Russian occupiers, but "war crimes of the Azov regiment." He also claimed that American journalists who were in Bucha with him filmed staged videos, while Ukrainian soldiers used dead bodies of civilians to stage the "massacre in Bucha." Sounds like something dreamed up by Russian propagandists? It most certainly was!
Bocquet, a former French soldier and author of the best seller "Leve-toi et Marche! Grace a la Science" (Get Up and Walk! Thanks to Science), said that in April of this year he traveled to Lviv, Bucha and Kyiv, returning from Ukraine at the end of April, after spending a total of 16 days there. That is, Bocquet got to Ukraine in mid-April. This is an important point in assessing his credibility. According to him, he came to Ukraine with a humanitarian mission to help Ukrainian refugees (15:28).
Data confirming his stay in Bucha is not yet available on his official pages on Twitter, Facebook or Instagram, although he had actively used them before.  In his interviews Adrien Bocquet stated that he has "hundreds of videos of war crimes committed by the Ukrainian military."  However, not a single video or photo has yet been published or handed over to law enforcement agencies in France, which is directly involved in the investigation of the Bucha war crimes.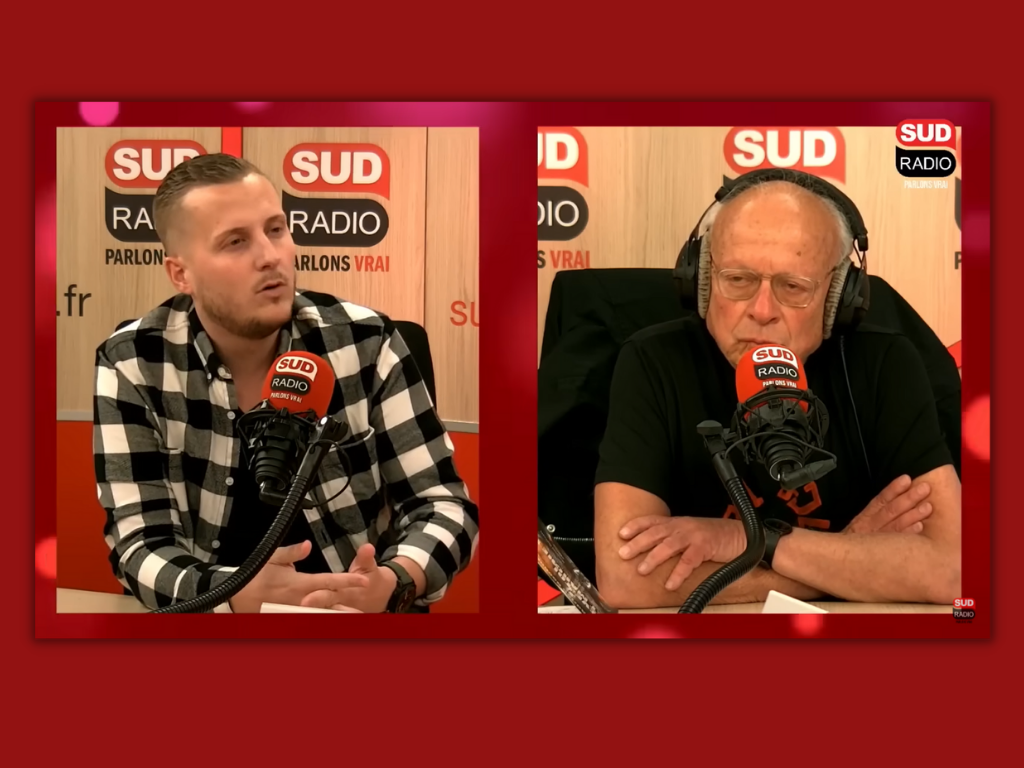 We reached out to Adrien Bocquet for a comment – via his Instagram account – but have not received a response as of this post.
French BFM.TV aired several photos that seemingly confirm Bocquet's stay in Ukraine as part of a humanitarian mission. These photos were taken against the backdrop of a van that bears the logo of the Sheptytsky Hospital Charitable Fund, an organization located in Lviv. We turned to the Fund's director, Andriy Login for a comment.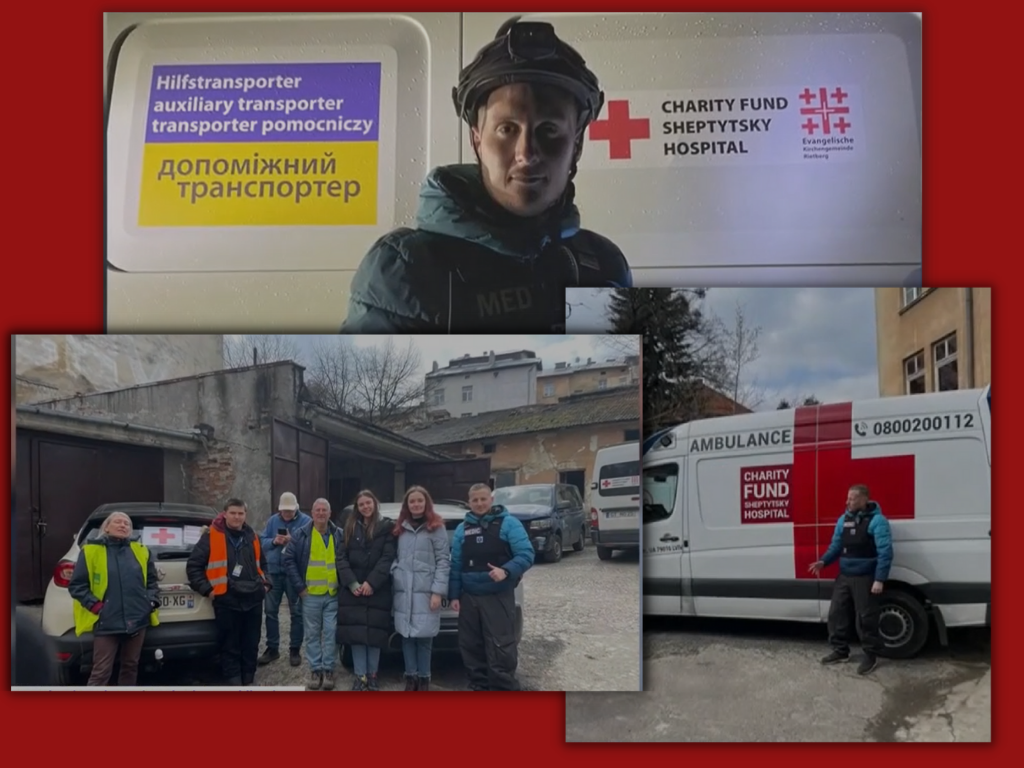 Login told StopFake that Adrien Bocquet came to the Fund's office in Lviv only twice and never systematically worked with them. During both visits – at lunchtime on April 4 and around midnight on April 6 – he arrived unannounced in private transport with several companions and packages of humanitarian aid. According to Andriy Login, he wasn't able to converse with the group, as they seemed to know only French (although in his interviews Bocquet claimed that he knows a bit of Russian and Ukrainian and could therefore understand what the "Ukrainian Nazis of the Azov Battalion" were talking about among themselves in Bucha).
Bocquet's story, which was broadcast repeatedly on French radio and TV, is rich in Russian propaganda clichés. Its particulars also confuse and contradict the objective chronology of what occurred in the Ukrainian town of Bucha during April. Anyone who even casually followed the events of the Russo-Ukrainian will notice this. The French journalists asked few probing questions, seemingly content to listen with interest to his story. On a May 10 Sud Radio broadcast Adrien Bocquet claimed that during his stay in Ukraine he helped the Ukrainian military (whom he would later call "Nazis") with medications and first aid; initially he had declared that the purpose of his mission was to help refugees and the civilian population of Ukraine. Later, after supposedly establishing friendly ties with the Azov Regiment, Bocquet somehow managed to become a witness to numerous crimes of the Ukrainian military.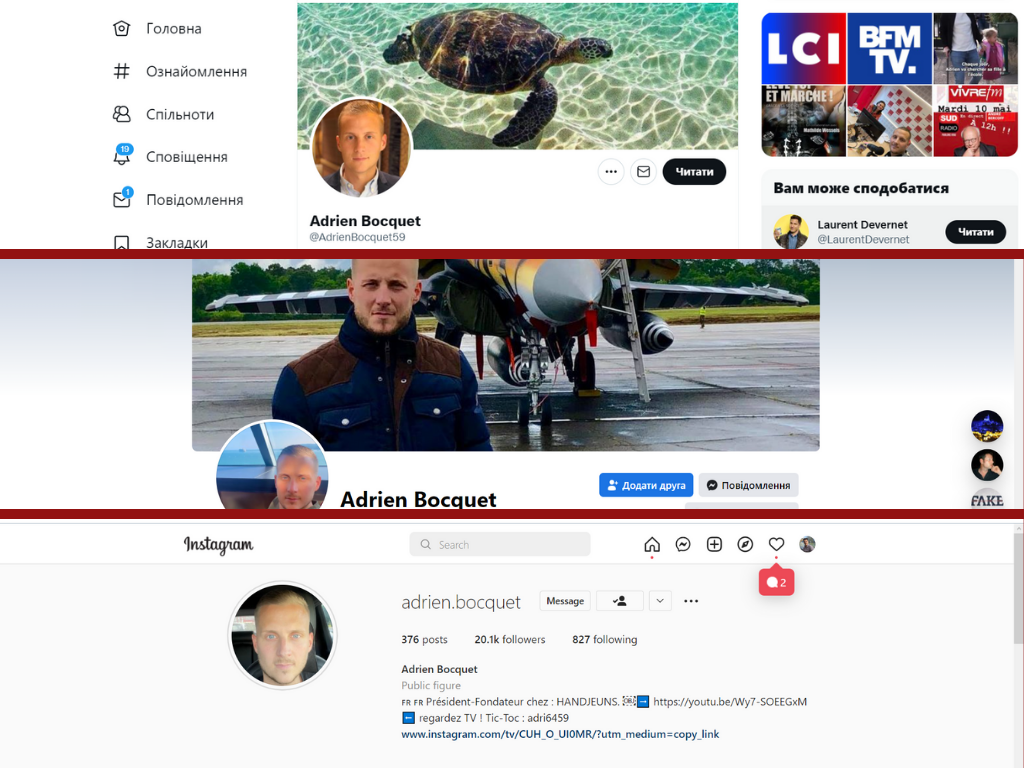 During the second half of April 2022, when Bocquet claimed to be in Ukraine, military operations were no longer taking place in Bucha, nor were any Russian soldiers being taken prisoner. The town was occupied by Russian troops from the end of February to April 1. That evening saw the first reports with videos showing dead bodies on its streets. That is, Adrien Bocquet could not have been in Bucha to observe "neo-Nazis committing war crimes."
Bocquet tells several stories about the "crimes" of the Ukrainian military. First, he claims that Azov Regiment fighters are literally everywhere in Ukraine, even in Western Ukraine (where, as we know, there has been no ground combat) (19:00) and that they wear "neo-Nazi stripes without being embarrassed."
"I worked with these guys, gave them medicines," said Bocquet. "Do you know what their conversations were like? Since I understand a little Ukrainian and a little Russian, I heard them laughing that if they met Jews or blacks, they would kill them."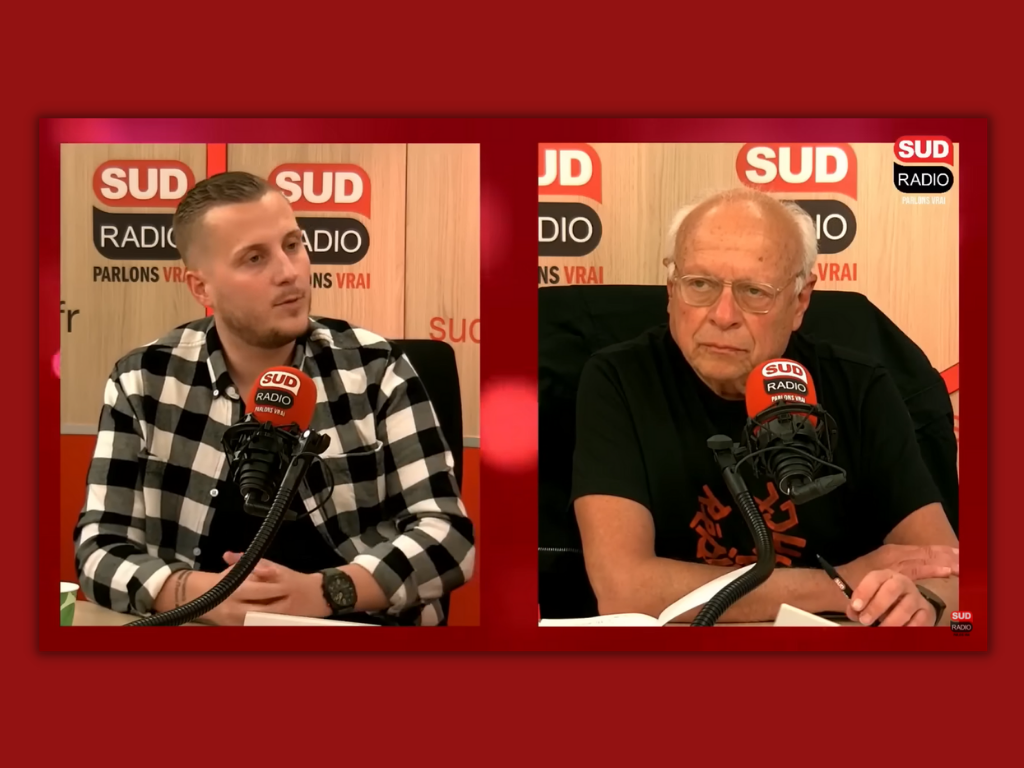 To a host's remark that the Azov Regiment is a small part of the Armed Forces of Ukraine (within the structure of the National Guard), Adrien Bocquet replied: "There are 5,000 of them officially, but there are also volunteers who join them, so this figure must be multiplied by 4 or 5. There are at least 20,000 of them. 20,000 for Ukraine is a huge battalion" (27:00).
That is something very strange for a former military man to say – "a battalion of 20,000." The Azov Regiment, as an elite fighting unit, also has high recruiting standards. Bouquet's claim that the number of volunteers it accepts is at least four times the number of its members is, simply, absurd.
"So why is Europe helping them with weapons? Nazis with SS patches?" Bocquet repeatedly asks on broadcasts dealing with Ukraine (27:00).
The command of the Azov Regiment has repeatedly said that it rejects the Nazi ideology. "There is not a word about inviting any ultra-right organizations or people who support this worldview (Nazi – ed.) to our ranks," explained regiment commander Denys Prokopenko. Andriy Biletsky, the founder and first commander of Azov, in a recent interview also noted that "in order to call something fascist, one must first look not at pictures, but at real facts. Fascism is genocide, the killing of civilians, the erasure of the traces of such killings, aggressive wars against third states. Only Russia falls under all these criteria."
The symbol of the Azov Regiment also has nothing to do with Nazism; adopted in 1991, it represents the "Idea of ​​the Nation." More details about the views and beliefs of the Azov Regiment can be found in a video stream that was organized on May 8 for foreign journalists from the lower reaches of the vast Azovstal metallurgy complex, where Azov fighters made their stand when fighting for their country. Russian propaganda, however, points to the Azov Regiment as its "proof" of the Nazism that "forced" Russia to start a full-scale war against Ukraine, a war that, so far, has cost tens of thousands of lives. With the Azov fighters making up a large part of the last pocket of resistance in Mariupol, a city destroyed by the Russian bombs and missiles, the Kremlin desperately tries to convince the whole world that there was a legitimate reason for the invasion of Ukraine, and that the troops defending it, rather than the Russian invaders, are the war criminals.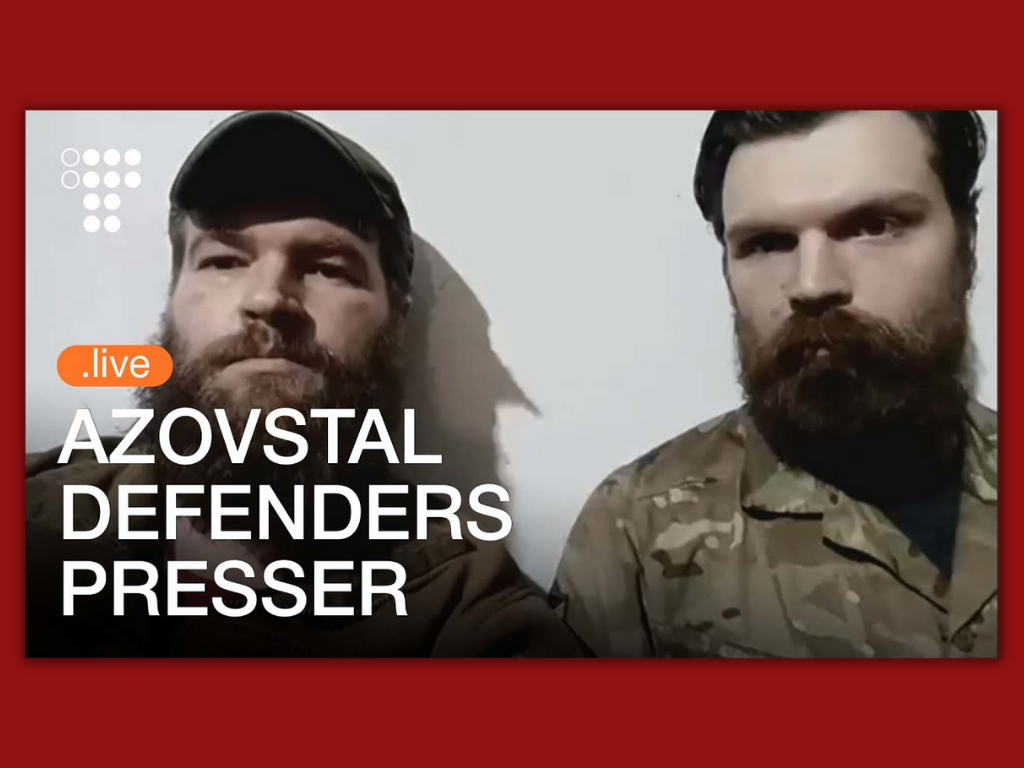 Adrien Bocquets moves on to the highlight of his story, relating how the fighters of the Azov Regiment, in his presence, allegedly destroyed captured Russian soldiers.
"I saw Russian prisoners of war who were tied up and beaten. We were in the hangar and they arrived in small vans with 3-4 people in each. Azov fighters asked them: 'Who are the officers here?'. Exiting the vans, the POWs received a bullet from a Kalashnikov assault rifle in the knee. And those who said, 'I am an officer' got a bullet in the head. That's what's going on in Bucha. I saw it all. I have videos that prove it." (21:00)
In another interview, on the VA Plus YouTube channel, Adrien Bocquet offers a new episode, one about how he saw Azov fighters, preventing help for wounded Russian soldiers lying along the road in Bucha, finishing them off instead with Kalashnikovs. "They were finished off with a shot in the head," says Bocquet (14:00).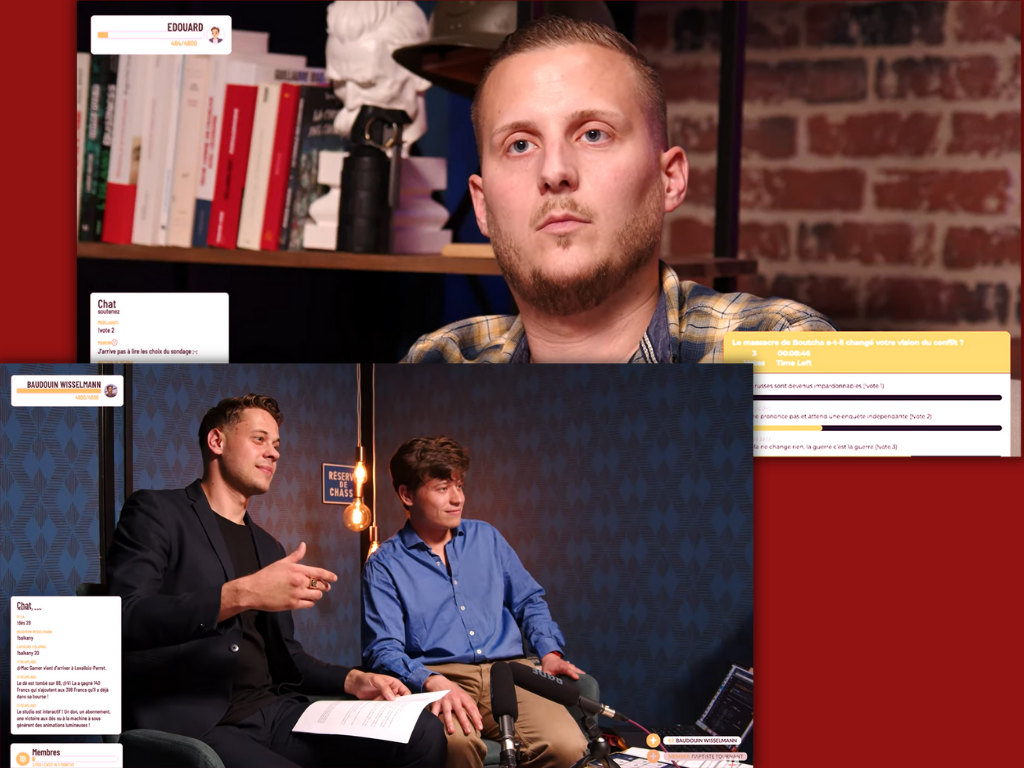 The whole absurdity of this statement is that in Bucha in the period from mid to late April there was no longer any ground combat. Thus, the "valuable information" shared by Adrien Bocquet on French radio and TV is a lie. The Frenchman apparently also invented the story about witnessing the murder of Russian soldiers; as it happens, its plot completely coincides with the plot of a video that was actively distributed on Russian channels at the end of March in order to discredit the Armed Forces of Ukraine. It shows a group of soldiers shooting at the legs of prisoners who are being led out of a van, as well as asking officers to identify themselves. From the exchange it is clear that the events are taking place near Kharkiv. That is, Bocque is simply retelling the content of that video, rather than describing an actual scene he might have witnessed in Bucha. In addition, on April 11, a detachment of technical and scientific gendarmes from France arrived in Ukraine to investigate war crimes committed around Kyiv. This was reported by the French Ambassador to Ukraine Etienne de Ponsin. None of the witnesses interviewed provided evidence that was even remotely similar to the stories shared by Adrien Bocquet.
In Bucha, Bocquet allegedly also observed how American journalists filmed fake videos and photos, passing them off as evidence of Russian shelling. "I also saw American journalists watching the bombs that fell on a small park near Bucha, in the east of Bucha. The Americans shot the video and said that it was the Russians who were bombing. They said, 'this will make a beautiful picture'. (22:00). Needless to say, in mid-April in Bucha it was simply impossible to observe such scenes. There could no longer be any shells fired by the Russian or Ukrainian military. At the same time, Bocquet claims that the murders in Bucha were staged. His version of the "Bucha massacre" completely coincides with one of the narratives of Russian propaganda (which, by the way, is broadcast to foreign media) alleging the bodies in Bucha were real, but were transferred there by the Ukrainian military (25:00).
Even after everything he saw, Adrien Bocquet still managed to return to France, although, according to him, the Azov fighters kept him at their place for 10 hours, while checking his phone (and, apparently, not noticing the hundreds of videos shot there and photos of war crimes, which, according to the Frenchman, he still possesses) (28:23). He is most likely ill-informed about how "real" checks are carried out. For example, in the so-called "filtration camps" of Donetsk and Luhansk regions, the Russian military holds Ukrainians taken from areas it has occupied, for days or even weeks before they are interrogated, the contents of their phones and entries on social media carefully scrutinized.
Bocquet is trying to convince the French that Russia was forced to start a war solely because of a real threat to the Donbas from "Ukrainian Nazis" and the "Ukrainian regime," which for eight full years tried "to destroy the pro-Russian population of the region." This narrative should be very familiar to anyone who has ever come across Russian propaganda. At the end of the radio broadcast, Adrien Bocquet suggests to Sud Radio listeners: "If Macron had a situation where 14,000 French people were killed outside of France, perhaps he would have done the same (carried out a military invasion of a neighboring state – ed.)" (42:00). Bocquet also opines that Russia started the war preemptively, as Ukraine had "gathered a large number of troops on its border with the Donbas, ready to launch an invasion" (44:00).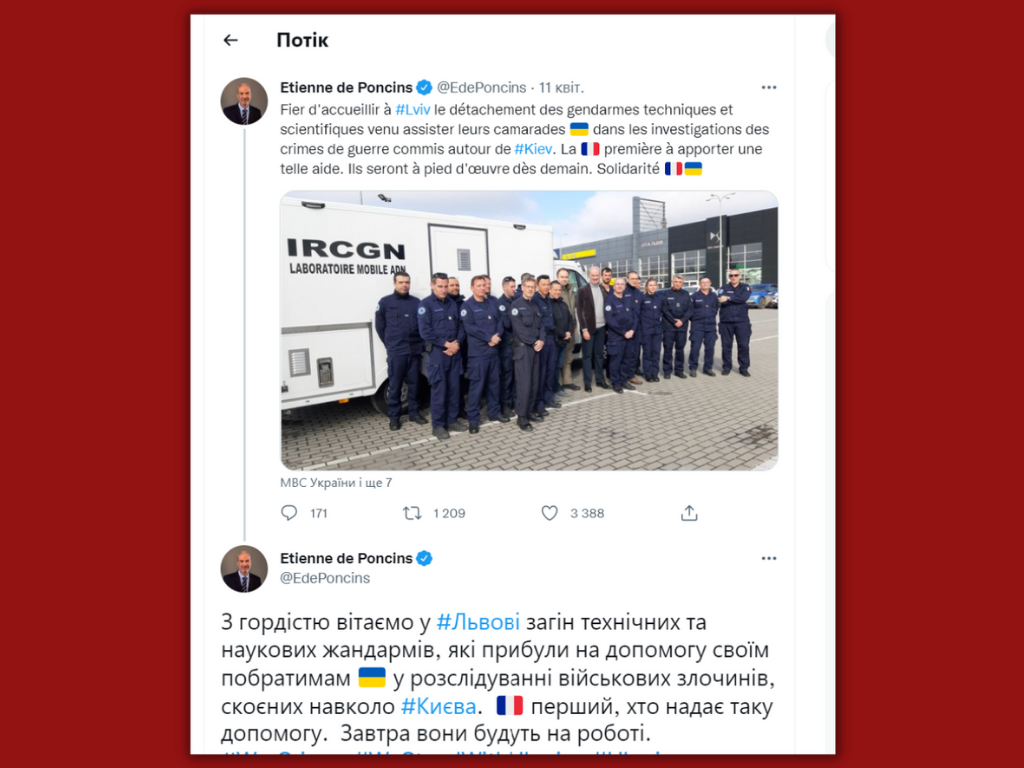 Recall that one of the arguments put forth by Vladimir Putin for launching a full-scale war with Ukraine, was that it was committing "genocide in the Donbas", killing civilians and violating the rights of the Russian-speaking population. This narrative has already been refuted more than once by international organizations such as the UN and the OSCE. According to the UN, due to Russia's military actions against Ukraine from 2014 through 2021, about 14,500 people actually died in the Donbas, including 3500 civilians, 4500 Ukrainian military personnel and 6500 members of Russian armed formations. That is, the figure that Putin operates with is the total number of dead military and civilians on both sides, figures StopFake has repeatedly written about in its materials.
Broadcasts with the participation of Adrien Bocquet have become quite the weapon in Russia's propaganda arsenal in the West. Quotes from them are also widely circulated in Russian media. For example, statements he made on the air of France's Sud Radio were posted on social networks by the official spokesperson of the Russian Foreign Ministry, Maria Zakharova. Bocquet's imaginary "evidence" also formed the basis of stories in Gazeta.ru, Izvestia, Lenta.ru, Komsomolskaya Pravda and other Russian media. Channel One, providing "video evidence of war crimes of the Ukrainian military," used the same anonymous video, shot near Kharkiv, which first appeared on the network at the end of March, and had nothing to do with Adrien Bocquet. So far, none of the video evidence allegedly possessed by Bocquet has been released or shared with EU law enforcement.
Adrien Bocquet, through his fictitious story, imposes upon the French public the same arguments that Russia itself uses to justify its aggression against Ukraine. His fictitious "evidence" that Ukraine allegedly also commits crimes against the civilian population, that it is a Nazi state carrying out "genocide in the Donbas," is supposed to lead to the "reasonable" conclusion that "not everything is so simple," and that Russia might have had its reasons to start a full-scale war against Ukraine.
StopFake encourages the editorial staffs of European media to study the background of experts who are invited to discuss the course of the Russo-Ukrainian war. Giving the floor to pro-Russian propagandists who offer only shady information with questionable details of their stay in Ukraine and make statements based solely on "Kremlin manuals" is unacceptable.
Update. We made corrections to this material after receiving additional information about Adrien Bocquet's contacts with the Sheptytsky Hospital Charity Fund.