After the former Russian military intelligence officer Sergei Skripal and his daughter Yulia were poisoned on March 4 in Salisbury, England, British Prime Minister Teresa May addressed parliament to announce the substance used was highly likely a military grade nerve agent of the Novichok type manufactured in Russia.
As Moscow rejected a British deadline for Russia to explain itself over the attack, the UK moved to suspend all high level contacts with Russia and expel 23 Russian diplomats. Russia's Foreign Ministry declared the expulsion "categorically unacceptable and unworthy of the facts", claimed "the British government is seriously aggravating relations" and promised to retaliate.
Earlier the Russian Embassy in London said Russia would respond to the British ultimatum only after Moscow was given samples of the nerve agent used in the poisoning. Russia claims it wants to be part of the investigation because Sergei Skripal's daughter Yulia is a Russian citizen.
"Traitor, a dangerous profession"
For a few days after the March 4 poisoning, the Kremlin media kept mum about what happened save for a few terse news items. The first warning story appeared on March 7 on Russia's state Channel One, as Kirill Kleimenov, the anchor of the Vremya Pokazhet current affairs program, director of the channel's information programs and a member of the channel's board of directors announced that he would relate an instructive story about what could befall "traitors to the motherland" or even those who simply hate their country in their spare time.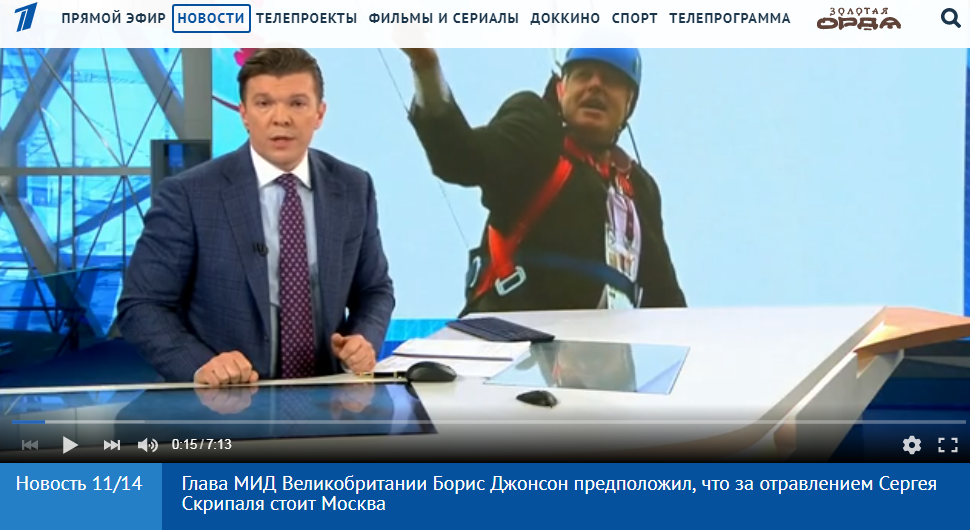 Kleimenov said this warning is intended for educational purposes as the profession of traitor is one of the most dangerous in the world. "It is very rare that those who chose it live to a peaceful old age" Kleimenov warned menacingly and then went on to offer another bit of valuable advice to traitors of the motherland, don't settle down in England. Strange things are happening there lately, he pointed out, people are poisoned, they hang themselves, they die in helicopter crashes and fall out of windows.
British MPs are demanding additional investigation into 14 other mysterious deaths that took place in Britain which appear to have a Russian trail.
Russia is innocent, but it is being blamed for everything
Russia's chief propagandist Dmitri Kiselyov continued his colleague Klemenev's narrative on the Rossiya 24 channel with a story entitled "The Fatal Place", openly insinuating that Britain is fatal for Russians.  As soon as it became clear that the poisoning involved a nerve agent, they immediately started blaming Russia, Kiselyov said.
On March 12 Russian President Vladimir Putin declared that Britain should figure out what really happened with Skripal before blaming Russia. His press secretary Dmitry Peskov echoed this line when he said "the poisoning has nothing to do with Russia at all. Skripal was working for British intelligence and the attempt to kill him happened in Britain".
The main message of these stories is that Britain has no grounds for connecting Skripal's poisoning with Russia. There are no facts in this story, Vremya Pokazhet posits, British accusations are based only on conjecture and rumors. If this was a Russian intelligence operation, why would Russia so openly leave its mark, asks Kleimenov.
Other Russian media are presenting this story as a case of UK delirium and calling on the British to use their common sense. In that vein Andrey Lugovoy who is wanted by British police on suspicion of the 2006 murder of Russian defector KGB officer Alexander Litvinenko by radioactive polonium also spoke up. Lugovoy, who received a medal and a seat inthe Russian parliament after Litvinenko's murder , declared that the British were suffering from phobias and paranoia, a statement which became much repeated in Russian media.
In an interview with BBC4 Russian MP Vitaliy Milonov announced that the Skripal story is a drama being played out for British television. He compared the UK with Hitler saying "It's like Hitler's behavior when he blamed someone for the burning of the Reichstag."
Everyone blames Russia and everyone is afraid of Russia are two narratives that exist side by side in the Russian media. A stark example of this dual narrative is the Evening with Vladimir Solovyov program on the Rossiya 24 channel with Russian Foreign Affairs Ministry spokeswoman Maria Zakharova as the main guest. Zakharova declares that the West has launched an information propaganda machine against Russia. Using words such as iron curtain, superpower, and balance of power the show hints to the audience that we are really talking about a cold war. Of course we can't do without World War Two in this narrative, or the Great Patriotic War as it was known in the USSR and still referred to as such in today's Russia. The show ends with a discussion about how Russia saved Europe from destruction in World War II while the US was still waiting for the right time to enter the war.
Blaming Russia for everything, but why?
Russia's media space is awash with theories of why Russia is accused of trying to kill Skripal. They range from geopolitical explanations to World cup sabotage.
By blaming Russia for the poisoning the West wants to remove the leading player on the international arena, raise the level of Russophobia which will result in the collective persecution of Russia and will prolong and strengthen Russia sanctions.
The West wants to strengthen its position in Syria. Western intelligence agencies are preparing provocations in the suburbs of Damascus. The situation in the UK creates a background for making this operation possible.
Question the legitimacy of the upcoming Russian presidential elections. How can we talk about legitimacy if the West indicates that Russia has chemical weapons.
This is a British provocation aimed at Russian oligarchs who reside or plan to reside in the UK, to unite them and force them to take a stand against Vladimir Putin.
The UK wants to disrupt the 2018 World Cup which will be held in Russia.
Stoking Russophobia
Dmitri Kiselyov claims that Skripal's death would first and foremost be beneficial to the UK, to beef up the country's Russophobia. "As a serious source Skripal is completely burned out and of little interest, but as a poisoned source, he is very useful. So why not poison him, and his daughter too, to make it even more heartbreaking for the public" Kiselyov said. These developments are very convenient for the UK, Kiselyov continues, they give Britain's anti-Russian campaign a new lease on life. Kiselyov then resorts to a classic disinformation maneuver; he accuses Britain of orchestrating the poisoning.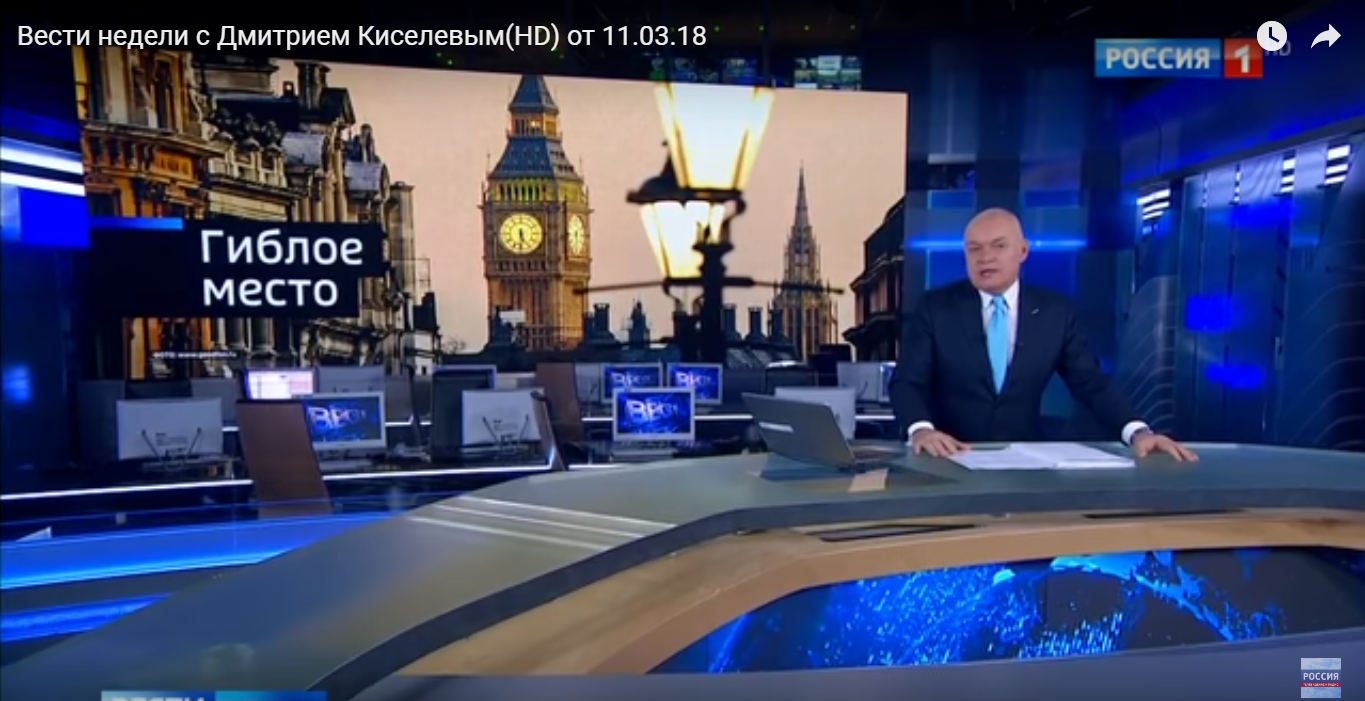 Kiselyov's version of the Skripal poisoning involves Porton Down, Britain's Ministry of Defense Science and Technology Laboratory.  This facility, a mere 20 minutes' drive from Salisbury stores samples of the Novichok nerve agent, the facility tests bacteriological and chemical weapons, stores Ebola, plague and anthrax samples, one of Kiselyov's journalists declares. But British special services are beyond suspicion, Kiselyov concludes.
Skripal poisoning = western special operation aimed at Russia
For Russian media any accusation against Moscow is a treacherous enemy scheme, particularly by the Americans.   Channel One's Vremya Pokazhet (Time will tell) program posits the questions, who benefits from the current situation and comes up with a ready answer," the US, they've lost their world leadership position and this is how they continue their game. Their rationale is simple, if you can't solve your own problems, create problems elsewhere".
One of Rossiya 24 newscasts even broadcast a story claiming that the US had the Novichok formula. The US, according to this version, participated in deactivating a Novichok testing facility in Uzbekistan.
Yet another version of events is being propagated by Russian Defense Ministry television station Zvezda. Former USSR intelligence officer Yuriy Totrov claims the entire Skripal episode was organized by British Prime Minister Theresa May. May is a friend of Gina Hasper, the incoming director of the CIA Totrov claims. All of this revolves around US intelligence activities, Totrov says.
Ukrainian traces
Totrov admits that the Skripal poisoning is not advantageous for Russia and theorizes that either Ukraine or one of Baltic countries must be involved. They're all in the pocket of the CIA, he concludes.
The former director of Russia's FSB Nikolay Kovalev also sees a Ukrainian connection to the Skripal poisoning.
In a program broadcast on March 13 on Russia's Rossiya 1 channel called 60 Minutes journalists talk about who would benefit from framing Russia. Ukraine, of course, pipes up journalist Mikhail Taratuta, but admits that he has no facts to support such a claim.
Other participants could barely contain their laughter.
Russia's scatter gun reaction to the Skripal poisoning is reminiscent of how the Kremlin and their minions reacted to the MH17 disaster, putting out a myriad of bizarre explanations, none aimed at explaining or investigating the event, but rather intended to sow confusion about the truth.