Russian media were awash with stories at the end of September claiming that the West was actively involved in pushing forward a new version of a recent gas pipeline blast in Crimea that was meant to discredit Russia. They even referred to an official American statement to that effect, a statement which was actually nowhere to be found.
In fact there is no new Western or American version of the blast, the version the Russian media are currently pedaling was invented by Diana Kadi, a Russian writer of Crimean Tatar background, who regularly parrots all sorts of Kremlin propaganda narratives and messages.
In a typical disinformation spin of its own lie through subsequent republications of it in various Kremlin friendly outlets, the Russian propaganda machine positions the lie as a story that emanates from Western media, presenting its own propaganda as a Western opinion.
At the end of September such pro-Kremlin publications as Vzglyad, Lenta.ru, Moskovskyi Komsomolets, Life.ru, News.Ru, Moskva 24 and others all featured stories claiming that new details had come to light about the gas pipeline blast in Crimea at the end of August. These publications endeavored to convince everyone that now not only Russia, but the Unites States also believe that the blast was organized by Kyiv specifically to discredit Russia.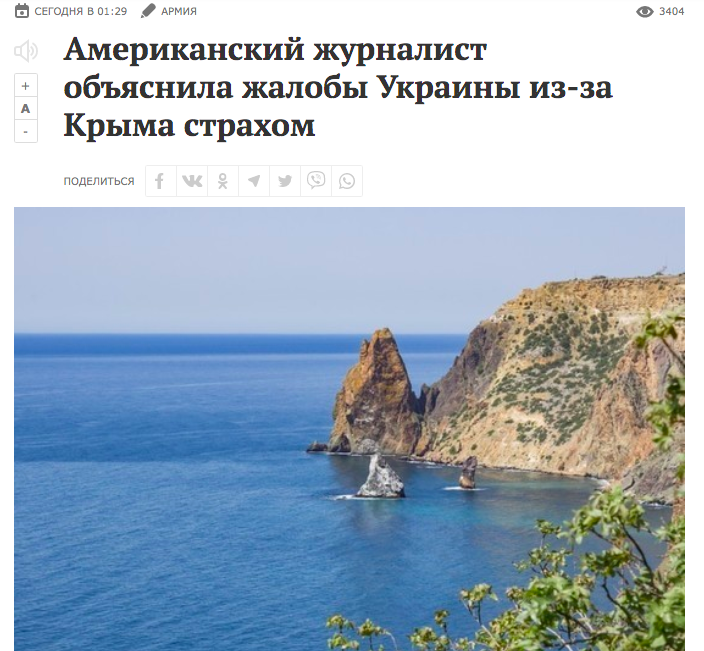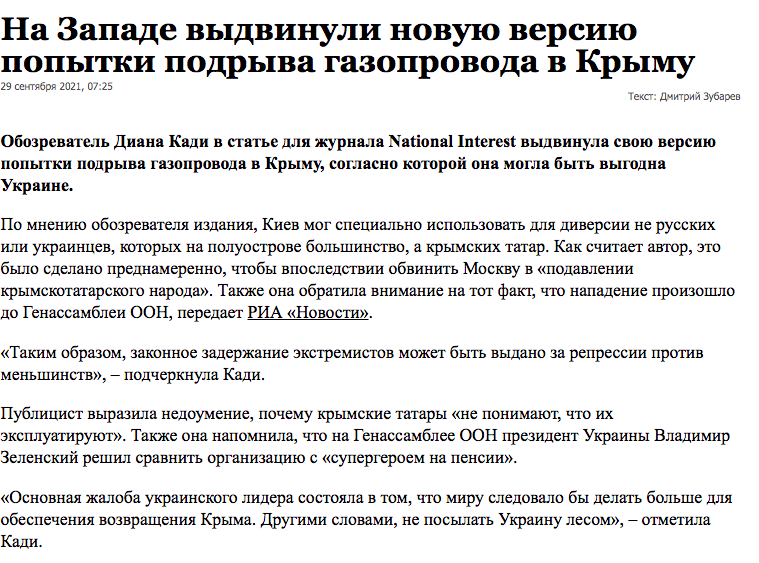 As a result of the reported blast, in early September Russian authorities arrested Crimean Tatar activists Nariman Djelal, Aziz and Asana Akhtemov.
The western publication that all the Russian stories refer to is an article by Russian writer Diana Kadi in the American conservative magazine The National Interest, which other conservatives have called the most Kremlin sympathetic institution in the nation's capital. In her article Diana Kadi argues that Kyiv intentionally uses Crimean Tatars for "extremist activities".
"Here are my questions: why did the explosion of the gas pipeline in Crimea take place before the next UN session and after Antonio Guterres's presentation on repressions? And, most importantly, why does the Ukrainian intelligence service hire not Ukrainians or Russians, who are the majority on the territory of the Crimean Peninsula, but Crimean Tatars for extremist activities?
In my view, the answer is obvious—in order to present Russia in the role of aggressor again, repressing the Crimean Tatar people. And so the legal detention of extremists can be passed off as repressions against minorities. It is unclear why the Crimean Tatars themselves do not understand that they are being exploited."
At first glance everything seems logical, an American journalist, or US commentator publishes an opinion piece in an American journal. This gives rise to the headlines such as "American journalist explains…." "US explains Ukraine's grievances…", "West puts forward new version of pipeline blast".
But in all this seeming logic, there is a very significant but. Diana Kadi is not an American journalist, even The National Interest calls her a Russian writer with a link to Kadi's Facebook page, which is generously illustrated with sexy photographs of Kadi herself. Kadi is a Crimean Tatar who lives in Moscow. A 2015 interview in the propagandist publication Politnavigator sheds light on her biography. In 2016 Kadi launched a column in the Izvestia newspaper in which she identified herself as a Russian citizen. In her publications Kadi scrupulously adheres to Kremlin propaganda. In 2018 the Moskovskyi Komsomolets newspaper interviewed Kadi on the publication of her book The Crimean Tatar Manifesto. In the book and the interview, she criticizes Crimean Tatar leaders who were forced to leave Crimea for Ukraine after Russia occupied and annexed the peninsula in 2014.
"It is very difficult to keep silent when people who call themselves leaders of the Crimean Tatars discredit my people with their actions and aggressive statements. This time they went very far and stopped simply being thieves, as it was during the Mejlis*. Dzhemilev and his followers have become extremists, allies of those who sacrifice the lives of thousands of ordinary people to achieve their own gleoals. These people call themselves "representatives of the Crimean Tatar people", but by their actions they only harm us, " Kadi explained the motives for writing her book.
In her Politnavigator interview Kadi insists that "we need to accept the fact that Crimea is Russia, and the future of the Crimean Tatars is directly dependent on whom they believe, thieves who only feed us with promises or the Russian government.
Ukrainians should remember that Russians are their brothers, no matter what the young poetess says in her poems. (This is a reference to a poem that became popular during the Maydan Revolution in which young poet Anastasia Dmytruk speaks to the Russian people saying Ukrainians and Russians will never be brothers because the two nations have different values and priorities.ed) There's a view that politicians decide everything and people are only pawns in the big game, but this is not so. It is within the power of every Ukrainian to change the situation in the country. I was against the Maydan simply because I did not believe in the sincerity of those who came out to the square. Everything was too organized.
– My parents, relatives, friends and Crimean Tatar acquaintances do not want to be deprived of elementary rights, for the sake of Mejlis leaders' interests. The only thing they need is for Dzhemilev and Chubarov** to stop speculating on the national theme and not interfere with their normal life. The fact that these comrades are Crimean Tatars means nothing. Previously, they simply did not bring any benefit for their compatriots but profited from them. Now they are doing everything to deprive them of their livelihood."
Had Russian journalists bothered to read the National Interest article to the end, they would have seen that Diana Kadi is not an American or western journalist, she is clearly named by the National Interest editors as a Russian writer, and publication of her views in an American journal does not make her American nor a representative of the West. Russian President Vladimir Putin also penned an opus for the National Interest on the lessons of the 75th anniversary of World War II, but that did not make him an American.
StopFake has debunked several stories published in the National Interest which were spun by the Kremlin media as official western views. In 2018 Russian propagandists tried to pass off their views as a "western position" in an article claiming that the United States told Ukraine to give up on Crimea. A National Interest piece by a writer with open pro-Kremlin views was presented as an official western position.