On Saturday, January 24, the Russian Channel One showed the news item entitled "Breakdown of the situation on Donbas was admitted by the US State Department". In this news item journalists distorted the statement of the spokesperson for the United States Department of State Jen Psaki during the press briefing on January 23.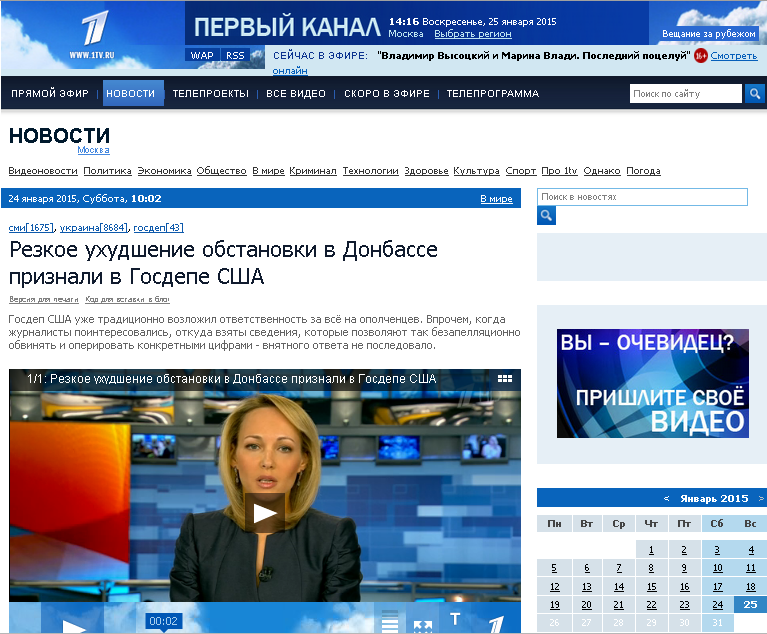 In its news item the Channel One used incomplete Jen Psaki's answer to the question about information that the State Department possessed about the shelling of the trolleybus in Donetsk that caused death of eight citizens of Ukraine. As the result it seems that Jen Psaki could not give a reasonable answer about more detailed information.
https://www.youtube.com/watch?v=hp86mSvIjmI
Here is the transcript of the video from 0:45:
Matthew Lee, the journalist of the Associated Press: Can we stay on – roughly on this subject, I'm just wondering if you have – on Ukraine, you had some pretty strong comments at the top. And I wanted to know if you had any further information about the bus incident.
Jen Psaki: I don't have any further information, no.
Matthew Lee: Do you know if Secretary Kerry has any Ukraine-related meetings?
Jen Psaki: Bilateral meetings?
Matthew Lee: Phone calls?
Jen Psaki: Let me see if there are any calls –
Matthew Lee: Given – I mean, just – your comments at the top were very – were quite strong, and it evinced a more particular concern perhaps than you have had in the past for that situation, so —
Jen Psaki: As you know, he met with EU High Representative Mogherini yesterday, and certainly they talked about —
Matthew Lee: Right, but I mean with Russian or Ukrainian officials.
Jen Psaki: He doesn't have any calls I have to read out. He's also had a pretty back-to-back schedule over the course of the last two days.
However, the Jen Psaki's explanation for some reason was cut by the Channel One from the complete version of the press conference. It can be found here (from 33:43 of the video).
Jen Psaki cited the OSCE report and noted that based on this data it was difficult to find out who was responsible for this tragedy.
Here is the cut fragment:
Lee: Okay. And do you know – and I suppose that this is probably better addressed to Secretary Kerry —
Psaki: Oh, I do have one thing. This may have been out there, Matt, but I didn't talk about it yesterday. Yesterday's report from the OSCE established the trolley bus was likely destroyed by a mortar or rocket coming from a northwestern direction. Based on this information alone, it isn't possible to definitively conclude who was responsible. Obviously, we would condemn, of course, the attacks, the impact on the local population, and certainly we continue to call on all sides to take every precaution to prevent the loss of lives.