During a surprise Kyiv visit, British Prime Minister Boris Johson said the UK will not yield to 'Ukraine fatigue' and reaffirmed Britain's support for Ukraine. "When Ukraine fatigue is setting in, it is very important to show that we are with them for the long haul and we are giving them the strategic resilience that they need," Johnson said.
Russian social media sites and pro-Kremlin media are disseminating posts claiming that British Prime Minister Boris Johnson is tired of Ukraine. "The world is tired of Ukraine… People are starting to have enough of Ukraine, this is what Boris Johnson told Sky News," pro-Russian sites write, while pro-Kremlin social media accounts are even more aggressive, exclaiming "The world is tired of YOU, your lies, and your wars. You can't defeat Russia!"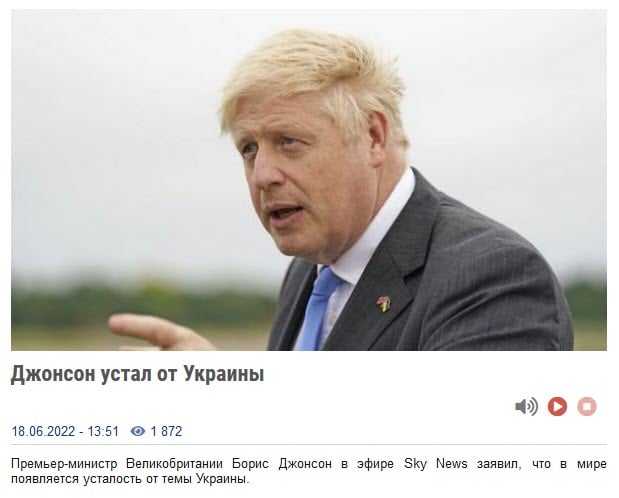 Returning from his June 17 visit to Ukraine, Boris Johnson did indeed speak to Sky News and warned against "slight Ukraine fatigue" which is beginning to manifest itself, at the same time Johnson stressed that it would be a "catastrophe" if Russian President Vladimir Putin succeeded in Ukraine.
Johnson said it was important to demonstrate British support for Ukraine at a time when Ukrainians are "suffering terribly" in the face of Russia's continued offensive in Donbas. 
The British Prime Minister also stressed that it is important not to allow the Russians to freeze the conflict in Ukraine. "It would be a catastrophe if Putin won. He'd love nothing more than to say: 'Let's freeze this conflict, let's have a ceasefire like we had back in 2014. For him, that would be a tremendous victory. You'd have a situation in which Putin was able to consolidate his gains and then to launch another attack," Johnson said. 
Boris Johnson told Sky News that it was important that Ukraine not be pushed into accepting a bad peace. "We've got to make it clear that we are supporting the Ukrainians in their ambitions … to expel the Russians, expel Putin's armies, from everything that he has obtained since 24 February and make sure the Ukrainians are not encouraged to go for a bad peace, something that simply wouldn't endure," Johnson said.
During his meetings with Ukrainian President Volodymyr Zelensky, Boris Johnson said that Britain was ready to train up to 10,000 Ukrainian servicemen every 120 days, approximately 30,000 per year, so that the Ukrainian army could effectively counter Russia.
This is not the first time that British PM Johnson has expressed his full support for Ukraine and warned that the war must not be forgotten. Russian media stories as well as Russian social media claims that Johnson is allegedly tired of Ukraine are nothing more than Russian distortion and manipulation.
Russian propaganda has pushed the theme of the West's alleged Ukraine fatigue quite aggressively. StopFake has debunked several such stories, Fake: West convincing Ukraine to make territorial concessions, Fake: US accuses Ukraine of stealing 40 billion war aid, Manipulation: Germans don't like Zelensky's ultimatum and choose Russia.