Scores of Russian media featured manipulative stories this week claiming Ukrainians are the reason for the Czech Republic refusing to accept migrants from Syria and other African countries.  Izvestia, Russia Today, Sputnik, Komsomolskaya Pravda, Channel 5, Argumenty I Fakty all featured stories with these fake claims.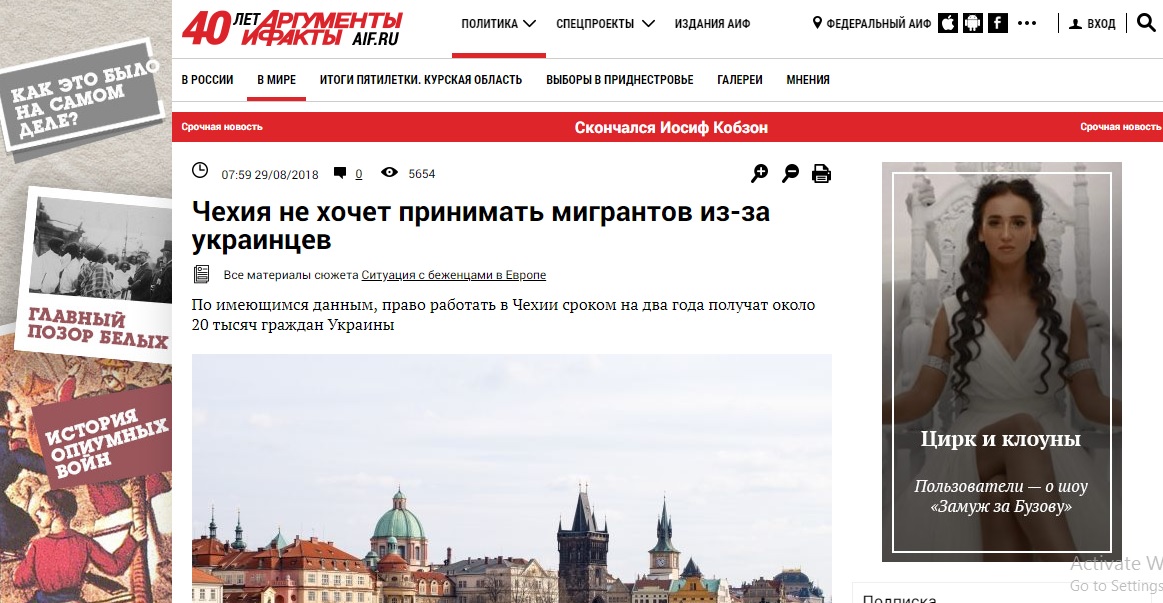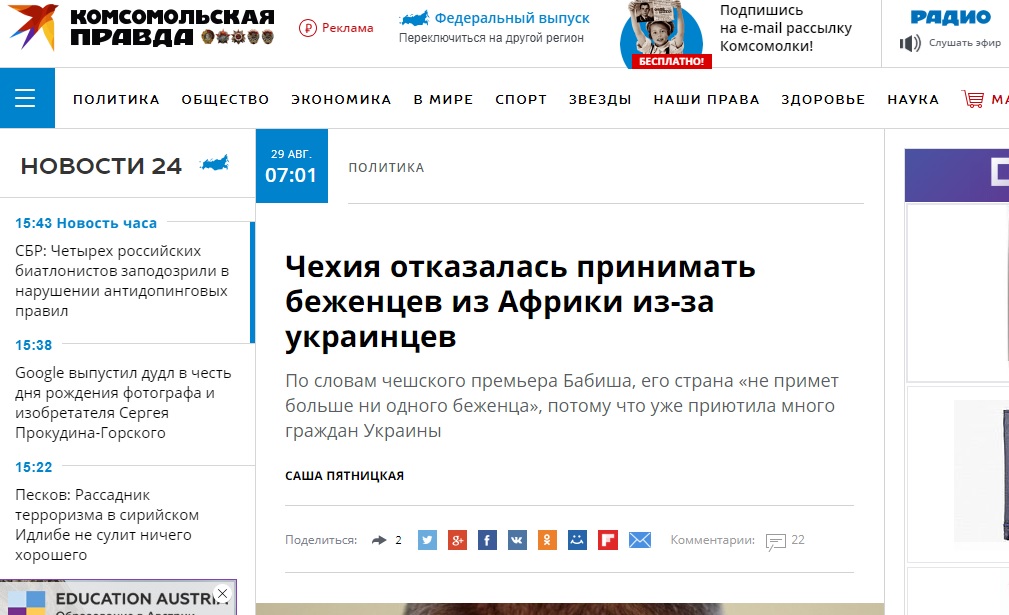 Russian publications refer to Czech Prime Minister Andrej Babiš's Radio Praga (Czech Radio) interview which he gave prior to a meeting on illegal migration from Africa with the prime ministers of Italy and Malta. Babiš said that "the Czech Republic will not accept any more refugees who are getting into the European Union via the Mediterranean Sea because it is already accepting people from Ukraine".
Spinning this statement into a narrative of their own, Russian media began writing about a flood of migrants from Ukraine and that the Czech Republic has given many Ukrainians refuge.
According to the BBC since 2017 the Czech Republic has refused to accept any African migrants. According to the EU quota system, the country was meant to grant asylum to 2,691 refugees, but has refused to do so.
Official Czech Internal Ministry data shows that as of May 31, 2018, of the 542 thousand foreigners who legally reside in the Czech Republic, Ukrainians comprise the largest group, 22.5% or 122 thousand. Slovaks are the second largest minority in the Czech Republic with 110 thousand with 36 thousand Russian residents in third place.  The reputable Czech newspaper Hospodarske Noviny reports that 134 thousand Ukrainians were employed in the Czech Republic for the last two years. They were legally recruited by Czech companies who could not find qualified workers among the Czechs. As for political asylum, only 8 thousand Ukrainians were granted that status in 2017.
Czech police detained 2,376 illegal immigrants in the first six months of 2018, the interior Ministry said in a quarterly migration report. Most were not from Africa or the Middle East but from Ukraine, Moldova and Russia.
The Czech Prime Minister has repeatedly spoken out against illegal migration from Africa. In July of this year, defying EU agreements, the Czech Republic refused to accept 450 migrants who were rescued by Italian authorities at sea.