To strengthen border security in the aftermath of Russia's invasion of Ukraine, on July 11 the EU launched a Support Hub for internal security and border management in Moldova. Neither the program nor the announcement mention Ukraine reselling western weapons or being involved in drug trafficking.
Russian media completely misrepresented the EU's intention regarding the Support Hub and presented the initiative as a manifestation of EU fears of a flood of weapons, drugs and illegal migration from Ukraine.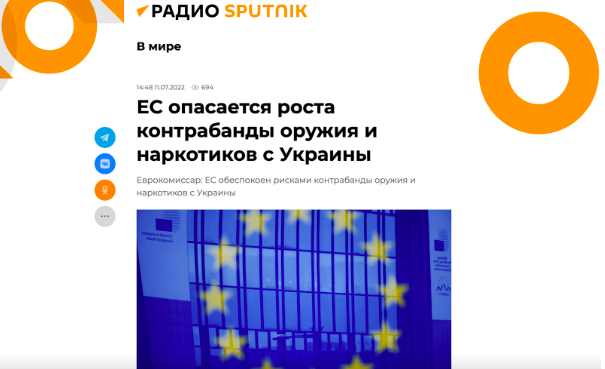 "European officials predict an increase in drug trafficking from Ukraine against the backdrop of the ongoing military conflict, which they themselves are fueling with their supply of weapons," Radio Sputnik claims.
In its July 11 press release regarding the launch of the EU Support Hub, the EU unequivocally states that "Russia's unjustified war against Ukraine led to risks to the internal security both in the EU and Moldova." The Support hub will be operating along the six priority areas that have been jointly identified by Moldova and the EU, they are arms trafficking, migrant smuggling, human trafficking, preventing and countering terrorism and violent extremism, cybercrime and drug trafficking.
Russian media have distorted this EU announcement to claim that resale of western weapons is a primary EU concern and that is why the new hub is being launched in Moldova.
The EU document has absolutely no mention of any Ukrainian "reselling" of western weapons or drug trafficking – these claims are pure Russian fakes. The press release quotes European Commissioner for Home Affairs, Ylva Johansson, who said that the Russian war of aggression has led to an increase in internal security threats both in the EU and in Moldova. Against the backdrop of the Russian war, large criminal groups may become more active, Johansson said. Moldova should play a key role in eliminating the consequences of the Russian invasion of Ukraine in the field of combating crime. The release makes it very clear that it is not Ukraine that is to be blamed for the security crisis in Europe, but Russia and its aggressive policy.
"Russia's military aggression against Ukraine is a challenge to all of us and has a significant impact on our internal security. With the launch of the EU Support Hub for Internal Security and Border Management in Moldova, we take the cooperation with our Moldovan partners to the next level to address related security threats. The hub will enhance our joint operational action with Moldova to address the challenges posed by organized crime, including the trafficking of firearms or trafficking in human beings," Ylva Johansson said.
Despite Russian media alarms about "Ukrainian criminals," the European Union has repeatedly noted Ukraine's successful efforts to ensure security on the Ukrainian-EU border. On June 30 the European Union Border Assistance Mission to Moldova and Ukraine (EUBAM) Advisory Board commended the resilience of Ukrainian border agencies and paid tribute to Ukrainian and Moldovan border agencies "for their outstanding response to those fleeing the war and effective control measures for ensuring the border security."
Russian claims about the "resale" of western weapons by Ukraine have been repeatedly refuted by donor countries. Ukraine's partners have said that they are aware of the whereabouts of weapons provided to Ukraine's military as part of EU and US military assistance. On July 8 Pentagon representatives again stressed that the Ukrainian side is in constant contact with its American counterparts assuring transparency in tracking the weapons.
"We absolutely track the — from the time we send the capabilities to Ukraine, deliver them to Ukraine, they move them to the battlefield. Our military leaders and experts and professionals are in communication with the Ukrainians to understand how they're employing those capabilities, what their usage rate is… it's a really important element of deciding what goes into our next assistance package is to understand how they're employing those capabilities, what their usage rate is," a senior Pentagon official said.
Russian media repeatedly put out fake stories claiming Ukraine is "reselling" Western munitions to third countries. StopFake has refutes several of these fake claims: Fake: Ukrainian officials sell Javelins to Hamas and Hezbollah militants, Fake: Ukrainian soldiers die because they lack weapons while Defense ministry sells them abroad.