Russian pro-Kremlin publication Ukraina.ru reports that the European Union allegedly urged Ukraine to lift the ban on the" use of the Russian language in education".  The publication claims that at a meeting of the Ukraine-EU council held in Brussels on December 17, the EU urged Ukraine to fully implement the recommendation of the Venice Commission relating to the language clause of a Ukrainian law on education which was enacted in September of last year. Other Russian publications such as Russkyi Mir and News Front quickly followed suit.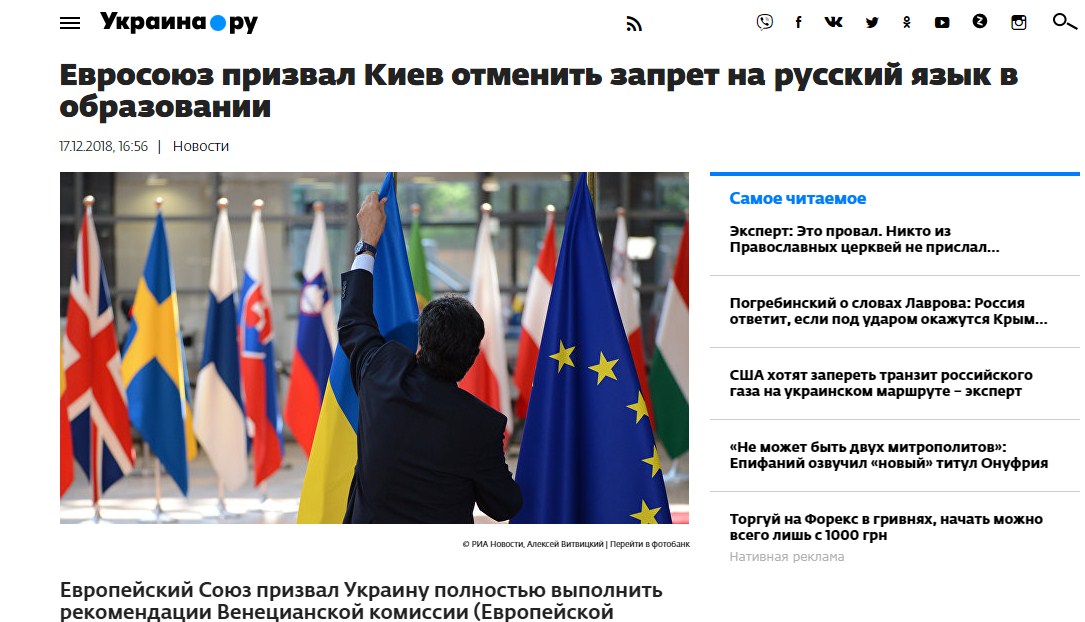 On December 8, 2017 the Venice Commission (European Commission for Democracy through Law) published its opinion on Ukraine's Education Law No. 902/2017, recommending that Ukraine's government make the article concerning language in education more "balanced". At the same time the commission noted that since the law on education is a framework law, the future law on secondary education could provide for more detailed and balanced solutions.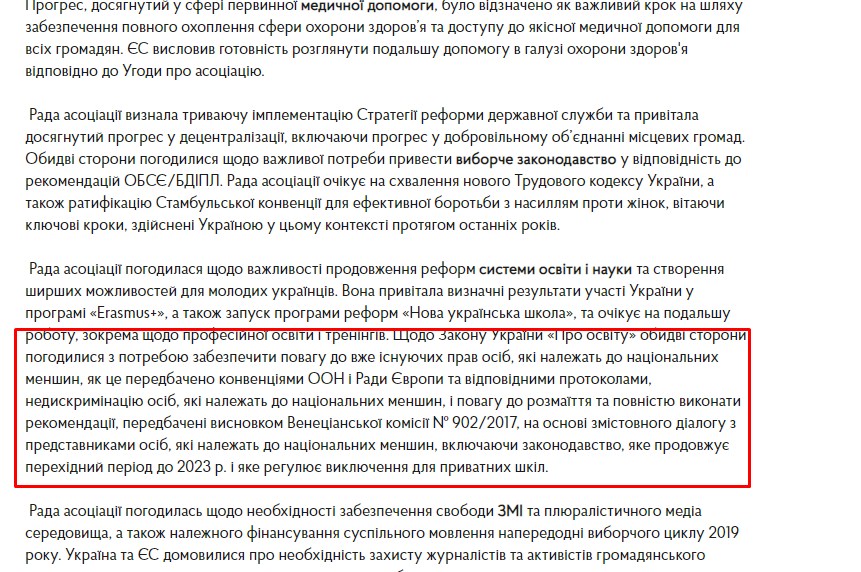 Article 7 of the Education law strengthens the position of the Ukrainian language as the state language in secondary school education. Private schools however, are free to teach students in any of the minority languages that are designated as such by EU legislation and conventions.
A Joint statement following the fifth Association Council meeting between the EU and Ukraine, among other things "agreed on the need to ensure the respect for rights already exercised of persons belonging to national minorities as enshrined in UN and Council of Europe Conventions".
Article 7 of Ukraine's Education law comes into full effect in 2023 after a nearly six year transition period.
In 2017 EU spokeswoman Maya Kosiancic said that "the recommendations of the Venice Commission should be fully taken into account. It should be done in a non-discriminatory way, in dialogue with national minorities and other stakeholders, more time should be provided for a gradual reform."