On November 25 Russia fired on two Ukrainian naval gunboats and a tug boat in the Kerch strait, wounding at least six Ukrainian sailors. A Russian naval boat rammed one of the Ukrainian vessels, after which Russians captured all three Ukrainian ships and sailed them to Kerch. The wounded Ukrainians are in a Kerch hospital while the rest of the ships' crews are being held and questioned by Russian by the Russian security service FSB.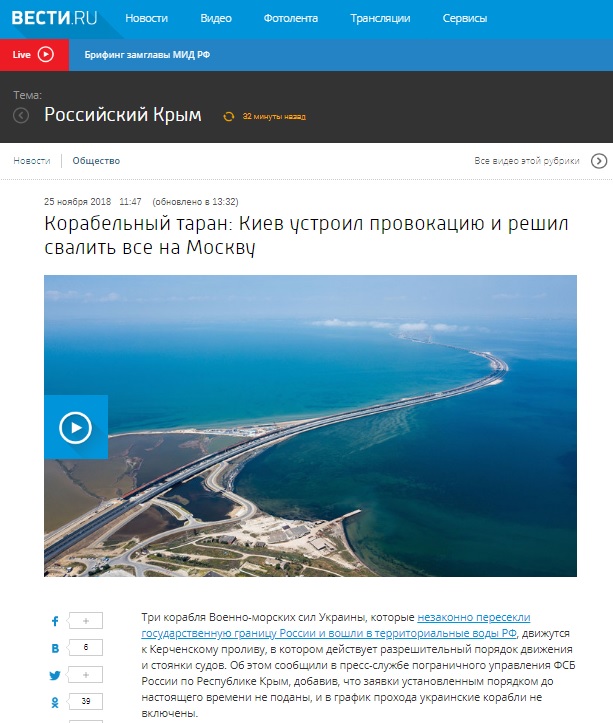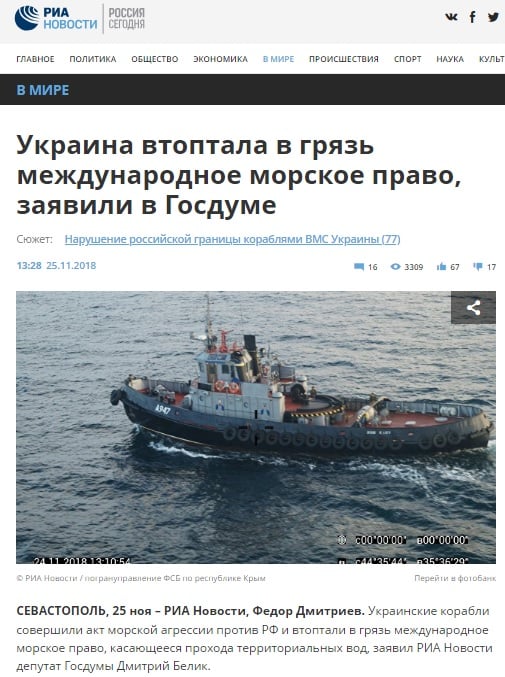 The Ukrainian vessels were sailing from the Black Sea port of Odesa to the Azov Sea port of Mariupol. The Kerch strait is the only entrance to the Sea of Azov from the Black Sea.
Russian media kept silent about opening fire on the Ukrainian vessels. They did not mention that a Russian coast guard ship rammed a Ukrainian vessel, all the while repeating their mantra "three Ukrainian ships illegally crossed the Russian border". November 25th Vesti evening news program continued to deny the seaborne clash, saying "our services know nothing about this". It was only as the day drew to an end that Russian media began to announce that the FSB had detained three Ukrainian Navy ships and had shot at the Ukrainians "to force them to stop". The incident was promptly described as maritime aggression against the Russian Federation initiated by Ukrainian President Petro Poroshenko, who organized all this to bolster his standings on the eve or presidential elections in March 20189.
The main theme of Russia's spin on the incident was that Ukraine had orchestrated a provocation.
RIA Novosti continued their fake coverage of the incident in an increasingly aggressive vein, quoting Yakov Kedmi, the pro-Putin former director of the Israeli organization Nativ, who said that Israel's military have strict instructions to be ruthless in defending closed Israeli bodies of water, "open fire on them and drown them immediately". (Born Yasha Kazkov in Moscow, Mr. Kedmi headed Nativ, which helped Soviet Jews immigrate to Israel.)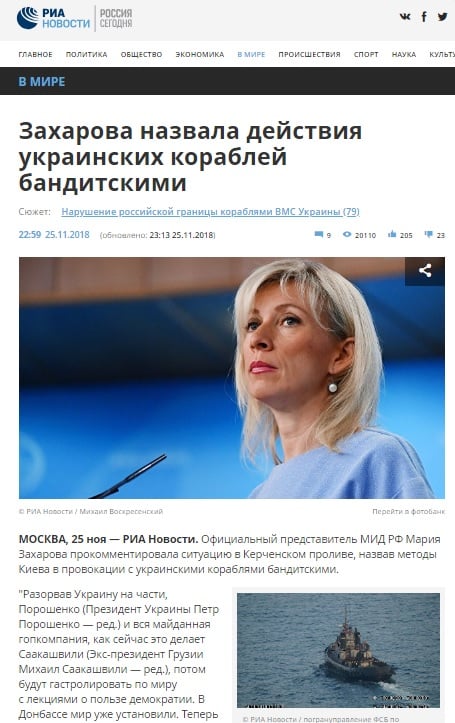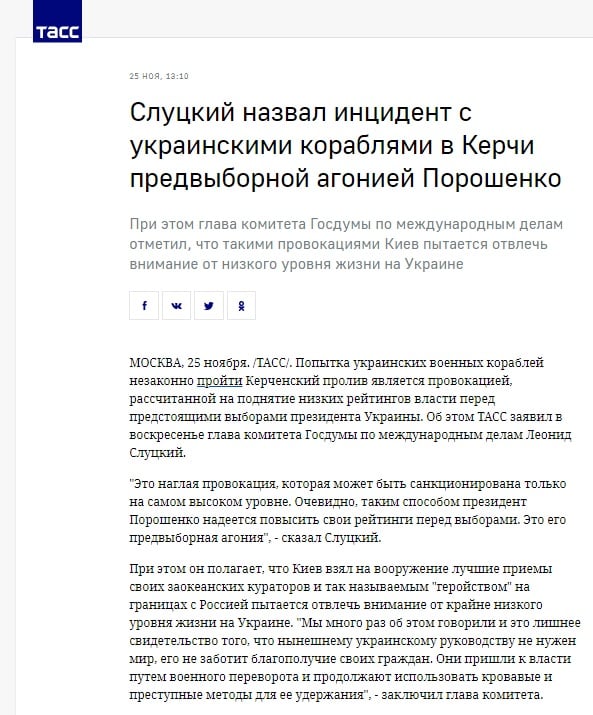 Another theme that Russian media resorted to in their manipulative coverage of this latest clash is that the incident was staged by Ukrainian President Petro Poroshenko (or even the United States, as in Moscow's fake reality it is really Washington that calls the shots in Ukraine)to raise his flagging ratings and help him win next year's presidential election. Leonid Slutsky, the chairman of the Russian Duma Foreign Affairs Committee called the incident Poroshenko's pre-election agony, while the acerbic Russian Foreign Ministry spokeswoman Maria Zakharova declared that the Ukrainian ships had resorted to bandit methods.
Rossia 24's TV Vesti program featured endless talking heads for hours on end, all of whom echoed one another claiming the incident was provoked by President Poroshenko to help raise his popularity.
TASS military expert Viktor Litovkin called President Poroshenko a marionette and declared that the real shots are called by the US ambassador and US special envoy for Ukraine negotiations Kurt Volker.
The chairman of the Russian Federation Council committee on information policy Aleksey Pushkov announced that President Poroshenko personally ordered the altercation in the Kerch strait "This is a provocation intended to raise his popularity," he said.
The deputy chairman of the Federation Council international affairs committee Vladimir Dzhabarov accused President Poroshenko of provoking a conflict so that he could delay next year's presidential elections.
In her weekly Itogi nedeli program NTV anchor Irada Zeynalova also called the incident a provocation aimed at boosting President Poroshenko's rating. "War is his instrument" she declared.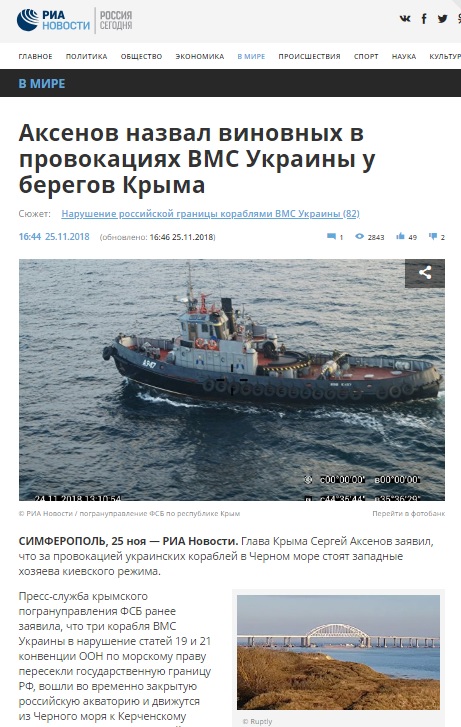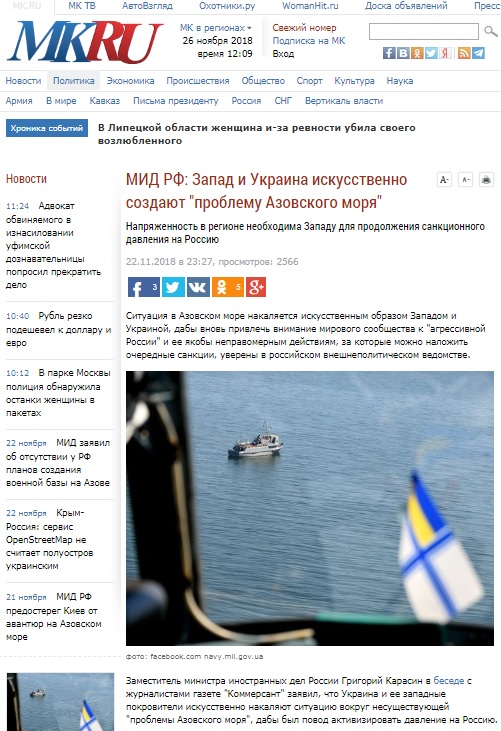 Poroshenko was not the only one accused of orchestrating the incident. A satisfactory Russian manipulation of news isn't complete if the West and the US in particular are not blamed. Sergey Aksyonov, the Russian appointed head of annexed Crimea declared that Kyiv's Western masters were behind this 'provocation' as they had been talking for months about the situation in the Azov Sea.
Neither did the Kremlin faithful Moskovskyi Komsomolets newspaper stray from the official narrative, declaring that "Ukraine and its western patrons are artificially creating a heated situation around the non-existent Azov Sea problem just so they could have another reason to pressure Russia".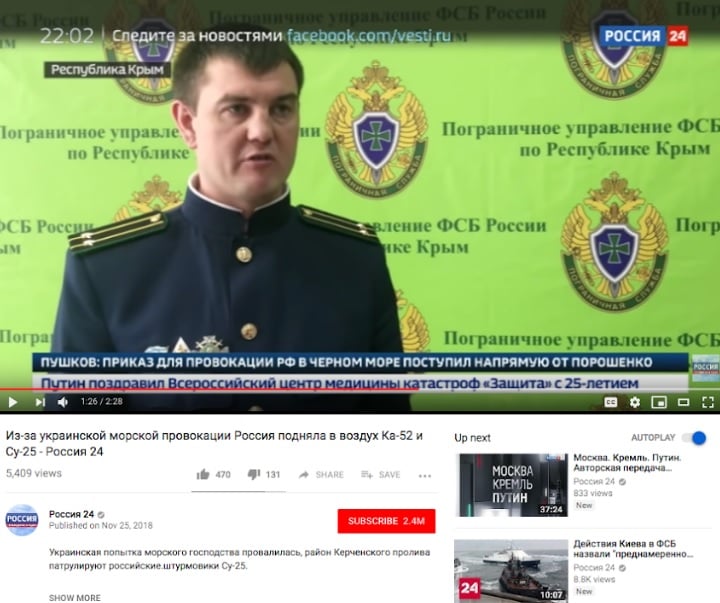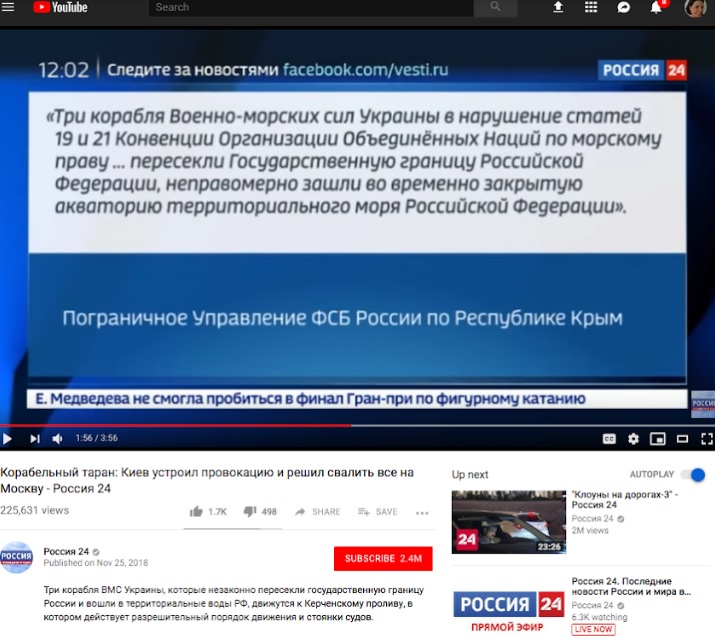 Official Russian media presented its actions against the Ukrainian ships as a logical response to "Ukrainian provocations". "Sometimes you have to enter into a conflict to teach a smart aleck a lesson. If we arrest these ships Ukraine will understand that it cannot act this way" said TASS military expert Viktor Litovkin.
Russian propagandists also began claiming that Ukraine's military had begun shelling Donetsk, which led to scores of social media posts from Donetsk contradicting the claim and reassuring that all was quiet in occupied Donbas. As November 25 came to a close, these stories at least, stopped being disseminated.