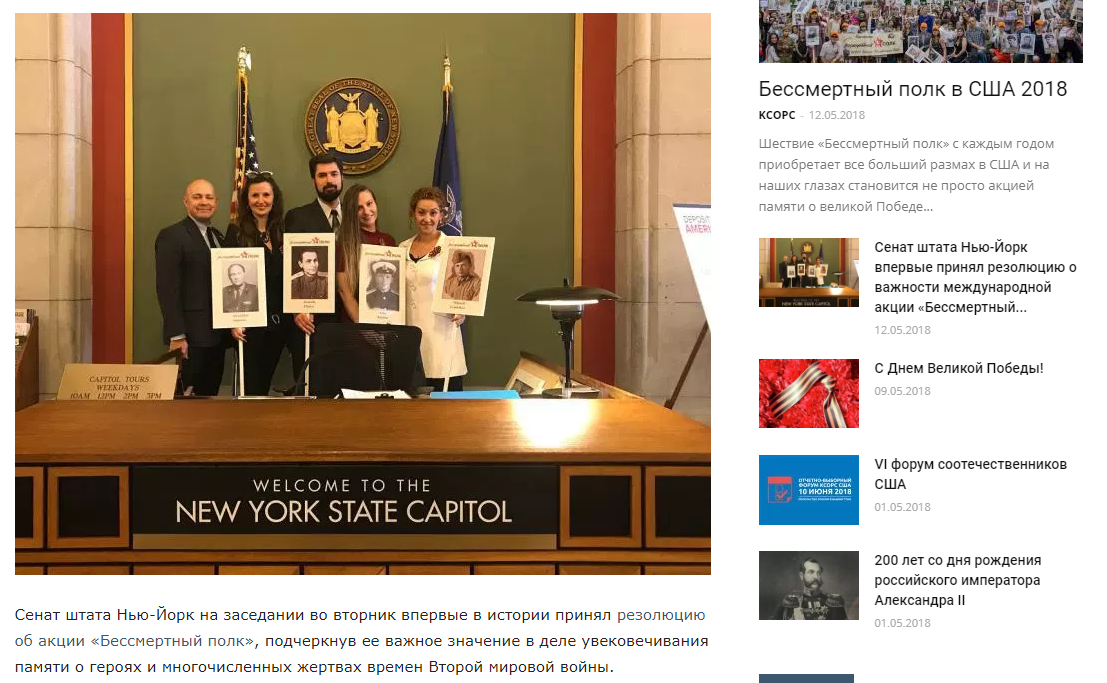 By Sarah Hurst (@XSovietNews), for StopFake

It is absurd enough that Russia organises "Immortal Regiment" marches all over the world in early May, but the cynical propaganda stunt has taken a further step forward by gaining approval in a resolution by the New York State Senate. On May 8 this year Democratic Senator Luis Sepulveda welcomed a delegation of the "Russian Youth of America" to the Senate chamber and oversaw the adoption of his resolution, which said, "this Legislative Body is justly proud to commemorate the 4th Annual New York Immortal Regiment March organized by the Russian Youth of America."
Several hundred people participated the Immortal Regiment march in New York on May 5, and sang the Russian national anthem wearing St. George ribbons on the same day when police arrested protesters all over Russia who were opposing the forthcoming inauguration of Vladimir Putin. On Mat 15 opposition leader Alexei Navalny was sentenced to 45 days in prison for organising the protests, the theme of which was "He's not our tsar!" A GoFundMe page for the Immortal Regiment march in New York says $4,040 was raised by 95 people in one month.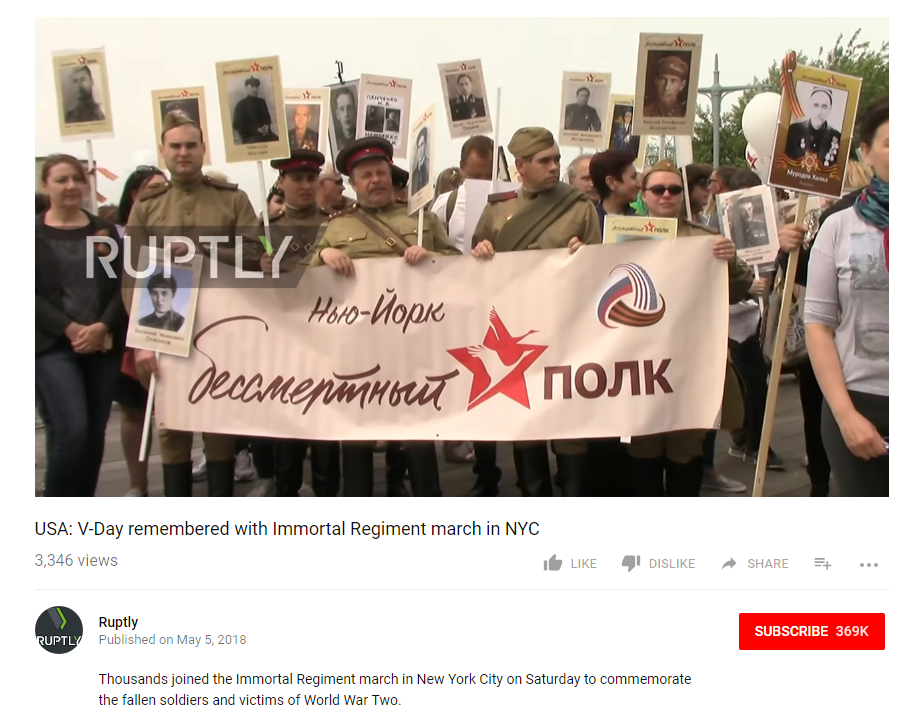 LaRouchePAC ties
Igor Kochan, the president of the Russian Youth of America, who was one of the visitors to the Senate, is vice president of production and logistics for a company called American Christmas, which provides customised decorations. He also has ties to the LaRouchePAC organisation of 95-year-old Lyndon LaRouche, a well-known far-right conspiracy theorist who served time in prison for fraud in the 1990s.
At a conference in Manhattan in May 2016 LaRouche said: "Look at Putin. Putin is an honest soldier in every sense of the word… He probably is one of the best, most competent military figures of the current time. He has a tremendously good record. And he has great achievements." Kochan then asked LaRouche what he thought of the Immortal Regiment, saying, "One of the events that we had this year was called the Immortal Regiment. I'm really grateful that members of your organisation joined us, and grateful for the choir that sang at that event." LaRouche replied, "You've just got to make sure you've got the right home of that organisation. That's all you require."
Also in May 2016 the LaRouchePAC published an article titled "Putin is winning, through creativity – US must learn the lesson", which began: "Vladimir Putin is defeating Obama and the rapidly emerging Nazi International which Obama is leading on behalf of the British Empire." In a report by Russia's state-controlled Channel One in February 2015, Kochan can be seen at a protest in New York holding LaRouchePAC sign saying "No War With RUSSIA! Putin Is Your Friend!" The protesters said they were against "Russophobia" and people who had disrupted a performance by pro-Putin conductor Valery Gergiev and soprano Anna Netrebko.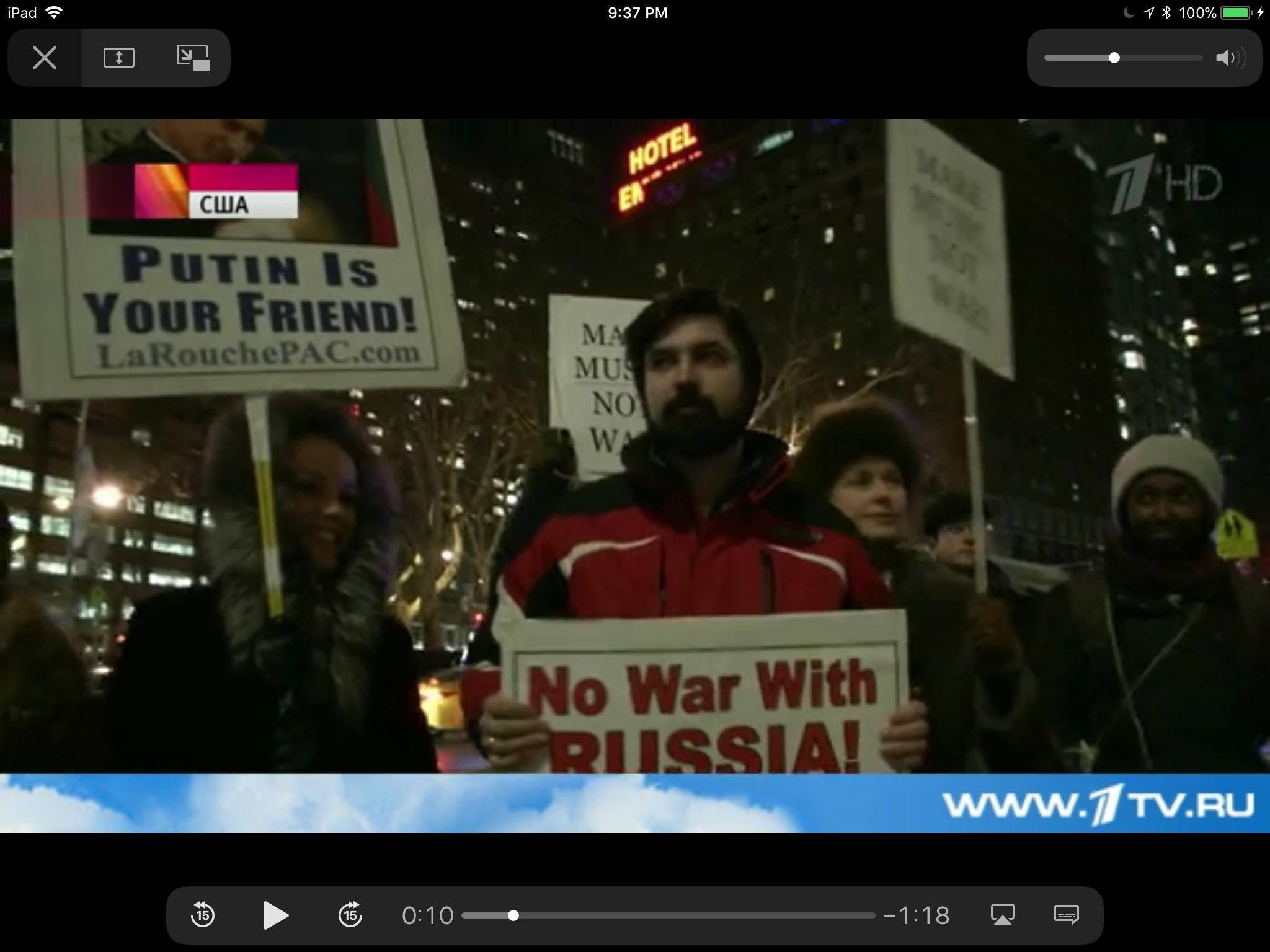 According to Channel One, Daniel Burke, who describes himself on Twitter as a LaRouche activist, said at that protest: "We're protesting against those who openly support the worst people in the Ukrainian government, which was formed by Ms. Nuland and Barack Obama. It's destructive, it provokes Russia into war. We should all unite and direct our efforts towards peace. And what's Obama doing instead of that? Now he's planning to arm Ukraine. It's absurd!"
Kochan moved to the US from Russia in 2006, at the age of about 23, according to a bio on the website of the Coordinating Council of the Organisation of Russian Compatriots of the USA, of which he is a member. According to this organisation's documents, the US has the third-largest number of Russian "compatriots" in the world, 3.1 million, after Ukraine (4 million) and Kazakhstan (4.5 million). "Partners" listed on the organisation's website include the Russian Foreign Ministry, the government organisation Rossotrudnichestvo, the Russian embassy and consulates, the Russian Cultural Centre in Washington, D.C., and the Russkiy Mir Foundation.
Aide organises Russia trip
So who or what prompted Senator Sepulveda to invite Igor Kochan to visit? The answer, most likely, is Sepulveda's legislative director, Anton Konev, who is originally from St. Petersburg and came to the US as a teenager in 1997. According to his LinkedIn bio, in addition to his political activities, Konev was a top salesperson in the Women's Shoes Department at Macy's, where he worked for four years until this February. He graduated from SUNY at Albany with a BA in Political Science.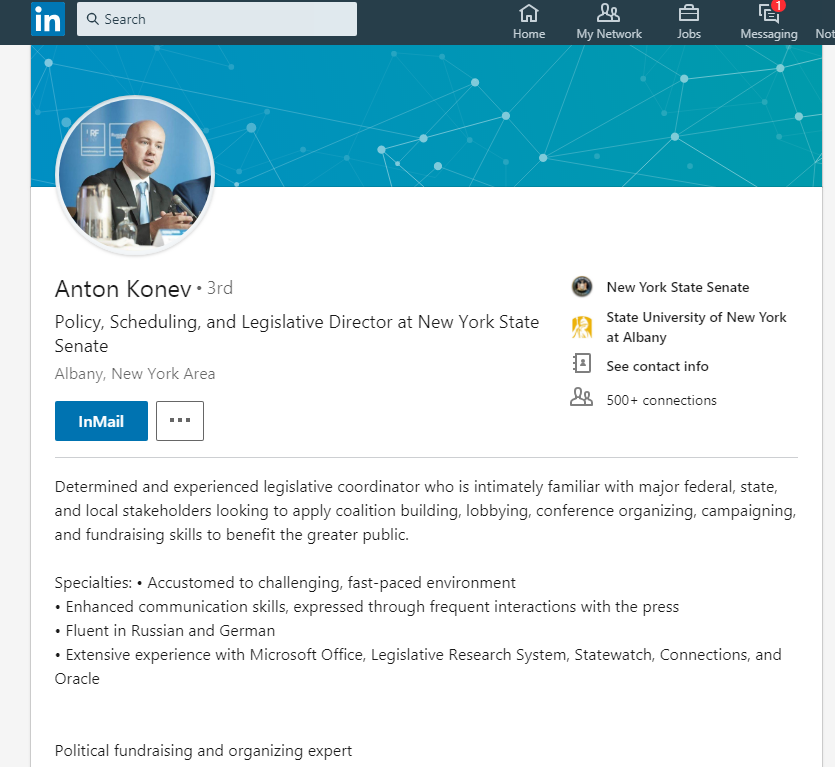 In a Twitter conversation, Konev denied that the Immortal Regiment march has links to Putin. "What is interesting is that Putin regime sent someone to take over Regiment in the USA but was not allowed by New York residents who already were in charge of it. So our state's effort is indeed independent. So you are wrong calling this effort to honor WWII veterans propaganda," he said. Asked if he himself supports Putin, Konev replied, "I do not." However, he was unable to provide any examples of online comments he had made criticising Putin. He also denied that the St. George ribbon is a symbol of aggression against Ukraine, pointing to a Wikipedia link about the history of the ribbon. "St. George ribbon proceeds [sic] any Ukrainian conflict," he said. "Yes the separatists there embraced it but that does not mean that it is a symbol now of theirs."
Konev also organised a visit to Russia by New York state senators in September last year, during which they met Moscow mayor Sergei Sobyanin. The New York Post reported that Democratic Senator Diane Savino's praise for Moscow was featured on Russian propaganda website Sputnik. "We were really quite surprised to see how well the city of Moscow is run," she said. "So we are hoping that we can learn some stuff and bring it back to NYC and maybe implement some of the really smart stuff that they have done here in the past few years." The official tour of Moscow probably didn't include mention of the protests that have been taking place outside the city against toxic fumes from landfills, or the police crackdown on the protesters.
"In an ironic twist, Savino's colleagues in the state Legislature couldn't read her remarks, because the Capitol building's computer servers block access to the controversial Sputnik Web site," the New York Post said. "I believe in good relations, peace, and cultural, economic, and educational exchanges," Konev said on Twitter in response to a question about the trip. "I am partially Ukrainian, partially Armenian, partially German. Why? Because for years we have been friends and must remain such. People are people. They can not be described by their leader."
Senator Sepulveda did not respond to requests to comment for this article. When StopFake called his office, a man with an accent answered the phone and said he would take a message. Asked if he was Anton, the man hung up.
By Sarah Hurst (@XSovietNews), for StopFake