Opinion polls conducted in Ukraine do not support Putin's claims that Ukrainians hate their government. Most Ukrainians believe in Ukraine's victory, support the Ukrainian Armed Forces, the military and political leadership, are proud of their citizenship and plan to build their future lives in Ukraine.
The Russian government and its media minions continue to churn out narratives to justify Russia's full-scale invasion of Ukraine. Russian President Vladimir Putin played into those narratives by announcing at the Eastern Economic Forum that "a huge number of Ukrainians hate the Kyiv regime."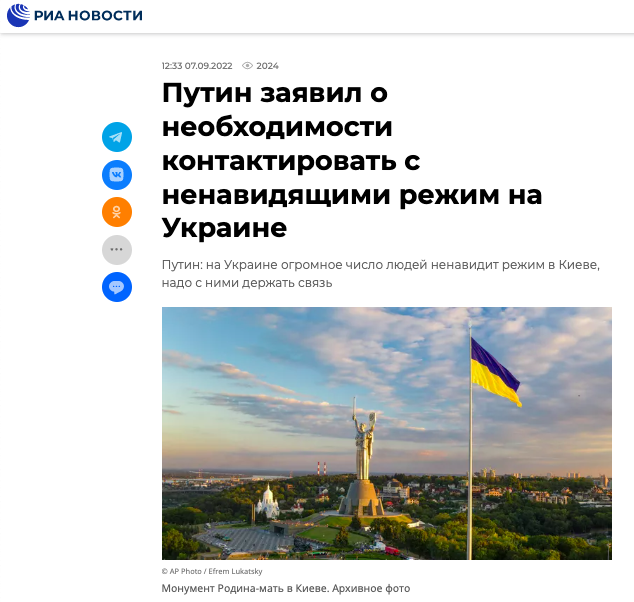 "They are under the yoke of the neo-Nazi regime there. I assure you, there are many such people there and we must maintain relations with them, and we will continue to do so," Putin said. He also added that the future of Russian-Ukrainian relations depends on "this part of Ukrainian society, which is aware of what is happening in the country and is ready to fight it."
Such statements by the Russian authorities are nothing more than disinformation, and once again, Putin has resorted to chauvinistic wishful thinking that has nothing to do with reality. Polls conducted by various organizations in Ukraine completely contradict not only Russian propaganda claims, but the deluded beliefs of the Russian President, showing that most Ukrainians believe in Ukraine's victory, feel proud of their country, and support the activities of the current government.
On the eve of Ukraine's Independence Day – August 24, the Rating sociological group conducted a comprehensive study of various markers of Ukrainian patriotism. Survey participants were asked about their belief in victory, what emotions they feel towards the country and themselves, and how they see the situation in the country and its position in the world. 74% of Ukrainians see the direction of development in the country as the right one, 13% believe that it is moving in the wrong direction, and the same number could not answer the question. An absolute majority – 93% – are sure that Ukraine will be able to repel Russia's attack. 75% said that the main emotion they feel when thinking about Ukraine is pride, 29% said they feel sadness, and 26% feel joy. 94% of respondents said they identify themselves as citizens of Ukraine.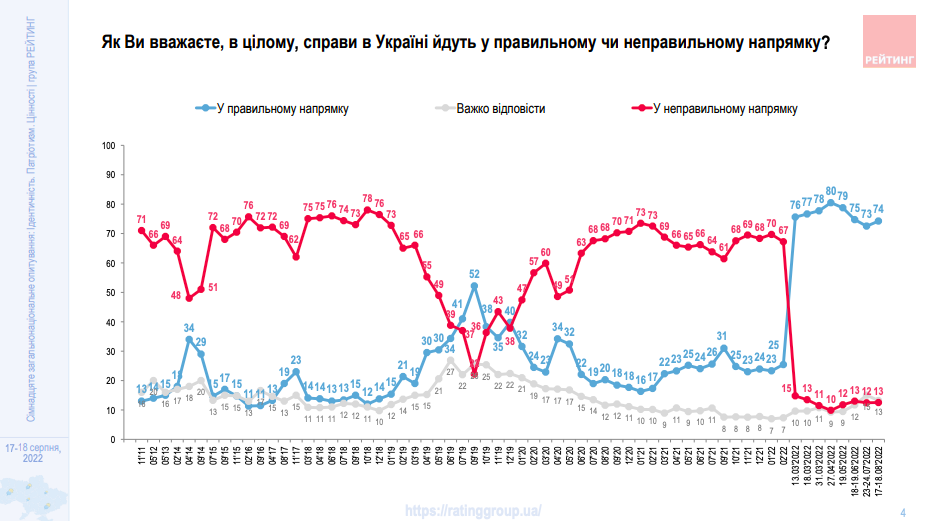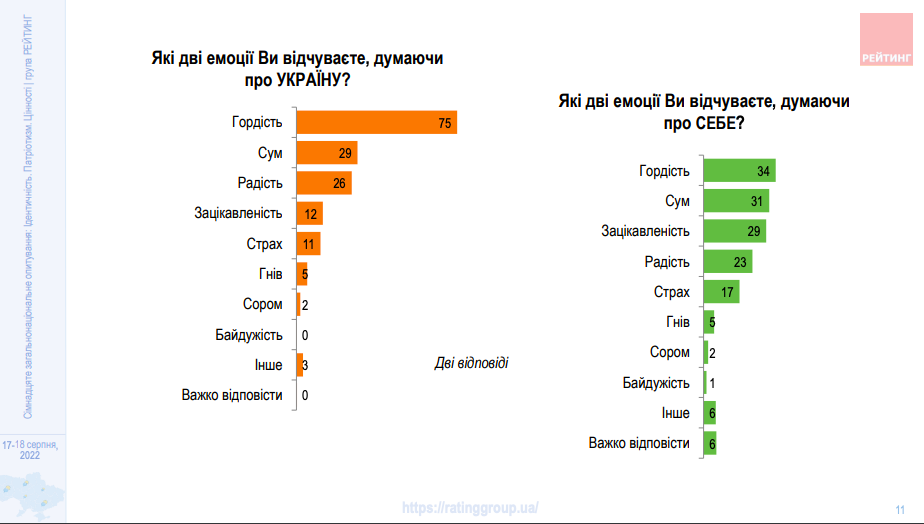 At the end of June, the Rating sociological group conducted a survey commissioned by the International Republican Institute (IRI) Center for Insights in Survey Research (CISR) which yielded similar results – 81% answered that they believe that Ukraine will win this war, 16% answered that they most likely believe in a Ukrainian victory.
Survey participants were also asked whether they support the actions of Ukraine's Armed Forces, the President of Ukraine, the heads of various ministries, parliament, etc. Ukrainians gave their highest endorsement to the Ukrainian military – 88% strongly approve and 10% generally approve of their actions. Ukrainian President Volodymyr Zelensky came in second place, 59% said they strongly approve of his actions, 32% said they generally approve. Ukrainians also demonstrated a rather high level of support for the actions of other government institutions.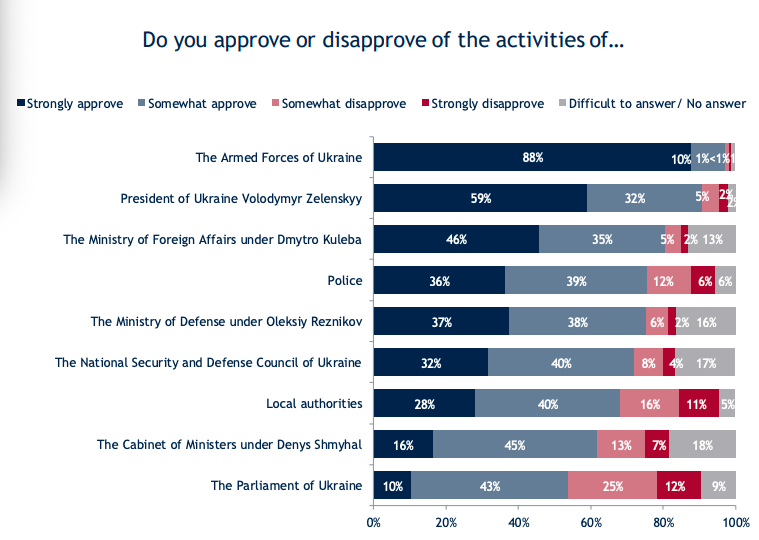 The results of yet another sociological survey conducted by the Democratic Initiatives Foundation together with the Razumkov Center from August 5 to 12, 2022 (What Unites Ukrainians and how we see victory in the sixth month of war) also showed the high belief of Ukrainians in victory (over 90%), as well as pride in their citizenship (about 90%). In addition, 87.3% of men and 89.5% of women said that they want to build their future life in Ukraine.

Putin can repeat his lying mantra of Ukrainians and Russians being one people, but his war against Ukraine has shown the lie of his claim. Russia's invasion of Ukraine has solidified Ukrainian identity even more and led Ukrainians to clearly outline for themselves what kind of relationship they would like to build with their Russian neighbor. Compared to the period before Russia's invasion of Ukraine, the number of Ukrainians who believe that there should be closed borders with visas and customs offices between Ukraine and Russia has grown from 44% to 79%. This was the result of a poll How Ukrainians see relations between Ukraine and Russia conducted by the Kyiv International Institute of Sociology from July 6 through July 20.
Earlier StopFake debunked a Russian media fake claiming that Russia was slowing down its offensive in Ukraine on purpose in order to avoid civilian casualties.