The full-scale invasion of Ukraine by the Russian Federation which began on February 24, 2022, is a flagrant violation of international law and a naked act of aggression.
A number of pro-Kremlin media disseminated a statement by Russian President Vladimir Putin that Russia launched its so-called "special operation to protect the population of Donbas" in accordance with the United Nations Charter. Putin made this outrageous statement during a meeting with the UN Secretary General António Guterres.
"After we did this (recognized the self-proclaimed Donetsk and Luhansk People's Republics as independent ed.) they requested that we provide them with military assistance against the state that is conducting military operations against them. And we had the right to do this in full accordance with Article 51, Section VII of the UN Charter" Putin said.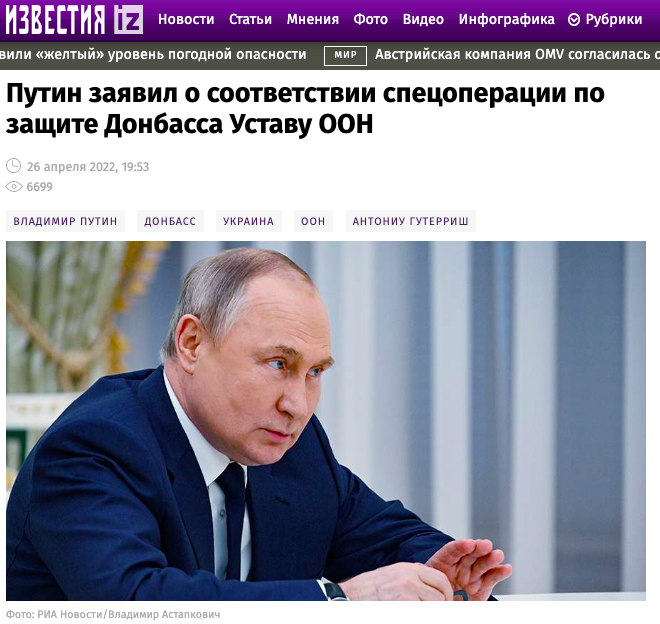 UN Charter Article 51 guarantees the inalienable right of individual or collective self-defense if an armed attack occurs against a member of the UN. According to legal experts, only states have such a right, and not illegal formations such as the unrecognized "people's republics" on the territory of the Donetsk and Luhansk provinces in Ukraine. As international law expert Elizabeth Wilmshurst points out in an article for the British policy institute Chatham house, Putin's legal arguments do not stand up to scrutiny.
"Putin said, 'the people's republics of Donbass turned to Russia with a request for help' and went on to seek to justify his military action under Article 51 of the Charter. But it is only in respect of states that the right of collective self-defence exists – humanitarian intervention on behalf of individuals in a state has not gained a place in international law. And it is only Russia which has recognized the statehood of the two regions" Wilmhurst writes.
"The law is as stated on behalf of the UN Secretary-General on 21 February – that Russia's decision to recognize the independence of the breakaway regions is a 'violation of the territorial integrity and sovereignty of Ukraine and inconsistent with the principles of the Charter of the United Nations.' There are no 'states' which can request the use of military force" Wilmhurst emphasizes.
"Article 51 allows for self-defence 'if an armed attack occurs'. This has been interpreted by many states to include defence against the threat of an imminent attack – for example, there is no requirement to wait until a nuclear strike has begun. But under no interpretation of 'imminence' can the situation in Ukraine constitute a threat to Russia. There have been no threats of force against Russia from Ukraine nor from NATO member states. There is nothing to support a legal justification for Russia's military attack against Ukraine" Wilmhurst argues.
By openly invading Ukraine from land, sea and air, the Russian Federation blatantly violated the UN Statute, countless norms of international law and committed an outright act of aggression – the most serious and flagrant violation of international law and order.
On February 27, Ukraine filed a lawsuit with the International Court of Justice in The Hague against the Russian Federation. On March 16, the International Court of Justice satisfied the claim and demanded that Russia immediately stop its military invasion of Ukraine.
In addition, Russia has also violated the Geneva Conventions on the conduct of war. Ukrainian territory is subjected to endless missile attacks, shells hit schools, hospitals, churches, Moscow uses cluster munitions, which are widely prohibited. StopFake has provided evidence of the Russian Army firing on high-rise residential buildings, trains stations, maternity hospitals, and other civilian infrastructure. The UN Human Rights Monitoring Mission in Ukraine has documented and confirmed 5,264 civilian casualties – 2,345 killed and 2,919 injured (February 24-April 20, 2022).
"We know that the real numbers will be much higher, when the horrors that are taking place in hard-fought areas like Mariupol come to light," said UN Human Rights High Commissioner Michelle Bachelet.