By Sarah Hurst (@XSovietNews), for StopFake
Basking in the glow of the World Cup final and a humiliation of Donald Trump in Helsinki yesterday, Vladimir Putin sat down for an interview with Chris Wallace of Fox News. Pro-Kremlin reporter Dmitri Smirnov tweeted: "Another present for Trump: In Helsinki Vladimir Putin gave an interview to the American channel Fox News, which belongs to the US president." It doesn't, but perhaps Smirnov was attempting humour. In fact, Fox had been unusually critical of Trump after the summit, and Wallace asked Putin about issues that Trump himself hadn't raised, but nevertheless Putin was able to put forward an array of lies and conspiracy theories once again.
Putin repeated a point that he had made during the summit press conference, which doesn't stand up to the most cursory scrutiny. He claimed that he wouldn't have collected kompromat on Trump during Miss Universe in Moscow in 2013, referring to the annual St. Petersburg International Economic Forum, where this year there were 500 business leaders, many of greater calibre than Trump was before he became president, according to Putin. "Do you think our special services organised surveillance of each and every one of them? Unlike the US, we don't do that. We don't have the resources, the manpower, to spy on everyone," he said.
Apology at Miss Universe
Putin deliberately ignored the fact that being the organiser of a Miss Universe in Moscow is radically different from being one of hundreds of visitors at an economic forum. At the press conference Putin also claimed that he didn't even know Trump was in Moscow for Miss Universe. The authors of the book "Russian Roulette: The Inside Story of Putin's War on America and the Election of Donald Trump," Michael Isikoff and David Corn, already reported that Putin's spokesman Dmitri Peskov called Trump to apologise that Putin couldn't be there, sent Putin's close aide Vladimir Kozhin, invited Trump to the Sochi Olympics and sent him a gift. When Isikoff tweeted about this yesterday, Trump associate Rob Goldstone responded, "I know this because I was there!"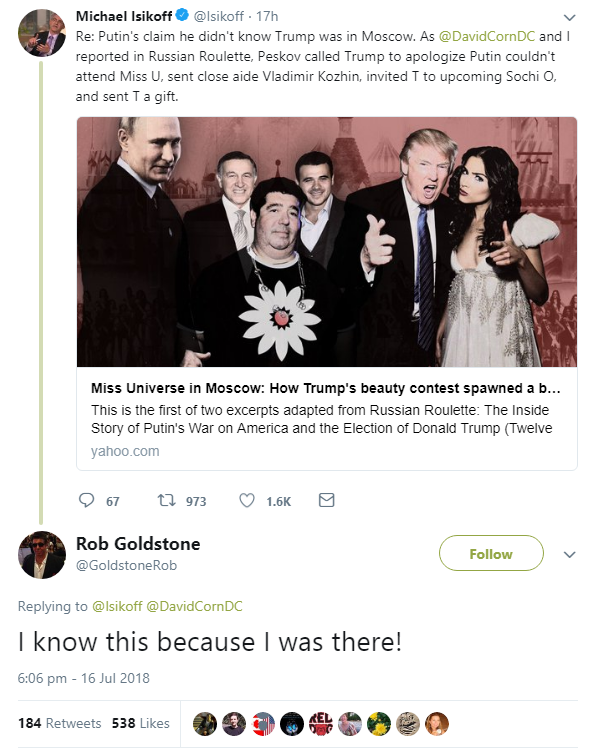 Goldstone, a British publicist and music manager, subsequently tweeted on a bright red background: "President Putin just stated that he had no idea Donald Trump was in Moscow in 2013. I know for sure that he did and tell the full story in my soon to be released book… Pop Stars, Pageants & Presidents: How an Email Trumped My Life." It was Goldstone who emailed Donald Trump Jr. in June 2016 on behalf of pop star and businessman Emin Agalarov to request a meeting between Trump Jr. and lawyer Natalia Veselnitskaya, which would become the notorious Trump Tower meeting where the Trump team asked the Russians for dirt on Hillary Clinton.
Indictments ignored
On Russian election interference in 2016 Putin was also in full denial mode, asking Wallace, "Do you really believe that someone acting from Russian territory could have influenced the choice of millions of Americans?" When Wallace tried to get Putin to take a copy of Robert Mueller's indictment of 12 Russian GRU officers who hacked the Democratic National Committee (DNC), Putin refused. At the press conference in Helsinki he had pretended that he didn't even know Mueller's name, calling him "Miller". By claiming that he hasn't read the indictment or other Mueller indictments of people including former Trump campaign chief Paul Manafort or guilty pleas by top Trump aides such as former National Security Adviser Mike Flynn, Putin can feign innocence – which might impress some, especially Trump himself.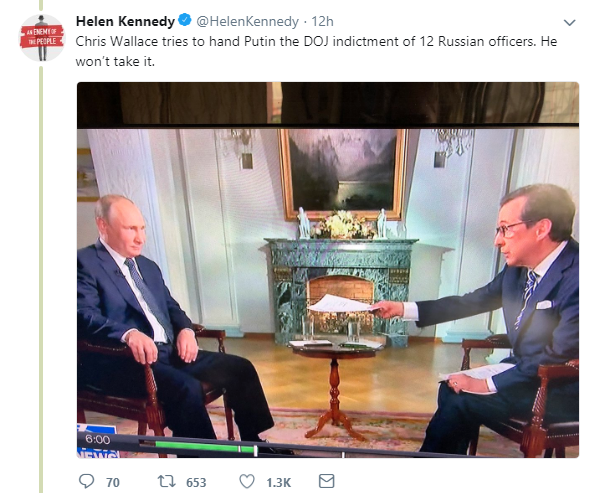 "I'm not the least bit interested," Putin said of the indictment of the GRU officers. "These are internal US political games. Don't hold the relationship between Russia and the US hostage to this internal political struggle… And it's nothing to be proud of for American democracy, because using law enforcement agencies in a political rivalry is inadmissible." Here Putin must have forgotten about Alexei Navalny being convicted in trials denounced by the European Court of Human Rights and banned from running in the March 2018 presidential election. On July 13 Navalny's co-defendant Petr Ofitserov died at the age of 43, reportedly after hitting his head "during an epileptic fit or a stroke," according to Russian media.
Putin claimed that he hadn't received a single document about election interference. "Now we hear that another two people suffered from that so-called chemical substance they called Novichok. But I've never even heard their names, who are those people? What did they suffer from?" he continued. It seems unlikely that Putin would not have heard that the two British people poisoned by Novichok were Dawn Sturgess and Charlie Rowley, and that Sturgess died after they both touched the bottle that was used to poison Sergei and Yulia Skripal in March. "What bottle? Who picked it up? Where did they pick it up?" Putin demanded. "Maybe there were other reasons why those people suffered. Maybe they're inside Great Britain. But no one wants to investigate. It's just baseless accusations."
Blaming the West again
When Wallace asked why Putin had changed so much after being elected as a reformer in 2000, Putin responded, "Nothing changed about me. I am the same as I ever was." As always he blamed the West for changing its behaviour by expanding NATO (Eastern European countries asked to join NATO for protection against Russia), sanctioning Russian officials through the Magnitsky Act (in response to the death of Sergei Magnitsky in prison after torture), and supporting what he calls the "coup" in Ukraine in 2014 (a popular revolution against the corruption of Putin-backed Viktor Yanukovych).
"It wasn't us who organised an armed coup and the government's overthrow in violation of the Ukrainian constitution," Putin said. "It wasn't us giving out cookies to rebels on city squares. Nothing happened to me. What happened to the West, I'd like to know." It was, however, Putin who gave asylum to Yanukovych and many of the Berkut riot police who beat and killed protesters during the revolution, and it was Putin who annexed Crimea and invaded Donbas, establishing terrorist-led fake states and killing over 10,000 Ukrainians. It was also Putin who sent a Buk missile system to Donbas which was used to shoot down flight MH17 four years ago today, killing all 298 people on board.
Putin laughed off the annexation of Crimea in the interview, saying, "If this was an annexation, then what is democracy?" At the press conference with Trump he had talked about organising a referendum in Crimea, but his sham referendum overseen by Russian troops without identifying marks was obviously in violation of Ukraine's constitution, which he claims to care about. Since the annexation the human rights situation on the peninsula has deteriorated severely, with Crimean film director Oleg Sentsov being sent to a Russian prison for 20 years, Crimean Tatars rounded up and arrested regularly, Ukrainian citizens jailed for alleged "sabotage", and farmer Volodymyr Balukh jailed for several years because he flew a Ukrainian flag on his home.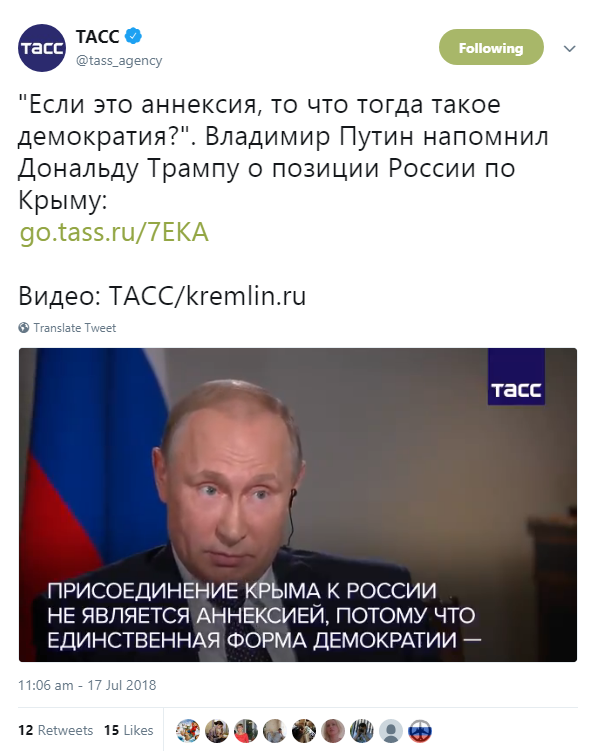 Whataboutism
Asked why so many of his political enemies end up dead, Putin turned to his trusted whataboutism, responding, "Haven't presidents been killed in the United States? Was Kennedy killed in Russia or in the United States? What about clashed between police and several ethnic groups? All of us have our own set of domestic problems. Russia's statehood is maturing and there are some side effects." Martin Luther King, Jr. was assassinated in 1968. Popular democratic politician and Ukraine supporter Boris Nemtsov was shot dead in February 2015. Investigative journalist Anna Politkovskaya was shot dead in 2006. Today the European Court of Human Rights ruled that Russia hadn't adequately investigated Politkovskaya's murder and ordered it to pay 20,000 euros in compensation to her relatives. It also ruled that Pussy Riot should receive 50,000 euros for a violation of their right to free speech when they were jailed for performing their Punk Prayer in the Cathedral of Christ the Saviour in Moscow in 2012. Yesterday four more Pussy Riot members were jailed for 15 days each for running onto the pitch in police uniforms during the World Cup final.
Putin knows that he has an audience for his lies, and he will continue to repeat them. But the good news is that Trump's universally-derided performance in Helsinki is likely to harden US opinion against Putin. Even Fox and Republicans are expressing serious concern that Trump is selling out the United States to Russia for his own personal reasons. After the press conference the US Department of Justice announced that it had arrested Maria Butina on a charge of espionage for activities that included trying to influence US politics via the National Rifle Association. The list of indicted Russians is getting longer, and more of Trump's closest associates almost certainly won't be far behind. No amount of lying from Putin will ultimately save his American protégé.
By Sarah Hurst (@XSovietNews), for StopFake