In February 2015 Russia's national television channel Rossia-1 aired "Crimea, the way home"  Andrey Kondrashov's film about the annexation of Crimea by the Russian federation. The film consists largely of interviews with Russian president Vladimir Putin, current members of the Crimean government, pro-Russian activists from the spring of 2014 and features assorted staged pro-Russian scenes and reenactments.
Clocking in at 2.5 hours, the  films examines how Russian special services organized former President Viktor Yanukovych's escape from Ukraine to Russia, praises the so-called "Crimean spring", condemns Ukrainian Maidan activists and explores the confrontation between Russia and the West.
Kondrashov's film presents a singularly pro-Russian view of the events that led to Russia's takeover of the Ukrainian peninsula and commits a number of errors and inaccuracies, which this article will examine in detail.
Death claims aired in film
Claim:  "Crimea, the way home" begins with a claim that several people from the peninsula,  who came to demonstrate against the Maidan protests were killed while returning back to Crimea.  On the 15th minute of the Kondrashov film, four people state that on February 20, 2014 buses of Yanukovych supporters and anti-Maidan activists returning to Crimea were attacked in Cherkasy province, one of the bus drivers and six pro-Russian  activists were killed. The film also claims that these attacks and deaths were confirmed by the Ukrainian Interior Ministry (20:40 minutes).
Facts
The Party of Regions press service and the chairman of the Crimea State Council Vladimir Constantinov both denied that anyone had been killed in Cherkasy oblast.
According to Anatoliy Mohylyov, who at that time was chairman of the Crimean Council of Ministers, the Cherkasy Interior Ministry authorities did not report any killings on February 20. There was also no information about any killings on the Cherkasy Interior Ministry site.
Former Crimean Minister of Health Alexander Kanevsky announced on February 21, 2014 that three people were wounded in the Cherkasy region however, there were no reported killings.
Simferopol resident Oksana Medieva, who traveled from Crimea to Kyiv to protest against the Maidan, was interviewed while hospitalized in Crimea (published March 3, 2014) and she clearly stated that there were no people killed (2:40 min.)
To date there has been no published information on record supporting the claim that people were killed in Cherkasy province on February 20, 2014. Of the many videos published of that day's events (video 1, video 2, video 3, video 4, video 5) none mention any killings.
In April 2014 Crimean authorities began officially claiming that seven people were killed in February in Cherkasy. Prior to early April one story was published in the local media in which an eyewitness claimed that people had in fact been killed.
Simferopol Ultimatum
Claim:  At 21:20 minutes "Crimea, the way home" makes another sweeping claim: Simferopol, whom Kyiv considered a nest of Maidan enemies, was given an ultimatum: dismantle the city's Lenin statue in the next ten days. This ultimatum consolidated local Crimea residents to protest even before the bloody events in Cherkasy oblast, "- claims the film's narrator.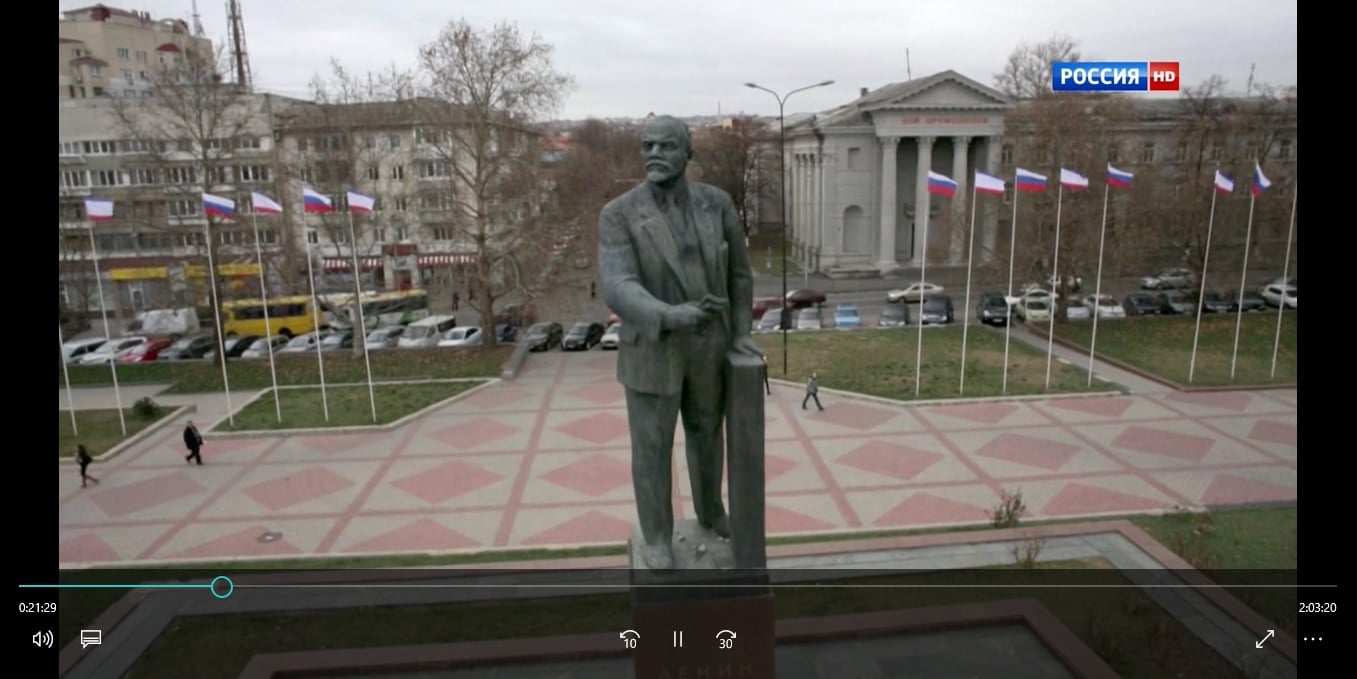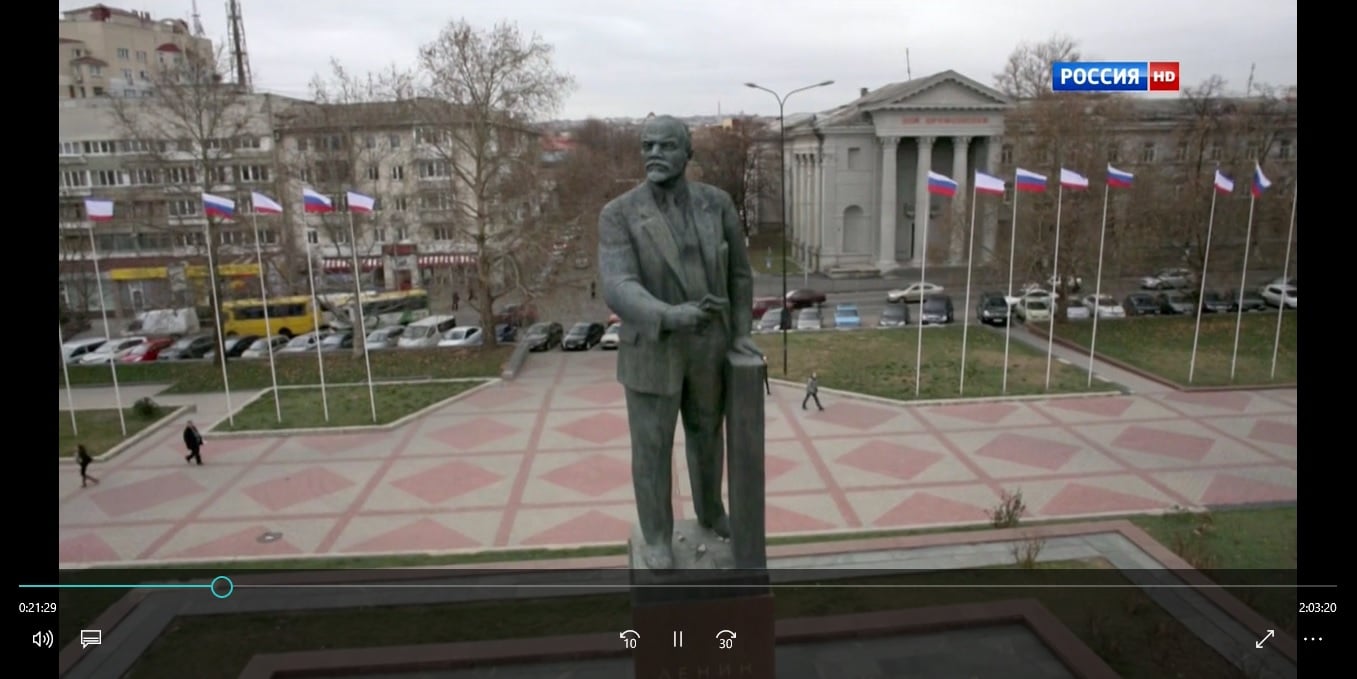 Facts:
Crimean buses returning to the peninsula were attacked in the Cherkasy region on February 20, while Viktor Yanukovych was still president of Ukraine. Yanukovych did not support removing Lenin statues from the country's central squares and plazas so it is unlikely that an ultimatum directing Lenin's removal from Simferopol could have been issued at that time.
It would appear that the film's creator had Crimean Tatar Medjlis leader Refat Chubarov in mind. On February 23 Chubarov called on Ukrainian authorities in Crimea to remove the Lenin statue from Simferopol within 10 days. Central authorities in Kyiv never issued any ultimatums about the Simferopol Lenin monument.
Ukrainian was never taught in Simferopol
Claim:  Sevastopol's self-proclaimed mayor Aleksey Chalyi claims in the film (34:40min.) that unlike the rest of Crimea, in Sevastopol Ukrainian was never taught in any schools.
Fact: General school No. 7 was in fact the one and only school in Sevastopol where the language of instructions was Ukrainian, something that Ukrainian media reported on in 2009 and 2012.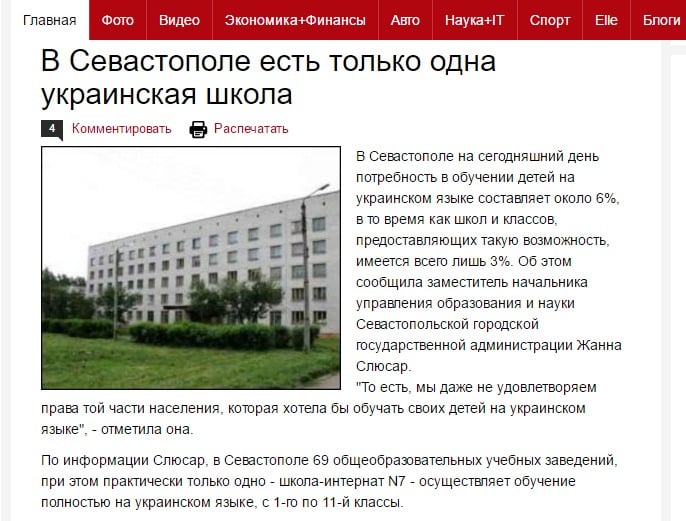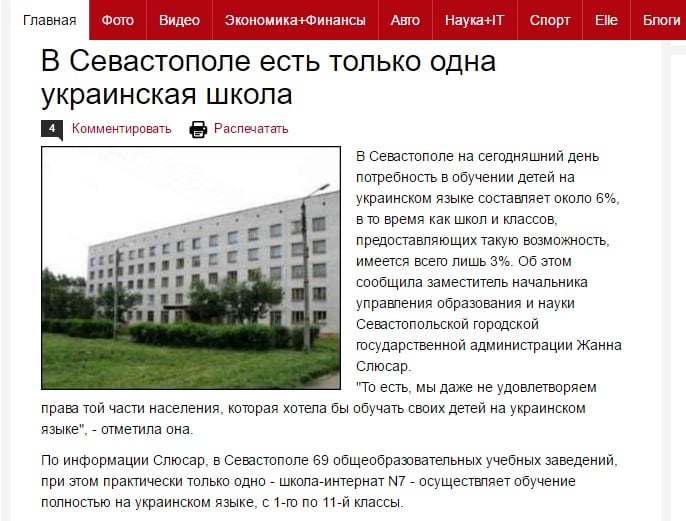 Demonstrator trampled to death Simferopol
Claim:  According Pavel Taran, a member of the so-called people's militia (groups of armed pro-Russian militants that facilitated the Russian takeover of Crimea) during a clash between pro-Ukrainian and pro-Russian demonstrators outside the Crimean parliament, an elderly man fell to the ground and despite attempts to save him, was trampled to death by the crowd.
Fact: During the demonstrations in Simferopol an elderly man died from a massive heart attack. Local media reported his death as did the Crimean Ministry of Health.  No one was trampled to death during the competing pro-Ukrainian and pro-Russian demonstrations.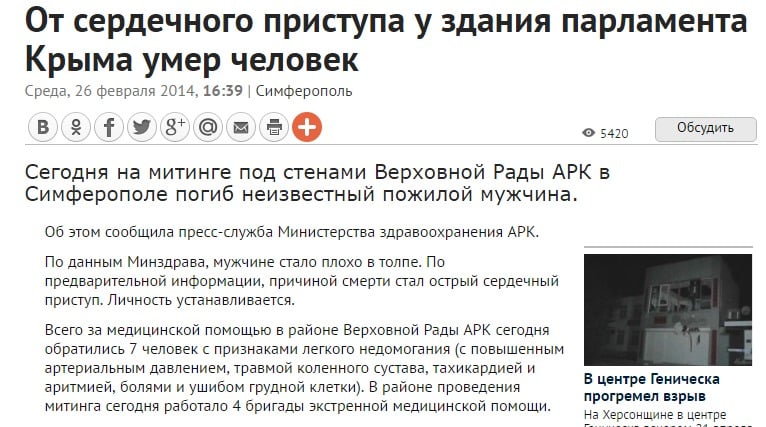 Kyiv- Simferopol ghost train
Claim: 50:23 min: On February 27 a "friendship train" organized by Ihor Mosiychuk, one of the leaders of the Ukrainian Right Sector group sets off from Kyiv to Crimea, where pro-Russian separatists will "answer for everything," Mosiychuk allegedly threatens. When the train arrives in Simferopol at 20:15 Ukrainian radicals on board are to launch a violent attack on Crimean and Russian separatists. The train was filled with wooden clubs, Molotov cocktails, guns and other weapons taken from a raided military installation in the Lviv region. "Before reaching Crimea the train stopped and over the course of three hours unloaded tons of weapons from the train. The Ukrainian Security Service warned Right Sector leaders that there were 1,500 militants waiting for them in Simferopol" the narrator claims 50:23 minutes into the film.
Fact
Ihor Mosiychuk talked about a "friendship train" to Simferopol while participating in a February 24 talk show on Ukraine's channel 112, however, there was never any mention of a concrete date, much less of February 27. Mosiychuk's announcement, noted the 112 journalist who was interviewing him,  sounded more like an attempt to intimidate pro-Russian residents of the peninsula and attract media attention rather than a concrete plan of action.
"As a Ukrainian nationalist I am telling you that any attempts to violate Ukraine's territorial integrity will be severely punished. If the authorities are incapable of doing this then Right Sector will organize a "friendship train, " Mosiychuk said. Referring to a previous Ukrainian right organization's trip to Crimea in 1990 (Ukrainian National Self Defense) Mosiychuk recalls how pro-Russian militants fled Sevastopol when Self Defense activists marched into city.  "Your aim is to frighten those very same people now?" asks the interviewing journalist.  "I am frightening those people who want are calling for the destruction of my country" answers Mosiychuk.
On February 27 Right Sector announced that the organization was not going to travel to Crimea with weapons: "Right Sector's Political Committee decided not to participate in resolving the Crimea crisis. We are not considering any forceful actions" the organization announced.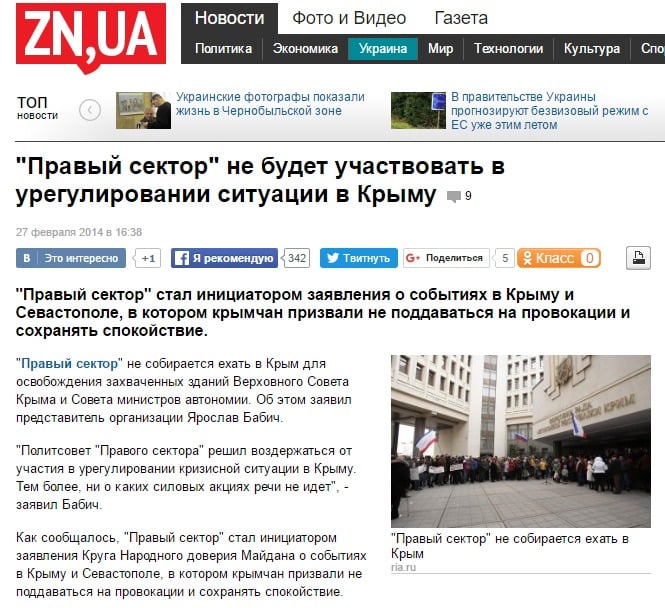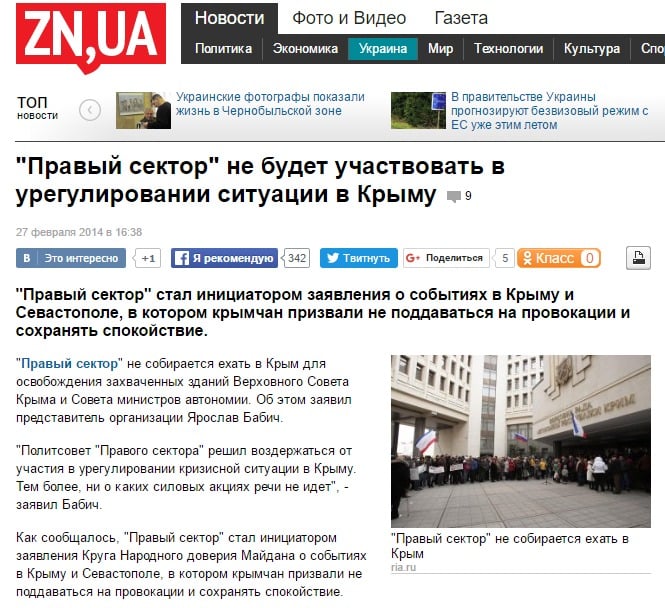 Ihor Mosiychuk, an avid Facebook user, wrote nothing about a trip to Crimea on February 27, in the days leading up to February 27 Mosiychuk was busy working for the release of jailed activists. On February 26 he wrote that he was on his way from Kharkiv back to Kyiv. As Mosiychuk was the only one who advocated the idea of a "friendship train", it seems strange that he was not involved in organizing this trip and going to Crimea in person.
There is no information anywhere that a Crimea bound train stopped somewhere in southern Ukraine to unload guns and other weapons.
Ukraine's national train service Ukrzaliznycia did not report any unscheduled train stops en route to Simferopol from Kyiv.
StopFake was unable to find any proof anywhere that unusually large numbers of passengers boarded the Simferopol bound train heading out of Kyiv or that over the course of three hours a large number of weapons was loaded onto the train. We also found no confirmation that arms and men in camouflage were unloaded somewhere in Kherson province.
Military vehicle breaks through checkpoint
Claim: (1:22:30) A Ukrainian military truck heading out of Kyiv ran through a checkpoint on the way to Crimea. Gun barrels and bullets were found in the cabin of the truck. The truck was stopped thanks to the "heroic act" of Oleg Gorshkow, a militant who parked his car in the path of the military vehicle. The film features a reenactment of this "heroic act".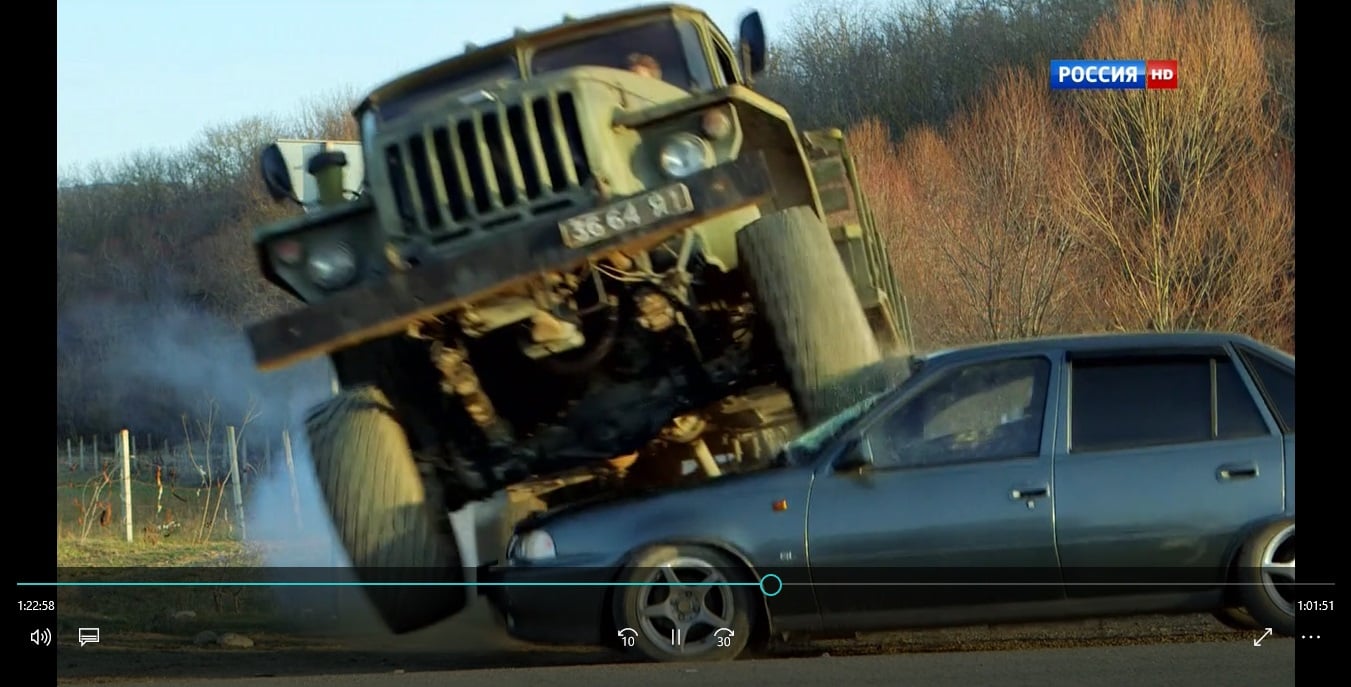 Fact
In a March 15 interview with Russia's first national channel Oleg Gorshkow recalls how the military vehicle was heading out of Crimea, not to Crimea.
The truck rode over Gorshkow's car and headed out of sight. No one ever examined the cabin of the truck and neither gun barrels nor bullets were found. Furthermore, none of the witnesses ever claimed that the truck was a military vehicle.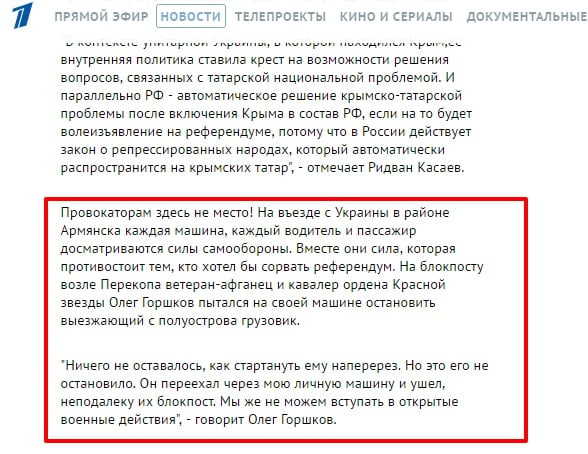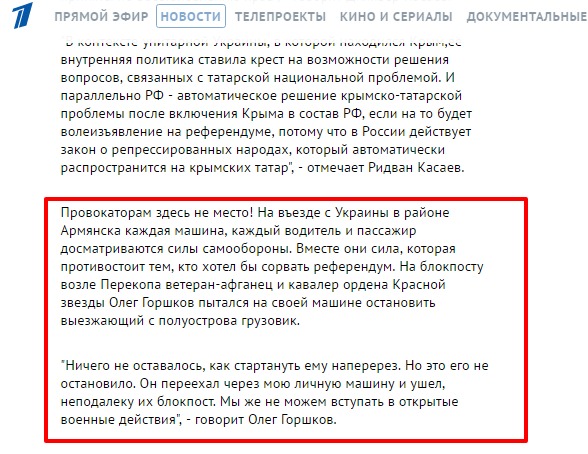 US cruiser Donald Cook and its deserters scared off the Black Sea by Russia's might
Claim: "Crimea, the way home" also touches on US-Russia relations,  claiming that the Russian Black Sea fleet frightened the cruiser Donald Cook (1:28:40) out of the Black Sea. The US Navy was so shaken up by Russian military might, claims the film, that more than ten Donald Cook servicemen resigned from the US Navy because of the proximity of Russian rockets and very close SU-24 flights frightened them so much (1:32:00 min.).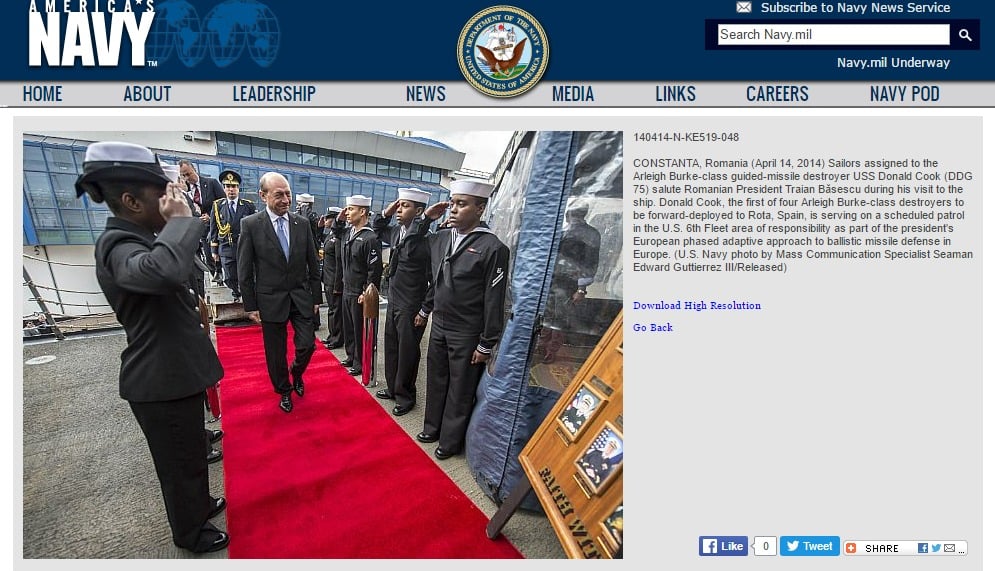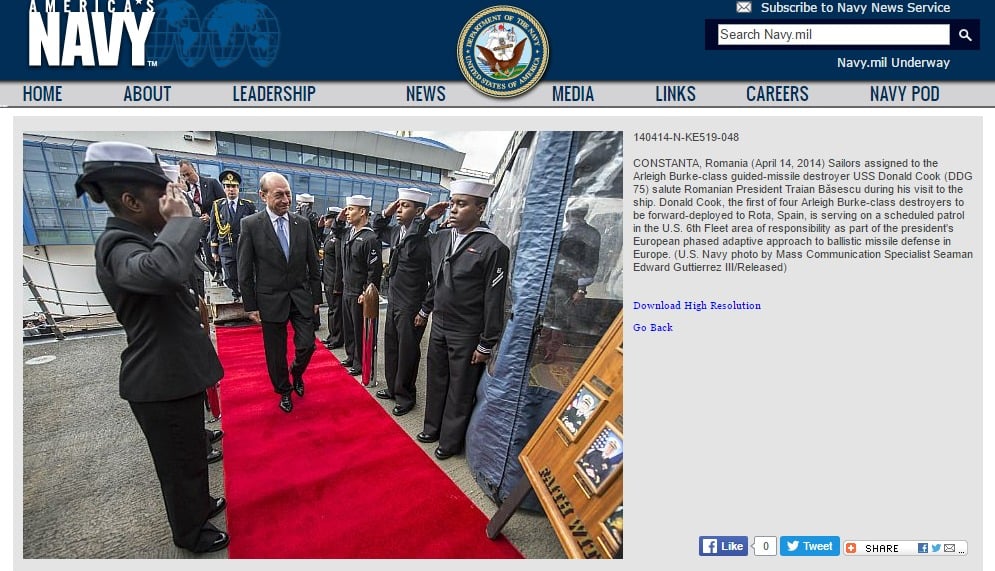 "We could clearly see the American destroyer on the monitors of Black Sea Fleet flagship cruiser Moskva   as it confidently sailed towards shores of Crimea. According to Russia's fleet commander Alexander Vitko, when the US cruiser Donald Cook "felt the radiation from Russian missiles" it turned sharply   in the direction of the Bosphorus "avoiding becoming the target of Russia's Bastion coastal missile system".
Fact
According to the Pentagon, the US cruiser Donald Cook entered the Black Sea on April 10, 2014 heading to the Rumanian port of Constanta. On April 14 the Romanian president personally welcomed the US destroyer. The Donald Cook departed the Black Sea as scheduled, on April 24 and headed for Spain. During the two weeks the US destroyer spent in the Black Sea, the US Navy conducted naval exercises with its Romanian partners together with the USS Taylor.
The alleged mass desertion of American sailors serving on Donald Cook was a completely fabricated story that StopFake debunked in April, 2014.
American General Consulate in Ukraine
Claim: Another false claim that the film maintains (2:08:06 into the film) concerns the Ukrainian marine battalion based in Feodosia. The battalion was under a Russian blockade for three weeks while negotiations were under way. The film claims that "Ukrainian marines were planning an armed breakout into Feodosia and the battalion's commanders received large quantities of money from the American General Consulate.
Fact
There is no US General Consulate in Ukraine. Why would Ukrainian marines make a surge for Feodosia when they were surrounded by Russian troops and Crimea was in fact already annexed by the Russian Federation? The siege ended on March 24, 2014 when the Ukrainian marines were disarmed.
Kyiv weapons in Crimea
1:21:50 into the film, scenes of a vehicle, seemingly from the Ukrainian mainland stopped at a separatist checkpoint in Crimea and filled with weapons,  appear very staged.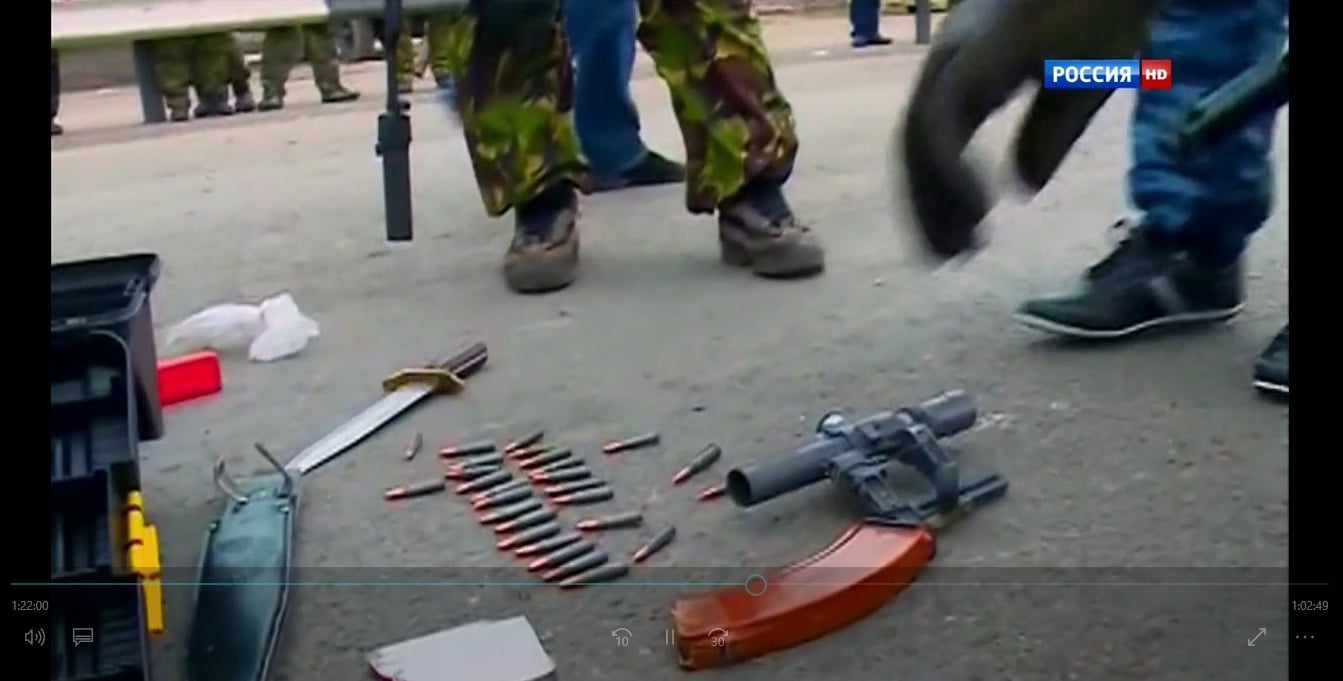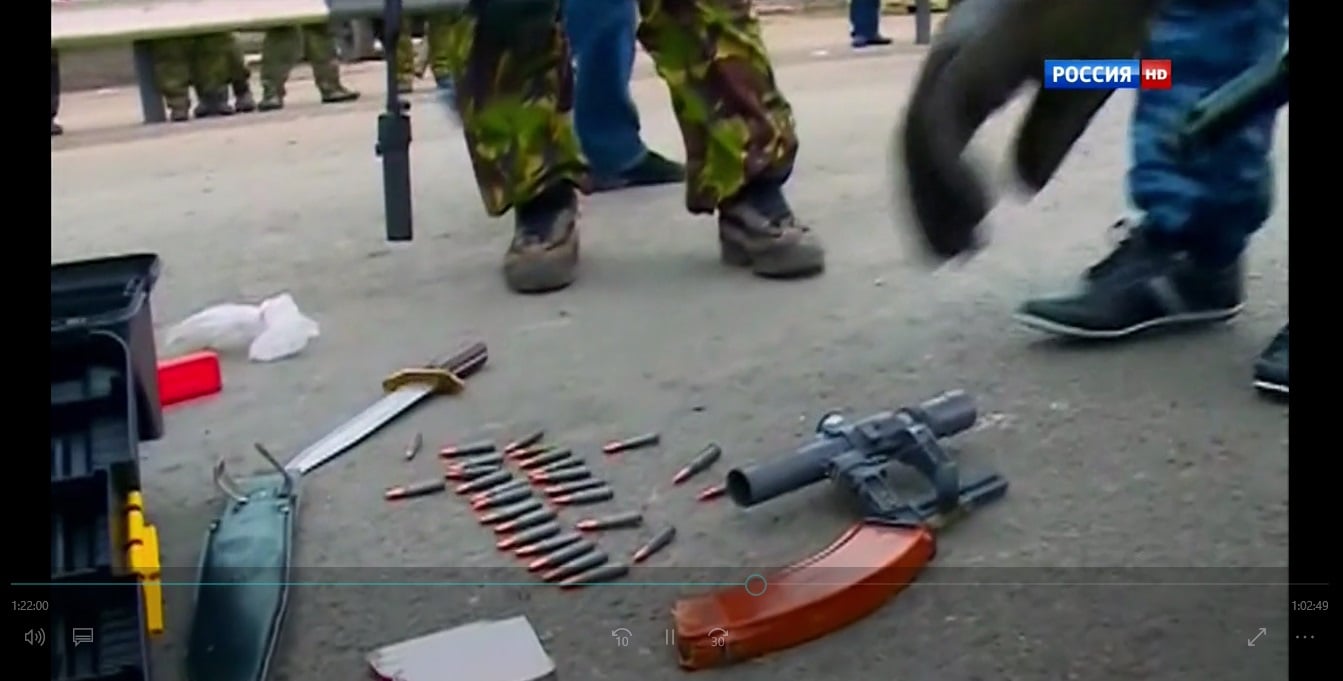 This footage was actually filmed by a Rossia 24 television crew preparing a story about the work of checkpoints in Crimea. (5:00).
https://www.youtube.com/watch?v=zWVwidy_F5E
Russia's troops deployment violations in Crimea
"Since we have not exceeded the number of troops in Crimea [more than 20,000], strictly speaking, we have not violated anything", – said Russian President Vladimir Putin. (According to the Ukraine-Russia agreement on the Russian Black Sea Fleet base in Crimea, Russian troop numbers could not exceed 20,000.)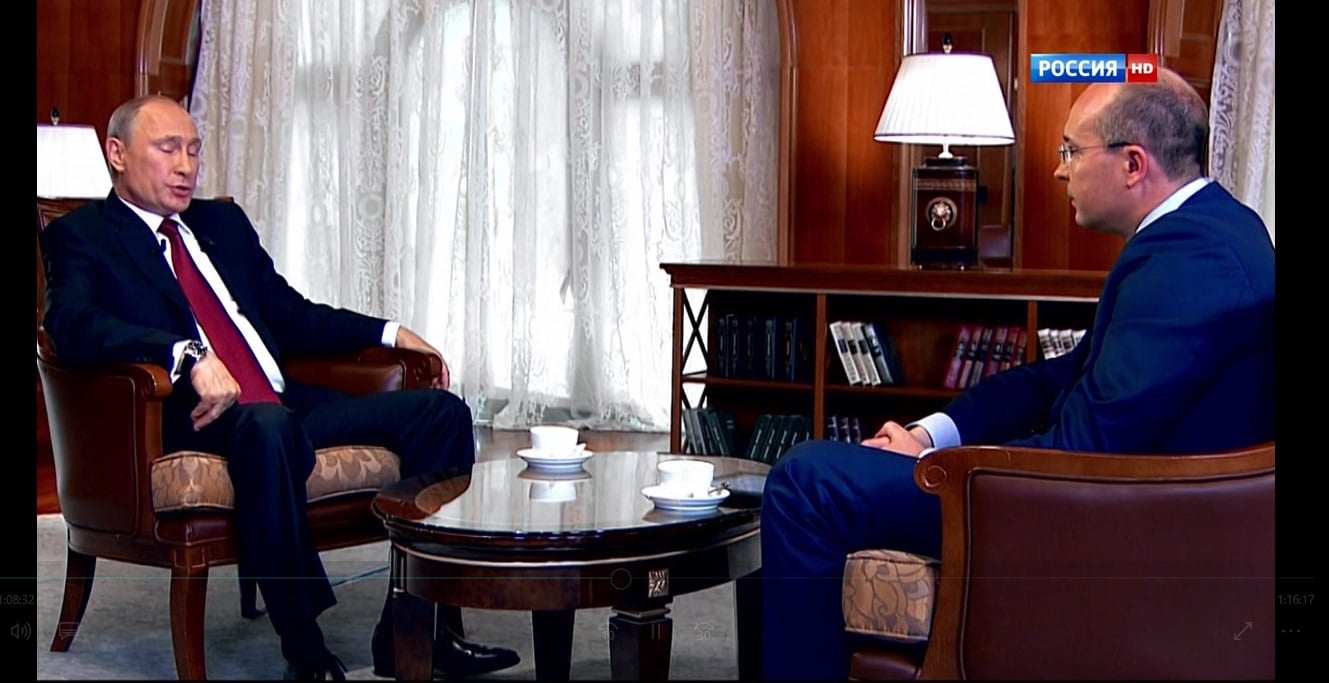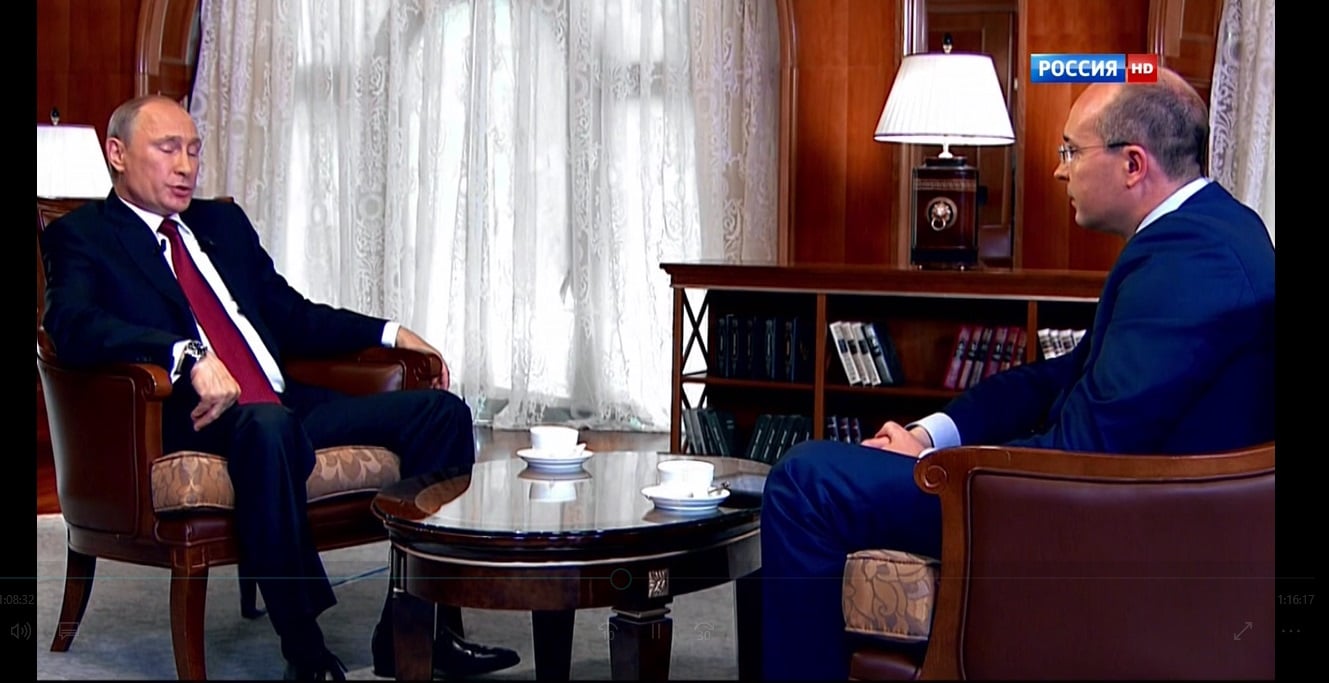 Ukraine's Foreign Ministry maintains that Russia violated the bilateral agreement with Ukraine on the dislocation of its Black Sea Fleet on Ukrainian territory. Beside the number of troops Russia was allowed to maintain in Ukraine, the agreement outlined other obligations that Russia was obliged to carry out, such as regularly advising Ukraine about Russian troop activities outside their areas of deployment.  The Ukrainian Foreign Ministry lists all of these violations in an official statement issued March 3, 2014.
Number of Ukrainian troops who stayed in Crimea
Claim: The film claims (2:05:30) that out of more than 20,000 Ukrainian troops based in Crimea, only 2,500 returned to the Ukrainian mainland.
Fact: Ukraine's Military Prosecutor Anatoliy Matios announced in February 2016 that between February and May 2014 6,000 Ukrainian military left Crimea.
Deaths the film chose to "forget"
When Russian troops attacked the Ukrainian military base in Simferopol on March 18, 2014, Ukrainian serviceman Serhiy Kokurin was killed.
A Russian soldier shot and killed Ukrainian serviceman Stanislav Karachevsky in the town of Novofedorovka.
"Crimea, the way home" is also filmed with speculative claims that are impossible to fact check.
The film claims that a poll showed the majority of people living in Crimea wanted to be part of the Russian Federation. Was a secret poll about wanting to "rejoin" the Russian Federation really conducted amongst Crimea residents on the eve of the military operation that led to the annexation? There is no information about any organization ever conducting such a poll.
Were American instructors really training Ukrainian radicals special tactics on how to confront the Berkut interior special forces? The Russian films names a technique – "Karpatskyi buk (Carpathian beech) – that has never before been mentioned by anyone.
Is it true that Ukrainian President Viktor Yanukovuch signed a document appointing Sergey Aksenov head of the Crimean government? If so, why has this document never been revealed to the media and why has Yanukovych never mentioned such an appointment?
Is there any real or documentary evidence that the Right Sector was going to blow up the Simferopol water basin and then poison the water?
Copyright violations
Producer Yulia Serdiukova says that "Crimea, the way home" used three scenes from her film about the Maidan "All things ablaze" without credit or permission.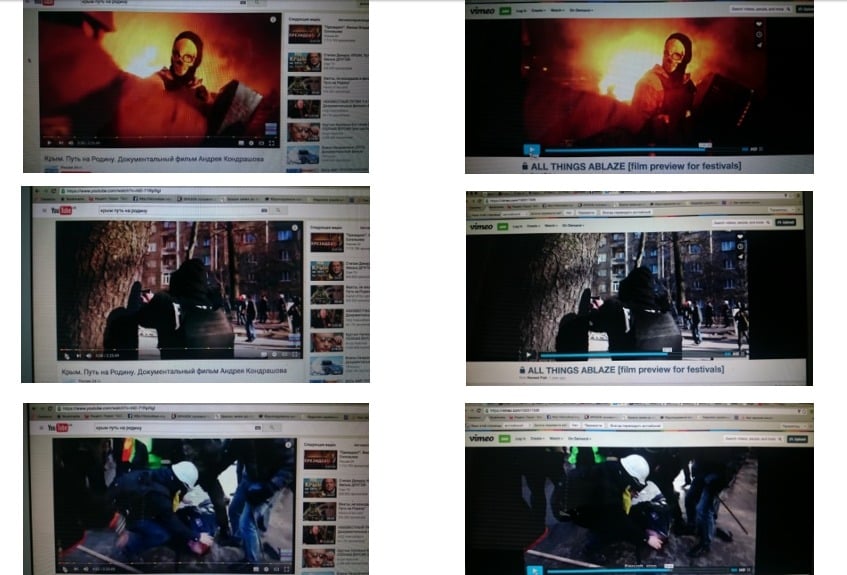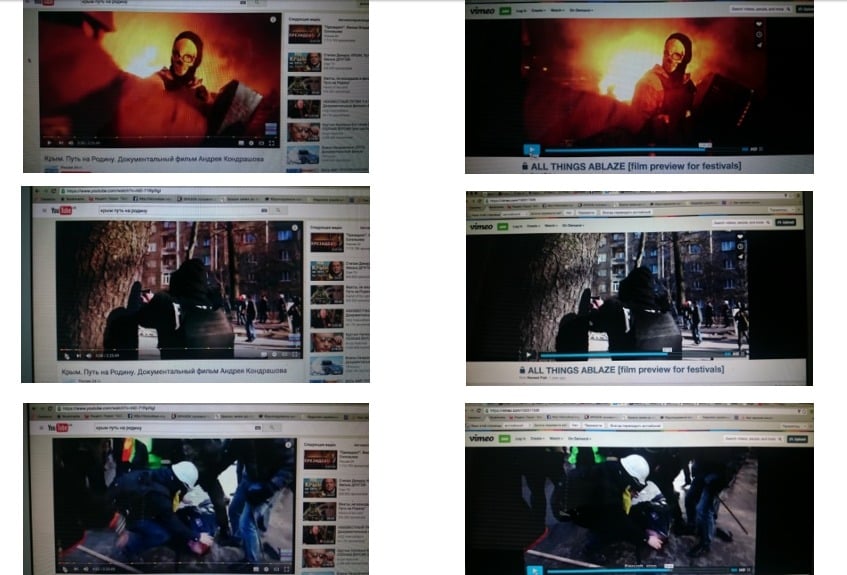 Other views on "Crimea, the way home"