Russia's Channel Five television channel published a story entitled "Refugee pushes 20 year old girl under a train in Berlin". The man who allegedly committed this crime, according to Channel Five's reporter Vitaliy Chashchukhin,  was a "28 year old refugee from Iran" who "like all refugees was looking for shelter or at least a place to sleep for the night" and having not found anything pushed the girl onto the metro train tracks in anger.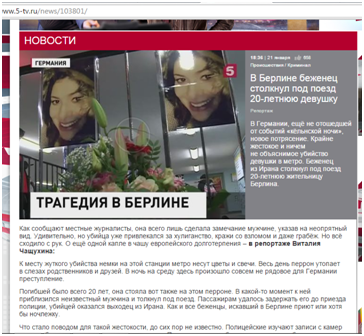 This alleged refugee, had a criminal record and is mentally unstable and the incident has caused panic in Berlin where people already feel unsafe due to the large influx of refugees, reports Channel Five's reporter Vitaliy Chashchukhin. The article is written in a very alarming tone, clearly intended to raise anxiety. Chashchukhin claims that Berlin authorities have not reacted in any way to the incident: "Everything is done to avoid saying the main thing, that yet another female German citizen has become a victim of yet another refugee. This situation is even worse than the mass sexual assault committed in Cologne on New Year's Eve, claims Chashchukhin, because in this case, a person has died.

According to the German newspaper Berliner Morgenpost, the man in question was a mentally unstable individual who is now in a psychiatric hospital. The man is not a refugee, he was born and raised in Hamburg to a family of Iranian immigrants. He does however have a history of violent behavior and previous clashes with the law. The police are investigating the case.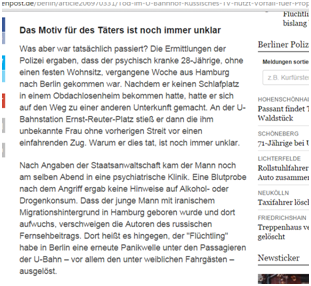 The Berliner Morgenpost called Channel Five's presentation of the incident propaganda, the story was written in a biased way intended to create negative feelings towards refugees. The paper mentions other fake stories run by Russian media, in particular the fabricated rape of an underage girl, all meant to manipulate public sentiment and malign refugees.