Russia's television network Channel Five broadcast a story in their May 29 weekly program about the exchange of Ukrainian pilot Nadiya Savchenko for two Russian officers captured in eastern Ukraine. Anatoliy Mayorov, the journalist presenting the story, claims that the two Russians did not ask for clemency.
"Yerofeyev and Alexandrov  were  volunteers captured by Ukrainian security forces, sentenced to 14 years in prison for offenses that were never proven in court. They did not ask for clemency, did not agree with the accusation, but Ukraine proceeded with the exchange because someone really needed Nadiya Savchenko in Kiev ", – claims Anatoly Mayorov.
According to the presidential website, Ukrainian President Petro Poroshenko signed a decree pardoning Alexandrov and Yerofeyev on May 24. The decree states that the pardon is a response to the petition for clemency filed by the two Russians.  In a statement to the Russian news agency  TASS the lawyers of the two Russian officers  confirmed that they had filed a petition asking for clemency.
Nadiya Savchenko however,  did not ask for clemency from Russian President Vladimir Putin.
Alexandrov and Yerofeyev were convicted of waging aggressive war against Ukraine, participating in a terrorist group and conducting terrorist acts and sentenced to14 years' imprisonment on April 15, 2016 in a Kyiv court. The published text of their judgement  lists the evidence of their guilt presented to the court.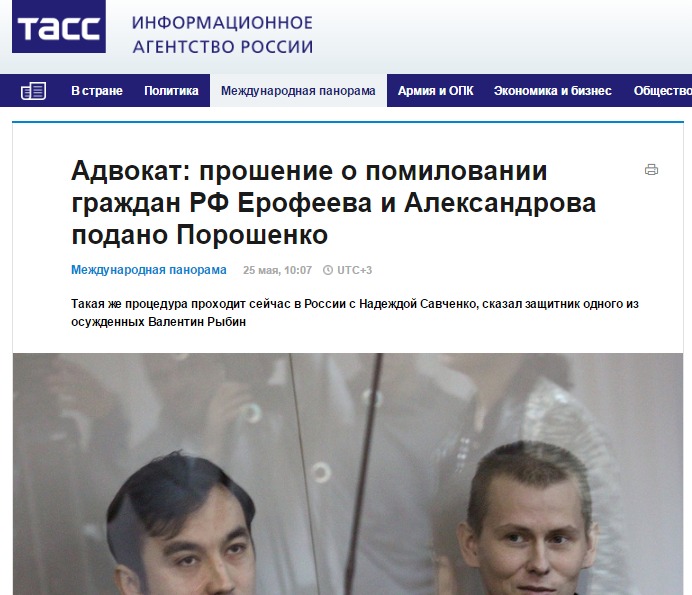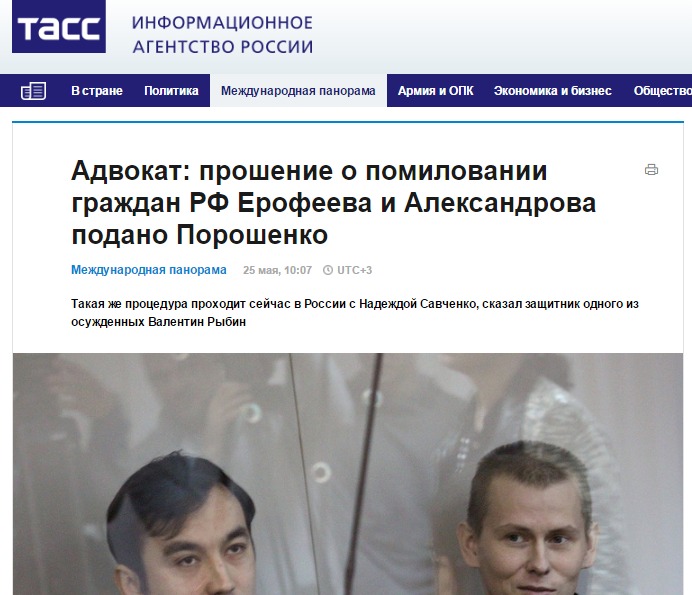 First detained in May 2015 Alexandrov and Yerofeyev initially admitted they were Russian military, however, they later recanted. Russia maintains that at the time of their arrest,  Alexandrov and Yerofeyev were not active Russian military.
Mayorov also claims that immediately upon being released, Savchenko  vowed to continue killing Russians, a fake claim that StopFake has already debunked.
Nadiya Savchenko's sister stated on record  that Nadiya never had a Twitter account, nor any other social media ccount. The Twitter account purporting to be Savchenko's was created literally one day before the fake tweet was published.