Spanish media are once again rife with stories accusing Ukrainian footballer Roman Zozulya of Nazism. StopFake already debunked similar accusations six months ago, when Spanish media claimed that the Ukraine's national emblem on Zozulya's t-shirt was a symbol of ultra -right radicalism that Zozulya's tattoos were signs of his sympathies for neo-Nazi ideology.
The left wing Bukaneros group of the Rahyo Vallecano football team ultras has accused Zozulya of Nazism.  Their February 2 inflammatory tweet was retweeted nearly two thousand times. The ADRV football platform called Zozulya a "known Nazi" and declared that he actively supported radical right groups and financed "fascist battalions". "The symbols which he wears" are proof of this, they claim.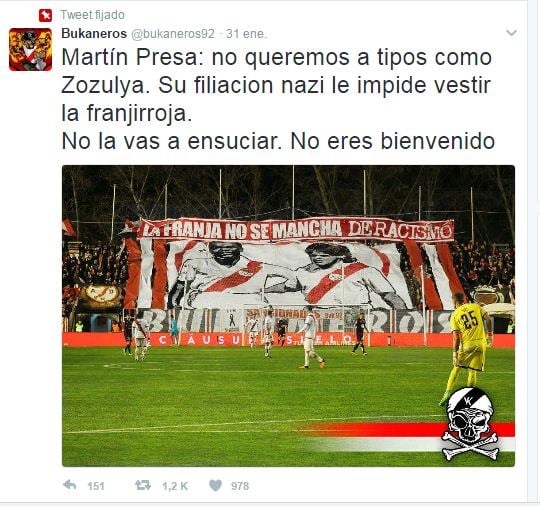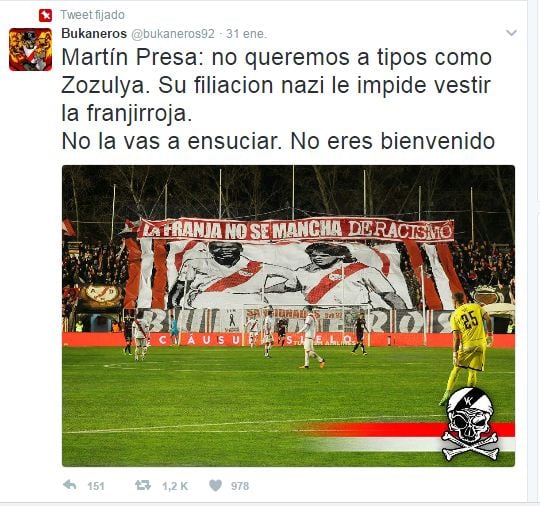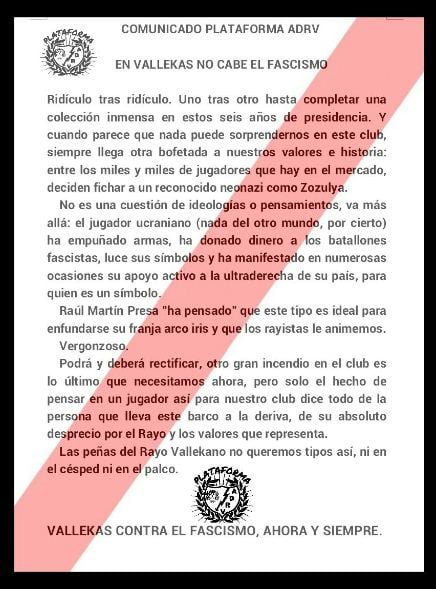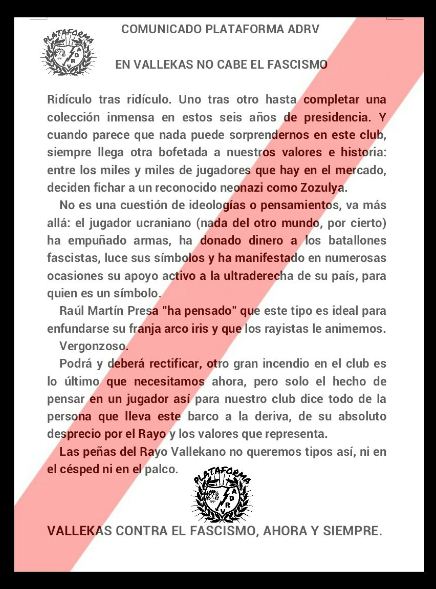 The El Espanol publication disseminated a similar story, claiming that Zozulya h
ad ultra-right views and propagates a neo-Nazi system in his country, something that according to El Espanol has been widely published in many news sources.
El Confidencial, Sputnik Mundo, Libertad Digital,  PlaygroundMag all featured various versions of this manipulated story.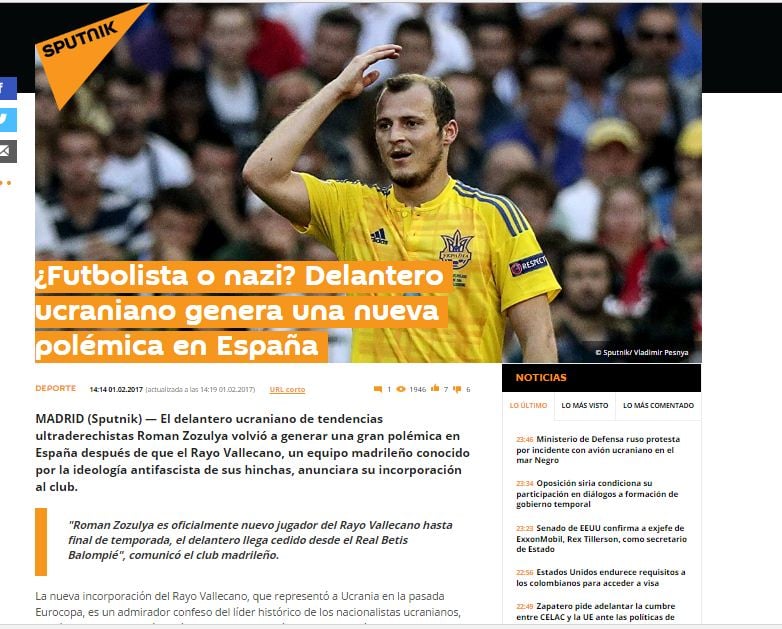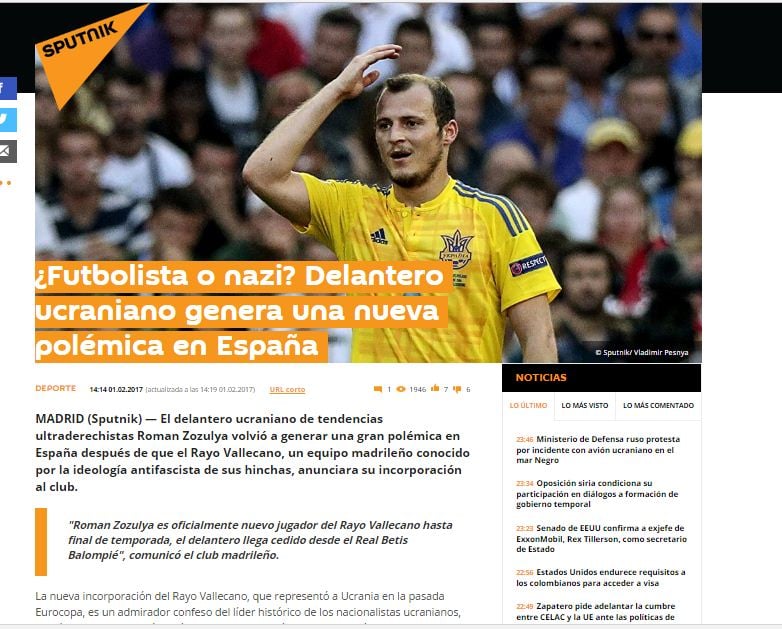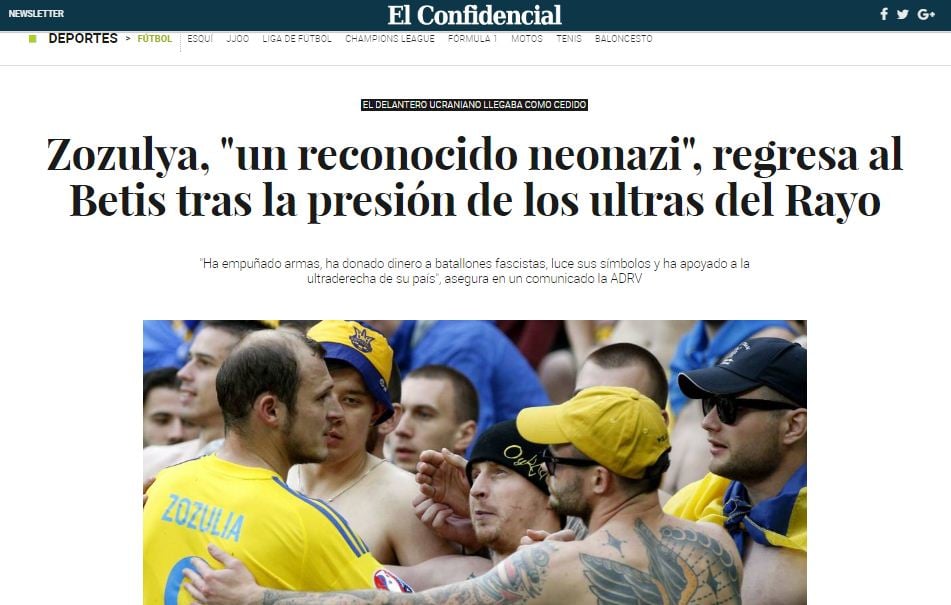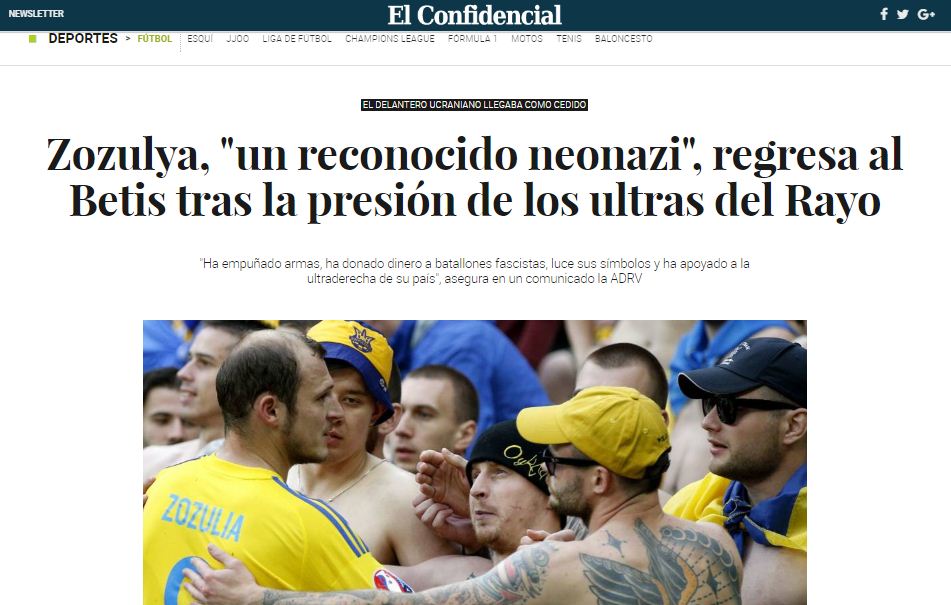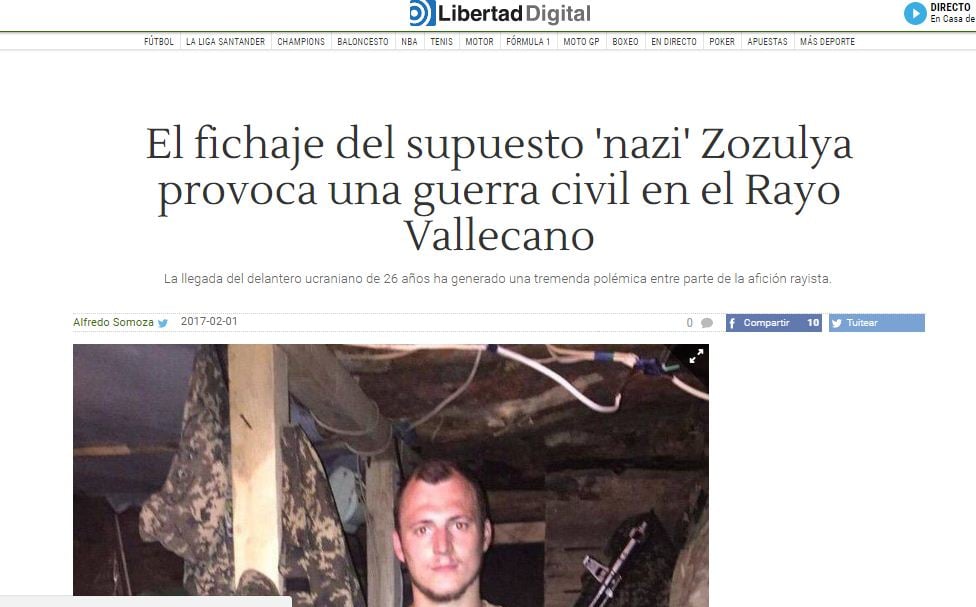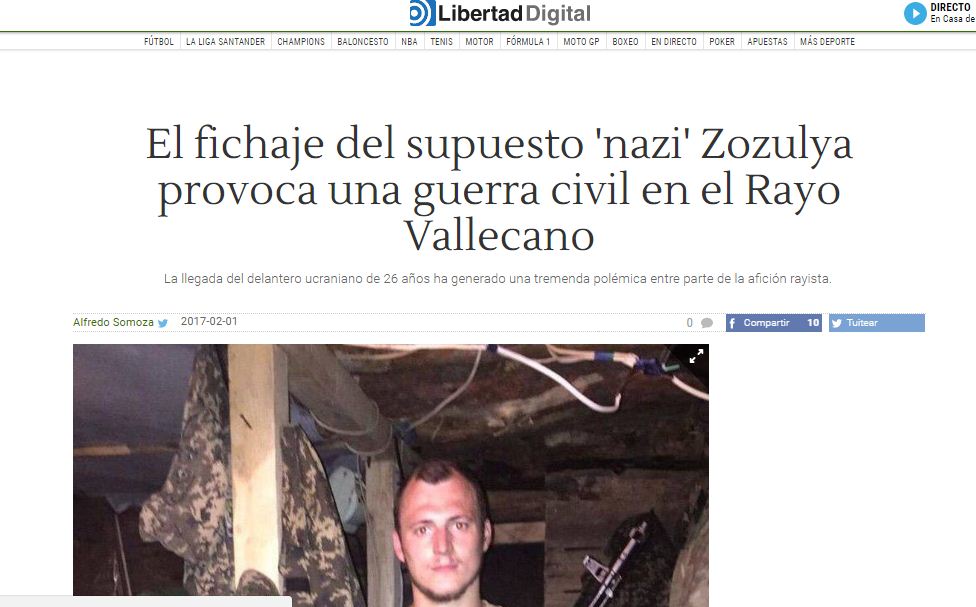 The controversial Bukaneros group and ADRV made these claims against Zozulya in an effort to block Rahyo Vallecano signing a contract with the Ukrainian footballer.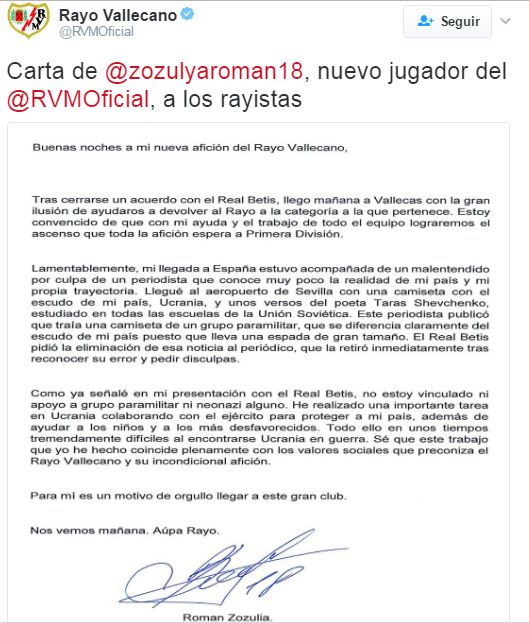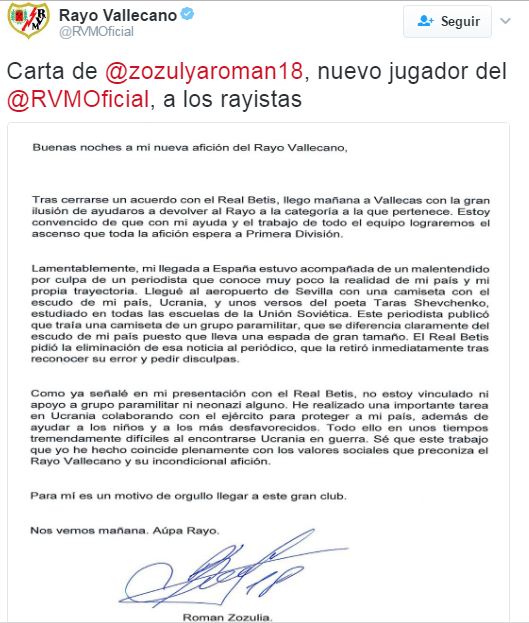 Rahyo Vallecano management asked Zozulya to address the media's accusations. Zozulya explained his position and reminded the team's leadership how he had already been branded a neo-Nazi for wearing a t-shirt bearing the Ukrainian national symbol the trident. As a result of these accusations, Zozulya did not remain with the Rahyo Vallecano club. Ukraine's symbol, the trident, has never been a symbol of Nazism and has been a Ukrainian national attribute from the time of the medieval Kyivan Rus state. Yet Zozulya is being accused of being a Nazi for wearing the Ukrainian equivalent of the Union Jack or the American eagle on his t-shirt.
The sports publication Marca also inaccurately claimed that Zozulya's fund Narodna Armia supported Ukrainian paramilitaries.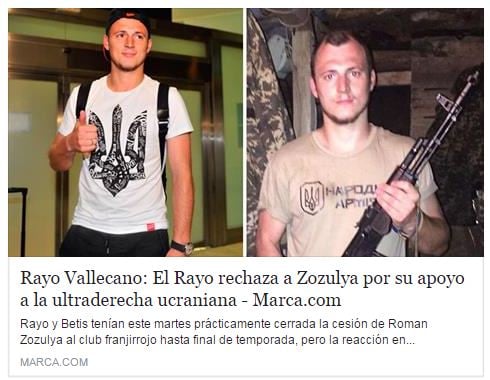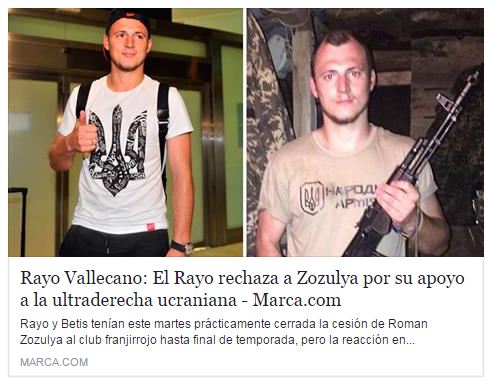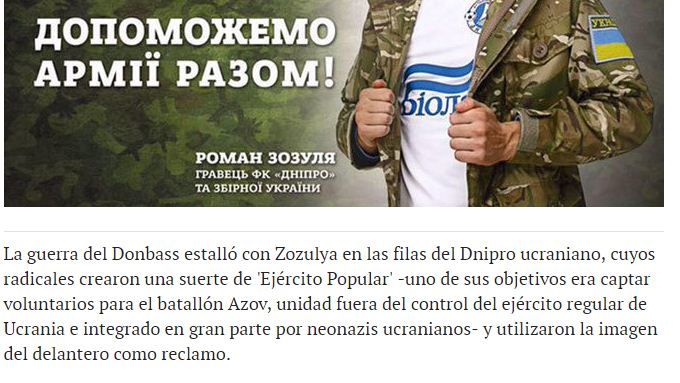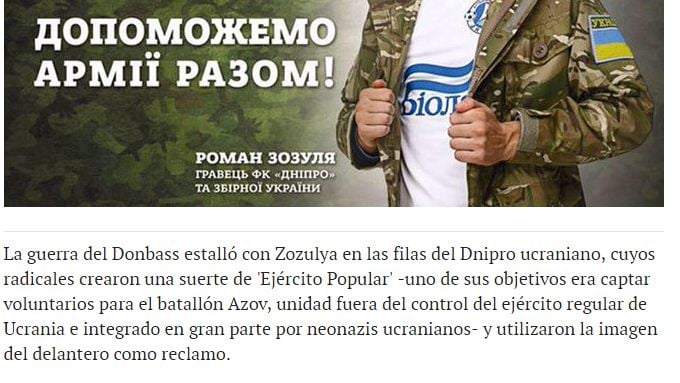 Narodna Armia representatives explained to StopFake that Zozulya's fund supports the Ukrainian armed forces with food, clothing, and technical equipment as well as with support for families of the military. There are no rogues military formations in Ukraine, all volunteer battalions organized after Russia's annexation of Crimea in 2014 and the onset of the separatist war in eastern Ukraine have been incorporated into the Defense or Interior Ministry structures.
In 2016 Ukraine's Defense Ministry recognized Narodna Armia volunteers with a special commendation for their support of the Ukrainian military.