On June 18 several pro-Kremlin media circulated the distorted claims of Ukrainian MP Vadim Rabinovich who predicts that Ukraine's economy is heading for hard times. Ukraina.ru, RT, and Lenta.ru all featured stories based on Rabinovich's pronouncements, warning about the West's underhanded dealings with Kyiv and Ukraine's unavoidable future default.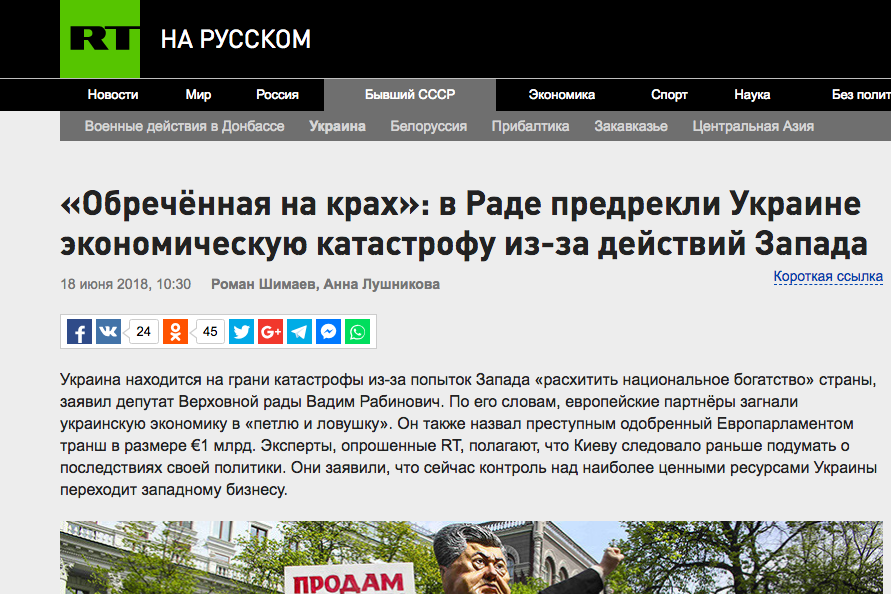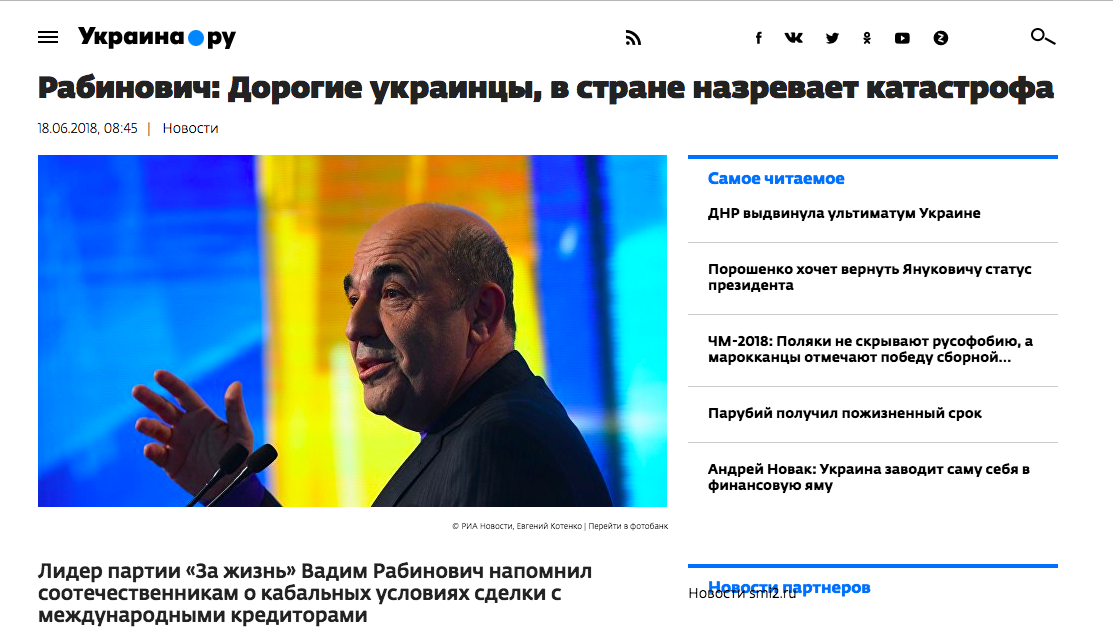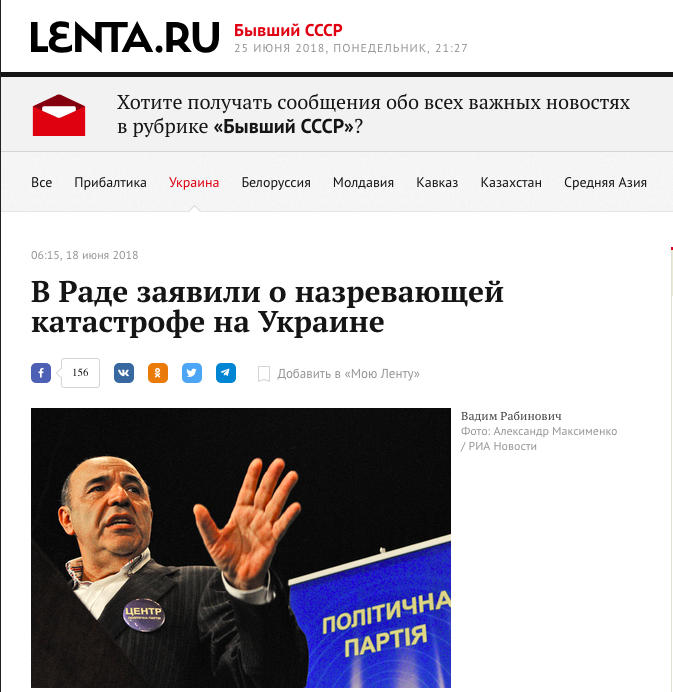 Fake and distorted stories about Ukraine's public debt are a regular staple of the Kremlin's propaganda and disinformation machine. This time their effort was helped by pro-Russian politician Rabinovich, who declared that Ukraine was on the brink of disaster because the West was plundering its national wealth which will result in a 117 billion dollar debt by 2045.
"We've been chased into this noose and trap…. Ukraine is not in a position to return this money. You are trying to strangle us to the end, to bring down our economic system and finish us off" Rabinovich is quoted as saying.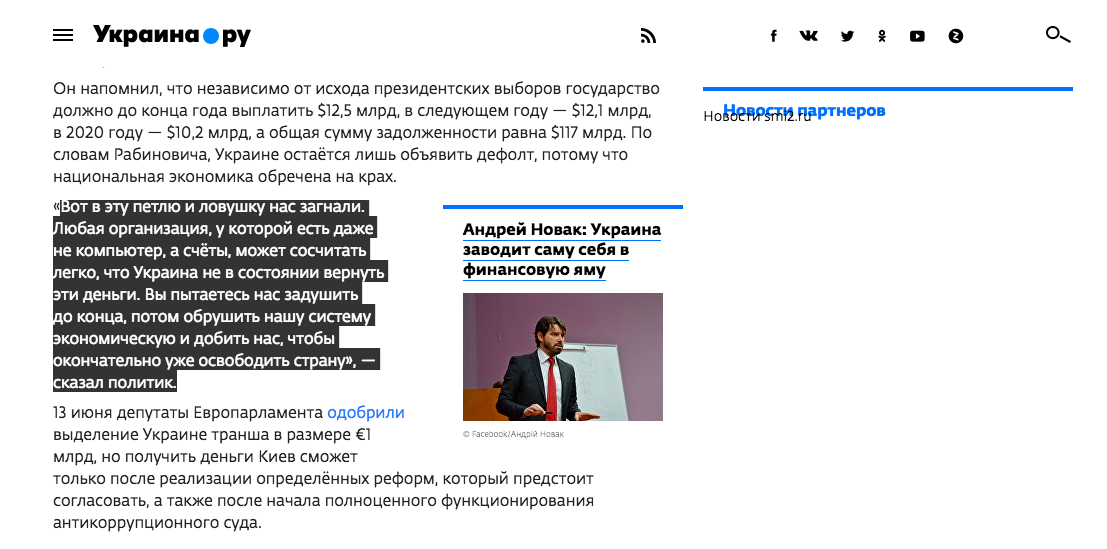 Ukraine's national debt is indeed a problem impeding the country's economic development. Ukraine's current debt is about 65 billion dollars according to the country's Prime Minister Volodymyr Groysman. In a recent interview with the Interfax news agency, Groysman said the next four years will be extremely challenging as Ukraine must repay 29 billion dollars.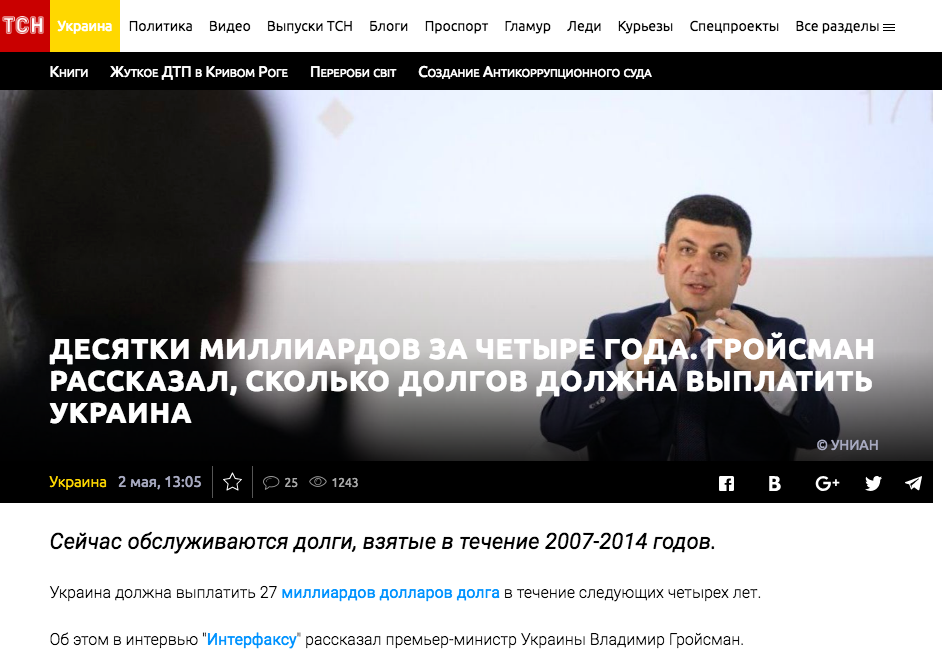 Groysman pointed out that Ukraine was servicing the debt of previous administrations, specifically that of ousted president Viktor Yanukovych and prime ministers Mykola Azarov and Yulia Tymoshenko. This "holy trinity" as Groysman called them, from 2007 through 2014 oversaw a 47 billion dollar increase in Ukraine's foreign debt.
According to Ukraine's Finance Ministry  Ukraine will need to repay a total of 114.8 billion dollars by 2045. This amount includes the loans taken by the current Ukrainian administration as well as previous international debts.
World Bank economic forecasts do not predict a default by Ukraine. An April 2018 World Bank report shows the percentage of the country's debt is gradually declining.
World Bank experts forecast that by 2020 Ukraine's national debt will amount to 68 percent of its GDP, which is below the critical threshold of 80% established by the Bank.
Currently the US debt to GDP ratio is 106%, Japan's is 220%, Spain's is 105%.