Last December the Luhansk newspaper Nasha Gazeta featured a story claiming that Italian photojournalist Roberto Travan , who was working in the Donbas, had gone missing. Nasha Gazeta is the official newspaper of the occupied Luhansk city administration, the publication claims that the self-proclaimed Luhansk People's Republic Prosecutor's office has opened a criminal investigation into Travan's disappearance.
Most Russian papers carried cut and paste versions of this fake story, not even changing a comma. Others embellished, throwing in fake claims, that Travano was always accompanied by Ukrainian security forces and had complained that they did not let him work, that he was kidnapped because he was photographing things the Ukrainian army wanted to hide, and even that drunk Ukrainian soldiers killed him on New Year's eve.
Vesti, the Defense Ministry's outlet  Zvezda, RIA Novosti, Life.ru, Rossiyskaya Gazeta, Komsomolskaya Pravda and many other Russian pro-Kremlin publications featured this fake.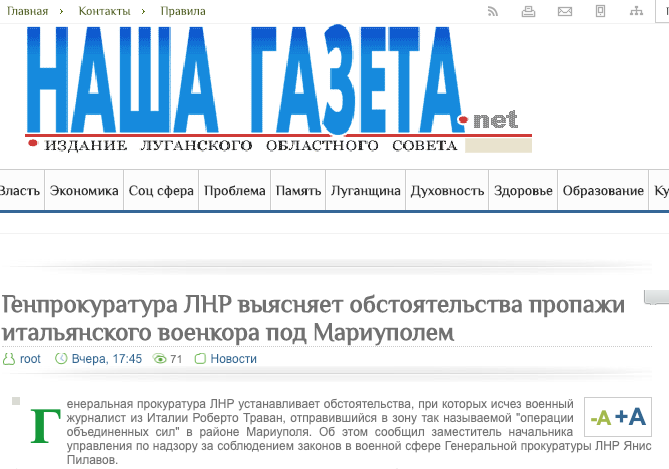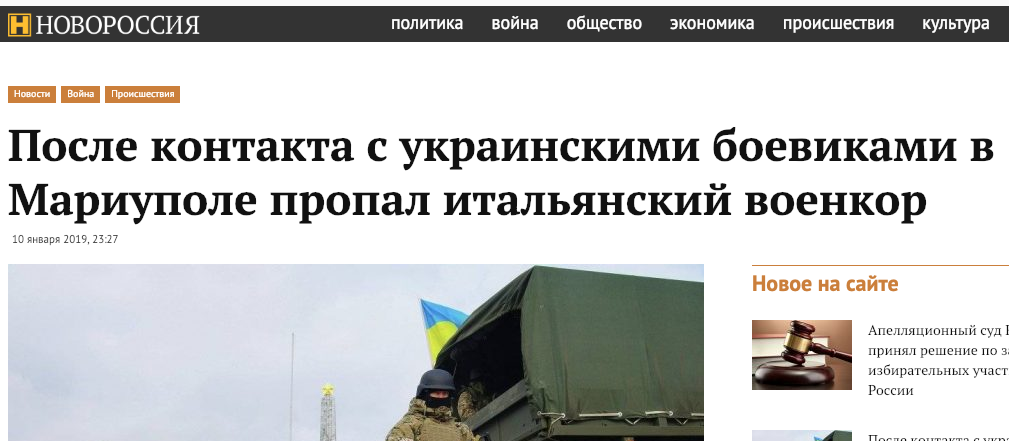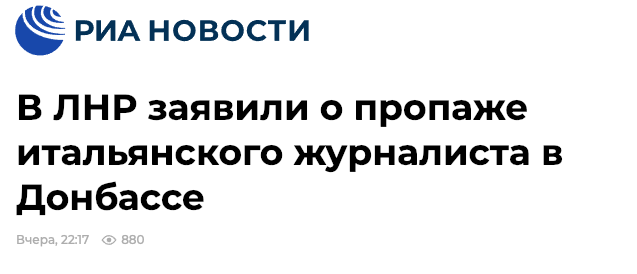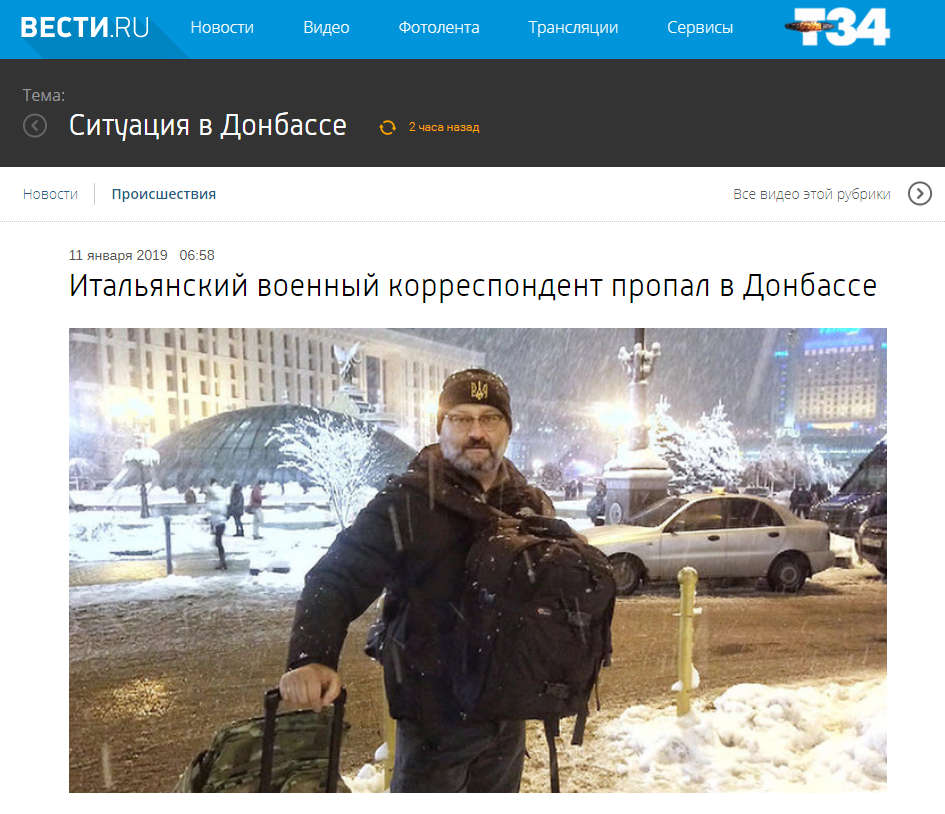 Roberto Travan is alive and well. StopFake found him in his native Turin, where he told us that he returned to Italy on December 23 of last year after finishing his photo project in Donbas.
We asked if he had been pressured by the Ukrainian authorities while working in the eastern war zone or prevented from doing his job in any other way. He laughed and said "of course not".
Travan has been to Ukraine several times, to document the Maidan revolution and the war in the east. He was embedded with the Italian army in Kosovo and Afghanistan and is currently following forgotten wars and frozen conflicts in the Central African Republic, Ukraine, Armenia, Tunisia and Nagorno-Karabakh.
Recently one of Robert Travan's photographs won the Tokyo International Foto Awards in the Editorial/Conflict category. The Last Sight depicts gunner and senior sergeant Serhiy Kobchenko, who was killed shortly after, in April 2017, near Avdiyivka. Travan dedicated this award to Kobchenko's memory.
Travan recently participated in an extensive photo exhibition  called Arma il prossimo tuo (Arm your neighbor) at Turin's Risorgimento Museum.
All that the puppet Russian Luhansk prosecutor had to do was look Roberto Travan up on Facebook to see that he was alive and well. A simple Google search and a bit of digging on the web would lead Zvezda and RIA Novosti and all the other hack journalists who disseminated this fake story to Travan's website and contacts, but that would have meant having to be a real journalist, just a little.