Russian Defense Ministry television channel Zvezda published a news story claiming that Ukraine's National Security Council Secretary Oleksander Turchynov urged Ukrainians to prepare for war with Russia. The claim however is based on a blatant distortion of what Turchynov actually said. Turchynov described huge Russian troop movements that indicated potential Russian incursions and said Ukrainians should be prepared for more war – as they have had to be since the Kremlin's 2014 invations.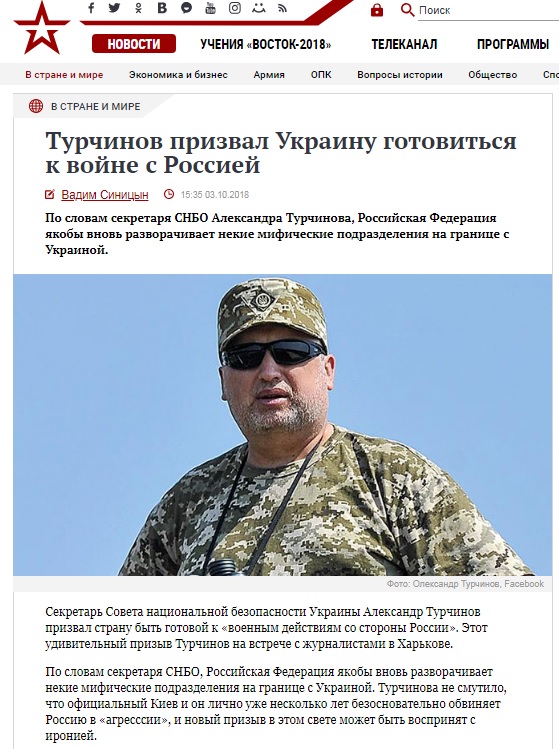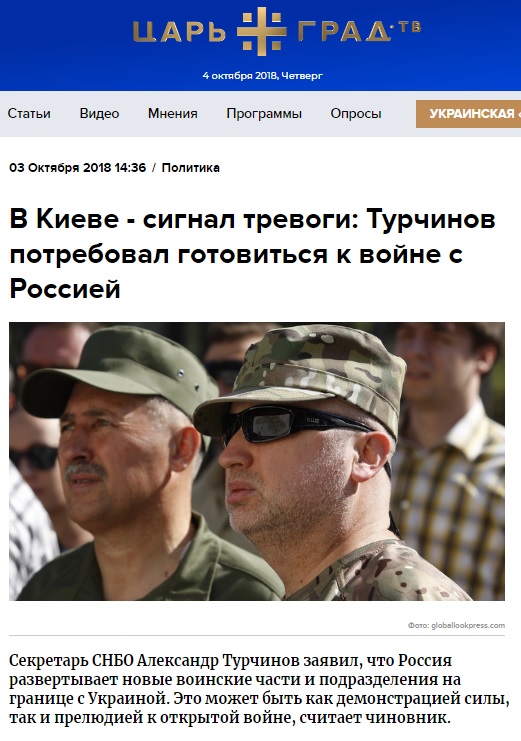 Not only does Zvezda twist Turchynov's meaning, they also call the Russian troops amassed on the Ukrainian border 'mythical' and wrote: "Turchynov wasn't bothered that official Kyiv and he personally have been groundlessly accusing Russia of aggression for several years now and in this light his new call for action can be perceived with irony, Zvezda writes. While another Russian nationalist pro-Kremlin site, Tsargrad calls Turchynov "one of the leaders of Ukraine's party of war, who earlier called for increasing Ukrainian military presence in the Sea of Azov."
Various versions of this fake claim were disseminated by Izvestia, Novorossia, Regnum.ru, Novostnoye Agentstvo Kharkov, Horlovka today, Informburo and others.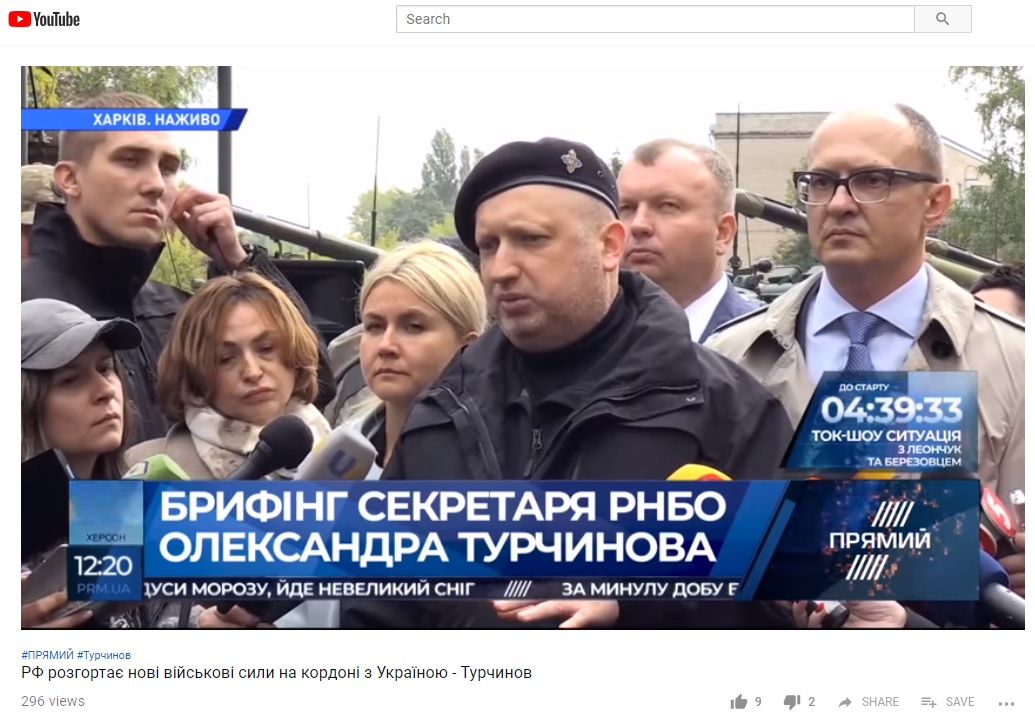 Responding to a question about former Ukrainian President Leonid Kuchma leaving the Minsk negotiation process aimed at resolving the war in eastern Donbas, Turchynov said Kuchma's departure would have no effect on the negotiations. The problem of a peaceful resolution of the Donbas conflict is Putin's problem, Turchynov pointed out.
Turchynov pointed out that unfortunately Russia is working on exacerbating the problem. They not only have troops in the occupied territories of Donetsk and Luhansk regions, they are also amassing more troops on the Russian Ukrainian border.  He explained that the number of Russian troops on the border today is comparable to that of 2014 when the Russian Federation Council voted to deploy those troops in Ukraine. "This is a serious threat and not simply a show of strength; it is too expensive to be just a show of strength. They can begin hostilities at a moment's notice and we must understand this and be ready" Turchynov emphasized.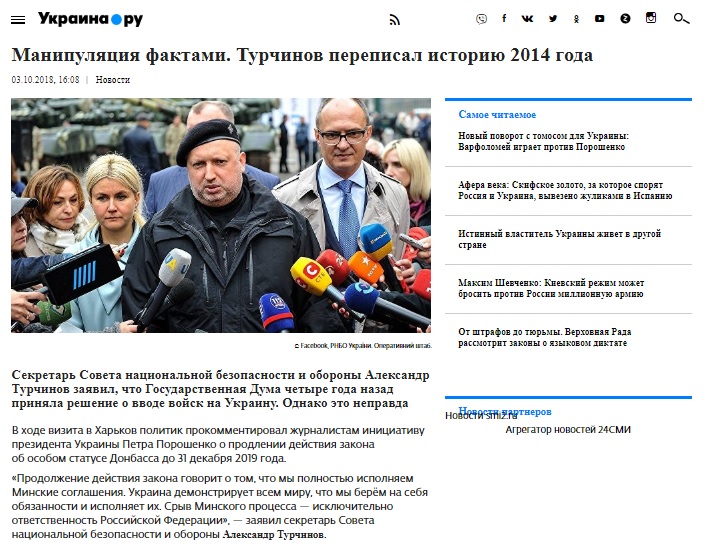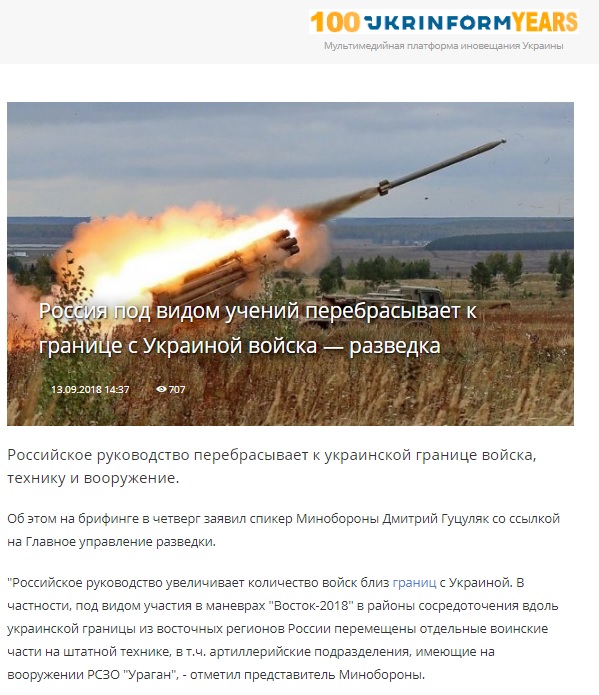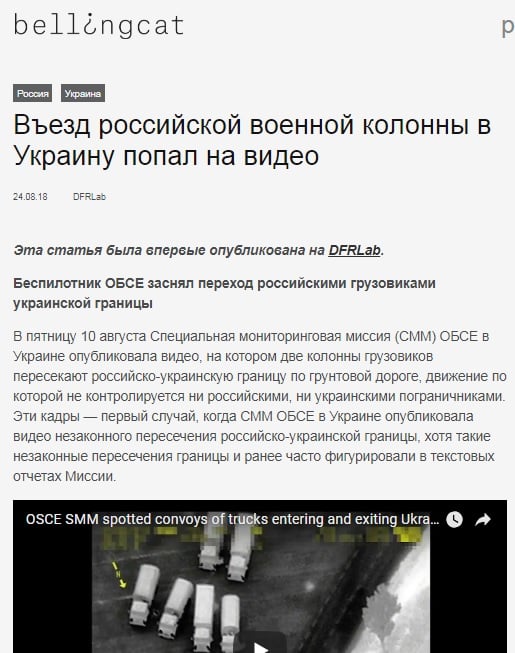 Ukraina.ru added its own spin on and accused Turchynov of rewriting the history of 2014. The unforgivableerror they refer to was that Turchynov inadvertently said that the State Duma, rather than the Federation Council  deployed Russian troops to Ukraine. He later corrected himself to say that it was the Federation Council that took that decision.)
Last September Ukraine's intelligence agencies reported that Russia is increasing troops on its borders with Ukraine. Under the guise of participation in the Vostok 2018 military maneuvers, Russia has dislocated personnel and equipment along Ukraine's eastern border including artillery units and Hurricane rocket launch systems, said Ukrainian Defense Ministry spokesman Dmytro Hutsuliak.
The investigative journalist site Bellingcat often publishes satellite images of Russia moving military equipment into the occupied eastern Ukrainian territories as well as photos of expanding Russian military camps on the borders with Ukraine.