According to the French Ministry of the Interior, as of March 31, the number of non-Europeans among the more than 26,000 Ukrainian refugees who arrived in France is less than 5%.
Russian media are actively disseminating the French far-right politician Eric Zemmour's claim that a third of the Ukrainian refugees arriving in France are Africans and from North Africa. Zemmour is the leader of the Reconquête far right political party and a candidate for the presidency of France in 2022.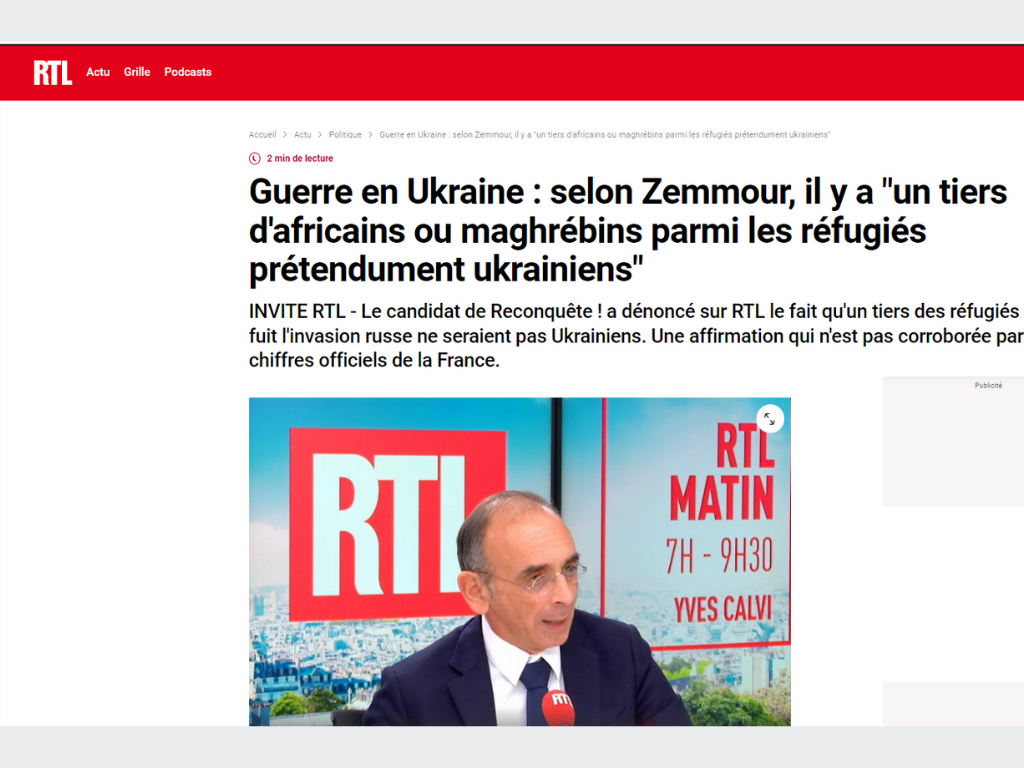 Zemmour expressed this view during a March 31 appearance on the French RTL radio station. "I mean, be careful. We are a generous people who have taken in Latin American and Asian refugees. Ukrainians are our European and Christian brothers. But I say "be careful" about the African and North African refugees among the Ukrainians" Eric Zemmour said. This statement was immediately picked up by Russian and Belarusian propagandist media. RIA Novosti, Life.ru, Izvestia, RB Novosti and others all wrote about Zemmour's statement as if it is a well-known fact, never once mentioning the radical right orientation of this politician in their sensationalist headlines.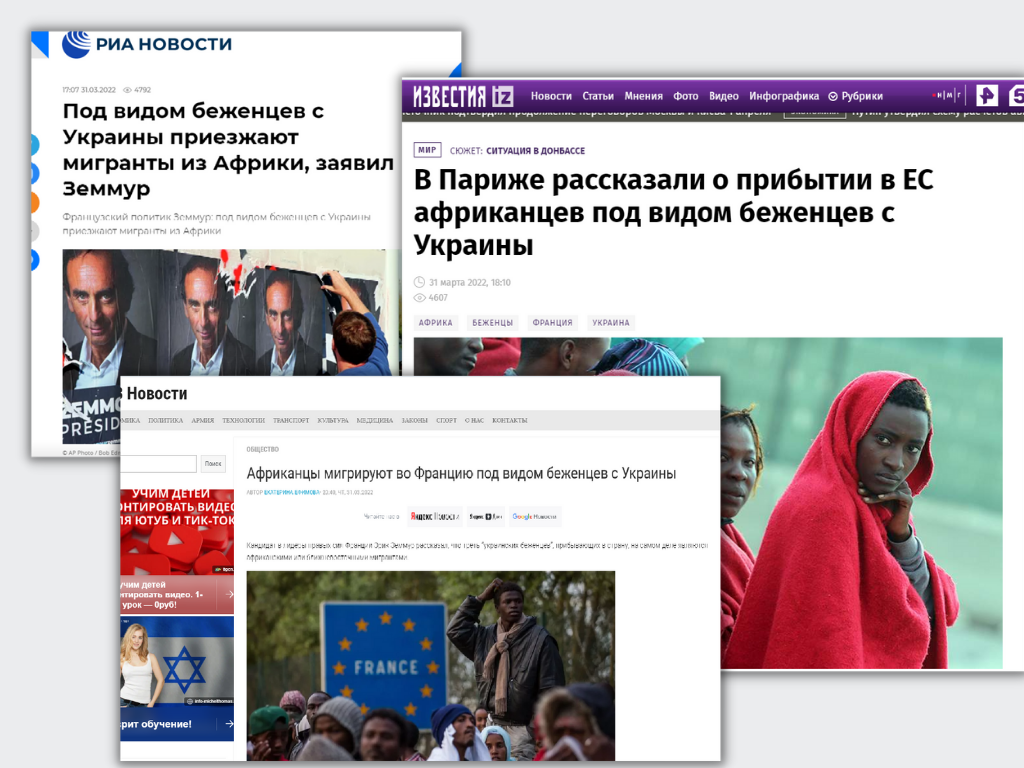 In making such a statement, Eric Zemmour was referring to already existing disinformation about refugees from Ukraine, disinformation which began to be spread by members of his far-right party in early March. On March 10 Marion Marechal, the niece of French far right leader Marine Le Pen made a similar statement on the air of the French CNews channel, citing a March 8 article in the Figaro newspaper claiming that in the general flow of refugees from Ukraine, nearly every third is not Ukrainian. "Arrivals from Ukraine include more than 7.5% Algerians, 3.5% Ivorians, 3.5% Moroccans, 2.5% Indians, 2.5 Kyrgyz, 2% Congolese, 1.5% Cameroonians, 1% Pakistanis, as well as Nigerians, Chinese, Guineans, and Angolans. Many francophones among them plan to stay in France, where they have connections."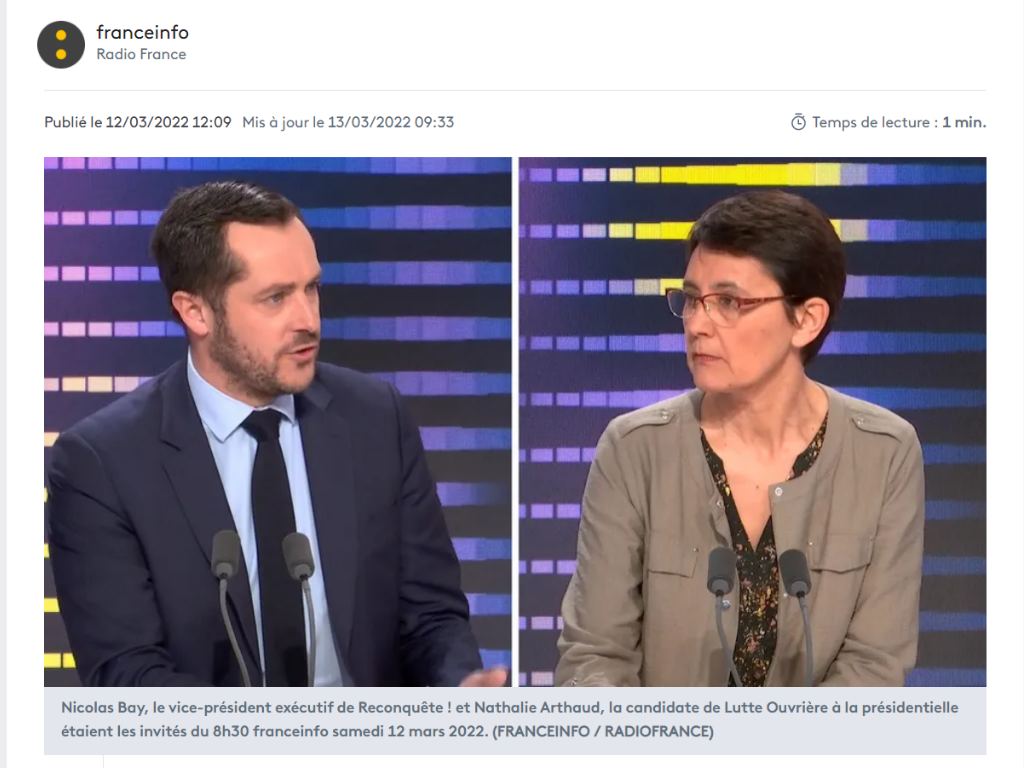 The source of this information is supposedly "a high-ranking civil servant." Two days later, on March 12 Nicolas Bay, the vice president of the Reconquête party and Eric Zemmour's close associate while appearing on the Franceinfo news radio expressed regret that "today a third of the refugees passing through Ukraine are not from Ukraine at all, but from South Africa and they use this new migration route to reach Europe."
It is very possible that on March 8, the day the initial mention of African refugees appeared in the Figaro article, as the buses of refugees appeared, they could have been carrying African and Asian students who were evacuated from Ukraine. In the days immediately after Russia invaded Ukraine, foreign students found it very difficult to evacuate, CNN and the Guardian newspaper featured stories about their plight. The situation in Sumy was particularly dire as the city was surrounded by Russian troops. But even in these early days of the war, according to the French Ministry of the Interior as of March 12, 97.5% of the 10,007 refugees from Ukraine were actually Ukrainians.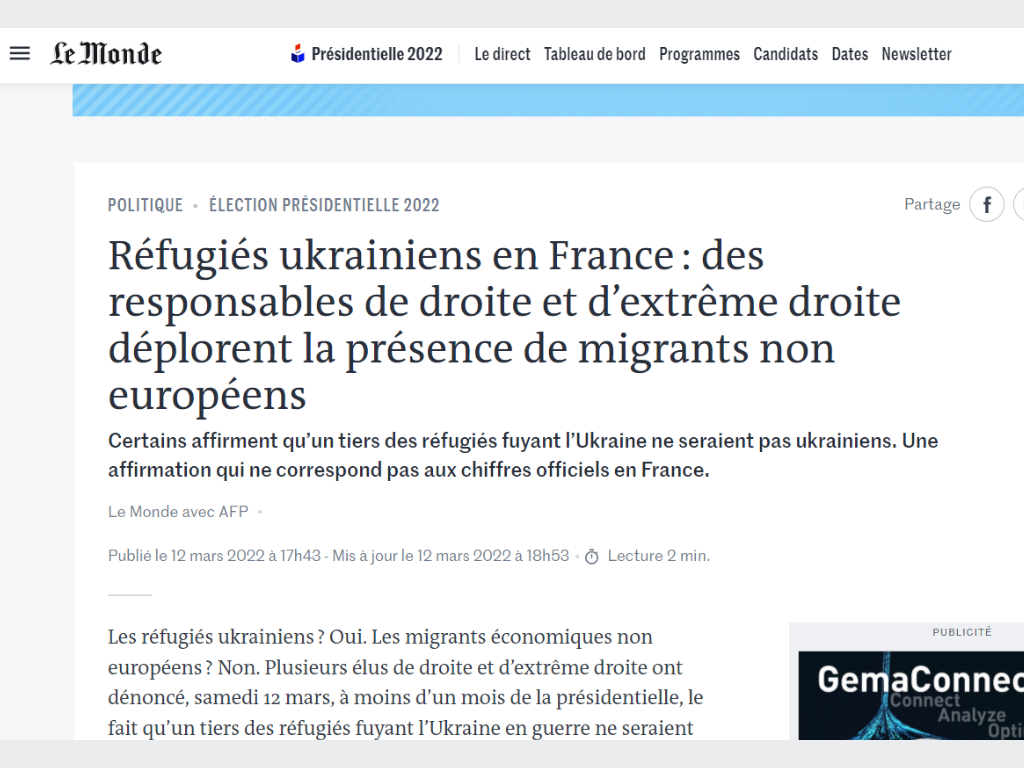 According to the French Interior Ministry, as of March 31, the number of "non-European refugees" among the more than 26,000 Ukrainians who arrived in France is less than 5%. The claim about a third of the refugees coming from Ukraine being African migrants is a fake concocted and used by French ultra-right, apparently to influence the pre-election moods of the French electorate.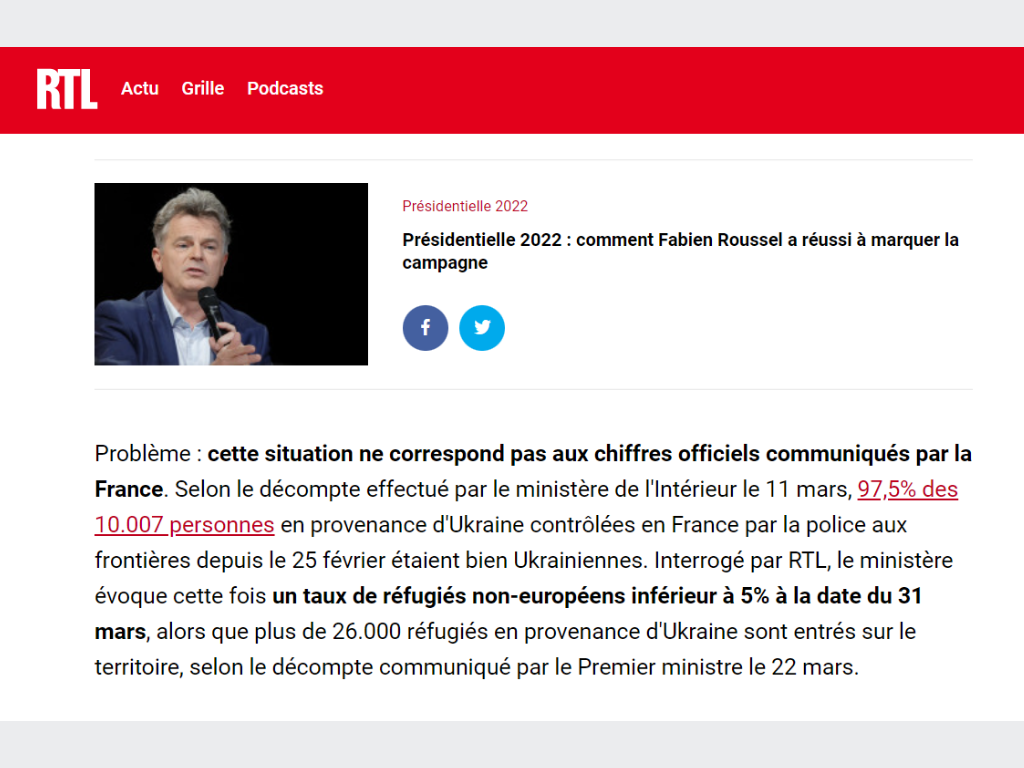 Germany has also seen similar manipulations about refugees from Ukraine and their ethnic or even racial identity. The recent visit of Germany's Foreign Minister Annalena Baerbock to the central refugee camp in Eisenhüttenstadt became fodder for Julian Reichelt, the former editor of the German Bild tabloid newspaper for fakes about Ukrainian refugees. During her visit to the refugee camp Minister Baerbock announced that Germany was also ready to help Ukraine's neighbors, such as Moldova, who were too receiving refugees. Baerbock was photographed with refugees who live in this camp. According to the tabloid BZ Berlin one of the refugees photographed with the Minister may have come from Kyiv but he might not be Ukrainian at all. The photograph went viral, accompanied by comments that all the refugees in the photo arrived from Ukraine, but more precisely, in transit through Ukraine. Julian Reichelt tweeted: "All men in Ukraine defend their homes. Just not Klaus. He is cheating." Reichelt at this point had been claiming for several weeks that not only Ukrainians, but people from other countries using Ukraine as a transit point were coming to Germany under the guise of refugees. These fakes very quickly began to be circulated on pro-Kremlin Telegram channels.
Earlier StopFake debunked Russian fakes about Mariupol refugees wanting to be evacuated to Russia and that more than two million Ukrainians from other Ukrainian cities were also asking for evacuation to the Russian Federation.