On March 24 Russian media disseminated a statement by the Russian embassy in Britain claiming that British experts allegedly confirmed the development of chemical weapons in the UK. According to the Russian embassy, the chief executive of the UK's Defense Science and Technology Laboratory at Porton Down Gary Aitkenhead attested to the development of military poisons in the UK.
Initially this information appeared on the Russian embassy web site and was quickly picked up by NTV, RT in Russia and NewsFront.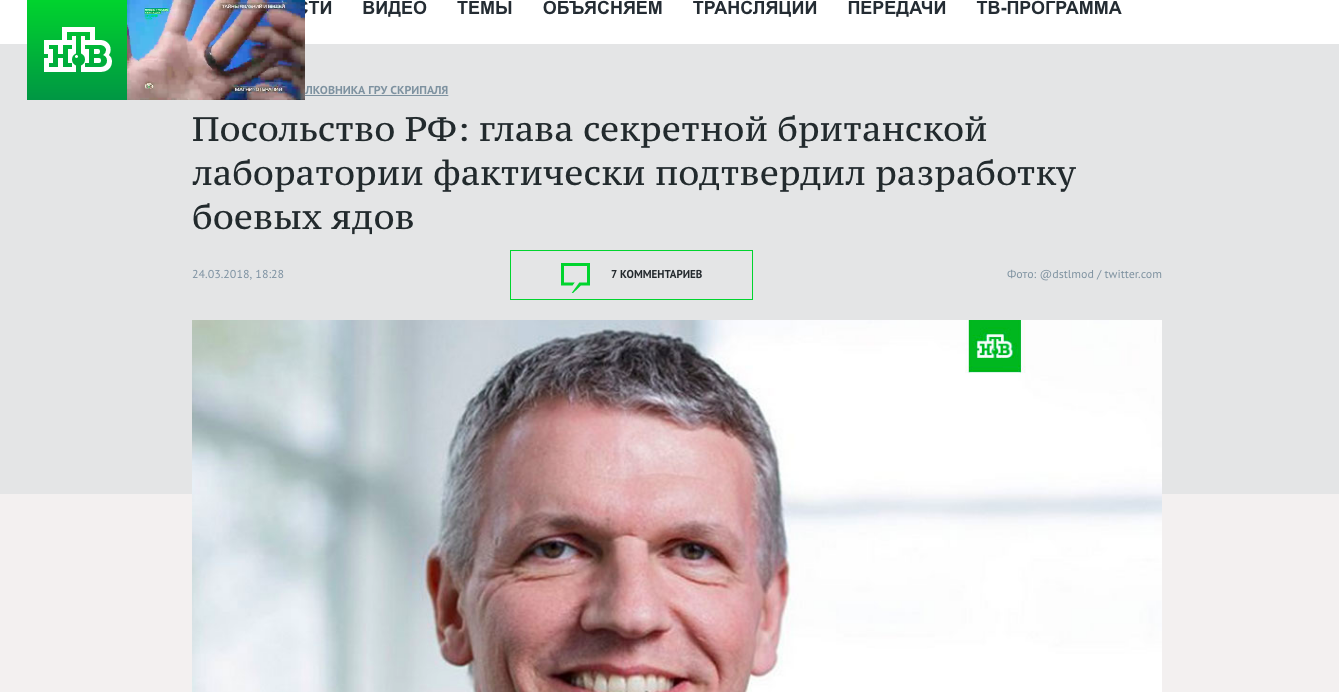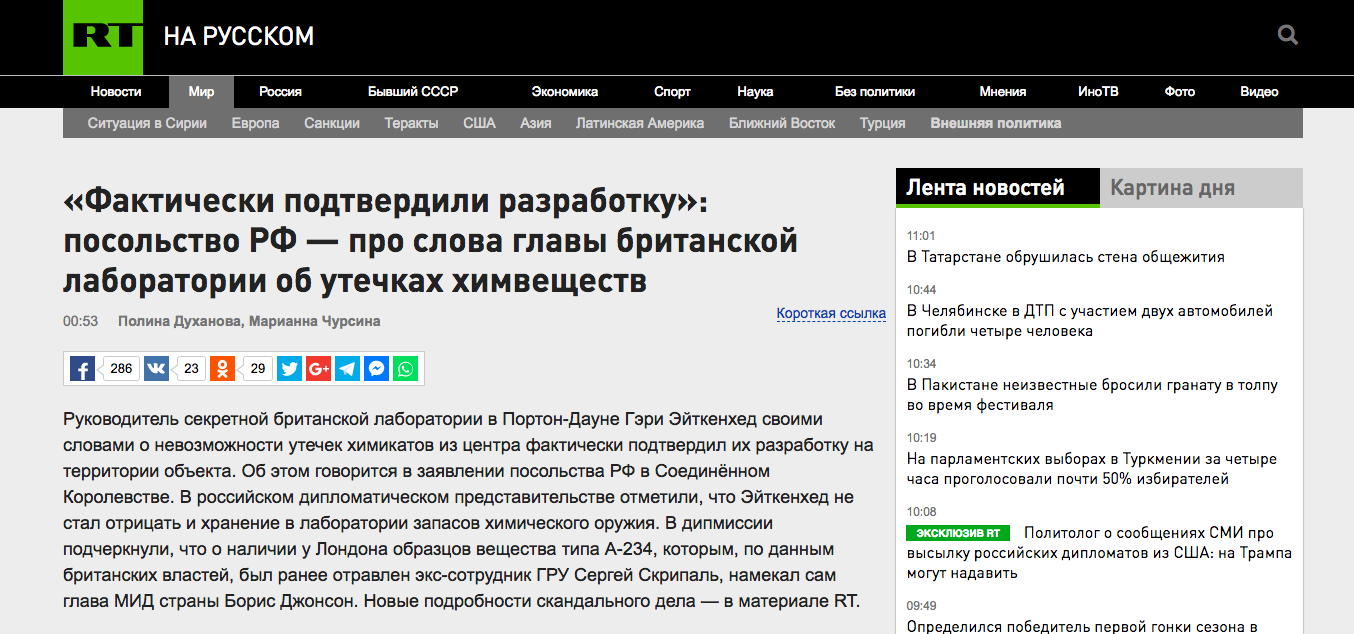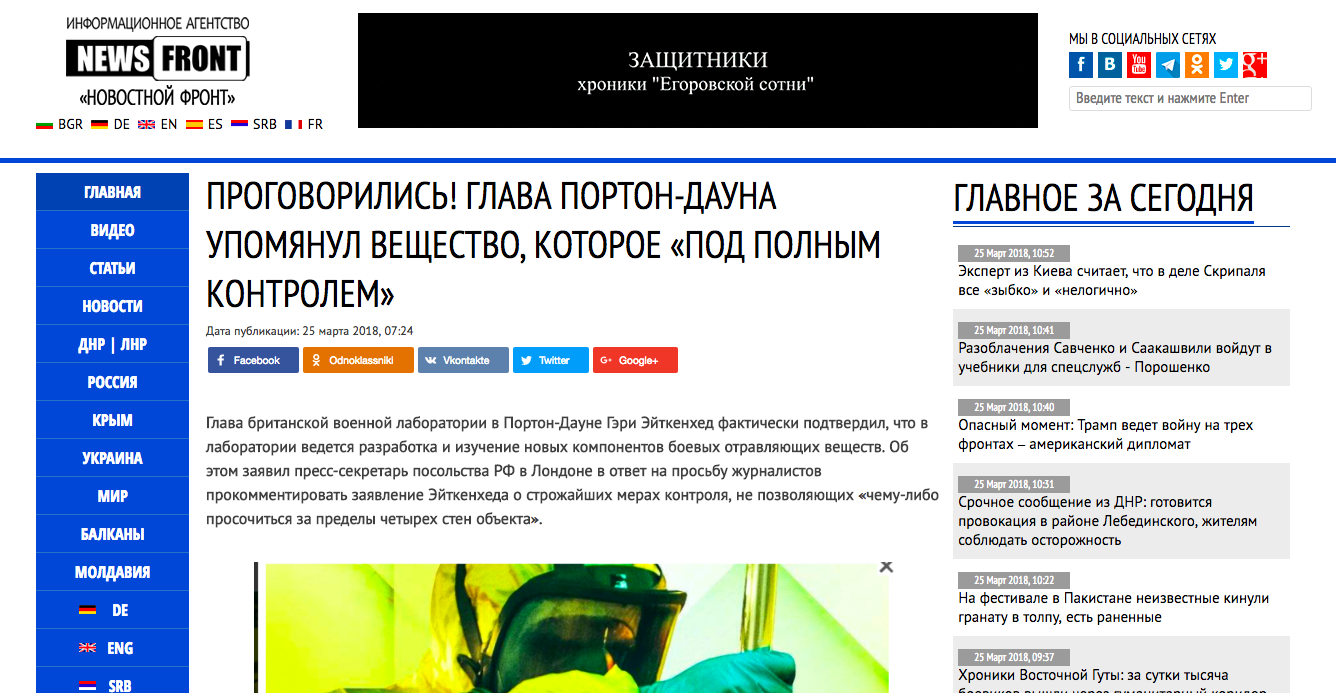 The basis for this claim is a BBC story about Porton Down that contains a brief interview with Gary Aitkenhead. The Porton Down chief told the BBC that it is impossible that some substance could have been leaked from the facility, as this laboratory has the highest levels of security controls.
"We would not be allowed to operate if we had lack of control that could result in anything leaving the four walls of our facility here. There's no way that agent would have left. We have complete confidence that nothing could have come from here out into the wider world" Aitkenhead said.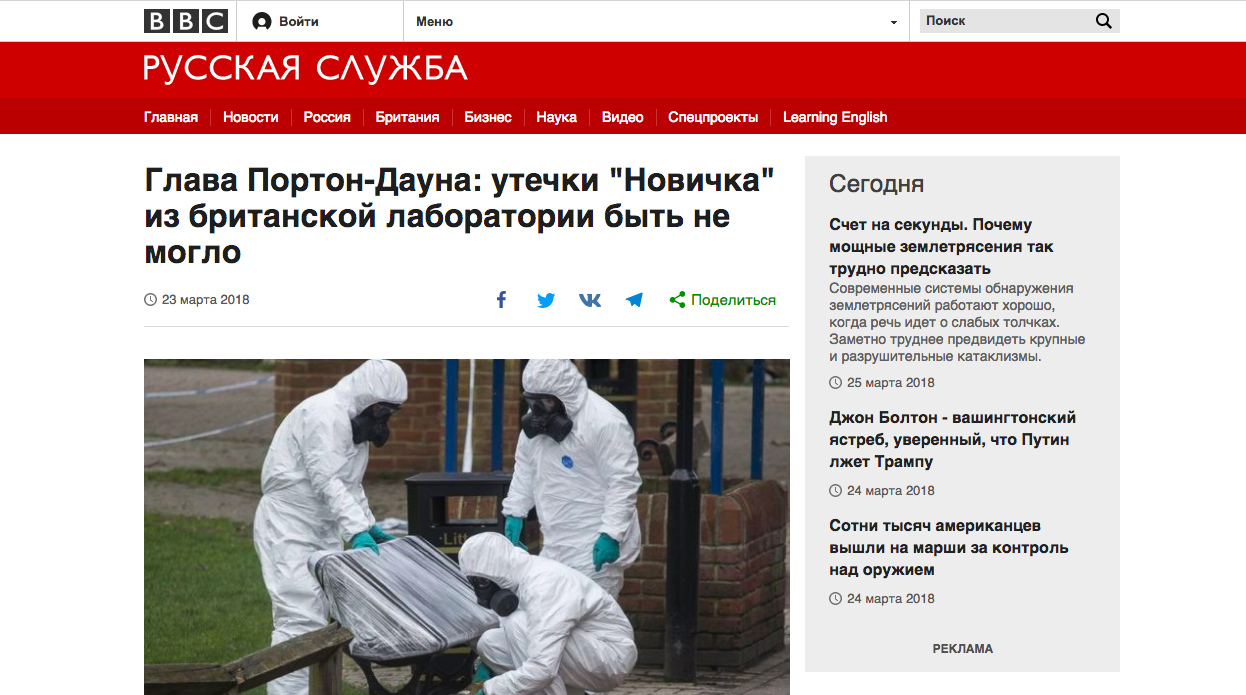 Russian propagandist media followed the Russian embassy's lead and immediately began to twist and manipulate Aitkenhead's words. According to the Russian embassy, by stating that it was impossible for something to leak out of Porton Down, the British "confirmed that this secret facility is developing and studying new chemical agents".
Since the Skripal poisoning at the beginning of March, Russian media have repeatedly claimed that the nerve agent used against Skripal and his daughter was developed in the UK. Russia's propaganda machine has even put out stories claiming the UK not only continues to develop chemical weapons, but is even building new production facilities for the manufacture of chemical weapons.
Sir David Pepper, the chairman of Porton Down's board told the BBC that such claims are complete nonsense. "This is a defensive organization. And we know that the Russians have been suggesting that certain buildings are for making chemical warfare and that's just complete rubbish" Pepper said.
After former Russian double agent Sergei Skripal and his daughter were found unconscious on March 4 on a bench in Salisbury, southwest of the British capital London, a diplomatic fracas ensued between the UK and Russia. The UK believes the Skripals were poisoned with a Soviet-era nerve agent called Novichok.
Britain, other EU countries and the US blame Russia for the poisoning.