Last week Russia's Interior Ministry announced that Ukraine has become a regional leader for drug trafficking. Kirill Smurov, the Deputy director of Russia's Interior Ministry Main Directorate for Drug Control announced that Ukraine is now one of the main entryways for the European drug trade, a "fact" that is being noted by the United Nations and the European Union. Smurov claims that drugs are coming in through Ukrainian ports and its western border heading for Europe and the Russian Federation. Ukrainian citizens are working as couriers and suppliers, Smurov said and organizing underground drug production and distribution in Russia.
Ukraina.ru, Izvestia, RBK, News.ru, Sputnik, TASS and other Russian media disseminated this fake unquestioningly.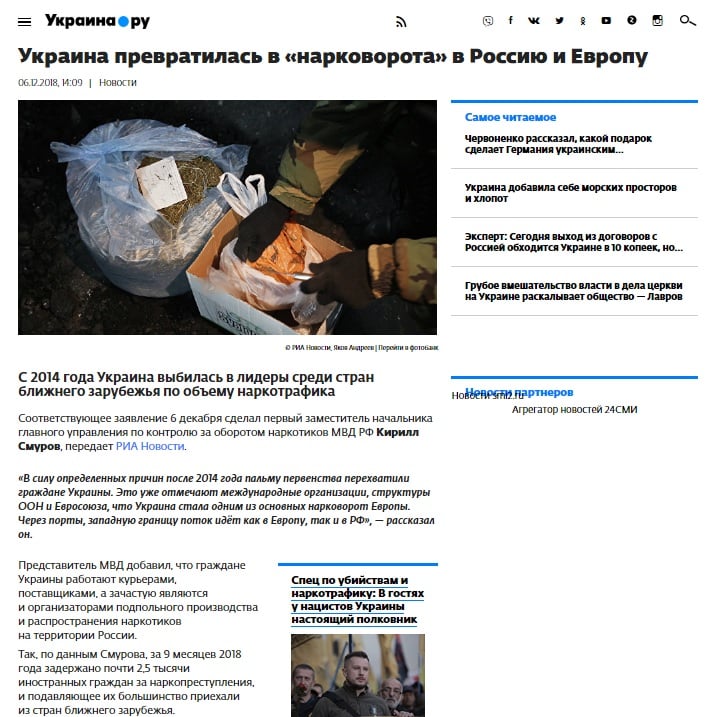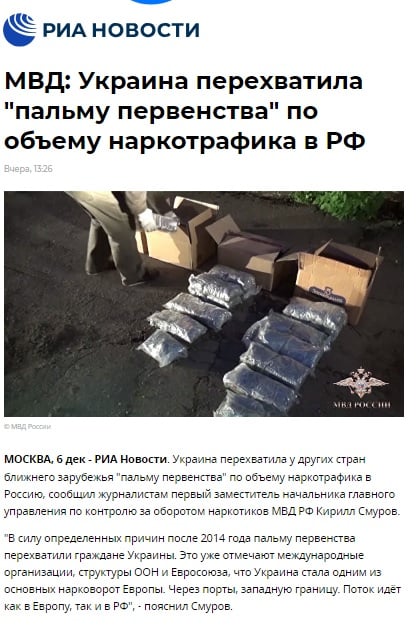 The UN Office on Drugs and Crime latest analysis of drug markets paints a completely different picture. The report notes that the world's principal heroin trafficking route continues to be the so-called Balkan route, along which opiates are trafficked from Afghanistan to Iran, Turkey, the Balkan countries and then on to various destinations in West and Central Europe.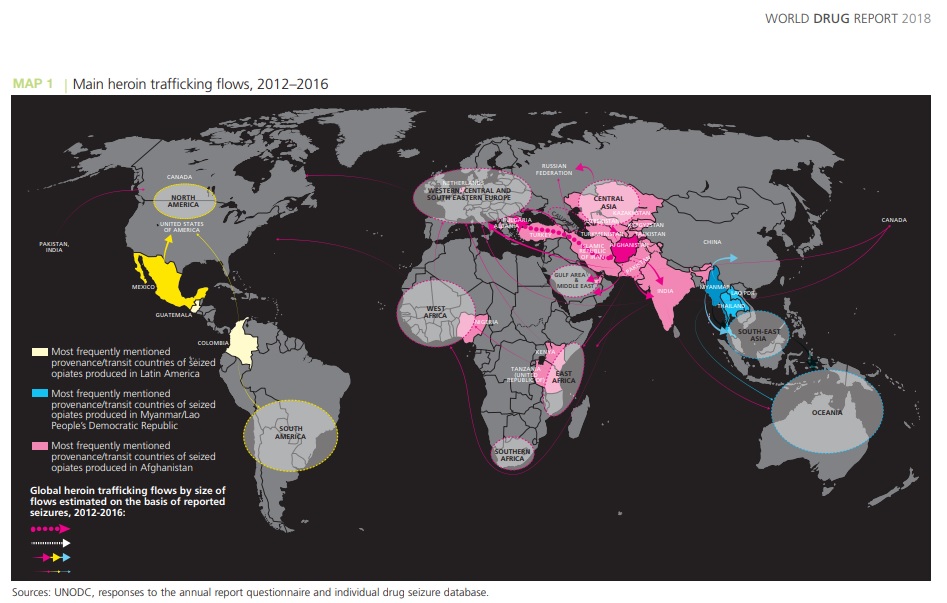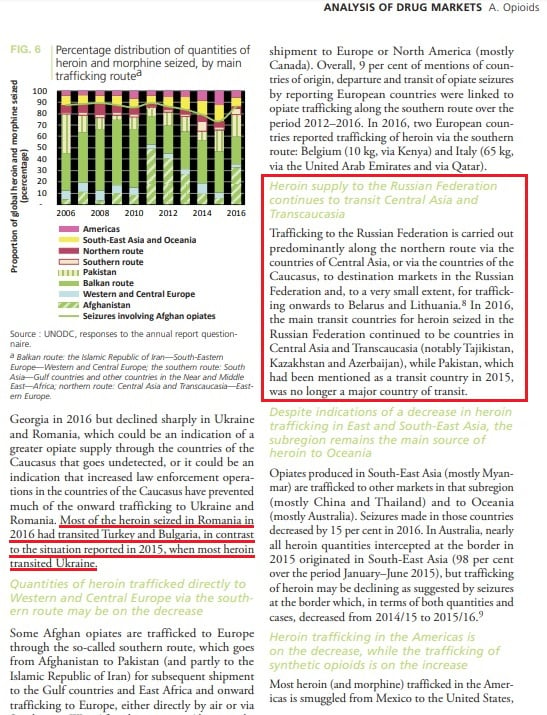 The report further notes that over the period of 2012-2016 80 percent of all heroin related incidents were in countries along the Balkan route, while much smaller amounts were trafficked along a route that goes from Iran to the southern Caucasus , mainly Azerbaijan and Georgia,  for shipment across the Black Sea to for trafficking in Western Europe.
The UN report also points out that most of the heroin seized in Romania in 2016 had transited Turkey and Bulgaria.
The latest UN drug market analysis also notes that drug trafficking to the Russian Federation predominantly takes place along the northern route via the countries of Central Asia, or via the countries of the Caucasus. Ukraine does not feature anywhere in this trafficking route.
According to the 2017 annual report prepared by the Ukrainian Health Ministry's Drug and Alcohol Monitoring Center, while no new drug traffic routes were observed in 2016, drugs continue to be trafficked through networks in all of the countries that border Ukraine. Ukraine is a transit zone particularly for smuggling cocaine from Latin America and Europe, synthetic drugs from China and methadone from Belarus and Russia. The Ukrainian report also notes that increased law enforcement has led to a slight decrease in the trafficking of Afghan heroin through the Balkan route and the Silk Road.
This is not the first drug related fake generated by the Russian propaganda mill. In 2017 StopFake debunked Russian claims that the EU had accused Ukraine of flooding Europe with heroin.