Russian pro-Kremlin internet site Ukraina.ru is one of the most prolific sources of anti-Ukrainian fakes and manipulative disinformation. Its latest foray into alternative reality claims that Kyiv is appealing to NATO for help with security for Ukraine's nuclear power plants. The story is based on an actual Ukrainian government statement on energy security cooperation, but the claim encapsulated in the Ukraina.ru headline is nowhere to be found in that statement.
Ukraine's Deputy Prime Minister for European Integration Ivanna Klympush Tsintsadze announced recently that Ukraine was initiating the process of joining the NATO Energy Security Center of Excellence recently launched in Vilnius, Lithuania. She made the announcement in the wake of a NATO-Ukraine meeting on training aimed at protecting critical electricity infrastructure that took place in October.
The NATO Energy Security Center of Excellence was set up to identify potential energy threats and provide proposals and recommendations to NATO allies for dealing with them effectively, develop mutual assistance instruments for extreme situations and military training programs to protect critical energy infrastructure.
Klympush-Tsintsadze's office issued a statement outlining Ukraine's plans to expand cooperation with NATO in the field of energy security, particularly safeguarding critical electrical infrastructure. Mutual Ukraine NATO training exercises are important for the development of Ukraine's capacity to protect its critical energy infrastructure and enhance national and international security, the statement reads.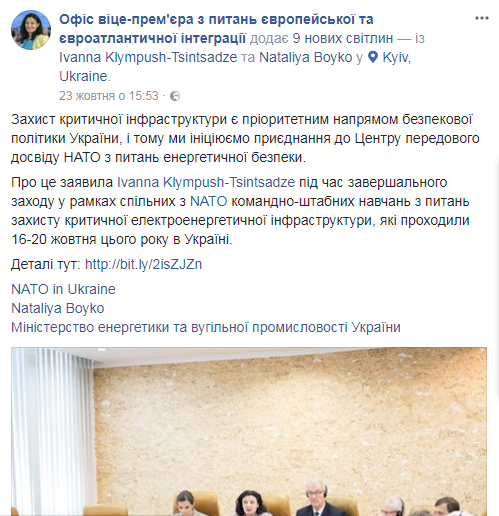 Ukraine is looking to NATO for training and not for protection of its nuclear power plants, as the Ukraina.ru headline falsely claims.
Ukraine's Government Office for European and Euro-Atlantic Integration director Oleksiy Henchev told StopFake that by joining the NATO Energy Security Center of Excellence Ukraine is primarily interested in the experience of other countries in protecting their electrical grids and infrastructure. Ukraine has some experience in countering hybrid threats against its energy system and government offices, he said. We are not asking anyone to protect our energy infrastructure; we simply want to benefit from the experience of other countries in this important sphere. The new NATO Energy Security Center is designed to facilitate that, Henchev said.
Russia was blamed for a December 2015 cyberattack against Ukraine's power grid which cut the electricity supply to more than 230,000 customers for up to six hours. It took place on 23 December 2015 and is considered to be the first known successful cyberattack on a power grid. Hackers were able to successfully compromise information systems of three energy distribution companies in Ukraine and temporarily disrupt electricity supply to the end consumers. Investigators concluded the attacks were launched by Russian computer operators. A similar, but smaller, cyberattack affected Kyiv's power supplies in December 2016.
Since Ukraine stopped importing gas from Russia and began importing American liquefied natural gas,  Kremlin propaganda has produced an incessant amount of fake stories claiming that Ukrainian nuclear power plants were unsafe and posing a great environmental danger for all of Europe.