Russian media is claiming that a recent New York Times article states that Ukraine's Defense Minister Oleksiy Reznikov was removed from his position because of the prolonged war with Russia. The real cause is that as the war has dragged on, there is a need for new leadership that could solve problems facing the Defense Ministry, first of all, problems with supply contracts, which have been heavily criticized by Ukraine's civil society.
Following the news about the dismissal of Defense Minister Oleksiy Reznikov, Kremlin media began spreading claims that the dismissal happened because the war with Russia was dragging on. Russian propagandists are referring to an article in The New York Times, which allegedly claims that under the current conditions, Kyiv wants to see a new leadership in the Defense Ministry.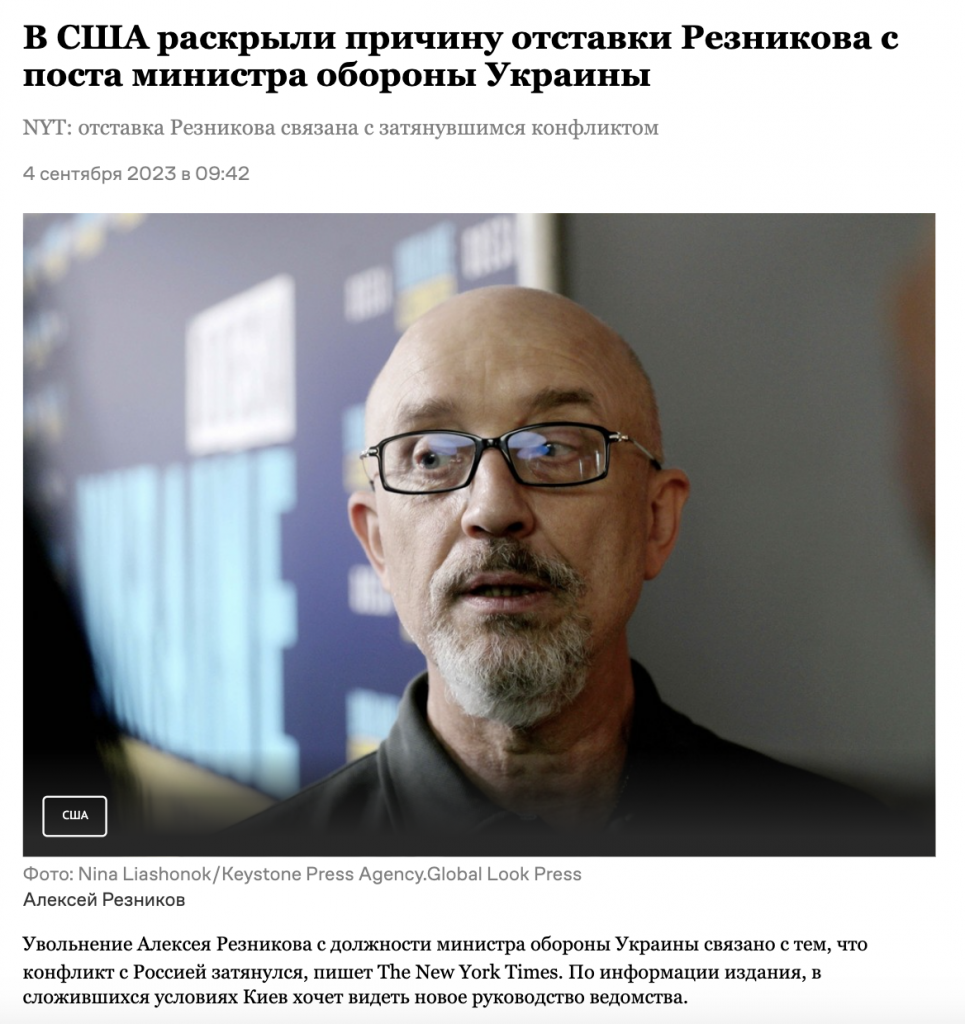 StopFake analyzed the NYT article in question – Zelensky Replaces Defense Minister, Citing Need for 'New Approaches' and found nothing in the article to support Russian propagandist media claims. This disinformation narrative shows that the Kremlin is once again trying to blame Ukraine for the war on its territory and to shift the responsibility for the war's duration from Russia, who started it all, to Ukraine.
In reality, the NYT story did not state this as the key reason why Oleksiy Reznikov was dismissed as Defence Minister.
'The fate of the defense minister, Oleksii Reznikov, had been the subject of increasing speculation in Ukraine as financial improprieties in the ministry came to light and the government started several investigations into official corruption,' the NYT writes.
'The shake-up arose from several factors, according to an official in the president's office, who was not authorized to speak publicly about the dismissal. Those included an understanding that Ukraine will need new leadership as the war drags on, the din of criticism from Ukrainian civil society groups and media over the contracting scandals, and Mr. Reznikov's own requests to step down,' the article reads.
The article first and foremost discusses accusations of corruption and problems with contracts, which led to talks about Reznikov's possible dismissal. At the same time, the NYT writes that although the problem of corruption in Ukraine exists, recently, the situation has improved significantly, according to assessments by international organizations. In addition, the source notes that 'the allegations dogging the ministry are not related to Western weapons transfers but to domestic weapons procurement, which is not directly financed by aid from allies. These countries transfer weapons and ammunition directly to the Ukrainian army, while financial aid is directed to nonmilitary spending. Ukrainian tax revenues fund defense procurement, where the accusations of mismanagement arose.'
Previously, StopFake debunked manipulative Russian media stories claiming that Reznikov doesn't expect too much from Ukrainian counteroffensive, and that the Defense Minister allegedly confessed to terrorism.