Pro-Kremlin Russian media are once again claiming that Ukraine has recognized Russia's right to annexed Crimea. RT claims that Ukraine's state-owned gas company Naftogaz has confirmed Crimea's Russian status by suing the Kremlin for compensation for the company's lost property in Crimea. This is "the gradual recognition by the Ukrainian side of Crimea's Russian identity" Russian experts opine, while Russian politicians call the lawsuit charlatanism and accuse the Ukrainian company of trying to get easy money from Russia.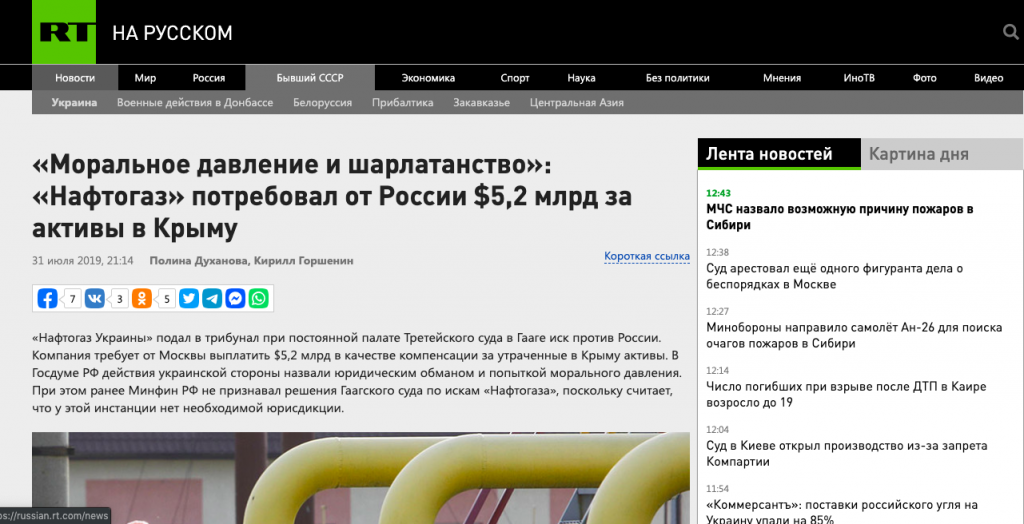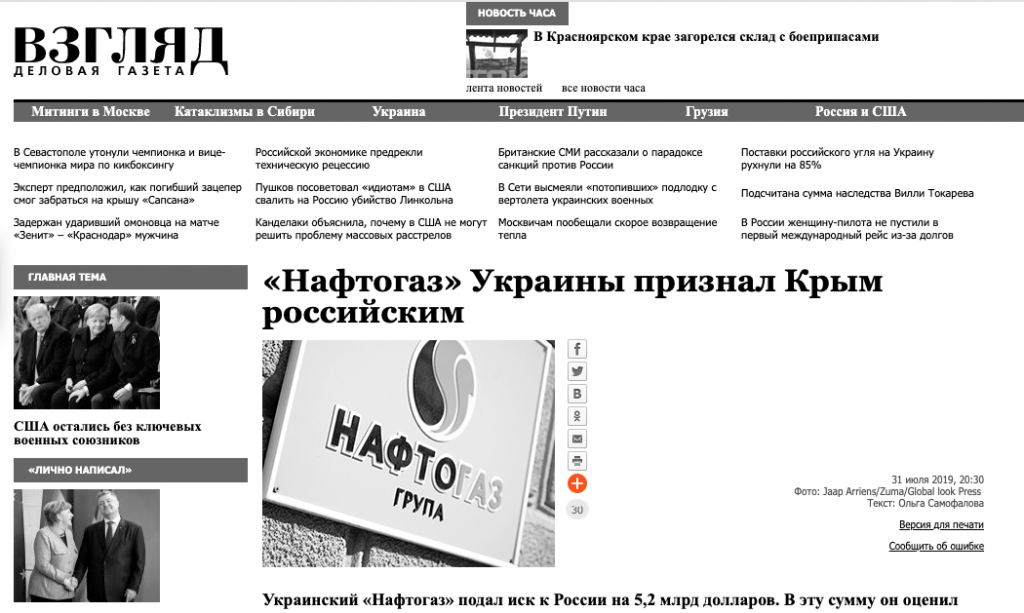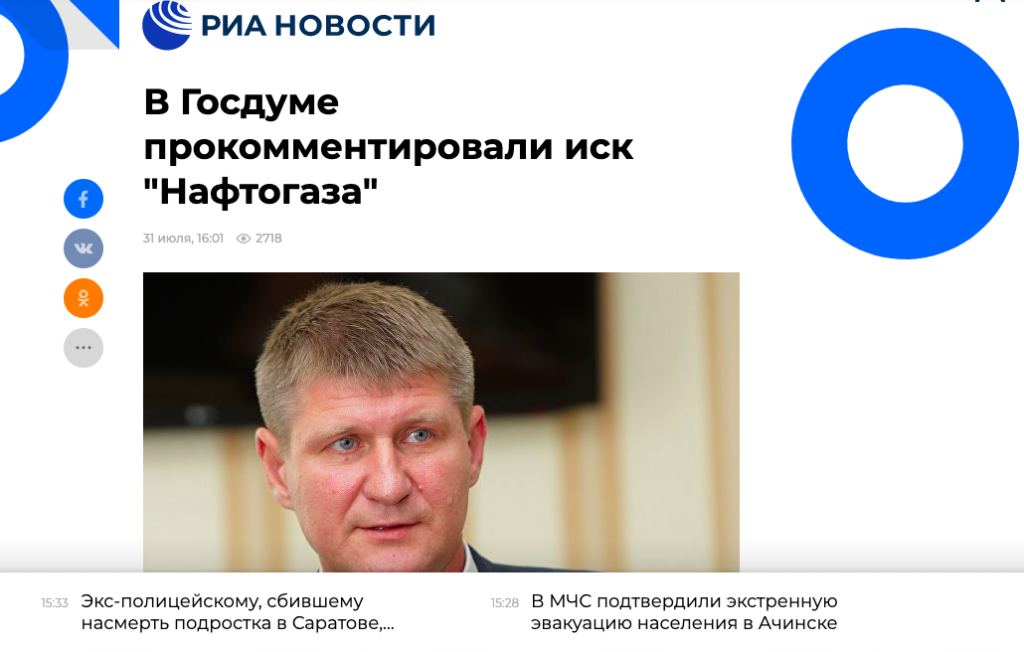 "It's an interesting situation: it turns out that Naftogaz fully recognizes that Crimea is Russian Federation territory, as it recognizes Russia's right to property in Crimea. There's a certain positive political moment here" according to Igor Yushkov, chief analyst with Russia's National Energy Security Fund.
Russian politicians have expressed outrage at the new lawsuit waged by Naftogaz against the Kremlin for illegal seizure by Russia of the company's assets in Crimea. At the end of June Naftogaz and six of its subsidiaries filed a lawsuit at the Permanent Court of Arbitration in the Hague for damages of some $5.2 billion incurred by the Russian annexation of Crimea. The court has decided to consider the case in two stages with the final decision to be rendered in 2020. Ukraine is insisting on reimbursement of damages incurred each and every day of the occupation of Crimea during which Naftogaz is unable to partake of its assets on the annexed territory.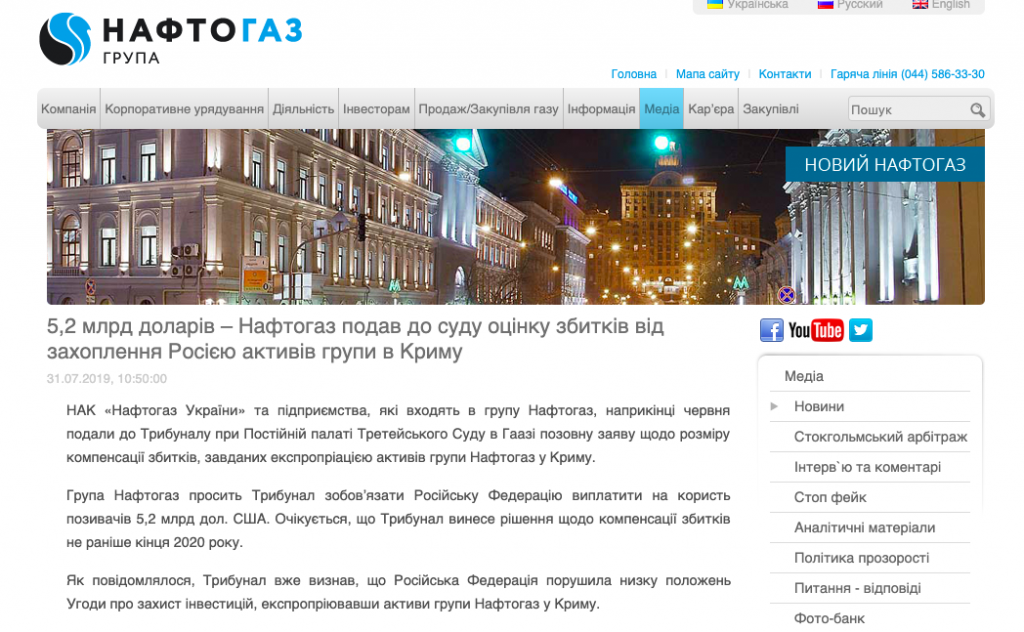 Prior to the annexation, Naftogaz Ukraine had vast holdings in Crimea. Apart from the Naftogaz subsidiary company Chornomornaftogaz, Russia also illegally seized drilling rigs, gas fields, underground gas storage facilities, ships, apartments, altogether some 60 units of Naftogaz property. Chornomornaftogaz was the only Ukrainian company that independently carried out gas exploration in the Ukrainian sector of the Black and Azov seas.
Naftogaz sued Russia for seizing its Crimean  assets at the end of 2016. As expected, Russia challenged the jurisdiction of the Arbitration Court, however in 2019 the court found that the Russian Federation is liable for the unlawful seizure of Naftogaz assets in Crimea. Ukraine insists that in addition to violating countless international norms by annexing Crimea, Russia also ignored the Bilateral Treaty on mutual investment protection signed by Ukraine and Russia in 1998. 
Article 5 of this bilateral treaty on reciprocal protection of investments states that Ukraine and Russia agree to prompt compensation in the event of expropriation of either side's assets. Therefore, neither Ukraine nor Naftogaz have recognized Russia's right to Crimea in its lawsuit, but rather, Naftogaz, a Ukrainian company guided by a current interstate agreement between Ukraine and Russia, is demanding compensation from Russia for the loss of its investments.
Russia's propaganda machine regularly spews out fakes about various international lawsuits that Ukraine has launched against Russia. StopFake has in the past debunked Russian claims that Naftogaz lost a case against Russia's gaz giant Gazprom and that the Stockholm Arbitration Court ruled in favor of Gazprom.