Pro-Kremlin Russian media has once again returned to one of its favorite tropes, blaming Ukraine for complicity with terrorists. This time an unnamed Ukrainian company allegedly purchased missiles from Moldova and sold them to ISIS, writes the propagandist site Fond Strategicheskoy Kultury. The alleged transaction supposedly took place at Moldova's Marculesti airport, which until 2017 was the Marculesti Air Force Base owned and operated by the Moldovan Defense Ministry. Russia's  News Front web site and Planet Today faithfully republished this fake story.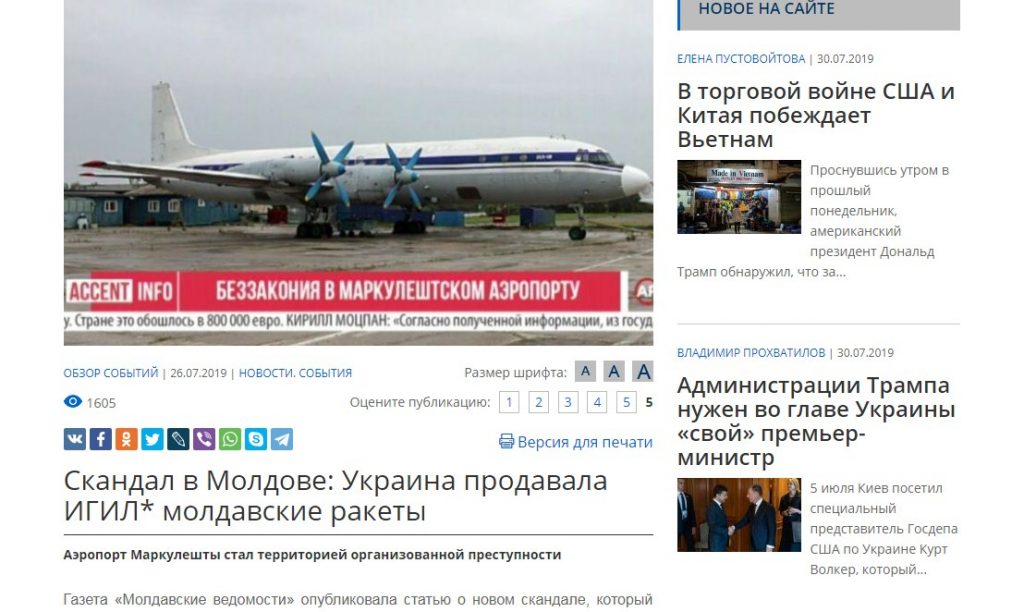 All the above publications cite former Marculesti Airport director Vladimir Maiduk, who in an interview to the Russian language online newspaper Moldovskye Vedomosti said that since 2015 Marculesti Airport has sold three S-125 surface to air missile systems to Ukraine. Maiduk's claim is the only time Ukraine is mentioned, there is no evidence confirming any Ukrainian involvement in any sales of Moldovan missiles to ISIS presented in any of the fake Russian stories.
This is not the first time that pro-Kremlin Russian media has accused Ukraine of collaborating with terrorist organizations. In 2015 it was reported that ISIS was buying  FN-6 Chinese air defense missile via Ukraine. At that time Ukraine's Defense Ministry stated that this missile had never been part of Ukraine's military arsenal and that such missiles had never been transported through Ukrainian territory.
Another arms scandal was unleashed in August 2017 when Ukraine was accused of supplying engines for North Korean missiles. An August 14, 2017 New York Times story claimed that analysts evaluating photographs of North Korea's new missiles concluded that the design for North Korean missile engines resemble old Soviet engines which could have been produced at the Yuzhmash missile factory in Dnipro. Ukraine officially rebutted these claims and the country's national Security and Defense chief Oleksander Turchynov emphatically stated that Ukraine did not supply any engine or rocket technology to North Korea.
Yuzhmash also refuted New York Times' claims. Yuzhmash has never had any connection with North Korean defense or missile programs, the company wrote in a public statement. According to Yuzhmash's public affairs office, the company has not produced any missiles of military missile systems since Ukraine declared independence in August 1991.
Read also:
Kremlin Fakes: Why Mr. Putin Links ISIS to Ukraine?
Fake: Pope Presents Putin with Guardian Angel of Peace Medal