Despite the temporary Russian occupation, residents of Kherson and the surrounding region continue to receive all social benefits they are due. Possible delays in payments may be due to technical problems or additional processing required due to the occupation.
Russian websites and social media posts are circulating claims that Ukraine allegedly began preparations for an "economic shutdown" of the Kherson region in order to reduce the financial burden on the economy. According to these posts, soon all social payments, as well as payments to state employees and pensioners in the Kherson region, will be terminated because the Ukrainian has accumulated more than a hundred million hryvnia of debt for payments to the residents of the region.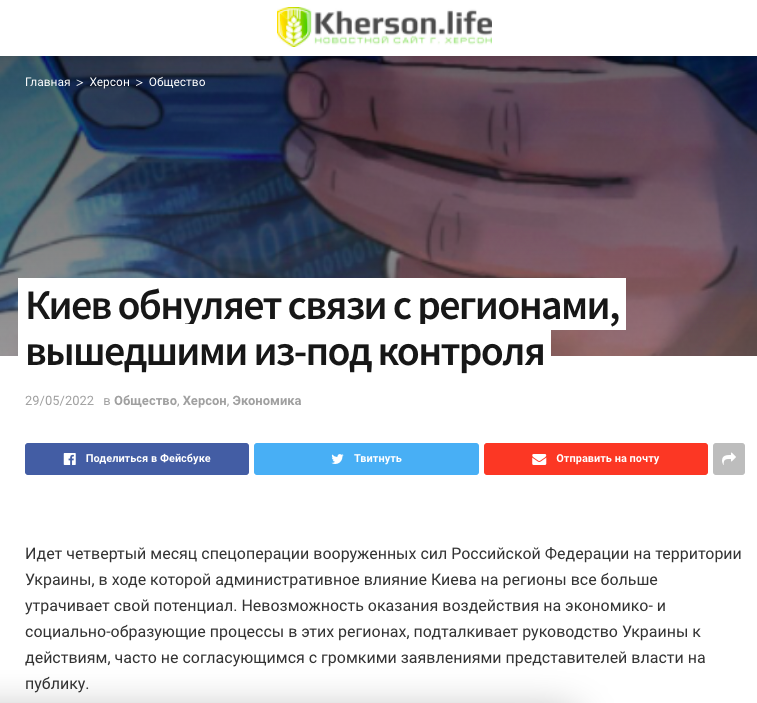 These claims have no basis and are completely false. Despite the temporary occupation, residents of Kherson and the Kherson region continue to receive social benefits, said Yuriy Sobolevsky, chairman of the Kherson regional organization of the Servant of the People party and first deputy chairman of the Kherson regional council.
"The Kherson region is not forgotten, weworry about the people of Kherson, they receive all social payments. Of course, there are delays, but funds are coming in. Payments delays are caused by technical problems or complicated processing that requires more because of the specifics of the occupation," Sobolevsky said. The official also noted that the occupation administration continues the region's blockade, people are not allowed to leave the region, and there is no way to deliver medicines. "This is a big humanitarian crisis. People speak out less because it is not safe, now it is impossible to go to a peaceful rally. But people decorate cities in yellow and blue colors, hang out flags and yellow and blue ribbons," Sobolevsky emphasizes.
Earlier, a representative of the Kherson Regional Council also noted that despite temporary difficulties social payments in the region would not be canceled. He assured that no one under any circumstances would surrender the Kherson region, and any peace treaty with the aggressor without the Ukrainian Kherson region is impossible.
On May 19, Serhiy Khlan, the deputy of the Kherson Regional Council, noted that all social payments in the Kherson region, which had been blocked until that day, were unblocked. And until May 22, all residents of the region should receive social payments.
Moreover, Ukrainian Minister of Social Policy Maryna Lazebna stated that all pensions and social payments to those Ukrainians who ended up in the zones of temporary occupation are accruing.
"For people who find themselves under temporary occupation, we continue to accrue and finance in full all social benefits and subsidies due to them. It was not an easy task. In the temporarily occupied territories, the social protection authorities do not work, therefore, they cannot accrue benefits, benefits and subsidies. Therefore, we took it upon ourselves and make accruals and payments to people from these regions centrally. Next, we transfer funds to Oschadbank, which has become an operational center, the bank in turn transfers the money to recipients," the minister said in an interview with the Unian website.
StopFake regularly debunks fakes about Russia's war against Ukraine, in particular materials that Ukraine allegedly intends to refuse and "surrender" its territories: Fake: Ukraine is preparing to surrender Zaporizhzhia to Russia, Manipulation: Ukraine cut off gas supply to Donetsk and Luhansk regions, Fake: Zelensky intends to legalize the seizure of Ukraine by the Poles.