Ukraine does not have any phosphorous bombs; they are banned by the Geneva Convention. NATO countries are not allowed to export such bombs. Russian invading troops, meanwhile, have been using cluster bombs in the northern Ukrainian Chernihiv region, on Monday February 28 they used cluster munitions in Kyintsi and Pavlivka, towns located southwest of Chernihiv, the regional center.
Russian media and Telegram social media channels are disseminating stories claiming that Ukrainian forces used phosphorous bombs in the battle for Hostomel airport near Ukraine's capital Kyiv. RG.ru, Rueconomics, Izvestia, Politnavigator, Vnnews.ru, Interfax and other pro-Kremlin publications all circulated this fake. Many pro-Kremlin Telegram accounts, such as Svodky opolchenia Novorossiyi (Novorossiya Militia Roundup) are also disseminating this claim.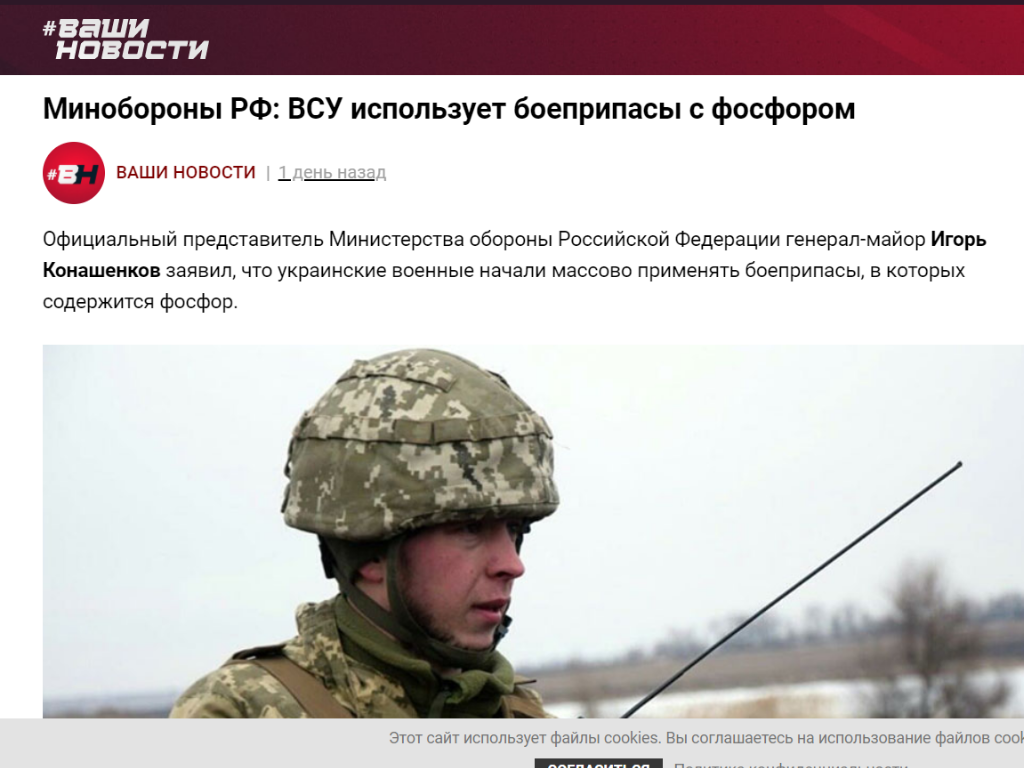 Ukraine does not possess any phosphorous bombs; they are prohibited by the Geneva Convention. Ukrainian President Volodymyr Zelensky wrote as much in an open statement back in 2020. NATO countries are banned from exporting such armaments. At this time of full a scale invasion of Ukraine by Russian troops, disinformation about phosphorous bombs may overshadow real violations by the invading Russian army – such as the use of cluster munitions in the Chernihiv region villages of Kyintsi and Pavlivka on February 28.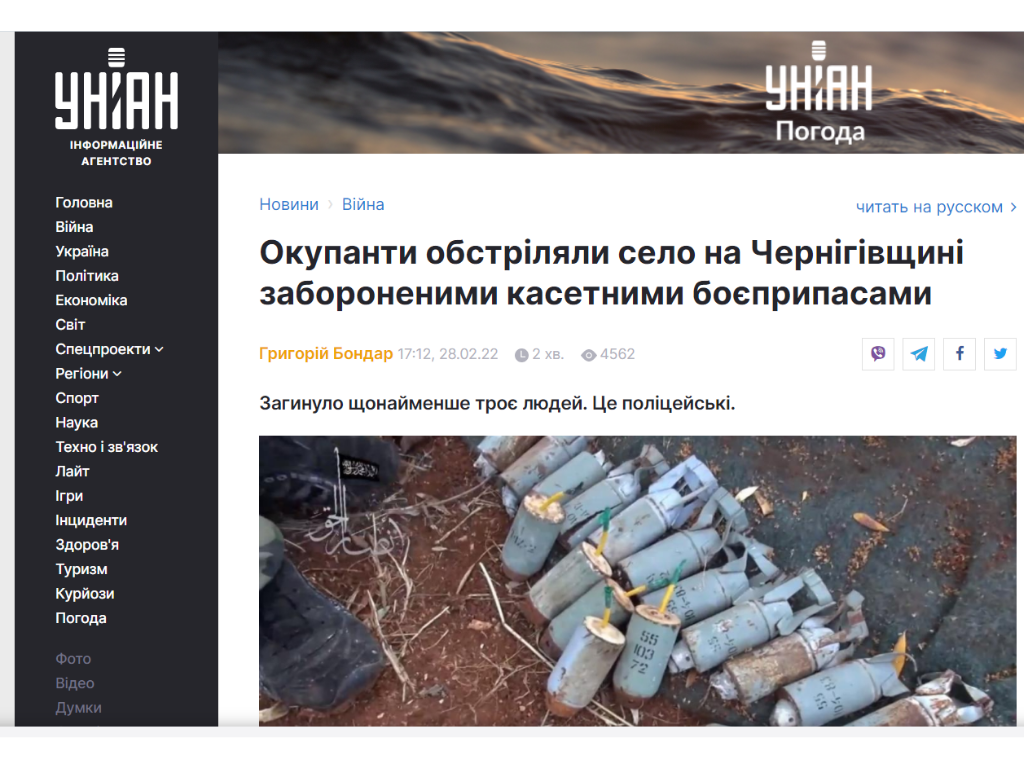 Russian media have repeatedly claimed that Ukrainian troops use phosphorous bombs, this is a Kremlin fake that has been circulated since the first Russian incursion into Ukraine in 2014.
On June 12, 2014 Zvezda, the Russian Defense Ministry's television channel reported that the Ukrainian Army allegedly fired phosphorous bombs at Semenivka, a village near Slovyansk in the Donetsk region, causing numerous fires. StopFake factcheckers debunked the fake; we discovered that the footage used by Zvezda was in fact CNN footage from 2004 shot in the Iraqi city of Fallujah. That very same day, notorious Komsomolskaya Pravda propagandists Alexander Kots and Dmitri Steshin also published a story accusing Ukraine of using phosphorous bombs, however, the video they used as their alleged "proof" in fact showed heat traps, false targets for surface to air missiles.
At that time Ukrainian intelligence intercepted a telephone conversation between pro-Russian militant Andrei Purgin and an unnamed Russian interlocutor in which Purgin admitted that there were no signs of phosphorous bombs having been used by Ukraine's military.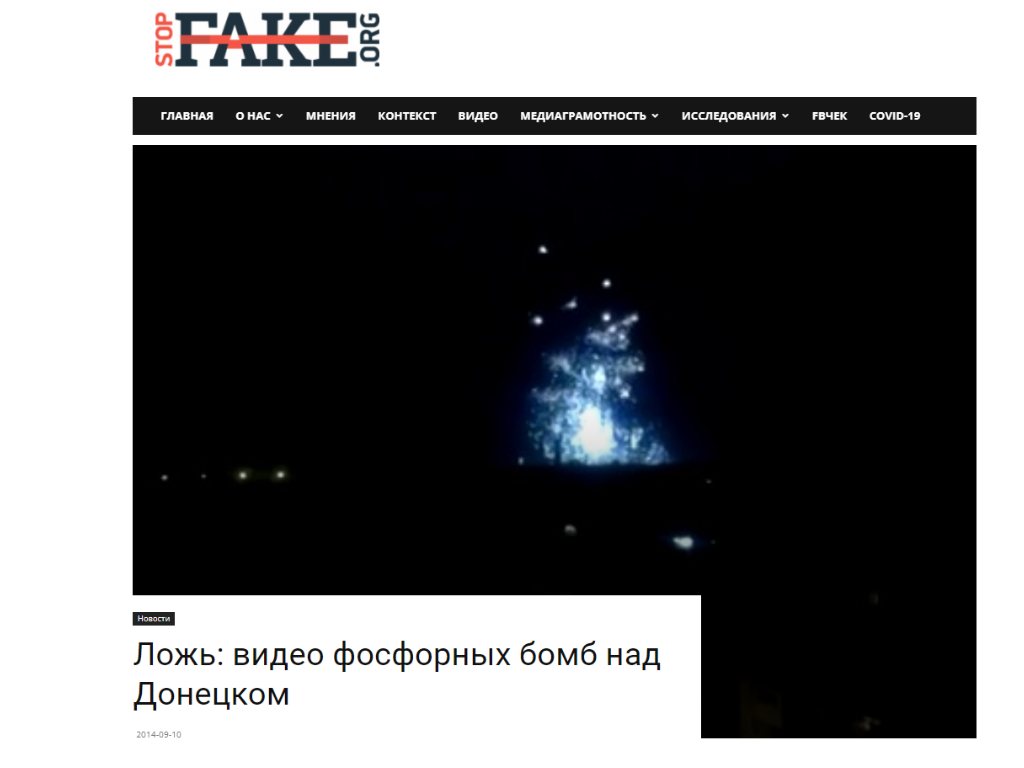 During the Nagorno Karabakh conflict between Azerbaijan and Armenia in 2021 stories about alleged phosphorous bombs from Ukraine were circulated in the Armenian media. Russian propagandists spread fakes about Ukraine allegedly supplying banned weapons to third countries to discredit Ukraine in the eyes of the world community and sow distrust in Ukraine's military industry.
Accusing Ukraine of using banned munitions is a classic example of gaslighting, a manipulation tactic used to cover one's own crimes, in this case, an illegal Russian invasion of Ukraine and use of banned weapons by the invading Russian troops.