Orthodox Church of Ukraine representatives told StopFake that Stepan Bandera is not being canonized by their church and the document used to substantiate these claims in Russian media is a fake.
Russian media, anonymous Telegram channels and social media accounts are all spreading fakes claiming that the Orthodox Church of Ukraine has canonized the late Ukrainian nationalist leader Stepan Bandera. To support this claim the posts and stories reference a document which states that the Orthodox Church of Ukraine Bishop's Council took this decision on June 20.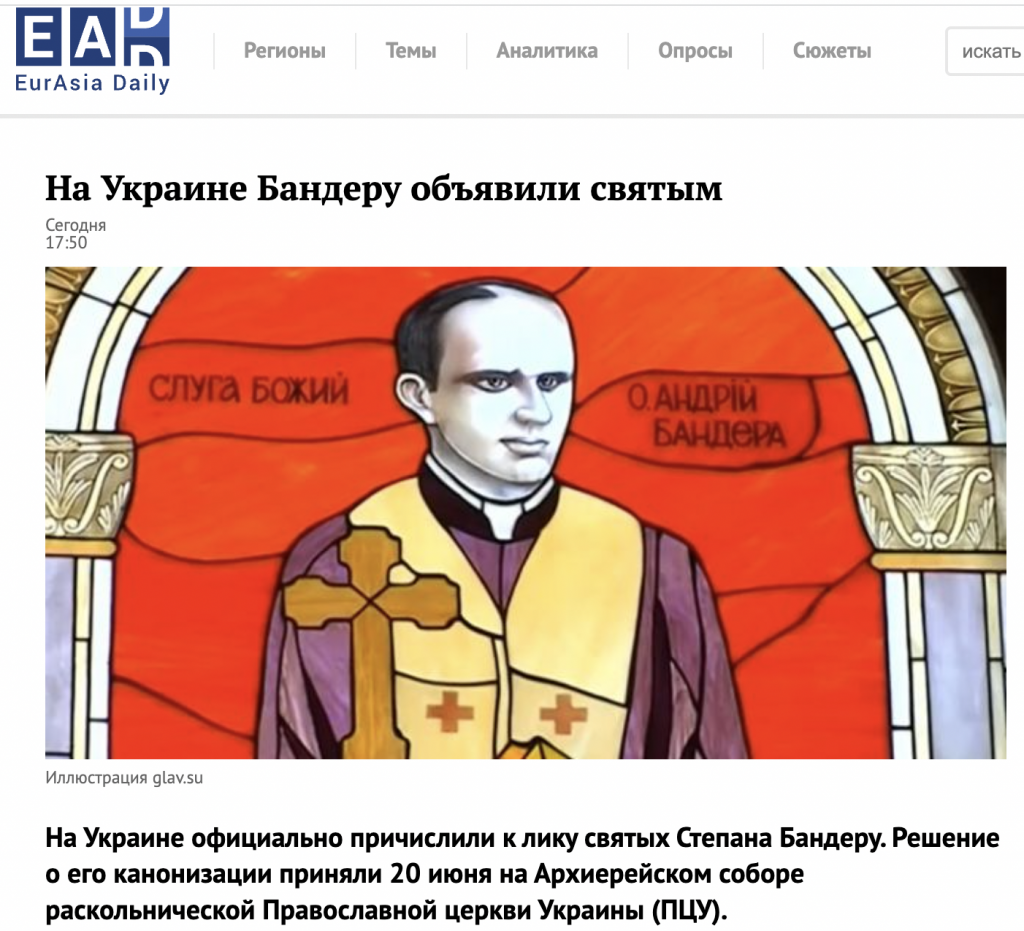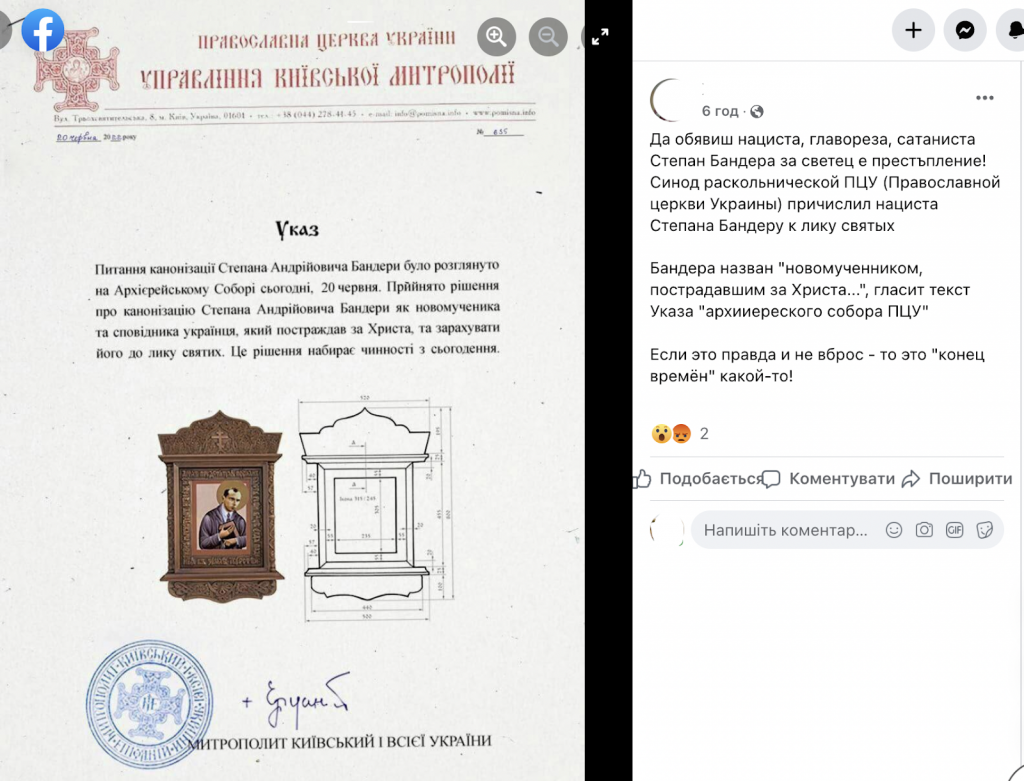 This gesture, according to EADaily shows once again that Ukraine is a Nazi country and Russia's "special operation" goals in Ukraine are fully justified.
"Stepan Bandera has been recognized as a saint in Ukraine. Chaos in the country has reached a peak. After this, how can one deny that Nazism is alive and well there?!" Russian propagandists write.
Responding to StopFake's inquiry about the alleged canonization of Bandera, the Orthodox Church of Ukraine's (OCU) press service said the nationalist leader had not been proclaimed a saint and the document used to substantiate this fake claim is not an authentic church document.
The document being circulated online purports to be written on Orthodox Church of Ukraine letterhead, it is dated June 20 and claims that the Council of Bishops decided to include Stepan Bandera as a saint of the church. However, there is no such notice on the Orthodox Church of Ukraine's website and there was no bishop's council held on June 20. The last official Council of Bishops took place on May 24. The Church's website has a 'documents' section where all Council Decisions are published, there is no decree among those documents canonizing Bandera.
The Orthodox Church of Ukraine also points out that it cannot canonize Bandera as he was not an orthodox believer, but rather a Greek Catholic.
As for the "document", it is clearly a fake. "A crude montage was used to create this picture, and its content is absurd and illiterate from the point of view of canonization language and church traditions. The content of the document and its style of writing, directly indicate it is a fake," said the OCU press service wrote.
The process of canonization is lengthy and complex. It is highly unlikely that the canonization of someone as well-known as Stepan Bandera by any church in Ukraine, would have gone unnoticed. In a recent interview Father Vitaliy Klos, a member of the Orthodox Church of Ukraine Synodal Commission for Canonization of Saints noted that canonization is a community church activity, first the diocese gathers information about a potential candidate and holds the first discussions on the candidacy. The proposal is then passed to the church Synodal Commission for Canonization, whose proceedings are publicized on the OCU website. The Synodal Commission then passes their recommendations to the Holy Synod of the Orthodox Church of Ukraine, whose meetings are chaired by the leader of the OCU. Finally, the Council of Bishops approves the decision.

The Orthodox Church of Ukraine website shows that the last two canonizations enacted by the were of Joseph Neliubovych Tukalsky, Metropolitan of Kyiv, Galicia and Rus' and Elizaveta Halshka Hulevychivna, patron of the arts and the founder the Kyiv Fraternal Epiphany Monastery and the Kyiv Brotherhood School.
In an attempt to make its disinformation look credible, the Russian propaganda machine often resorts to backing up their mendacious claims with fake documents, such as the one used in this ridiculous Bandera sainthood claim. Previously fake documents were used in stories claiming Ukraine asked Poland to deport all Ukrainian men of army age, a fake about Ukraine's Education ministry collecting information about military school graduates, or about 10,000 Lithuanian and Polish soldiers about to enter Ukraine. These and many other stories using fake documents were debunked by StopFake factcheckers.