On November 12 Russian media reported that in response to requests from Ukrainians Vladimir Putin ordered gas to be shipped from Crimea to Henichesk, a city in southern Ukraine. Russian sites featured a video of Sergey Aksyonov, Moscow's prime minister of Crimea personally asking the Russian president to respond to a "humanitarian catastrophe unfolding in Henichesk" where people were freezing and pleading for help. Putin agreed, as he had done in 2015, saying that Russia would help, but emphasized that Moscow "must establish financial discipline in our relations with our neighbor".
https://www.youtube.com/watch?v=_QqSIpJ32vg
RIA Novosti, RBK, Vesti.ru, NTV, Moskovskyi Komsomolets and other Russian sites who carried this fake story claim that gas shipments to Ukraine from Crimea began on November 12. Except that they didn't.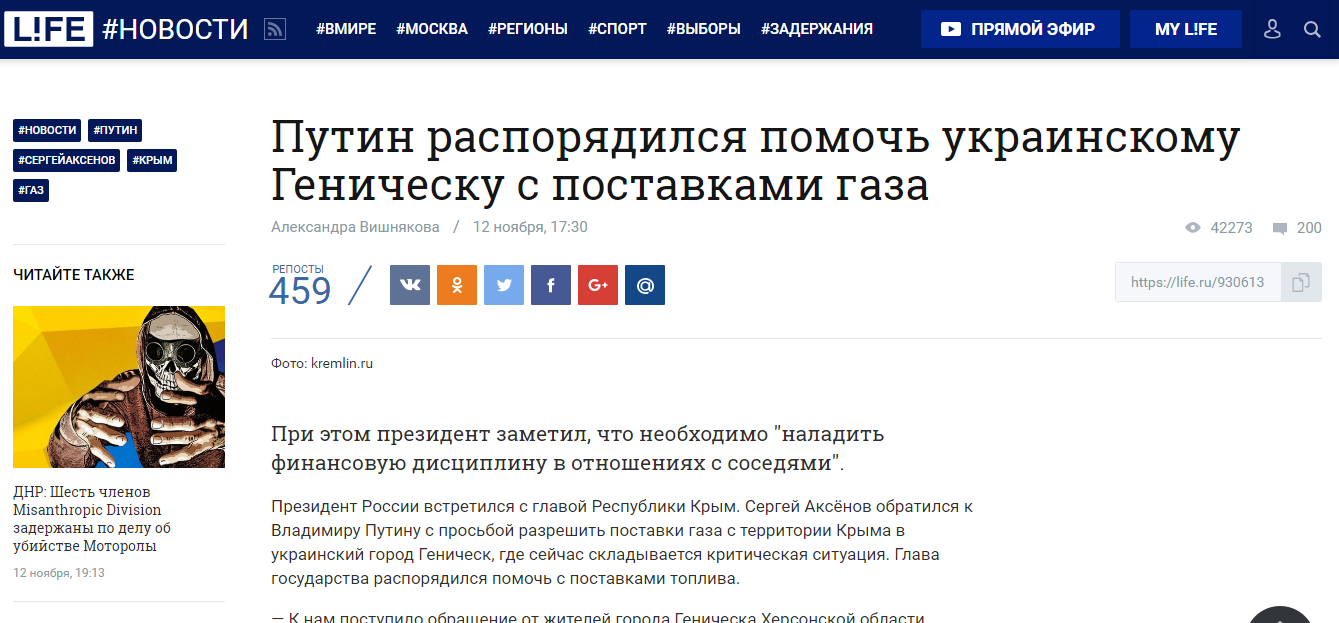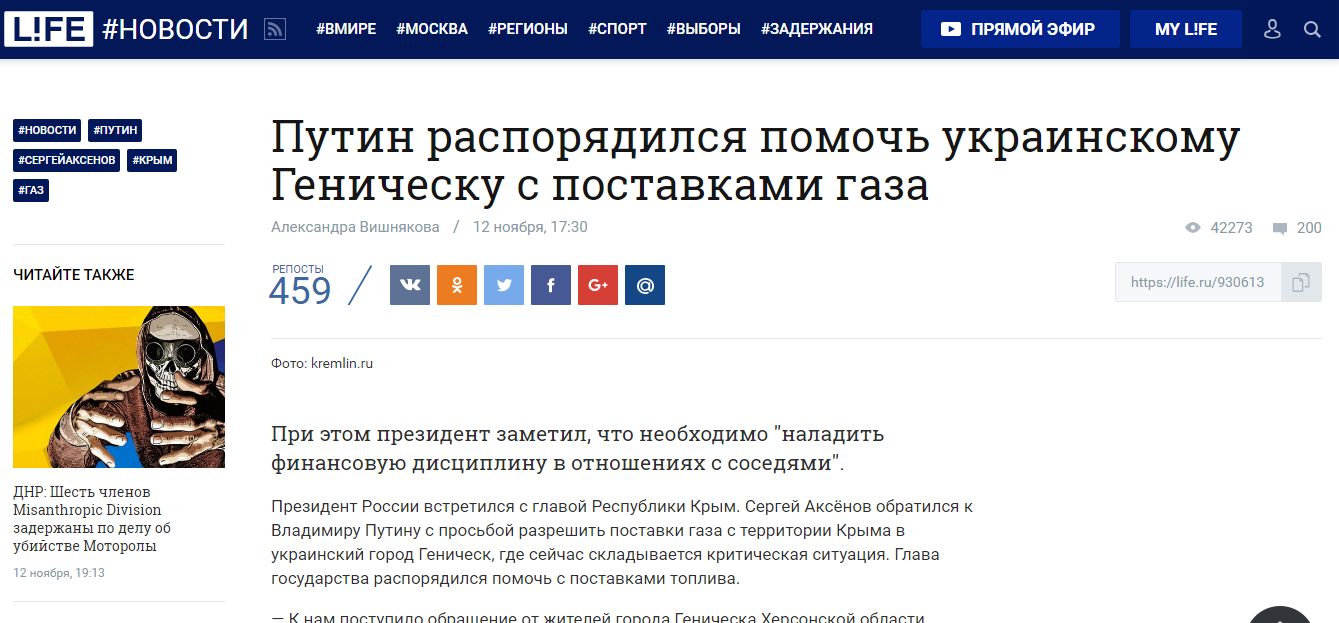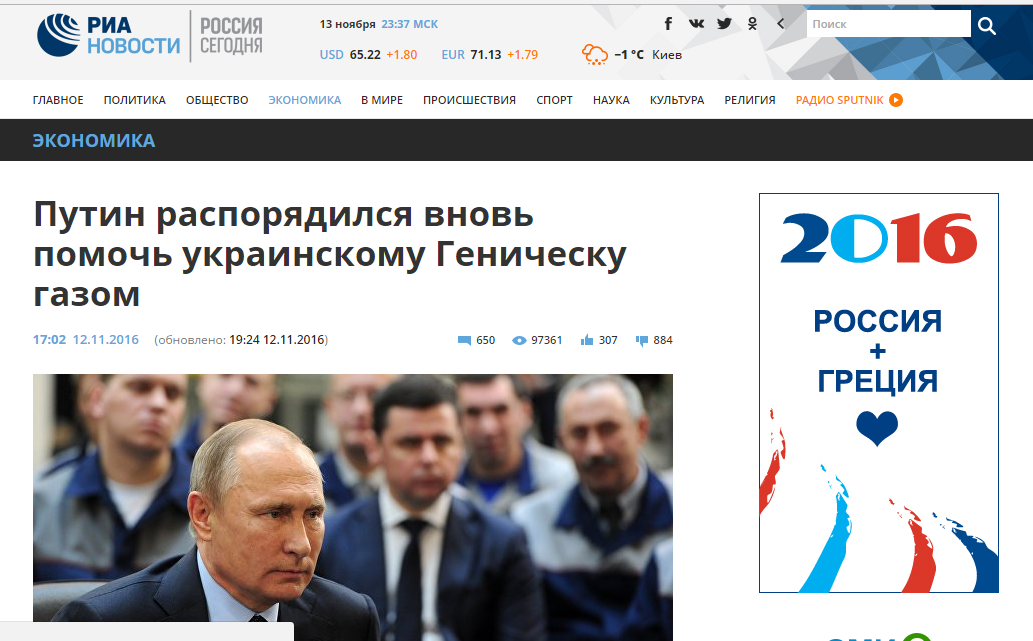 A few days before Aksyonov met with Putin, several Russian sites claimed that activists from Kherson ad Henichesk were collecting signature for a petition asking for help in heating their homes. A local activist called Hennadiy Syvak delivered the petition to Aksyonov.
Syvak however is not a local Henichesk activist, according to his Facebook profile he lives and works in the Crimean capital Simferopol and is an avid supporter of the Donetsk and Luhansk People's Republics, eastern Ukrainian territories occupied by Russian separatists.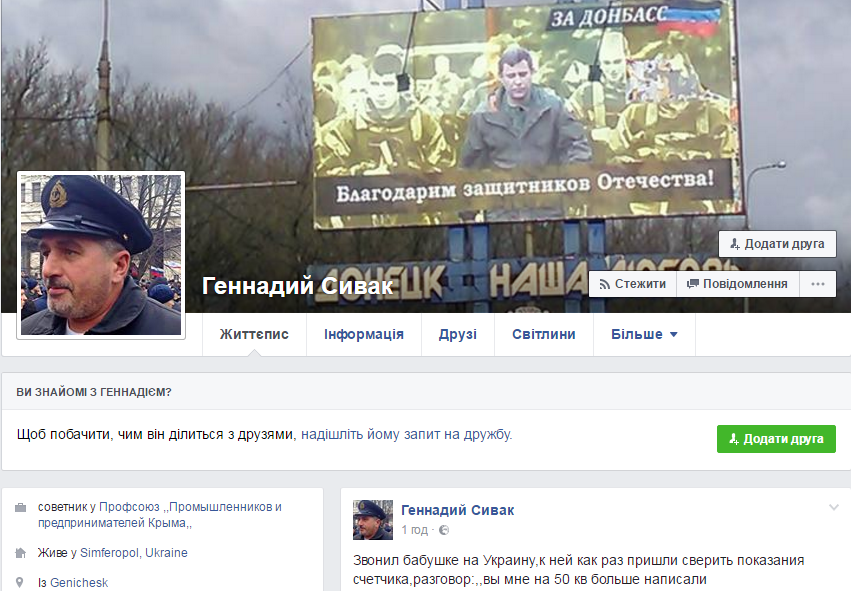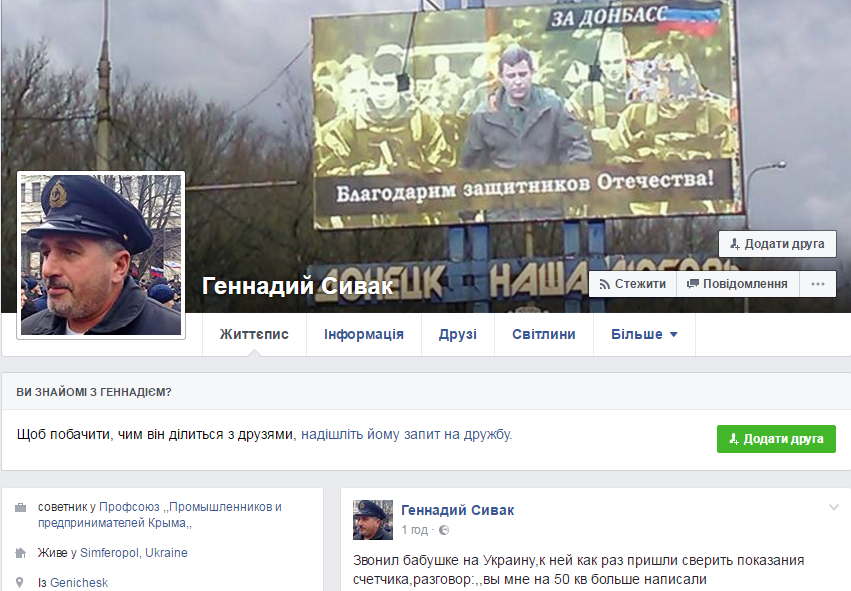 According to Henichesk mayor OleksanderTulupov, a pro-Russian local resident named Eduard Kovalenko did initiate a petition appealing for help. Ukrainian security services are currently investigating his activities.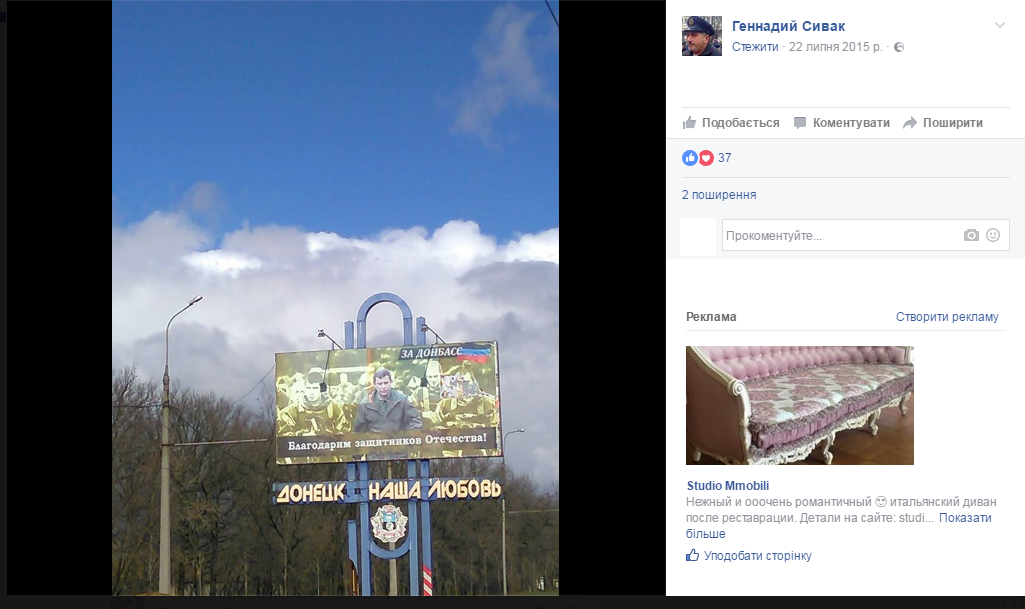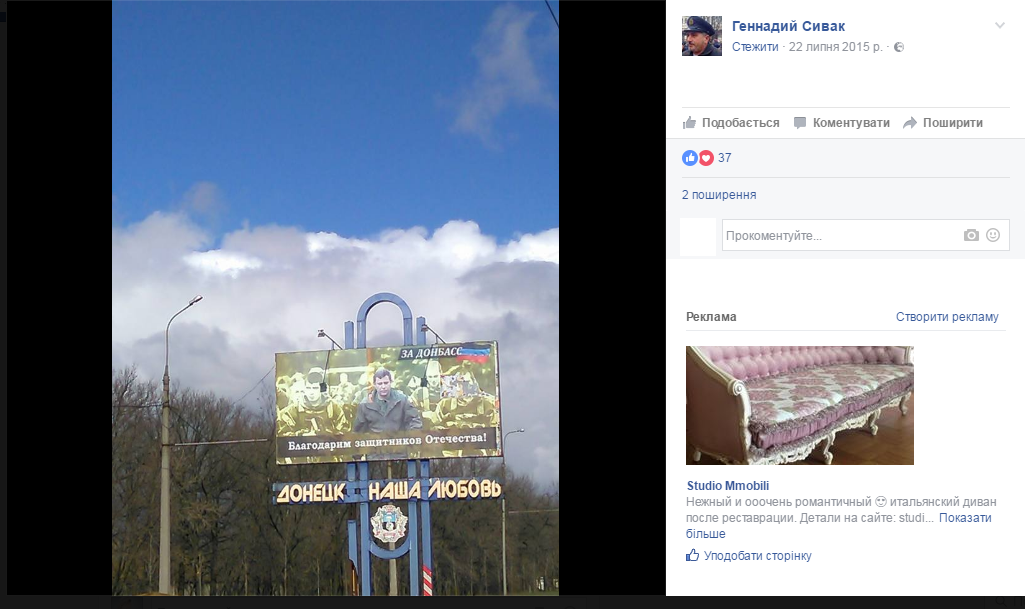 Henichesk Regional Administration chairman Oleksander Vorobyov dismissed Putin's so-called help as a complete fake. The city is not receiving any gas from Crimea, he said and pointed out that Crimea has no gas of its own to share with the mainland.
Ukraine's Energy Ministry is addressing the city's gas supply problems and plans for a relay station to pump more gas into the city are underway. Currently the city has 70% of required gas for the winter season.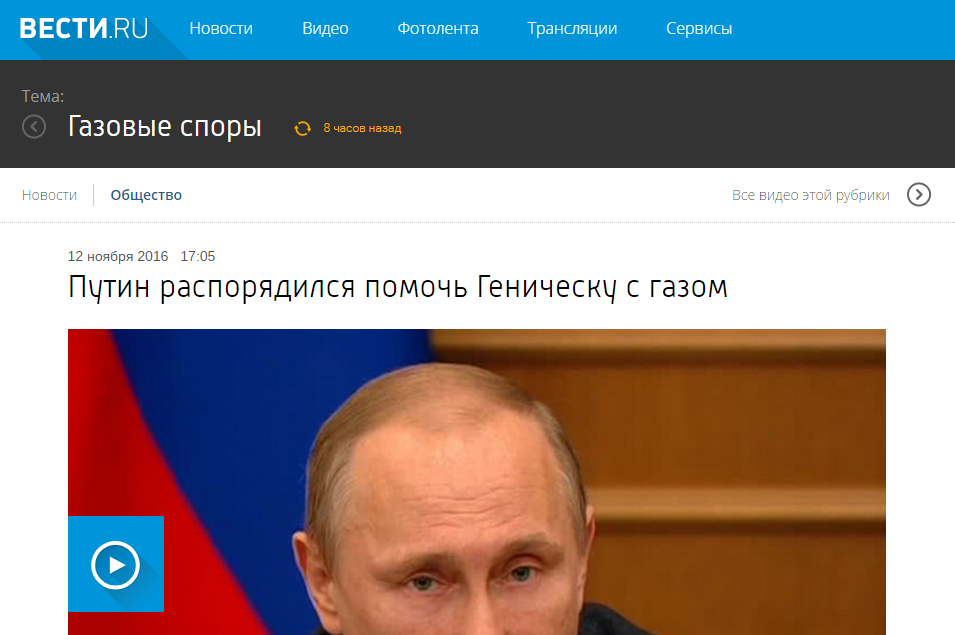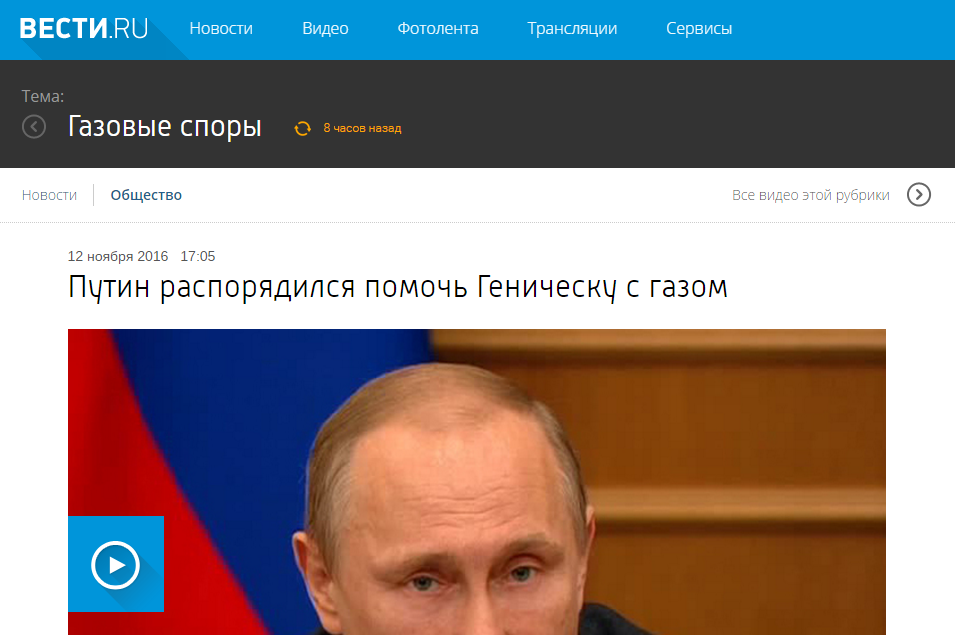 Russian media circulated a similar fake story in the beginning of 2016, alleging that the mayor of Henichesk called Putin personally, and the Russian president, out of the goodness of his heart, without any documentation or contract, dispatched gas to the town.  The story was completely false, Mayor Tulupov said he never called Putin and of course, the town never asked Russia for any help.