On the contrary, former EU foreign affairs advisor Nathalie Tocci urges EU countries to maintain their unity and warns against any concessions to Russia, especially if hostilities in Ukraine diminish. Tocci emphasises that when the violence subsides, the West must show its true resilience and redouble its support for Kyiv, not only to ensure that Russia loses this war, but that Ukraine actually wins it.
Social media and Russian websites are spreading claims that Nathalie Tocci, former adviser to EU Foreign Affairs Commissioner Josep Borrell, allegedly said the EU would demand that Ukraine make concessions to Moscow. According to Russian media, this is what she wrote in her op-ed column in the Foreign Policy journal.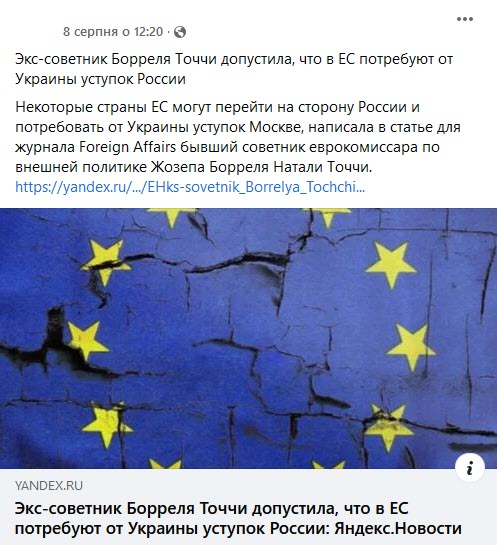 "According to her (Tocci's – ed.) opinion, the possible end of the active hostilities phase will cause a split in the EU ranks on the issue of supporting Kyiv" RIA Novosti reports.
Quite the contrary, in her article titled Can Russia Divide Europe? Why a False Peace Could Be Worse Than a Long War Natalie Tocci warns EU countries against making any concessions to Russia. Tocci also emphasises that by "giving in to the illusion of peace" offered by Russia in an attempt to freeze the conflict in Ukraine, Europe and the West could end up prolonging the war at everyone's expense.
At the end of the article, Natalie Tocci, who is also director of the Institute of International Affairs in Rome, makes her conclusions very clear: "It is precisely when violence subsides that the West should show its true resilience and redouble support for Kyiv, to ensure not just that Russia loses this war but that Ukraine actually wins it, by securing a territorially and therefore economically viable state, with security guarantees, and, ultimately, a course toward reconstruction and democratic consolidation in the EU. However, the temptation to seek accommodation with Russia would be strong, especially given that it would likely happen at a time of growing social, economic, political, and geopolitical pressures on the continent. If a reduction in violence in Ukraine coincides with a surging energy crisis in Europe, it could lead European leaders not just to argue and dither but to divide apart altogether."
Russian media interpretation directly contradicts the point of Tocci's article, it manipulates specific quotes by taking them out of context and creating a false picture. According to Tocci, the policy of lukewarm support for Ukraine and nudging it toward a "bad peace" with Russia will harm not only Kyiv, but also the European Union itself. "Over time, this dynamic could create a new surge in nationalist populism that could imperil not just European unity but the existence of the European Union as a whole. Whereas a nationalist Europe is possible, a nationalist EU is a contradiction in terms" Tocci writes.
According to Tocci, "convinced that Europe's liberal democracies are weak and morally corrupt, Putin has banked on the assumption that the West's unity on Ukraine will crumble and could ultimately break in the coming months. <…> As Moscow sees it, liberal democracies have a low pain threshold: they are not capable of playing a long game if it comes at a high social or economic price." That is why Putin is convinced that Europe's collapse is only a matter of time.
This is why, in order to pass the next – perhaps the hardest of all – test of war in Ukraine, "Europeans will need to find their own determination and strength rather than relying on Putin" and making concessions to him, Natalie Tocci stresses.
StopFake continues to refute numerous fakes about Russia's war in Ukraine in stories: "Manipulation: Gazprom Can't Supply More Gas 'Because of Sanctions Against Russia'", "Manipulation: Europe Refuses to Recognize Russia's War in Ukraine as Aggression, Declines 'Special Tribunal'", "Fake: Official Status for Ukrainian Language Demanded in Poland".