Initiating the creation of an autocephalous church in Ukraine, Kyiv has once again provoked a deterioration in relations with Moscow, writes the Kremlin propagandist Ukraina.ru. The publication claims this was the message that OSCE Secretary General Thomas Greminger conveyed in his interview to the German Osnabrücker Zeitung newspaper.
Ukraina.ru's distorted version of Greminger's interview was reprinted by PolitNavigator, Pravslavie I Mir, Rusvesna, DonPress, Donetsk24 and NewsFront.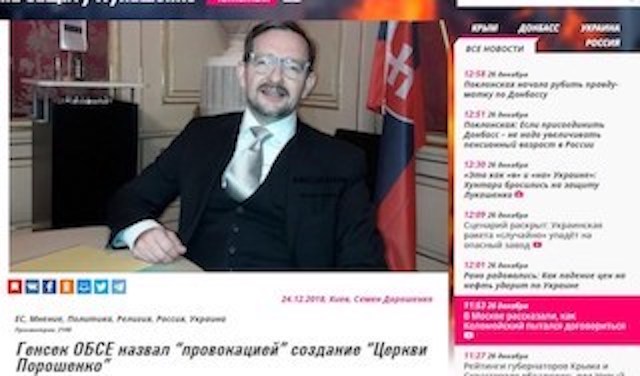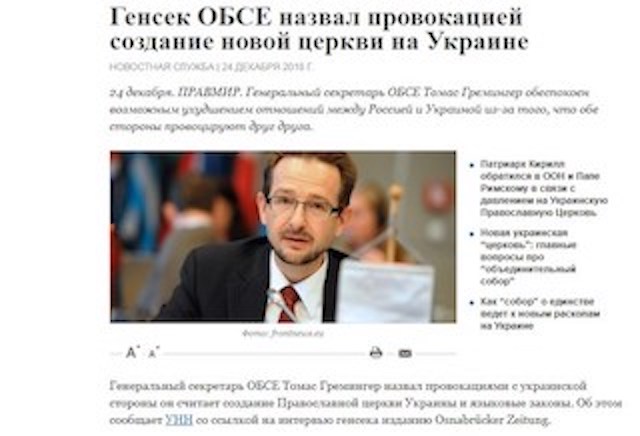 According to Russian media, Greminger considers the creation of an independent Ukrainian Orthodox Church a "hotbed of tension" that could escalate the war in Donbas.
While Greminger did mention the new Ukrainian church, he did so in a completely different context. Answering a question about the seizure by Russia of three Ukrainian ships and crew members in the Kerch Strait a month ago, Greminger replied that these Russian actions are some of the aspects of current relations along with such other issues as the autocephalous Ukrainian Church, the problem of Russian-occupied Crimea, illegal elections in the Donetsk and Luhansk occupied territories, new Ukrainian legislation on language and education as well as the fighting on the demarcation line between Ukraine and the occupied territories.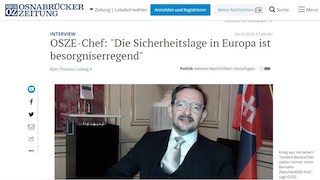 Russia should take the first step towards resolving the conflict, Greminger said, by freeing the 24 detained Ukrainian sailors and their three ships. Such a step would be a goodwill gesture, he said.
Furthermore, Russia will continue to provide military support to the self-proclaimed separatist republics. It should be assumed that if the separatist republics come under military pressure, they will receive support from Russia, Greminger noted.
Other Russian and pro-Russian media also actively distorted the main points of Greminger's interview. The pro-Russian internet newspaper Strana.ua for example claimed that Greminger said Ukraine has no political will to resolve the conflict in the Donbas. What Greminger in fact said was that the contact group that meets biweekly within the framework of the Minsk accords does not have many options to achieve progress because there is no political will. He did not mention Ukraine.