US Defense Department spokesman Colin Kahl did not state that Ukraine would no longer receive HIMARS. Just as before, the US continues to comprehensively support Ukraine in the war unleashed by Russia. At the same time, the US administration is assessing what type of weapons are needed at the moment and can be delivered promptly. Presently the Pentagon considers that enough HIMARS systems were provided, and believes that right now it is worth focusing on organising a continuous ammunition supply for HIMARS and other multiple rocket launchers.
Russian media and pro-Kremlin resources are spreading the news that Ukraine should not expect more HIMARS multiple-launch rocket systems from the US. The propaganda machine cites Colin Kohl, a Pentagon representative and US Undersecretary of Defense. According to Russia's disinformation narrative, the world is allegedly ignoring Ukraine and not responding to Kyiv's requests for help.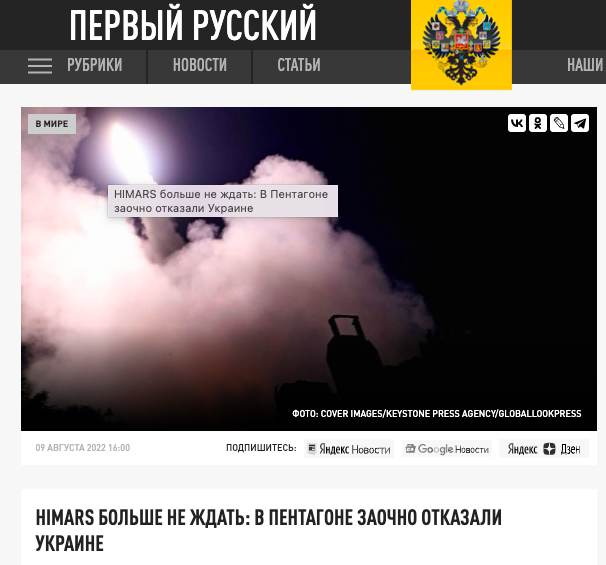 Once again, propagandists used a popular manipulation technique – distorting the original statement's substance and misrepresenting what Dr. Kahl actually said. During his Pentagon briefing on August 8, Colin Kahl first of all stated that the United States is "committed to continued security assistance for Ukraine as they stand up to Russia's unprovoked and unjustified invasion". He also added that the United States "continues to work with its allies and partners to provide Ukraine with capabilities to meet its evolving battlefield requirements, and our allies and partners have stepped up to provide billions of dollars in their own assistance.  We will continue to closely consult with Ukraine and surge additional available systems and capabilities in support of its defense".
Additionally, Kahl was asked why Ukraine was not getting more HIMARS systems and whether the limit on what the US Defense Department could directly provide had been reached. This is how Kahl responded:
"… First of all, we sent 16 HIMARS systems, which is actually quite a lot. Again, these are not systems that we assess you need in the hundreds to have the type of effects they are.  These are precision guided systems for very particular types of targets and the Ukrainians are using them as such. The Brits have also provided three M270 MRS systems, which essentially if the HIMARS is a truck the M270 is the exact same system but it's on the chassis of an armored vehicle, essentially like a Bradley fighting vehicle and it can carry two canisters instead of one but it's the same missiles that get fired from it.  The Brits are providing three – or have provided three so far.  The Germans have also committed to provide three. So our assessment actually is that the Ukrainians are doing pretty well in terms of the numbers of systems and really the priority right now is making sure that they have a steady stream of these GMLRS.  And the same is true on the M777 howitzers front where really we've provided a very large number of systems.  So have allies and partners and that right now the priority is to make sure that the Ukrainians have the ammunition to keep them in the fight".
There is no question of stopping HIMARS supplies to Ukraine.  Ukraine's allies only emphasize that their number is currently considered sufficient, and the main priority is supplying ammunition for these systems.  Therefore, propaganda statements that the United States allegedly "does not plan to supply Ukraine with long-range HIMARS missiles at all" are blatant lies. 
Earlier the House Armed Services Committee chairman Adam Smith noted that the US and its allies would hardly be able to meet all of Ukraine's requests for HIMARS multiple rocket launchers, but would provide as many as possible.
"It's not certain that we have exactly 50 such launchers in our arsenal. I think the goal now is to reach the number of 25-30 multiple rocket launchers (MLRS). And that will be a combination of HIMARS and several MLRS systems from the United Kingdom and other countries. We will try to provide as many as we can. We want to get to 25 or 30 and provide as much munition and missiles for those systems as we can" Adam Smith assured.
Ukrainians effective use of the  HIMARS systems became a subject for many fakes and disinformation narratives, which StopFake debunked. Read more on this in the articles "Fake: Russia 'Destroyed Two HIMARS' in Donetsk Region" and "Photo Fake: Russia Destroys Several HIMARS Near Kharkiv". In order to discredit the Ukrainian army and to stop the supplies of foreign weapons, Russian propaganda also spread a fake that the Ukrainian Armed Forces allegedly used HIMARS to shell the Olenivka detention centre with captive Azov servicemen.