Verona's legislators stripped Ukrainian President Petro Poroshenko of his Honorary Citizen status because of his "selfish intentions". The Ukrainian leader is dragging out the process of returning paintings stolen from Verona's Castelvecchio Museum in the hope of receiving a reward from the Italians declared Ukraina.ru, Lenta.ru and Argumenty I Fakty.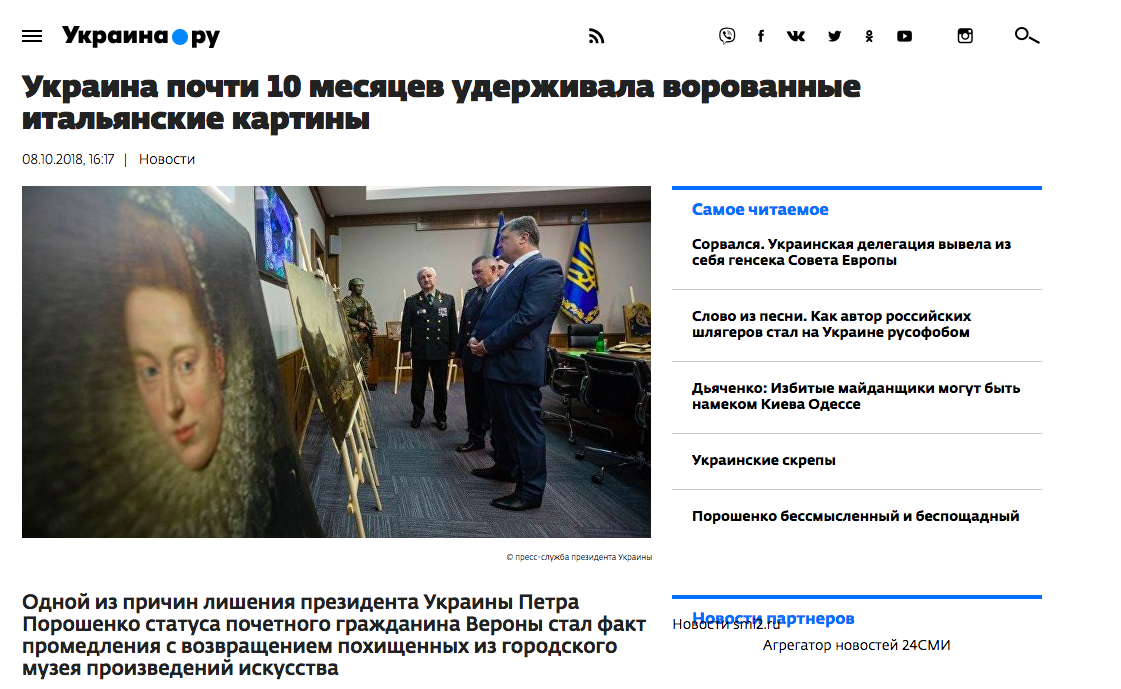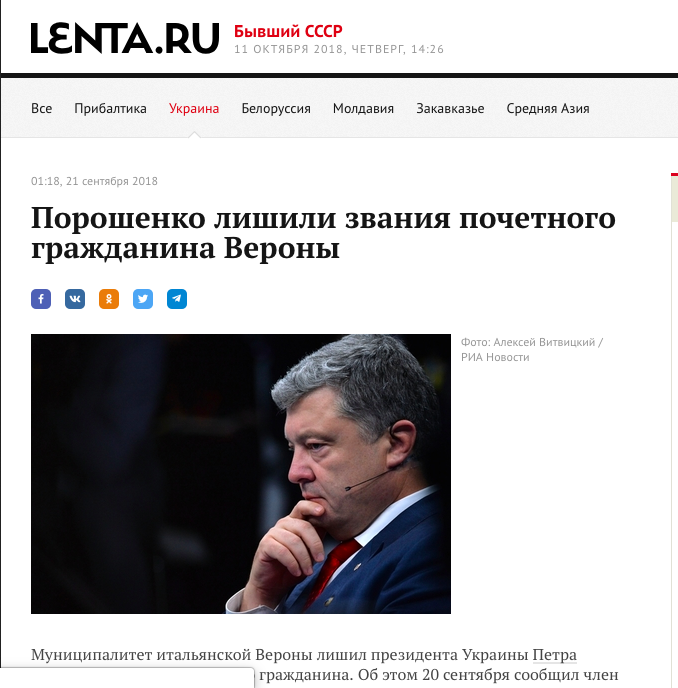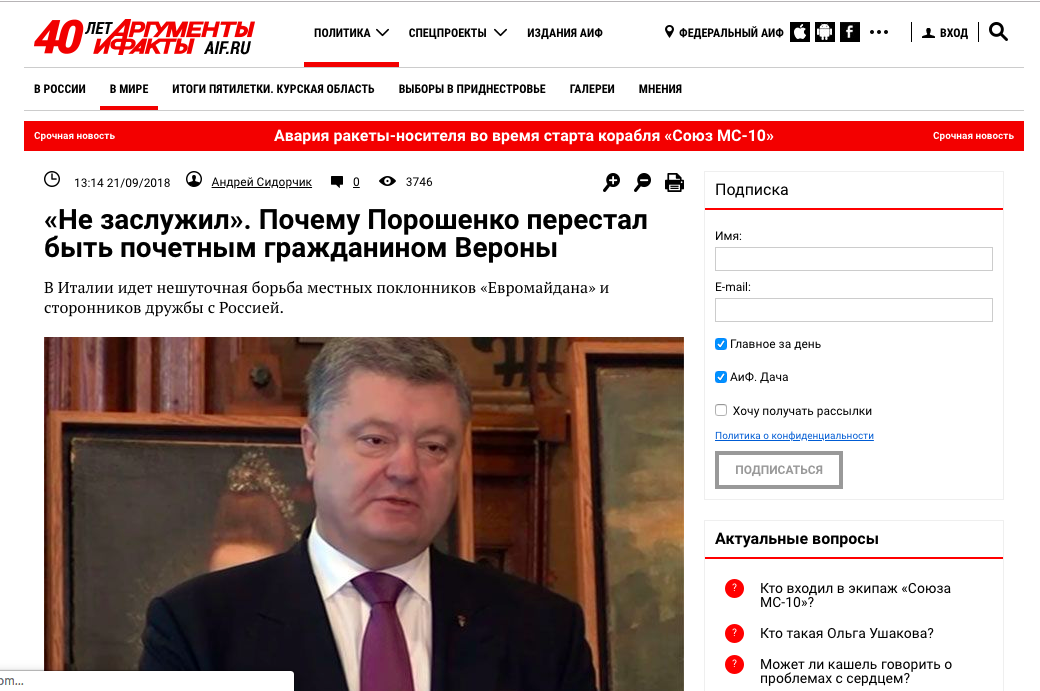 These distorted Russian media manipulations concern 17 old masters paintings which were stolen from Castelvecchio museum at the end of 2015. The stolen paintings, which include works by Rubens, Tintoretto and Caroto were hidden in Ukraine's Odesa region, from where the thieves planned to smuggle the artworks to Moldova. In 2016 Ukrainian border guards seized the paintings and seven months later President Poroshenko handed over the masterpieces to their legal owners in Verona.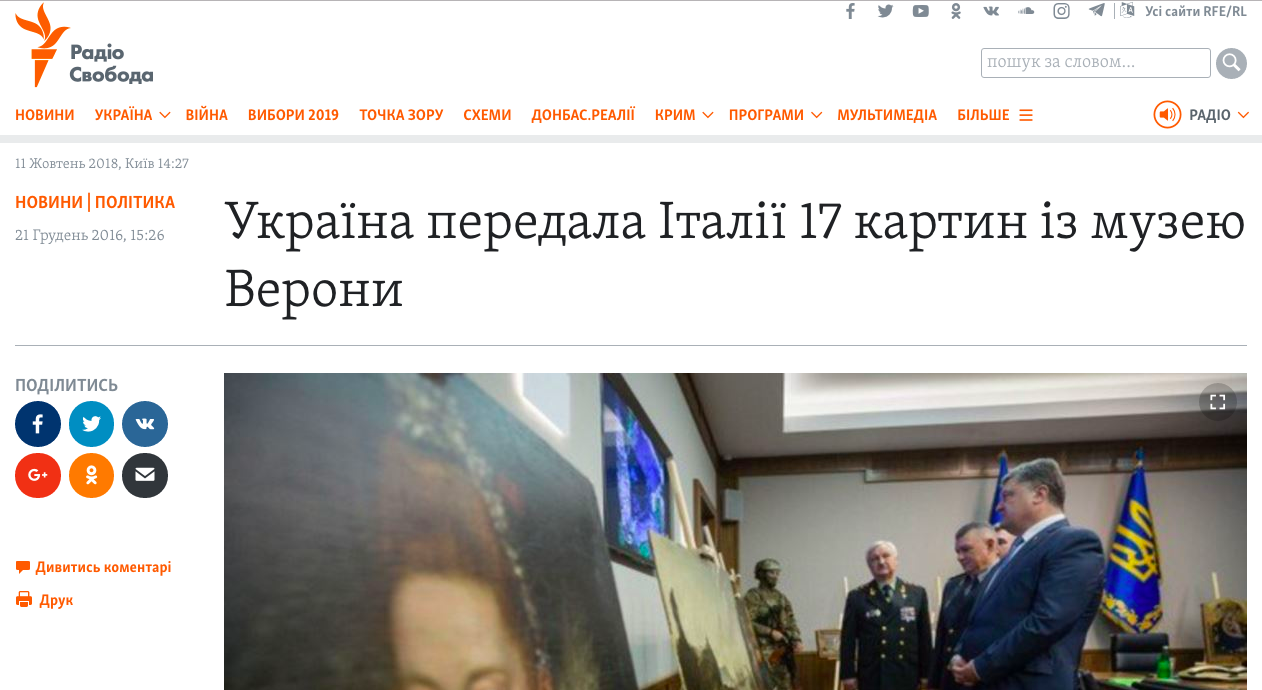 After the paintings were returned, local legislators headed by Verona mayor Flavio Tosi made President Poroshenko an honorary citizen of Verona, causing outrage among some pro-Russian deputies from the far right Liga party, who several times demanded that the honorary title be recalled.
After the March 2018 parliamentary elections in Italy, populists took over the reins of government. Matteo Salvini, the chairman of the Liga party, became Italy's Deputy prime Minister. Salvini is pro-Russianand a close ally of Russian President Vladimir Putin, he has visited Russia often and also supported French ultra-right leader Marine Le Pen. In 2014 Salvini supported the sham referendum in Crimea and was photographed in Red Square in a Putin t-shirt.
https://www.facebook.com/salviniofficial/photos/a.278194028154/10156075170693155/?type=3
https://www.facebook.com/salviniofficial/posts/10152952207568155:0
https://www.facebook.com/salviniofficial/posts/10153394730283155:0
Salvini calls the Russian annexation of Crimea legitimate and favors lifting Russia sanctions. Liga politics are aligned with Russia and in 2017 the party signed an agreement with Putin's United Russia party.
Salvini and his party acted in the interests of Moscow and staged an artistic performance to deprive Petro Poroshenko of the honorary citizen of Verona title, Ukraine's ambassador to Italy said Yevhen Perelyhin remarked ironically. Perelyhin invited Salvini and his Liga colleagues to visit eastern Ukraine to see in person the horrible consequences of Russian aggression there.