Several websites in the Ukrainian port city of Odessa published a fake OSCE Special Monitoring Mission in Ukraine report criticizing the actions of "Ukrainian activists" who allegedly violated international humanitarian law and disrupted a regional legislative meeting on the establishment of a free economic zone in the region.
According to the alleged OSCE report, the disruption of the reginal meeting is just one of a long list of violations that Ukrainian authorities are accused of, along with: "… a huge number of gross violations of human rights, the rule of law and international humanitarian law…" all of which have brought about "a disastrous humanitarian and human rights situation in Odessa, in particular, and Ukraine as a whole."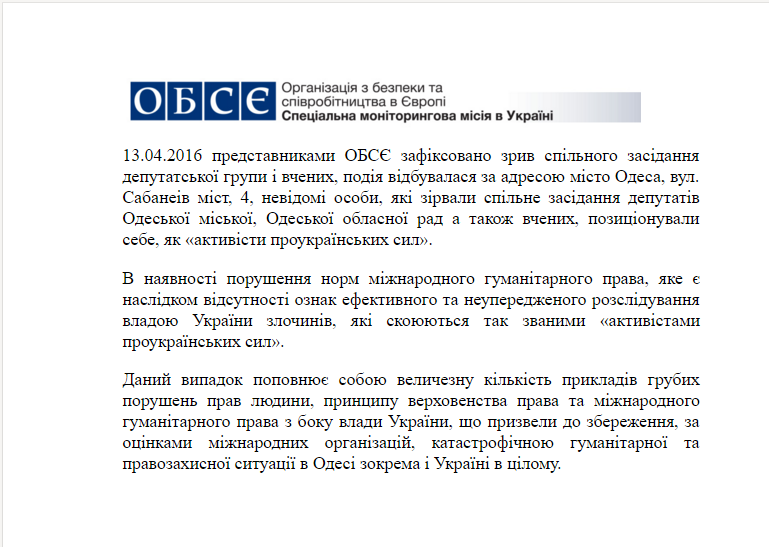 The OSCE's Special Monitoring Mission press service informed StopFake that OSCE monitors were present at the regional legislative meeting but did not issue any reports concerning the meeting. There is no mention of such a report on the OSCE's Ukraine Monitoring Mission web site. The Mission also made an official statement on its Facebook page calling the published report a fabrication and asked media to verify the facts before publishing similar fakes.
Odesskiye Vedomosti were the first to publish this fake story, followed by Serhiy Kivalov's personal site, along with the newspaper Slovo, the First Odessa Portal, Informacionnyj Centr and the Reporter website.