Ukraine's Defense Ministry denies the Russian media claims about a "secret document". The fact that the "document" is a forgery is confirmed by a number of gross errors both in the text and the document design.
The Russian segment of social media networks and pro-Kremlin media are actively disseminating a "scan of a secret document" from the Ukrainian Defense Ministry. The presented "secret document" allegedly informs about the "real" Ukrainian military losses as a result of a Russian full-scale invasion. 
"From the document published with the signature of Valerii Zaluzhnyi, it is clear that over 76,000 Ukrainian soldiers were killed in combat, more than 42,000 soldiers are out of action due to injuries", pro-Kremlin media quote the "secret document".
Intent on "proving" the fake data about the 76,000 dead Ukrainian defenders, Russian media cite a scanned copy of a Ukrainian Defense Ministry "official letter". However, this "document" is a fake, aimed at undermining morale and discrediting the country's military and political leadership. The Ukrainian Defense Ministry denied the pro-Kremlin media statements and called the "document"  "Russian disinformation".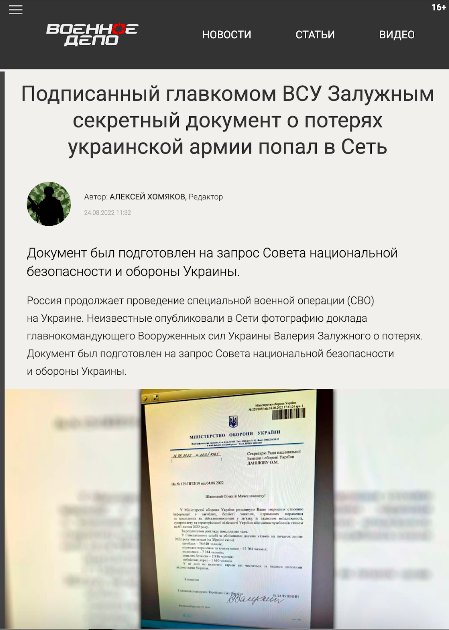 "The fake was created by completely uninformed people who have never seen what our department documents really look like. The fake was made very poorly. There is nothing even to explain", stressed Ukrainian Deputy Defense Minister Hanna Maliar.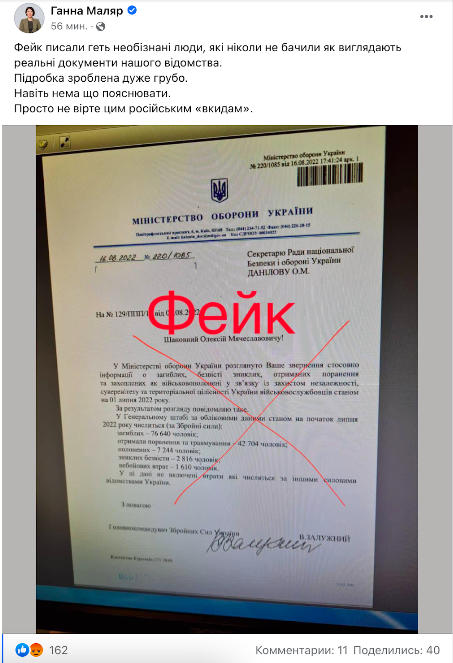 The fact that the "document" was forged is confirmed by a number of mistakes in both the text and design of the "secret document". In particular, the "document" is on Ukrainian Defense Ministry letterhead, the head of which is Oleksii Reznikov. At the same time, the "document" is signed by General Valeriy Zaluzhnyi – the Ukrainian Armed Forces Commander-in-Chief. Another mistake in the "document" is the neglect of the official names of Ukrainian military units,  in a real document the official name –  Armed Forces of Ukraine would be used.
It is also obvious that the text of the "document" was compiled by someone who doesn't know the Ukrainian language, used an automatic translator and has no idea about the country's military-political structure. A number of simple grammatical and punctuation mistakes in the "secret document" indicate the poor quality of the fake. A real official document would not contain such gross mistakes.
Earlier, on August 22, Valeriy Zaluzhnyi, Ukrainian Armed Forces Commander-in-Chief, said that since the beginning of the large-scale Russian invasion, 9,000 Ukrainian soldiers have been killed in battles. In mid-July, Ukrainian President Volodymyr Zelenskyy stated that Ukrainian military losses had decreased compared to the peak of combat operations in May-June. According to Zelenskyy, about 30 Ukrainian servicemen are killed every day at the frontline, some 250 more are wounded.