During Russian President Vladimir Putin's latest press conference with Hungarian President Viktor Orban, Russia's leader said that "the return of Crimea by military means is enshrined in Ukraine's doctrinal documents". Putin did not specify exactly which "doctrinal documents" he meant. StopFake's fact checking of the Russian President's claims has shown once again that the Kremlin boss is resorting to yet another anti-Ukrainian fake.
Putin is increasingly using his press conferences as platforms for spreading misinformation about Ukraine. The public barely had time to swallow Putin's myth of a NATO promise not to expand its borders to the east and the alleged "genocide" carried out by Ukraine's military in Donbas, when the Kremlin boss came up with a new whopper, Ukraine's supposedly state-approved plan to return Russian occupied Crimea through military means. In making such a statement, Putin is suggesting that in the event of Ukraine's membership in NATO, this alleged special Crimea operation will force Russia to go to war with the entire NATO bloc. According to Putin, this is an unacceptable scenario that Ukraine's Western partners are pursuing aggressively:
"Let's imagine that Ukraine is a NATO member: it is loaded with weapons, modern strike systems are in place, like in Poland and Romania, and it starts an operation in Crimea. I'm not talking about Donbas. This (Crimea – ed.) is a sovereign Russian territory, this is a closed issue for us. Imagine that Ukraine is a NATO country and is launching these military operations. What are we supposed to do, fight the NATO bloc? Has anyone even thought about this? It doesn't look like they have."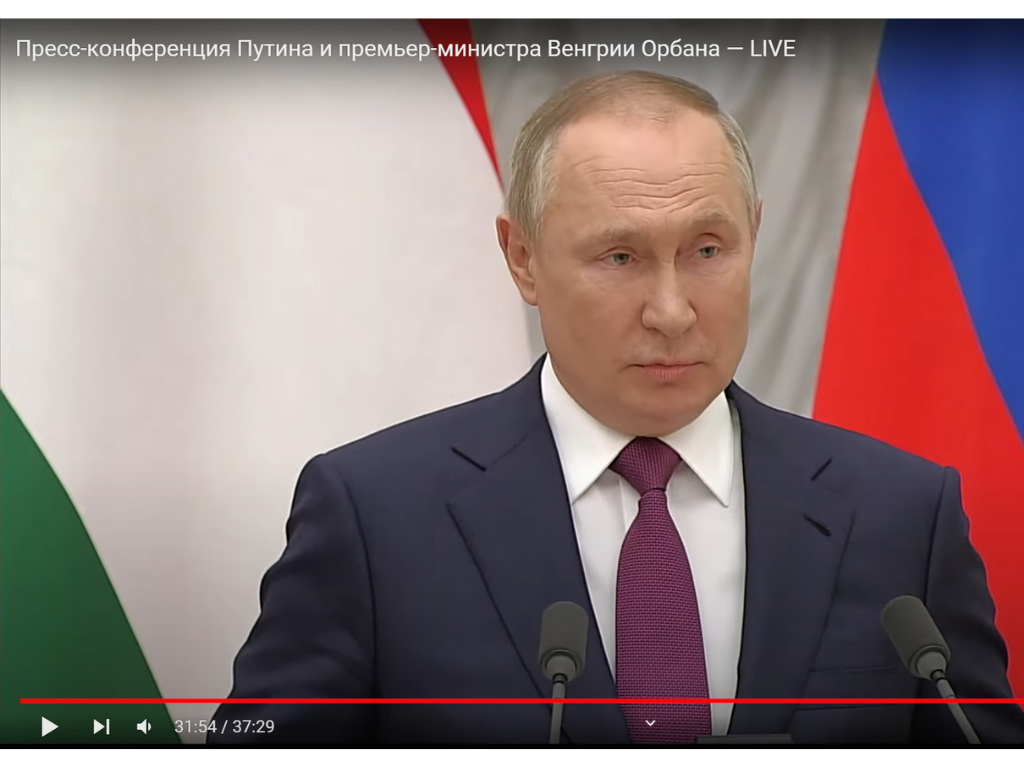 StopFake studied Ukraine's National Security Strategy looking for at least a mention about returning Crimea from Russian occupation through military means. The Strategy, which was adopted in 2020 enshrined Ukraine's current national interests and national security priorities. The document mentions Crimea only in the context of "international legal, political-diplomatic, security, humanitarian and economic measures aimed at ending its illegal occupation by the Russian Federation." This is an exact quote from the Strategy document. There is no mention of any military operations or plans. In addition, the Strategy underscores the need to take measures to avoid escalating the military conflict with Russia. The key directions laid out in the National Security Strategy are strengthening Ukraine's defense and security capabilities, strengthening its global support and effective use of international assistance.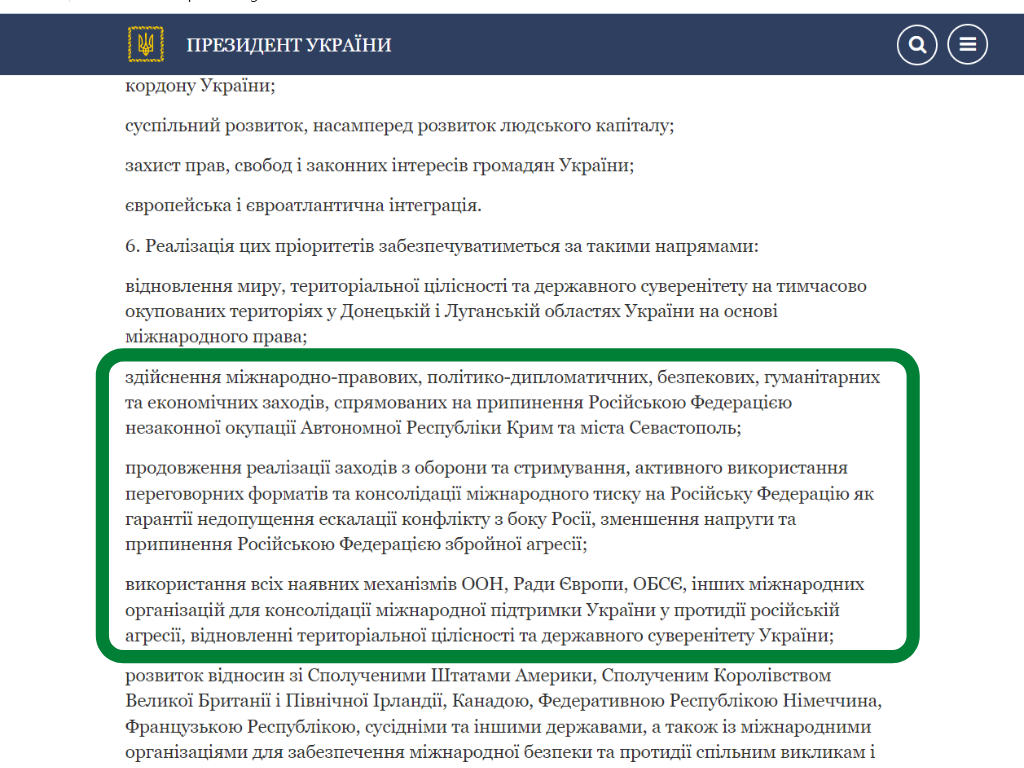 Another significant state document, Ukraine's Military Doctrine, a new version of which was enacted in 2015, mentions Crimea in the context of armed aggression and violation of Ukraine's territorial integrity. This is why the National Security and Defense Council notes that "in the conditions created by the aggressive actions of the Russian Federation in the autonomous Republic of Crimea and the city of Sevastopol and its support and inspiration for the separatist movement in Ukraine's eastern regions, the country's defense posture includes fighting against armed groups not defined by law. While repelling aggression, the state continues to increase its defense capability by mobilizing additional resources and maintaining the country's economy, its military and public administration systems in these extraordinary times." The document states that military action is to be taken only against "armed groups" such as the Russian militants of the Donetsk and Luhansk People's Republics. This document also makes no mention of military actions for the return of Crimea.
Both official Ukrainian documents make it clear that the main task of Ukraine's military security regarding Russian aggression is to grow Ukraine's capacity to deter the aggressor and increase the Ukrainian military's defense capabilities. Despite these blatant Russian lies, Putin's latest fake about Ukraine's doctrinal documents including offensive plans for Crimea is a tempting morsel for Russian propagandists, all of which are busy predicting an imminent military attack on Crimea and occupied Donbas by "Western militarized Ukraine".
Oleksandr Zamkovoi