The fallout from Russia's accusations of Ukraine planning a sabotage mission in occupied Crimea that the Kremlin's security forces had allegedly foiled is far from over. Russia claims to have prevented terrorist acts in the peninsula and captured two alleged saboteurs who, according to Moscow, were trained in Kyiv by the Intelligence branch of Ukraine's Defense Ministry.
Ukraine has denied these accusations and said the alleged terrorist acts Russia was accusing Kyiv of were nothing more than a "shootout between different divisions of Russian security services".
FSB foils diversionary plot in Crimea, Terror plot attempt is payback for Crimea referendum, FSB member dies while detaining terrorists, Will there be war, or not?, declared the many Russian headlines devoted to this topic. Russia's best known radio station Ekho Moskvy even asked its listeners to call in and vote on whether Russia should attack Ukraine in response to the alleged terror plot.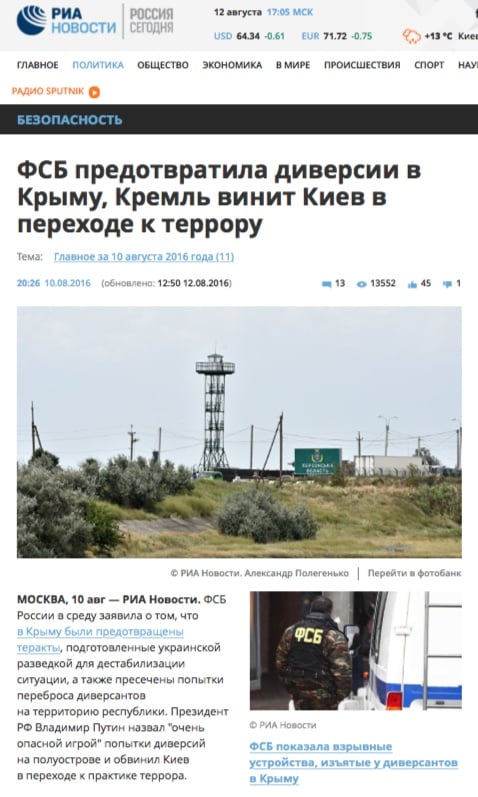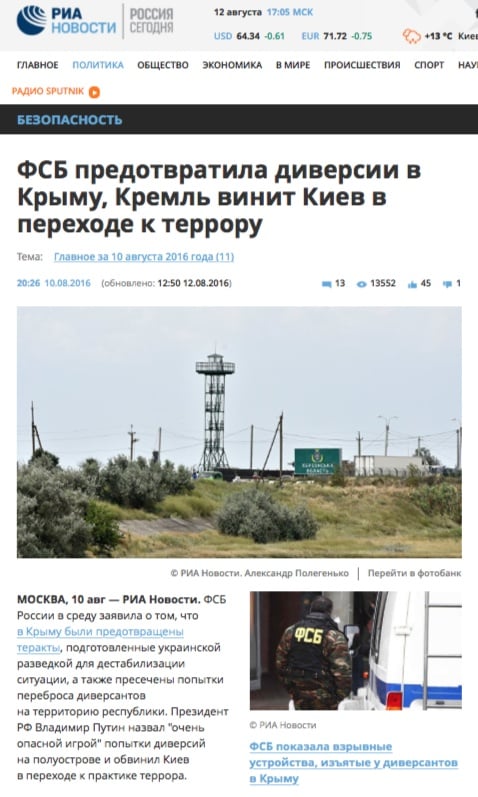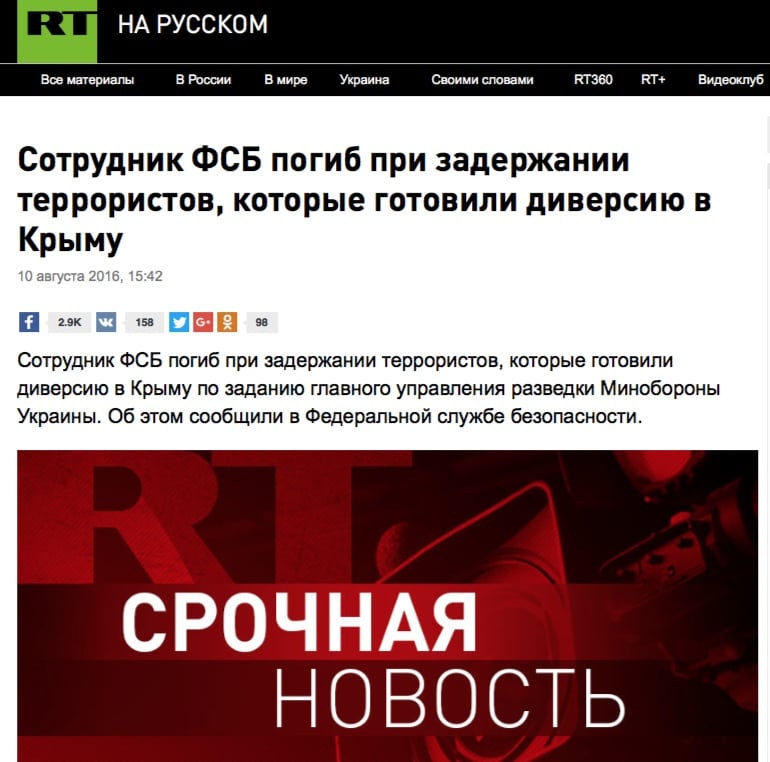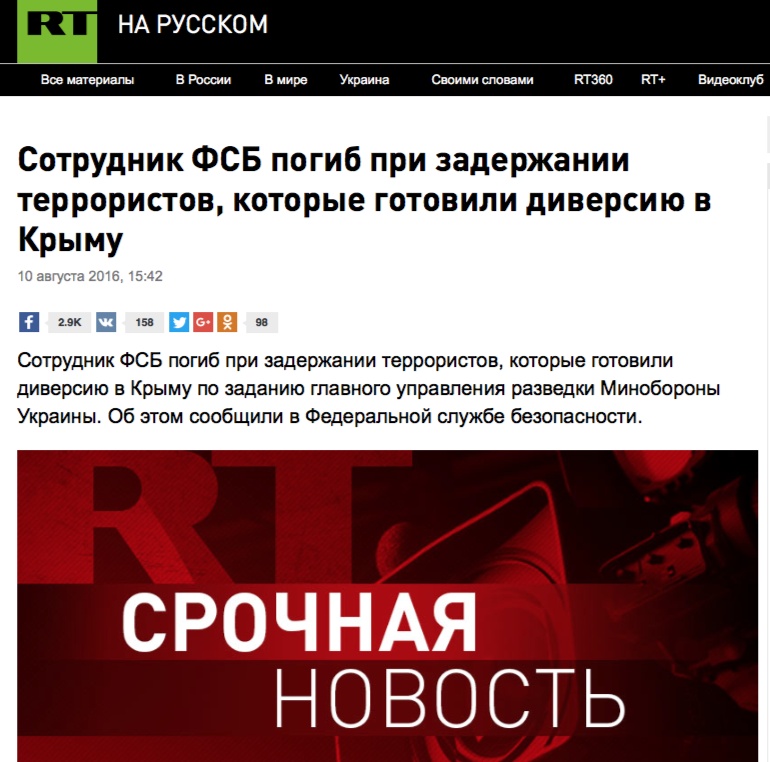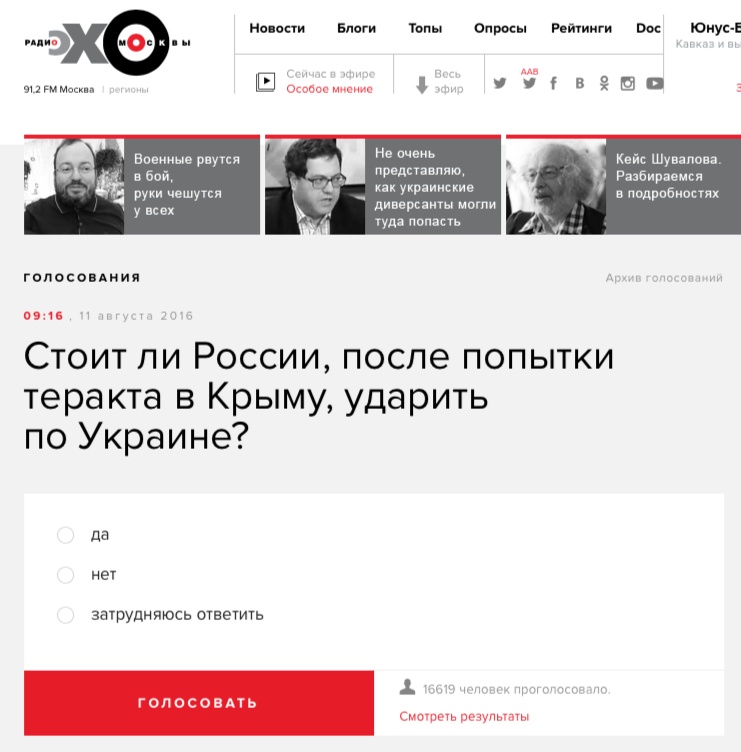 TASS called Ukraine an accomplice of terrorism, who had finally shown its real face, and of course the mastermind behind all this was none other than the US State Department.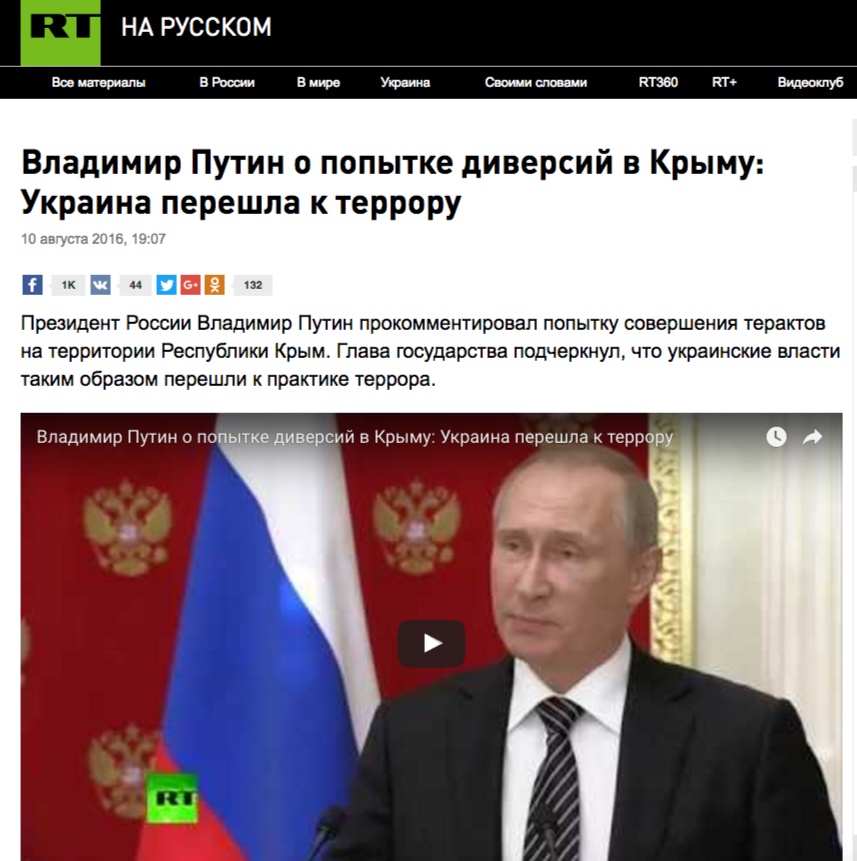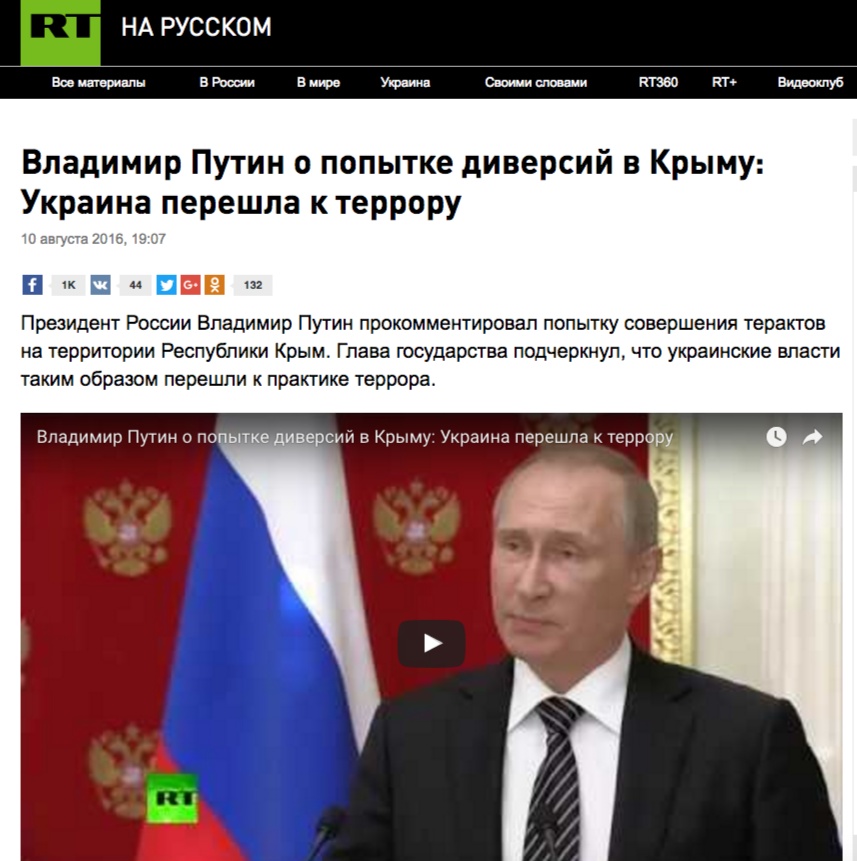 Russia's propagandist channels disseminated Vladimir Putin's statement saying that rather than seeking ways of attaining peace, Ukraine had chosen terrorism instead.
If the righteous tone of accusation against Ukraine prevails in most of these Russian stories, the details differ, in particular concerning the targets of the alleged terror plot. Some claim the goal was to disrupt the summer tourist season, others say industrial sites were the target, and still others write the ultimate aim was to blow up the leadership of Crimea and Russian federal staff as they were traveling along the Simferopol-Yalta highway.
The proof of this alleged plot that demonstrated by Russian media is a video of a captured saboteur who admits his intentions to FSB agents and another video allegedly showing the "arsenal" of explosives found on the plotters. The newspaper Kommersant pointed out that the "majority of those detained were Crimea residents and some had Russian passports, whose authenticity was yet to be determined.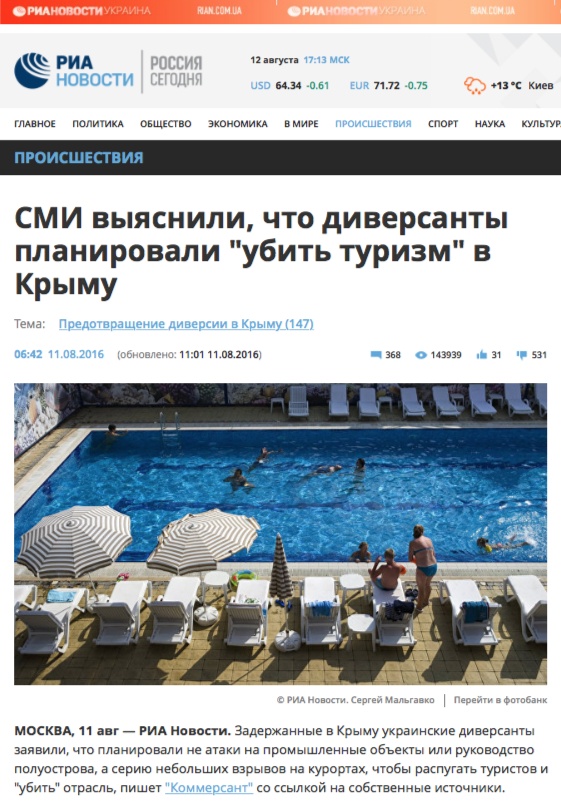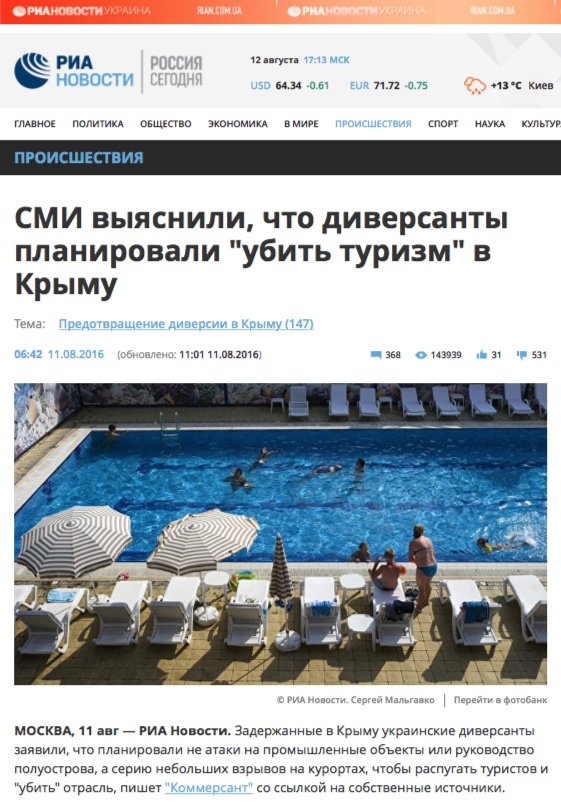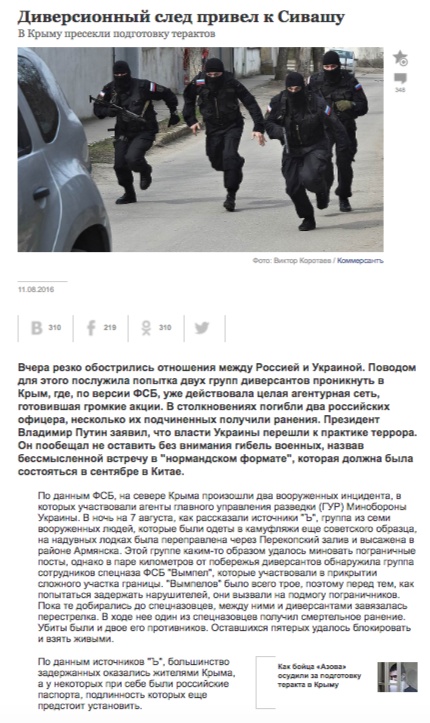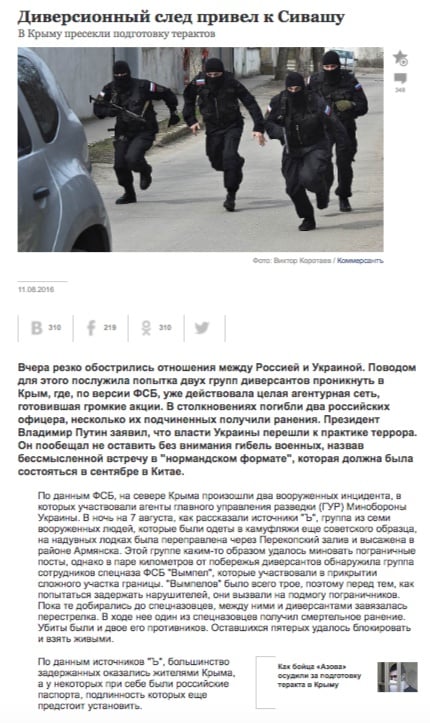 Ukrainian media largely focused on Kyiv's dismissal of the Russian accusations and pointed out the fact that there was no proof of a Ukrainian sabotage plot. Ukrainian journalists and commentators interpreted this latest turn of events as an extension of Moscow's hybrid operations against Ukraine aimed at justifying its occupation of Crimea and intended to cover up yet another deployment of Russian forces to the peninsula.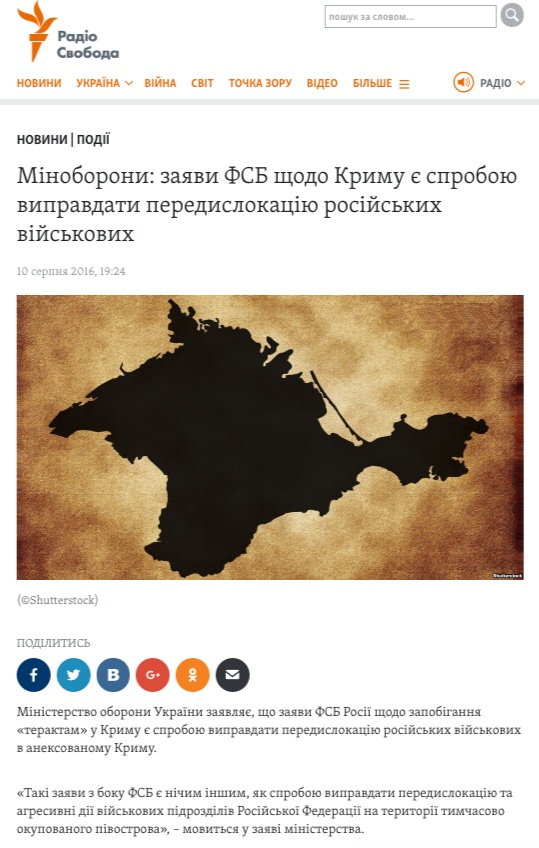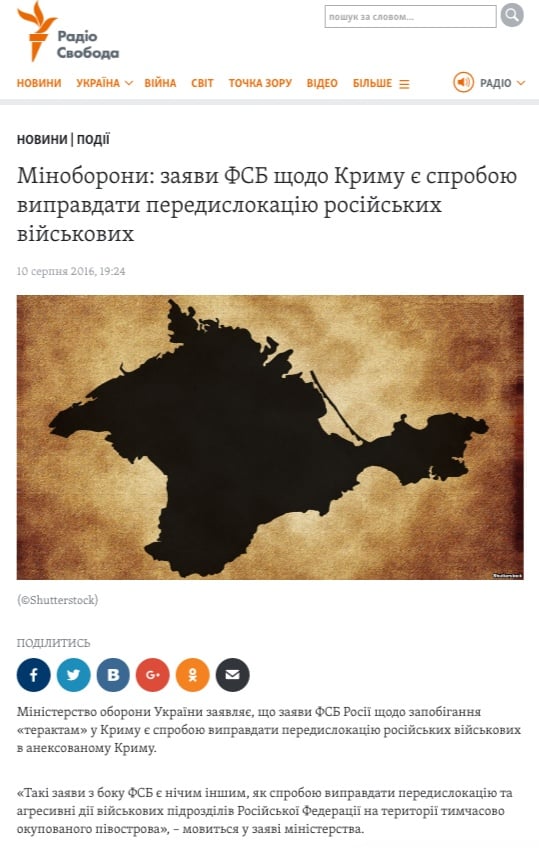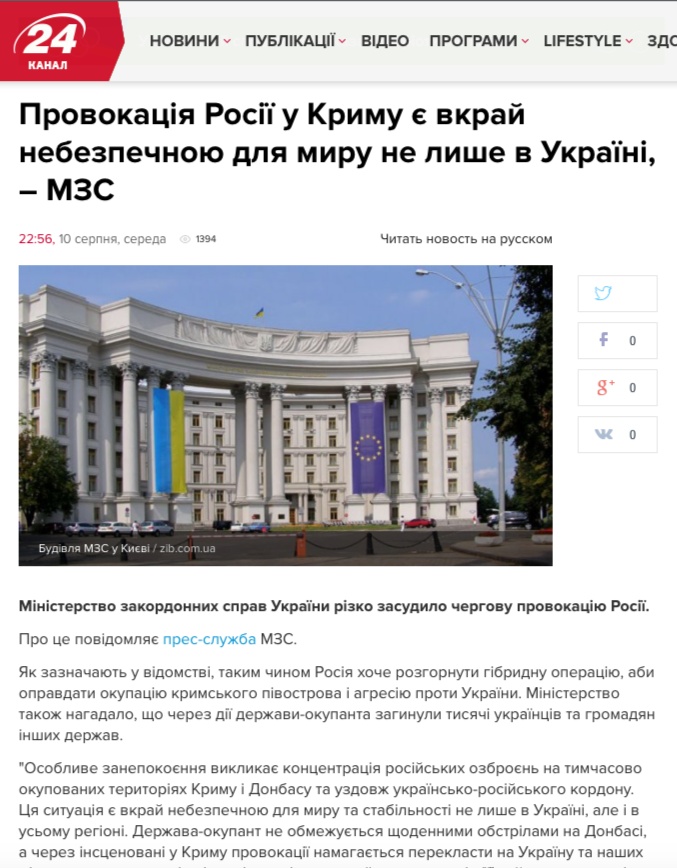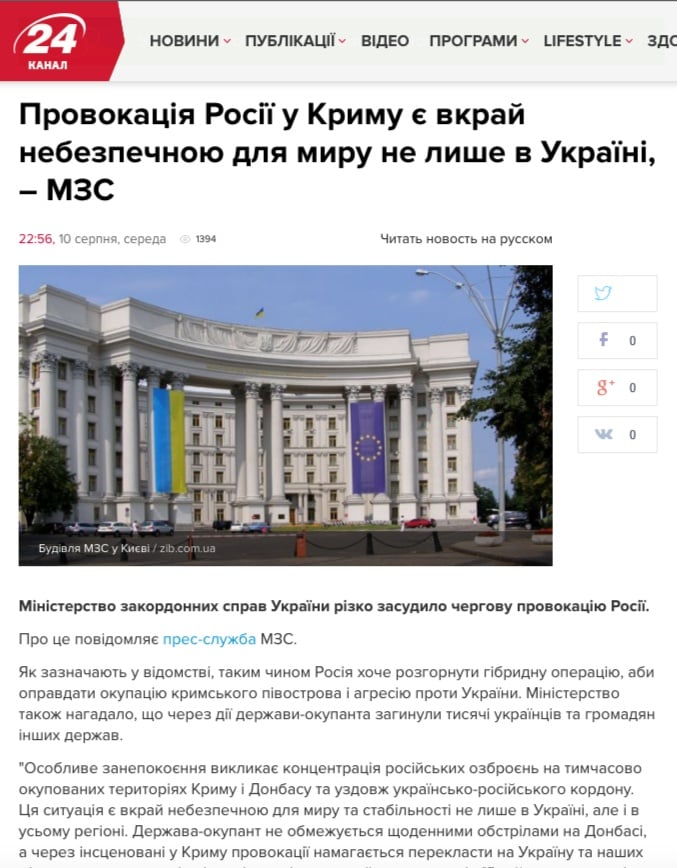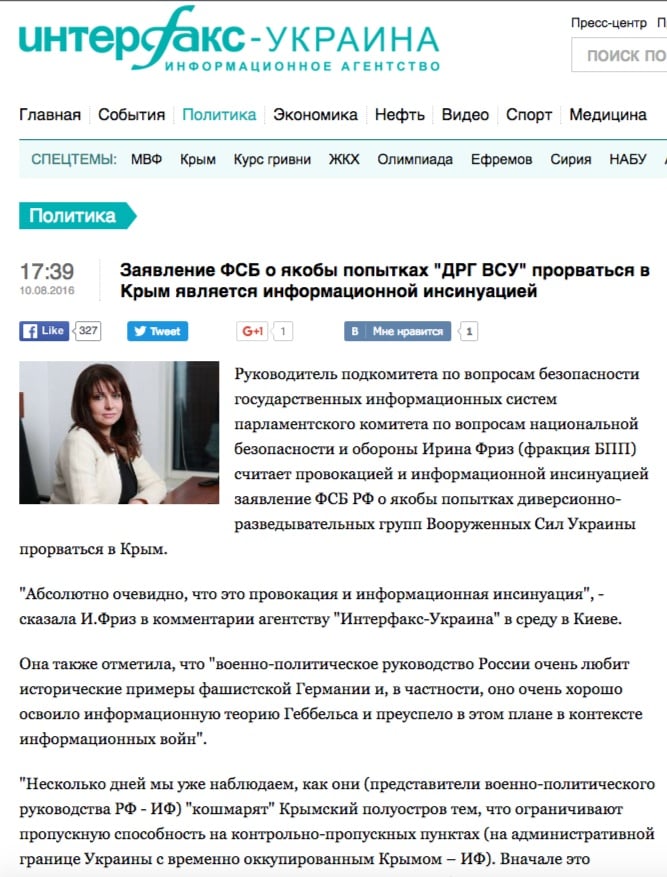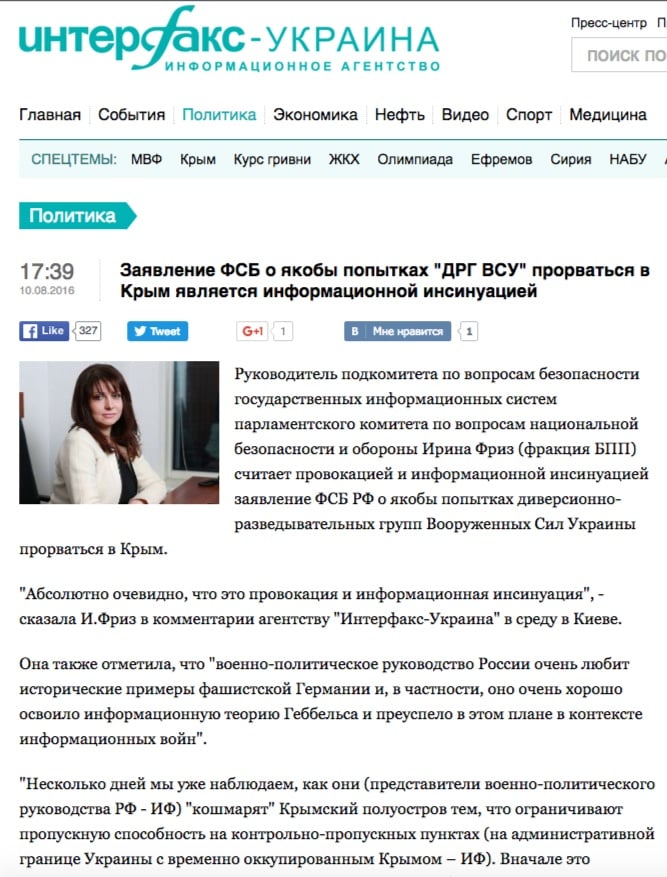 Ukrainian intelligence later reported that what Moscow was calling a sabotage plot was in fact a shootout between Russian military and its security service, the FSB.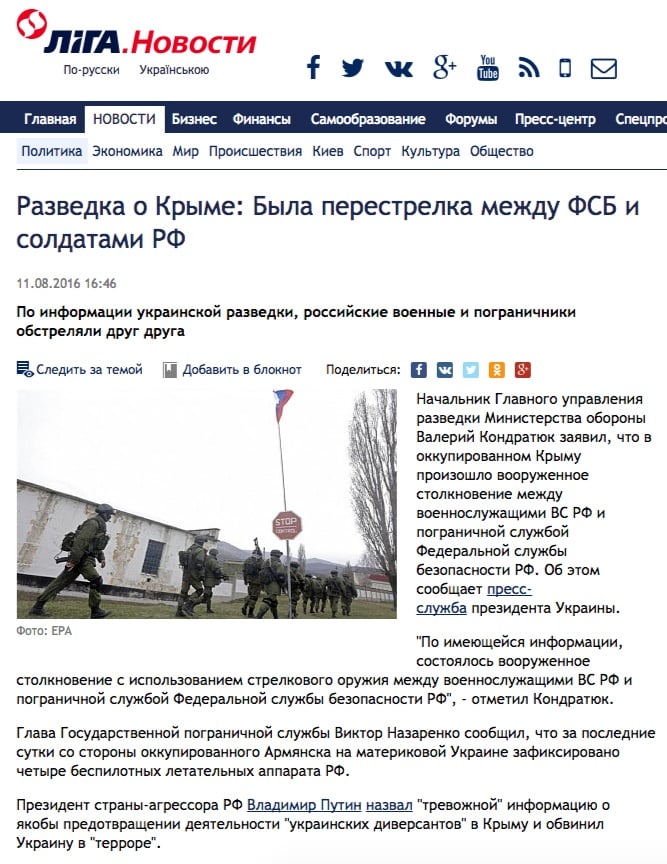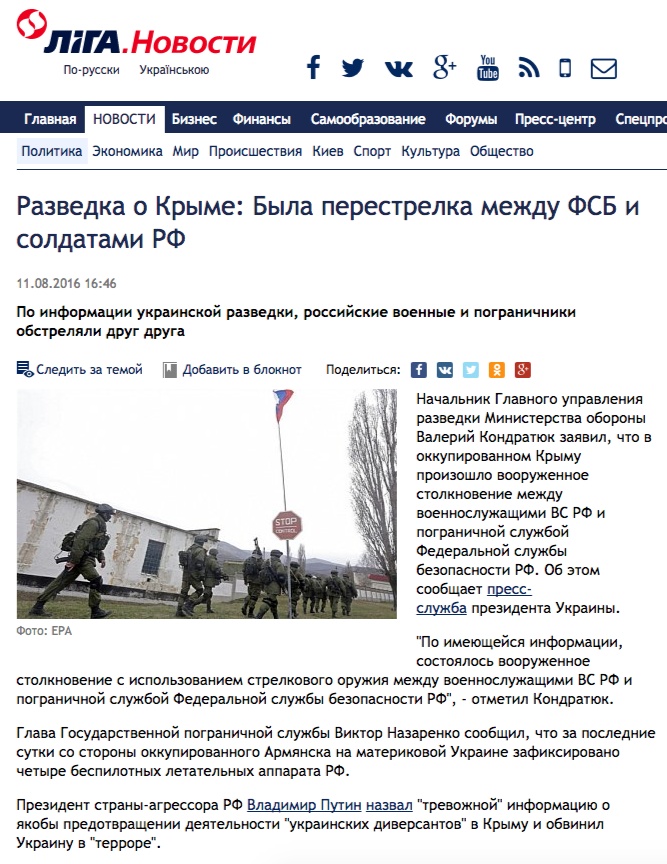 Ukrainian bloggers began noticing inconsistencies in the Russian version of this growing story. Obozrevatel blogger Alexei Minakov pointed out that one of the alleged saboteurs could not possibly have been a professional operative as during his military service in the current war in eastern Ukraine, he was a simple soldier, prior to military service he worked as a driver at a power plant.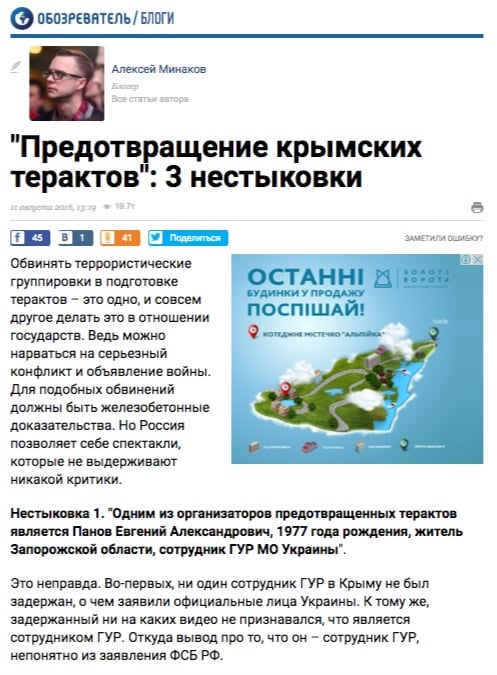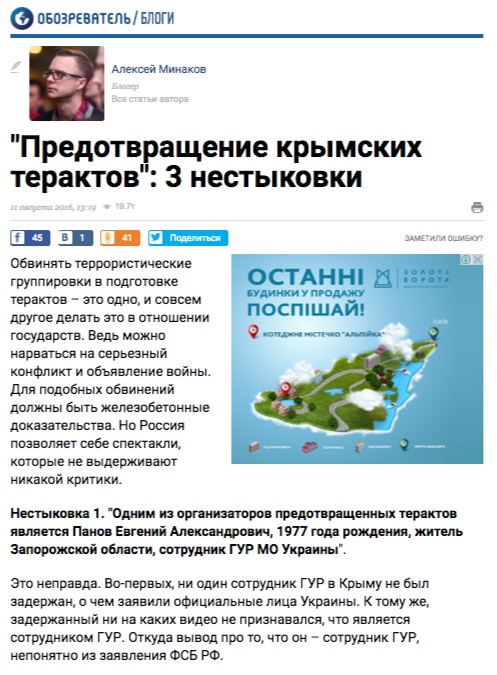 Crimean journalist Andriy Yanitsky writing in the newspaper Livyi Bereh noted that the very idea of sabotage in Crimea was ridiculous. Why would these alleged saboteurs sneak into Crimea at night bypassing checkpoints when anyone can easily get into the peninsula either through the Kherson checkpoint or through Russia.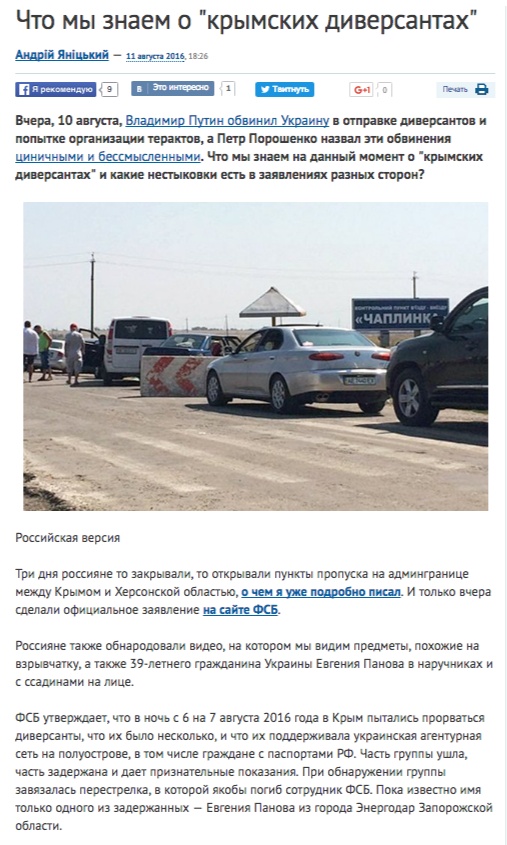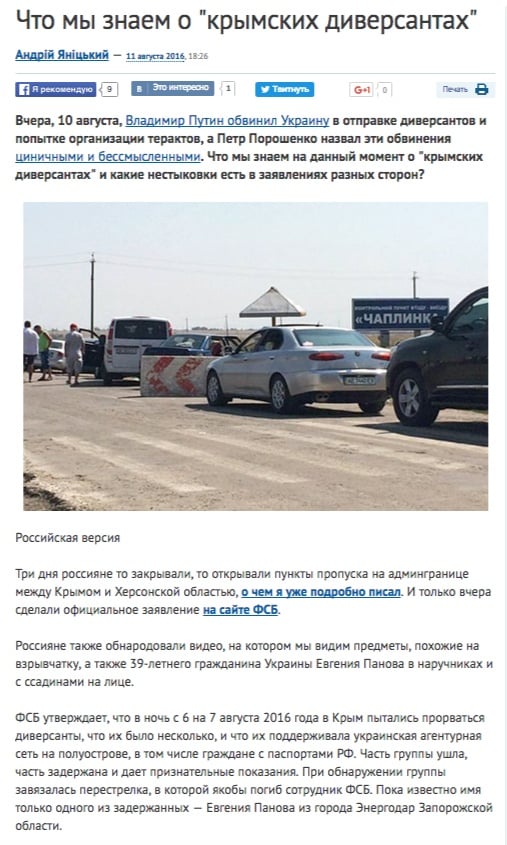 Journalist and blogger Denys Kazansky called Moscow's sabotage claims "schizophrenic nonsense" pointing out that Russia's captured saboteurs behaved more like Mickey Mouse cartoon characters than real sabotage plotters.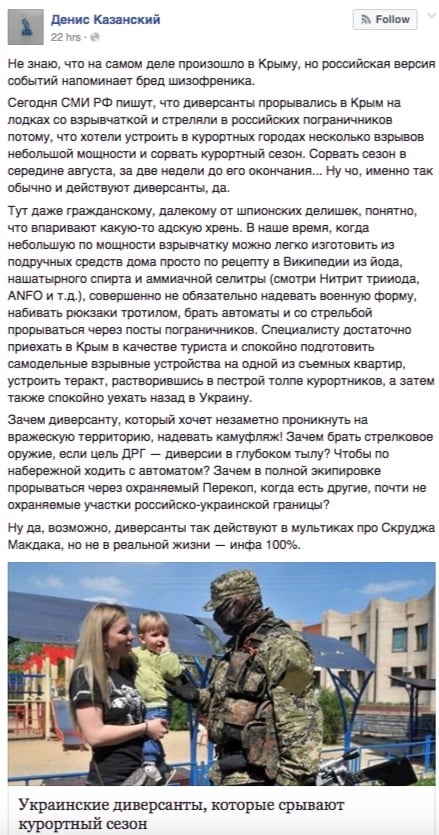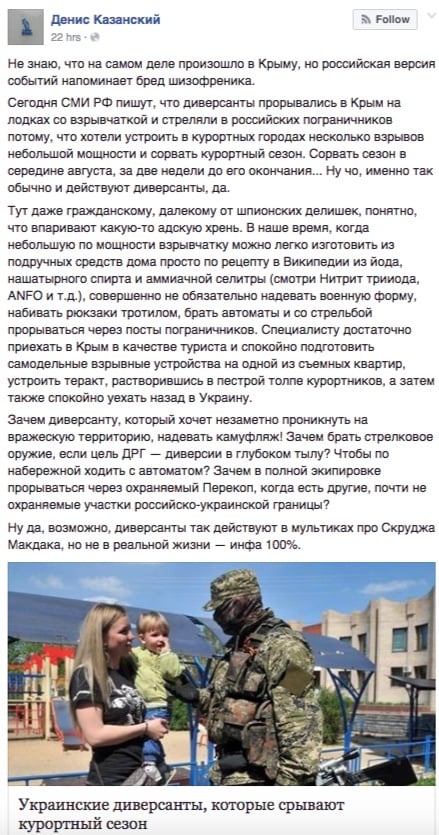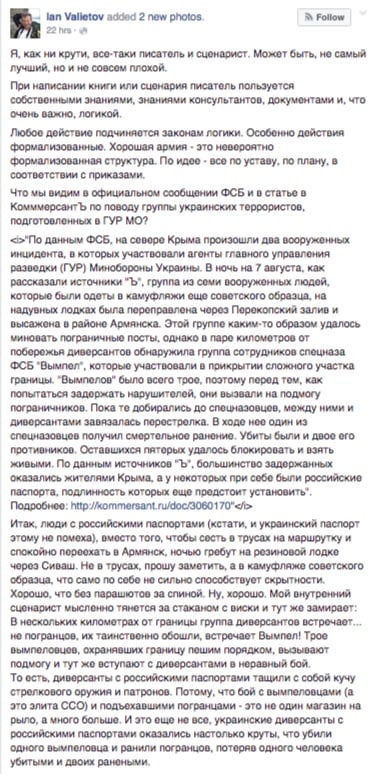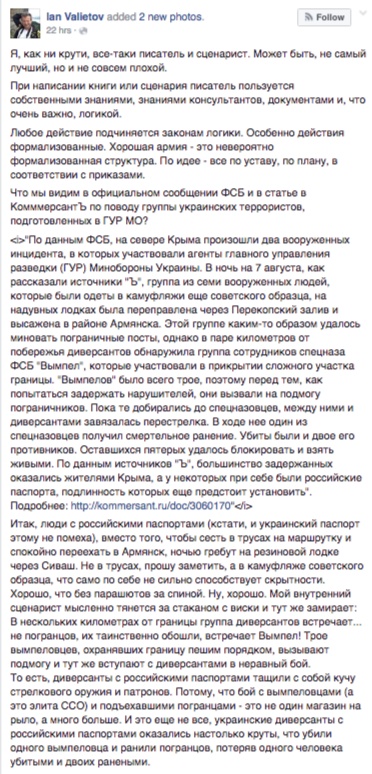 Writer and blogger Ian Valietov pointed out some of the more outlandish claims in this story, while other Russia watchers noted that the photograph of a tent Russian authorities claimed had been used by the saboteurs, was in fact a stock photographs lifted straight from Internet sites.