During Ukrainian President Volodymyr Zelensky's visit to the US Ukraine signed several cooperation agreements with American companies. In particular Ukraine's state owned nuclear utility Energoatom signed an exclusive a $30 billion dollar agreement with Westinghouse to complete construction of Khmelnytsky nuclear power plant unit four and to bring Westinghouse reactors to several other sites in Ukraine.
Russian media reacted swiftly, hailing the agreement as a future nuclear apocalypse and an existential threat to Ukraine.
Another Chornobyl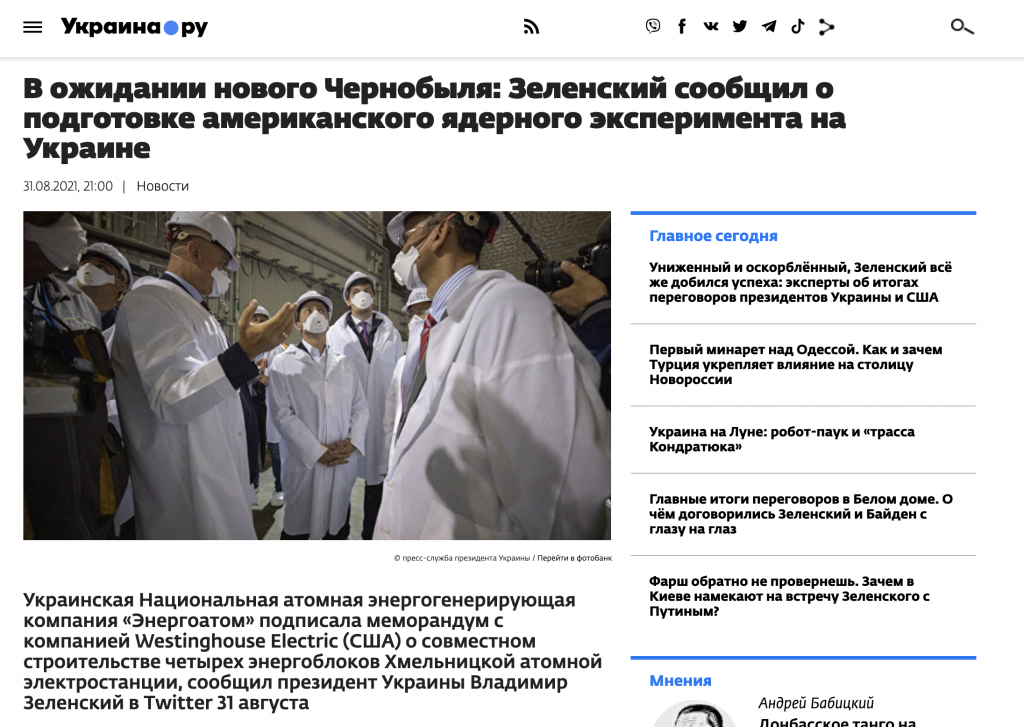 Upon learning of the signed agreement Russian media immediately reacted by harkening to the memory of the 1986 Chornobyl nuclear accident and predicting that a nuclear mushroom cloud that would soon hover over Ukraine because of this agreement. The website Regnum suggested that for Ukraine "one Chornobyl is clearly not enough". Other media also did not skimp on epithets.
"Ukrainian authorities have decided to risk everything and conduct nuclear experiments on their territory. The biggest nuclear energy experiment in Ukraine ended up with the explosion of the Chornobyl nuclear power plant. Its consequences have not yet been totally eliminated" writes the publication Ukraina.ru. The publication conveniently omits the fact that neither the US nor American companies had nothing to do with the Chornobyl disaster and its aftermath, it was the Soviet Union who built the nuclear power plant, ran it and conducted the experiment that resulted in the explosion, and then kept silent about the accident for many days.
Predicting a nuclear apocalypse in Ukraine is a quite a familiar theme in the Russian media and various publications regularly raise the alarm when Ukraine carries out periodic planned shutdowns of its nuclear power plants. The signing of the Energoatom-Westinghouse agreement simply became the latest spark to trigger a wave of misinformation about the alleged "deplorable" state of Ukraine's power plants.
"Any news coming out of Ukraine's nuclear power sector is perceived with shudders. Transformers catch fire, turbines stop working, the entire block comes to a halt. Overall the shadow of Chornobyl is prancing through the country without restrictions" writes the NewsFront publication.
"Great dangers loom ahead. In 2025-2027 the first Soviet era power units at the South Ukrainian and Rivne atomic power plants will reach the end of their operating life span. They will have to be decommissioned. They do not have time to build anything to replace them. The Ukrainian side will simply scoff at its own population, destroy industry as they have been doing for these ten years, and tell tales about Russia's aggression," writes Zhurnalistkaya Pravda.
More examples and refutation of narratives about "constant fires and breakdowns" at Ukrainian nuclear power plants can be found in the StopFake article "Fake: Western Scientists Predict 80% Chance of Nuclear Accident in Ukraine ".
Russian fuel = better fuel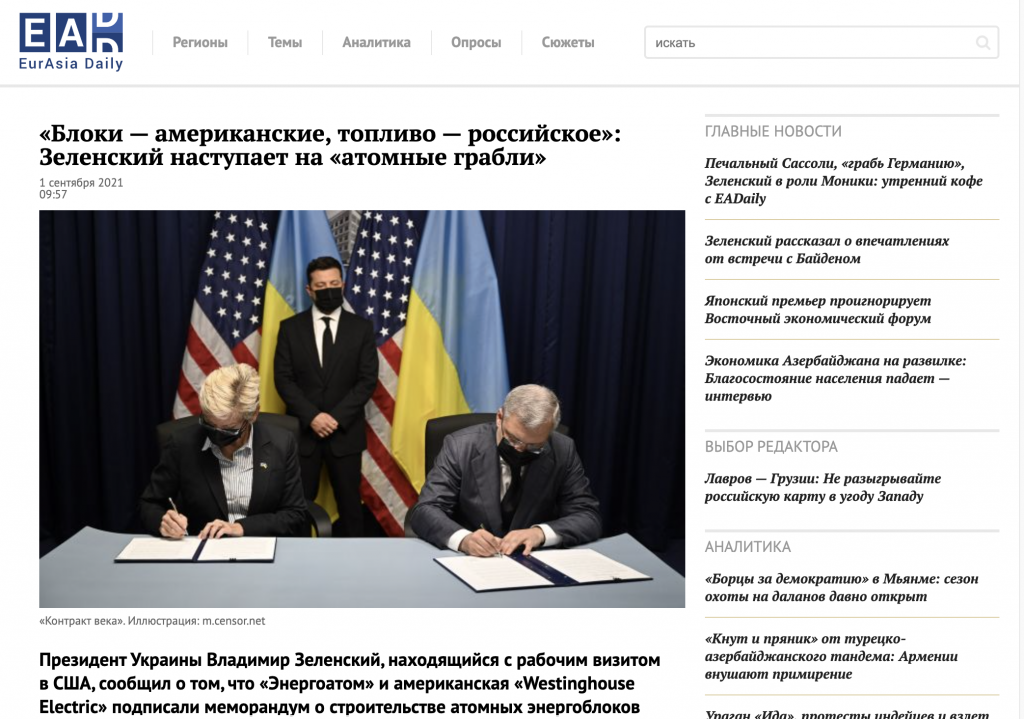 Ukraine's efforts to diversify its nuclear fuel supply has always been subject to massive disinformation attacks from Russia, which opposes Kyiv's energy independence in every possible way. The number of attacks increased dramatically after 2014, when Ukraine signed a number of energy agreements with other countries, including expanding an agreement on the supply of fuel for nuclear reactors produced by the American company Westinghouse. Even then, the Russian Foreign Ministry called the document "unacceptable" and "dangerous". After the signing of a new agreement with Westinghouse, Russian media once again turned to the old fake about the "dangers" of American nuclear fuel.
"So far Westinghouse supplies Ukraine only with fuel, but this fuel is not reliable… use of Westinghouse fuel at Ukrainian nuclear power plants poses enormous risks from the point of view of nuclear safety for the entire region" writes Pravda.ru.
Russian media also patently lie that the fuel diversification efforts in Ukraine have failed and that Ukrainian nuclear power plants allegedly run completely on Russian nuclear fuel.
"All four of Ukraine's nuclear power plants operate on Russian nuclear fuel… Even today Ukraine continues to utilize products from the TVEL company (Russian nuclear fuel cycle company based in Moscow ed.), which supplies 90% of Ukraine's nuclear fuel" EADaily news aggregator assures.
Meanwhile the site Ekonomika Segodnya claims that even with the increased participation of the Americans Ukraine is not capable of abandoning Russian nuclear fuel and also does not have the capacity to produce the fuel herself.
All these Russian media claims are patently false, half of Ukraine's nuclear power plants are currently operating using assemblies supplied by Westinghouse. For 20 years these assemblies have proven themselves to be safe and efficient. For a detailed analysis of this narrative see StopFake story Westinghouse contract will turn Ukraine into a radioactive zone.
Nuclear burial ground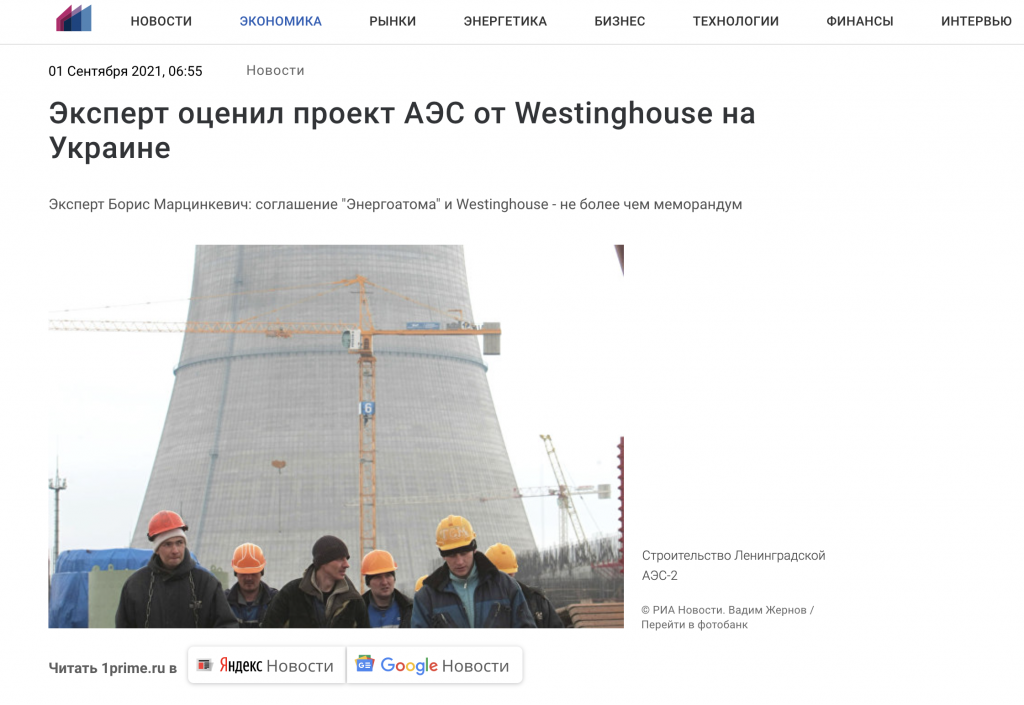 In the event of a complete refusal to cooperate with Russia in the nuclear energy sphere, Ukraine will become a "nuclear burial ground", several Russian media outlets predicted.
"It should be noted that if these plans are realized, all nuclear waste resulting from Westinghouse reactors in Ukraine will not be returned to the US as this is prohibited by a law signed by President Ronald Reagan" claims Geoenergy Info editor and chief Borys Marcinkevich in an article on the economic news agency cite Prime, a part of the Rossiya Segodnya state media holding company.
Harping on about nuclear waste that will flood Ukraine, Russian media and their experts miss one very important and salient detail: Ukraine is obliged to store the waste from its nuclear power plants on Ukrainian territory. According to the Joint Convention on the Safety of Spent Fuel Management, the first International Atomic Energy Agency (IAEA) treaty to address radioactive waste management on a global scale, signatories are obliged to first and foremost store nuclear waste on the territories, where it was produced. Ukraine ratified this treaty in 2000.
The anger of Russian experts is understandable, as Moscow stands to lose money that Ukraine otherwise would be paying for spent fuel storage in Russia. Ukraine's existing nuclear power plants were built in Soviet times when the USSR was a huge, centralized state and the only nuclear waste storage facility was based in Russia. Because Ukraine did not have such a facility on its territory, it was forced to annually pay Russia $200 million for the removal, reprocessing and storage of spent nuclear fuel.
The building of a spent nuclear fuel central storage facility in Ukraine has been on ongoing topic of discussion throughout the early 2000s. Various administrations launched and then suspended plans. Only in 2014 was the issue again seriously addressed and design and development plans laid. Construction began in November 2017 and today, the facility, which is in the Chornobyl exclusion zone, is ready to receive, process and store spent nuclear fuel, thus freeing Ukraine from another Russian dependency, but also depriving Moscow of considerable funds.
A detailed analysis of Russia's Ukraine as a nuclear burial ground narrative can be found here.
Affair of the century and American dependency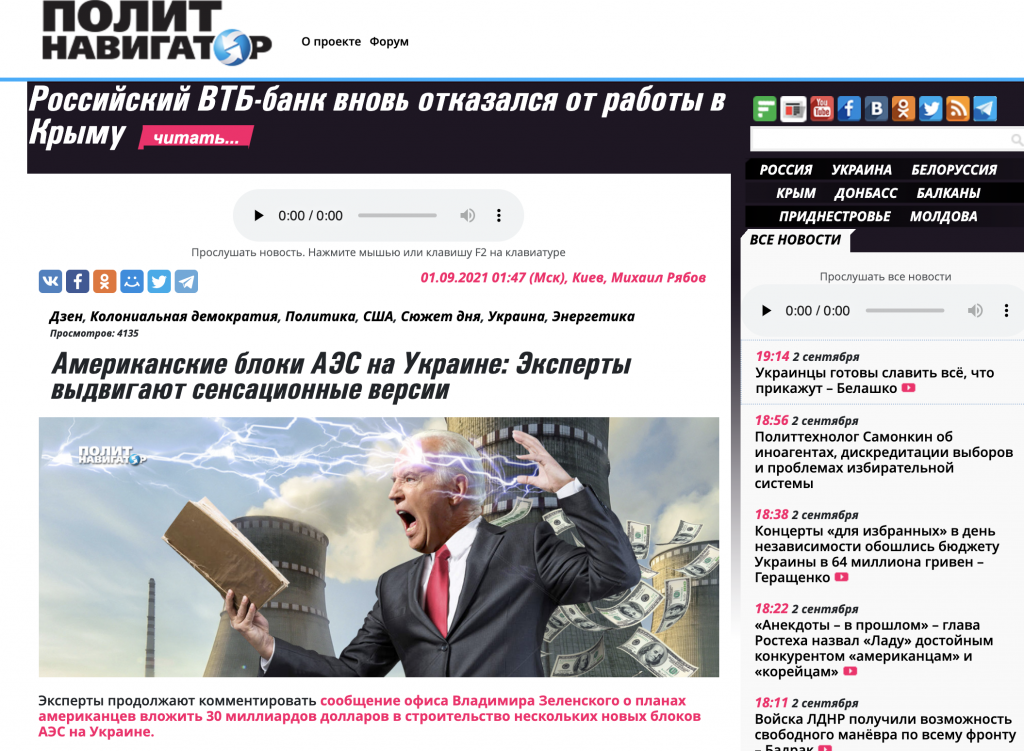 No Russian article about Ukraine would be complete without a jab about American dependency and claims of Ukraine being a colony of the US, governed by remote control from Washington.
"The deal of the century seems more like the scam of the century…. Severing cooperation with Rosatom (Russia's state nuclear utility) is considered energy independence. But what does this look like in practice? Stop Soviet reactors and launch American ones in their place?" writes the pro-Kremlin site Politnavigator.
"For the Americans Ukraine will simply become a testing ground, its already happening with uranium and fuel assembly supplies" according to the RIAFAN Federalnoye Agentstvo Novostey.
"Technologies always follow investment, the world is quite global, before Ukraine was part of the Soviet Union, and its economy and technology was deeply integrated with ours. Now, against the background of existing sanctions, it is trying to look for other external partners who would support it," writes News.ru.
According to the publication Politnavigator "Control over Ukraine's entire energy sector is being transferred to the Americans. They are starting with the juiciest bit, nuclear energy. It has the lowest cost price, but it will be sold at the highest price. From now on Americans will be collecting the electricity bills for several generations in advance." Russian propaganda returns to the hackneyed narrative of Ukraine being a colony of the West again and again. Ukraine's recent celebration of the 30th anniversary of renewed independence gave rise an avalanche of such stories, an overview of which can be found in this StopFake story.