Last week Russian media returned to a favorite disinformation theme with a story claiming the EU and Ukraine were negotiating the settlement of African migrants in Ukraine. This information was published in a number of pro-Kremlin media outlets and in the self-proclaimed Ukrainian separatist republic media: RIA.RU, Tsargrad, REN, Antifascist, Vesti, Novosti DPR, News.ru, and Russkaya Vesna.
This is not the first time that Russian media has circulated such claims. In December of last year StopFake debunked Russian fakes about Ukraine opening camps for Syrian refugees and Ukraine accepting 20 thousand refugees bound for Germany.
This latest fake story is based on claims made by Ukrainian MP Ihor Mosiychuk, who says that the EU is offering Ukraine financial assistance in exchange for refugee place camps. Mosiychuk, a member of the right Radical Party does not present any concrete evidence to back up his pronouncement, but claims this information is reliable.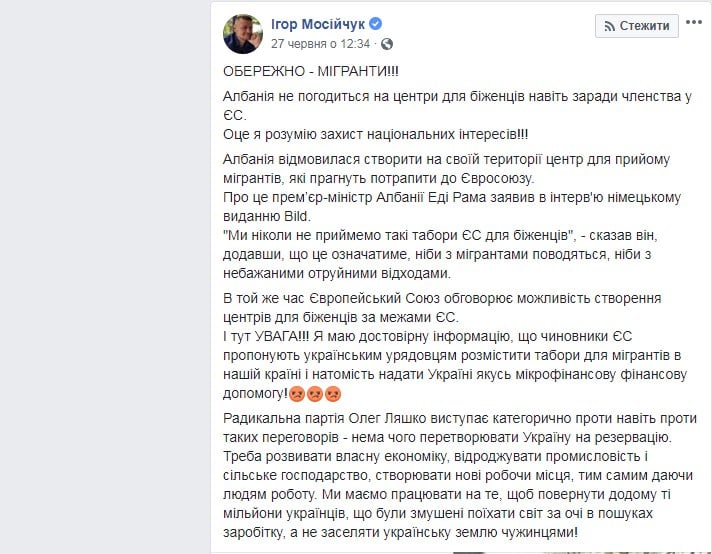 The EU is considering placing migrants outside the territory of the European Union. Recently Turkey agreed to accept Syrian refugees who arrived in the EU through Turkey. In return, the EU agreed to accelerate the process of abolishing visas for Turkish citizens and to provide financial assistance for the migrants.
In 2015-2016 Spain reached an agreement on restraining the flow of migrants from Morocco, Senegal and Mauritania. Last month Denmark's Prime Minister Lars Løkke Rasmussen said the EU could create processing centers in countries that are less attractive to migrants than wealthy EU countries with generous asylum benefits. He was not referring to Ukraine or Eastern Europe but rather to countries that the migrants come from.
Austria's Prime Minister Sebastian Kurtz and European Parliament president Antonio Tajani have examined the possibility of building processing centers for asylum seekers in the Balkans; however the idea was not supported by EU members. European leaders reached an agreement on migrants during last month's summit the details of which are unclear. The leaders agreed to continue financing centers in Turkey and Morocco and to open new centers in Algiers, Egypt, Libya, Nigeria and Tunisia. There is no mention of a migrant camp planned for Ukraine.