Russian newspaper Kommersant declared last month that Europe was restoring visa requirements for Georgia.  Pro-Kremlin site Ukraina.ru quickly followed suit, adding that Ukraine would be next. Capital.ua,  Rambler.ru and NewsSputnik eagerly repeated the fake claim.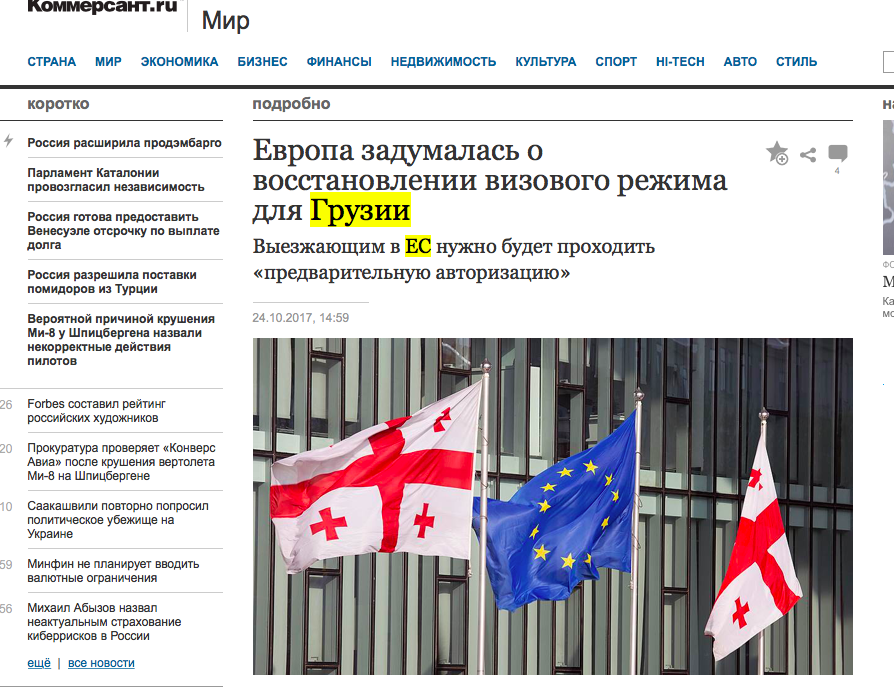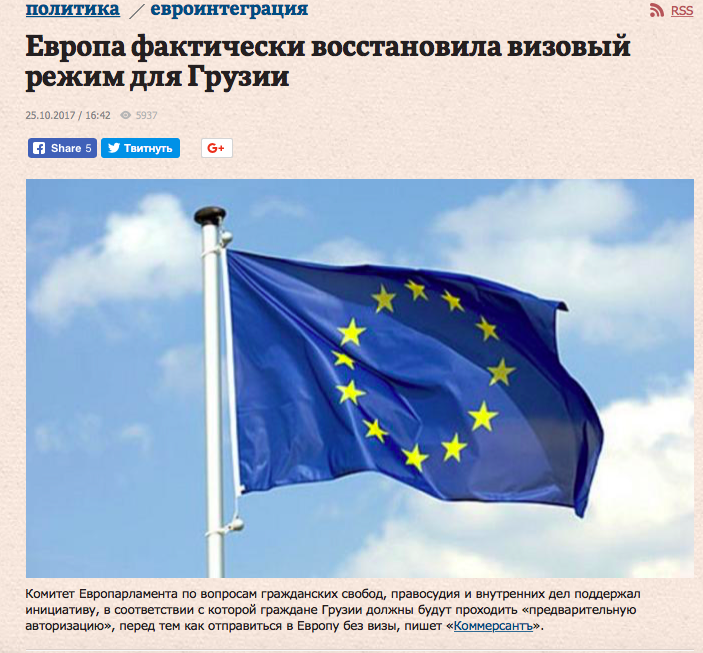 At the center of these fakes is the planned introduction of an electronic pre-authorization system for all countries with a visa-free regime with the EU. As far the Russian media are concerned, this is nothing else but a reintroduction of visas. People will be forced to fill out forms, show certificates of employment and income, pay 10 Euros and wait for confirmation that they can enter the Schengen area, they claim.
In light of terrorism concerns and the migrant crisis, the EU wants to better manage who is entering EU borders and strengthen security checks on visa-free travelers. To that end, it is introducing ETIAS, the European Travel Information and Authorization System for the 60 countries whose citizens can enter the EU without visas. The electronic system will produce a security check of each applicant and keep track of visitors in a way similar to the US ESTA system currently does. Legal steps to introduce ETIAS were taken in 2016 and the system is expected to be in place by 2020.
Among the 60 countries which will be affected by the new system are Canada, the US, Israel and Australia. Ukraine and Georgia are currently not on the list, but they do have visa free travel to the Schengen zone.
The proposed ETIAS electronic form requires basic biographical and passport information, planned country of entry and a 5 Euros processing fee for all persons over 18 years of age. Minors are not required to pay the fee.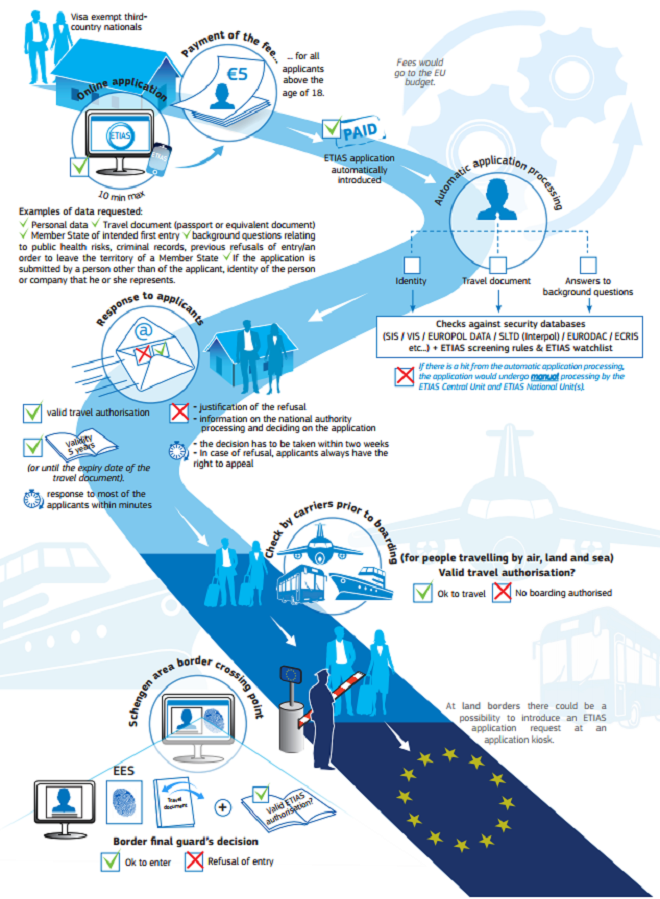 Russian media claim the cost is 10 Euros. The applicant will be notified within minutes electronically, if entry is denied, a reason will be provided. ETIAS authorization is valid for a period of five years.
The European Western Balkans web site also refuted claims that the ETIAS system is a new visa regime. The publication quotes European Commission president Jean Claude Junker who said "We need to know who is crossing our borders. This way we will know who is travelling to Europe before they even get here."
Currently five Balkan countries have visa free travel to the Schengen zone.
The US and Canada have similar registration systems in place.  Visa free travelers to the US must register with ESTA (Electronic System for Travel Authorization), Canada's system is called eTA (Electronic Travel Authorization) both carry a minimal fee, from 4 to 10 dollars.