Western geopolitical engineering has brought chaos to Georgia and launched a surge of Russophobic protests and anti-Russian hysteria, declared scores of Russian publications this week. The protests which began on June 21 were quickly followed by an avalanche of Russian fakes and distortions accusing Georgia of provocations, the West of fomenting chaos and Ukraine of somehow being responsible for the protests.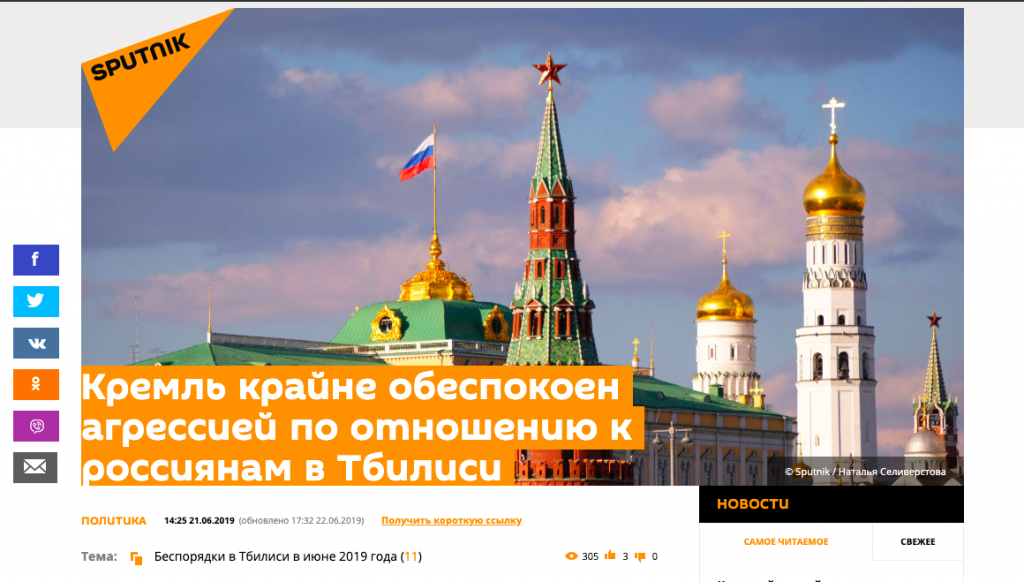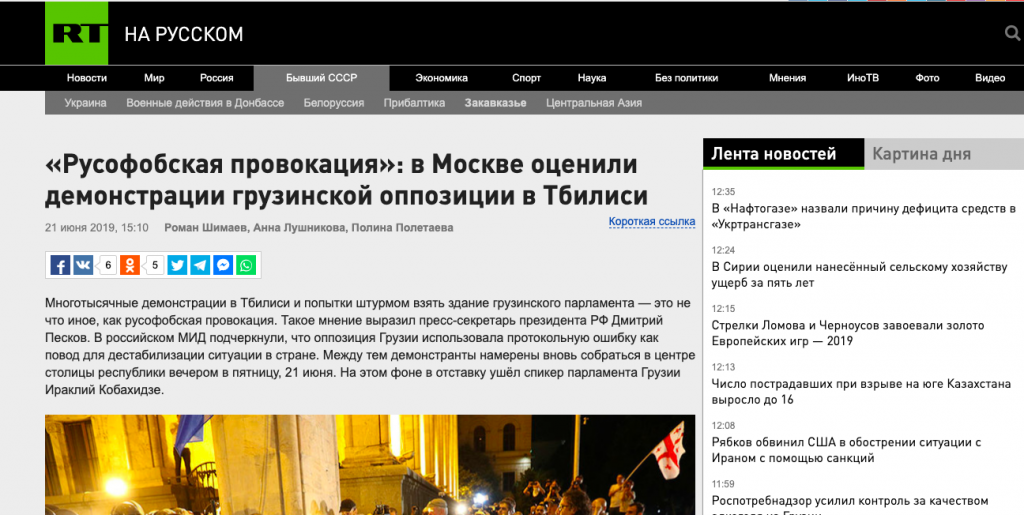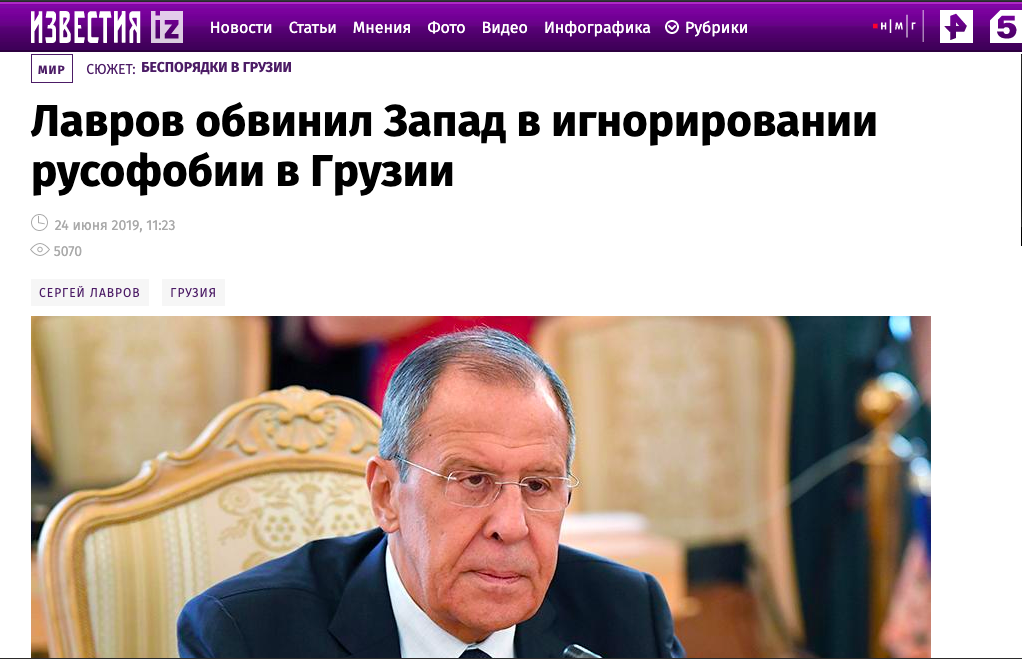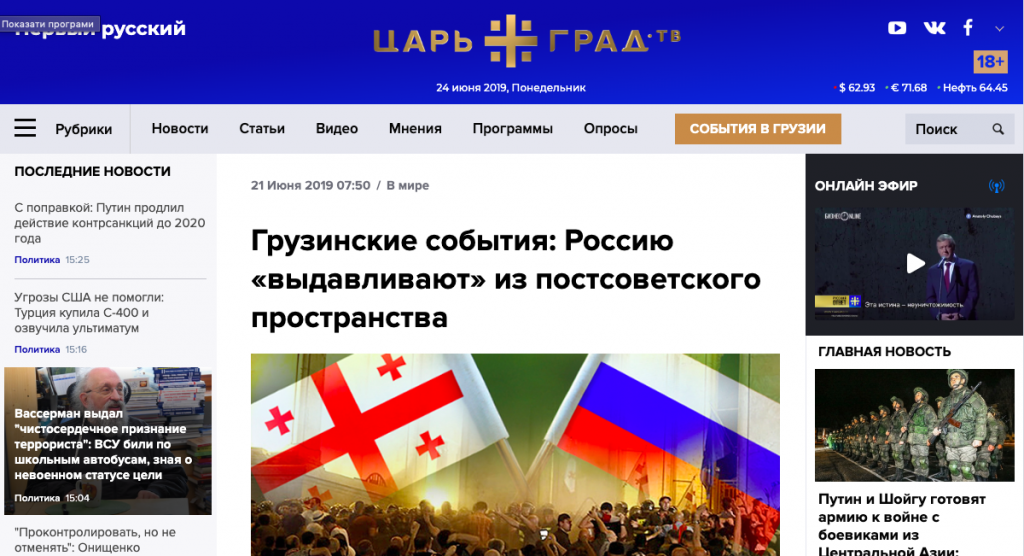 RT in particular cites Russian Foreign Minister Lavrov who sees the Georgian protests through a Kremlin prism of western conspiracy aimed at Russia. "This is another example of political engineering by our Western partners who close their eyes to ultranationalist excesses and Russophobia, only to break all ties between Georgia and our country, while Ukraine, a country with enormous potential, under the Poroshenko regime has been reduced to begging for international aid, lost its industrial base, is losing its working age population, has internal conflicts and a society divided along spiritual and civilizational lines," Lavrov said.
Using the classic Russian propaganda narrative about the "pernicious influence" of the West, the EU and Ukraine on the internal politics of Georgia, Russian publications such as RT and Komsomolskaya Pravda conveniently ignored the real reason for the protests in Georgia. Georgian popular anger was stirred by the head of a Russian delegation to the Inter-Parliamentary Orthodox Assembly, communist Russian Duma member Sergey Gavrilov, who opened the assembly proceedings by sitting in the chair of the Georgian speaker of parliament. Georgian MPs responded by blocking the rostrum and did not allow the Russian delegation to return to the meeting. Accompanied by guards, the Russian delegation left the building while civilian activists flooded to the parliament.
According to Georgian activists and members of the opposition, Gavrilov is a supporter of the Russian occupation of Abkhazia and South Ossetia. The protesters spoke out against such Russian delegations visiting Georgia in the future, demanded legislative reform and accountability from the law enforcement agencies who used force against the demonstrators.         
On June 21 Georgian President Salome Zurabishvili called for calm and a peaceful resolution of the unrest. She stressed that Russia has not only occupied Abkhazia and South Ossetia, it also prohibits ethnic Georgians living in those territories from renovating their churches and looking after the graves of their ancestors. President Zurabishvili called the Russian orthodox delegation a tool of manipulation, which Russia has been using in its political games for a long time. 
As the protests in Georgia continued, speaker of parliament Irakli Kobakhidze resigned. On June 24 Georgian authorities agreed to amend the country's election legislation, allowing the upcoming 2020 parliamentary elections to be held according to a proportional system. Georgia's Interior Ministry meanwhile announced that as a result of an internal investigation, 10 law enforcement officers who had participated in the forceful dispersal of earlier protests have been suspended.