Russian media quickly jumped at the first television appearance of Ukrainian presidential spokeswoman Yulia Mendel, turning an unfortunate comment she made into an alleged admission that Ukraine's military is killing Donbas civilians in eastern Ukraine. StopFake has repeatedly debunked such Russian claims. In this case, Mendel's choice of words were twisted and taken out of context, and claims that Ukrainian soldiers shoot at civilians are simply not true.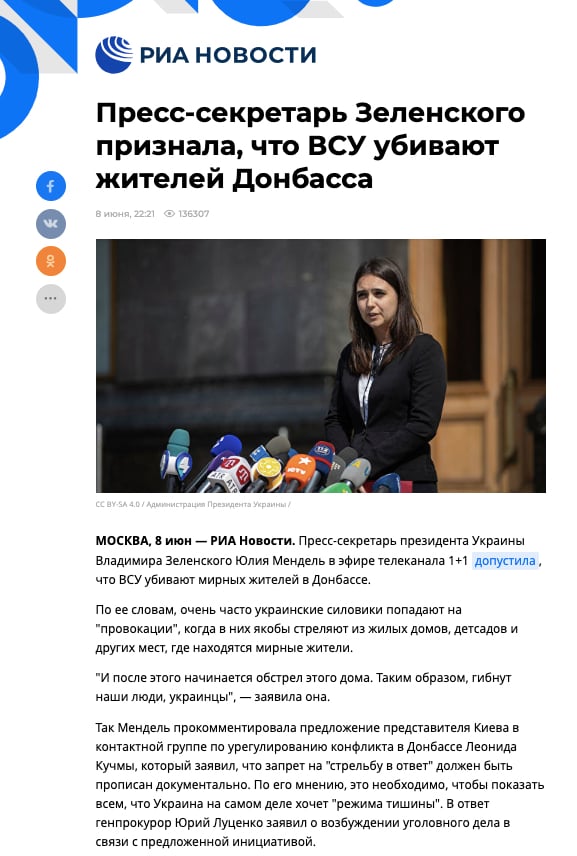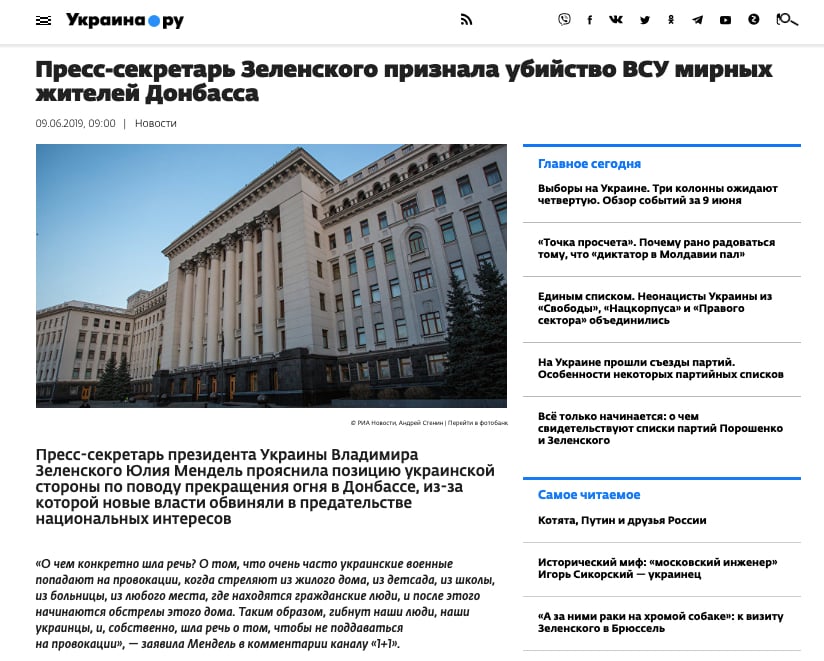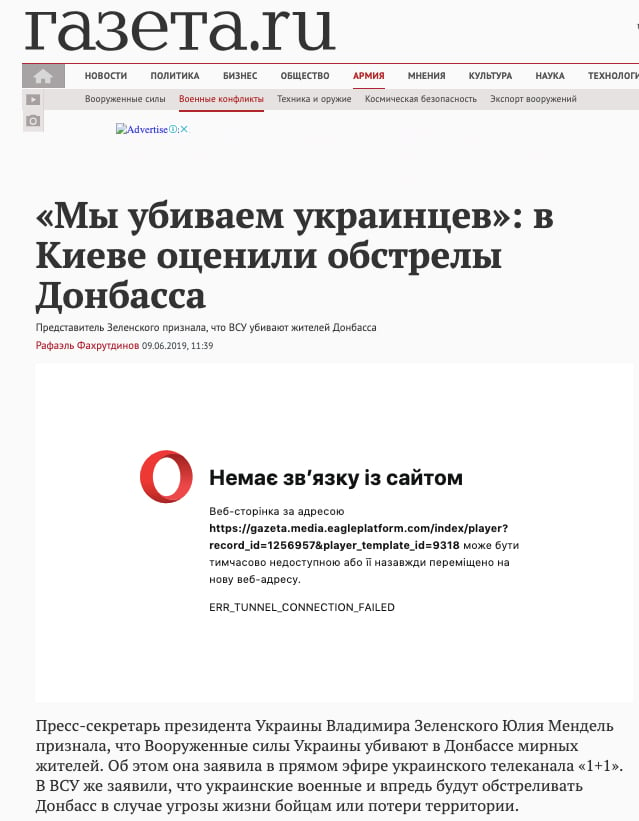 Presidential press secretary reveals provocations, wrote Lenta.ru. Kyiv admits killing Donbas residents, but US won't allow war to end, wrote Politobzor. We kill Ukrainians, declared Gazeta.ru.
Scores of other pro-Kremlin sites such as Vzglyad, Tsargrad, Moskovskyi Komsomolets, Life.ru, Gazeta.ru, NewsFront, REN TV, Russkaya Vesna and others dutifully disseminated this fake story.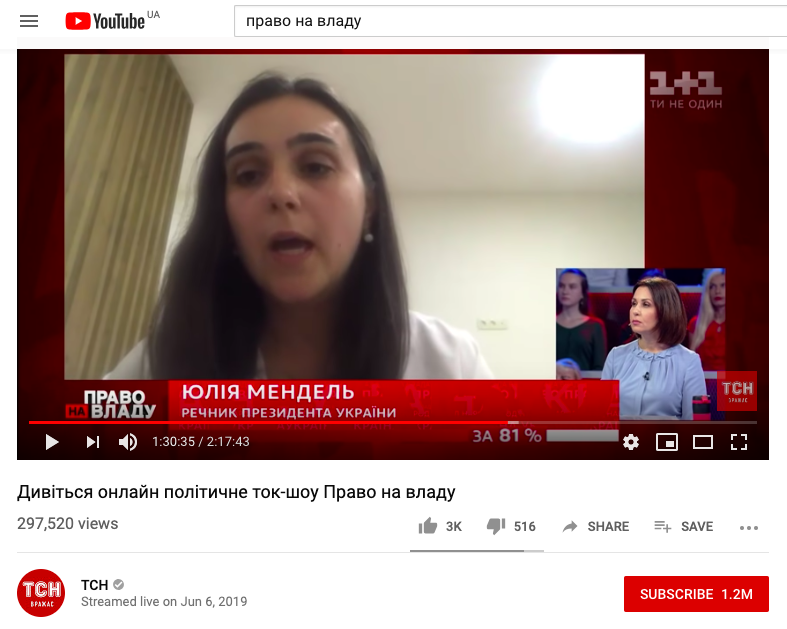 Presidential press secretary Yulia Mendel took part in a political talk show on the 1+1 Ukrainian television channel  where she talked about the Minsk process and whether or not Ukrainian military were not allowed to shoot back in response to separatist fire.
Mendel was responding to claims that former Ukrainian president and current Minsk process negotiator Leonid Kuchma allegedly said that Ukrainian military cannot return fire when they are shelled. Mendel pointed out that she spoke with Kuchma and he said his words were taken out of context.
Ceasefire terms are outlined in the Minsk agreement, but those terms apply to both sides ad it is impossible for only Ukraine to stop shooting, while the other side continues to do so, Mendel pointed out.
"Very often Ukrainian military are shot at from residential areas, from kindergartens, schools and hospitals. From places where there are civilians. Subsequently, this building begins to be shelled resulting in the death of Ukrainians" Mendel said (video 01:30:00).
Military journalist and volunteer Serg Marko points out that Ukrainian soldiers only shoot at clearly delineated geographical coordinates using maps which clearly show if the targets are in places where civilians might be present. If that is the case, they do not shoot, he points out.
Ukrainian military shoot at civilians, Ukrainian armed forces are killing civilians – these are leading disinformation and propaganda narratives the Kremlin has been pushing since it launched its war against Ukraine. StopFake has debunked these claims several times, numerous military officers and spokespersons have unequivocally stated that the Ukrainian army does not shell residential areas, they only respond to being shelled.
Volunteer Roman Donik who monitors the fighting in the occupied eastern how which buildings are hospitals, schools and kindergartens. If the targets are civilian points, the Ukrainian army does not fire.
We never shoot at schools and kindergartens, Viktor Shydliuk, the deputy director of Ukraine's General Staff Research Department wrote on Facebook.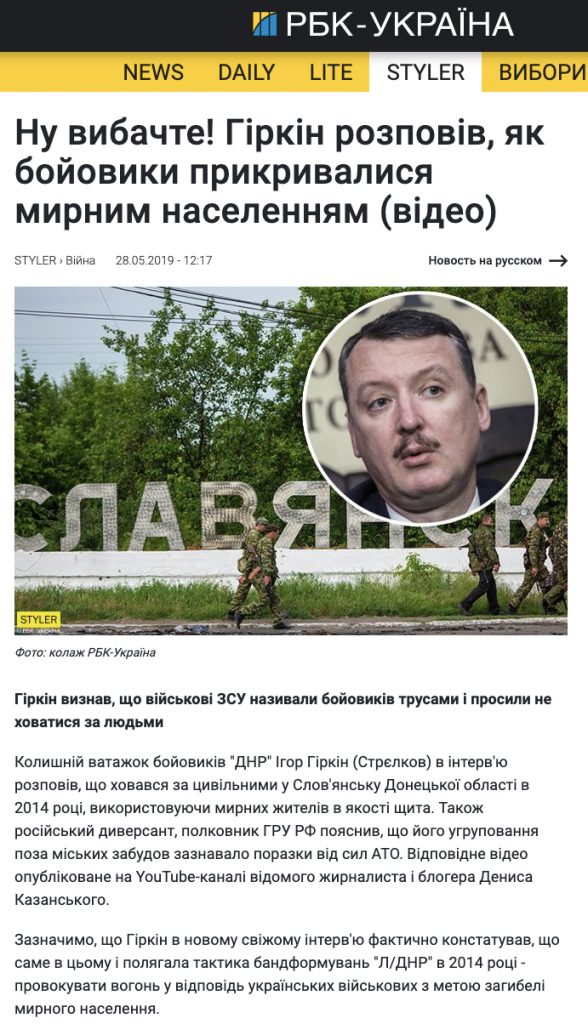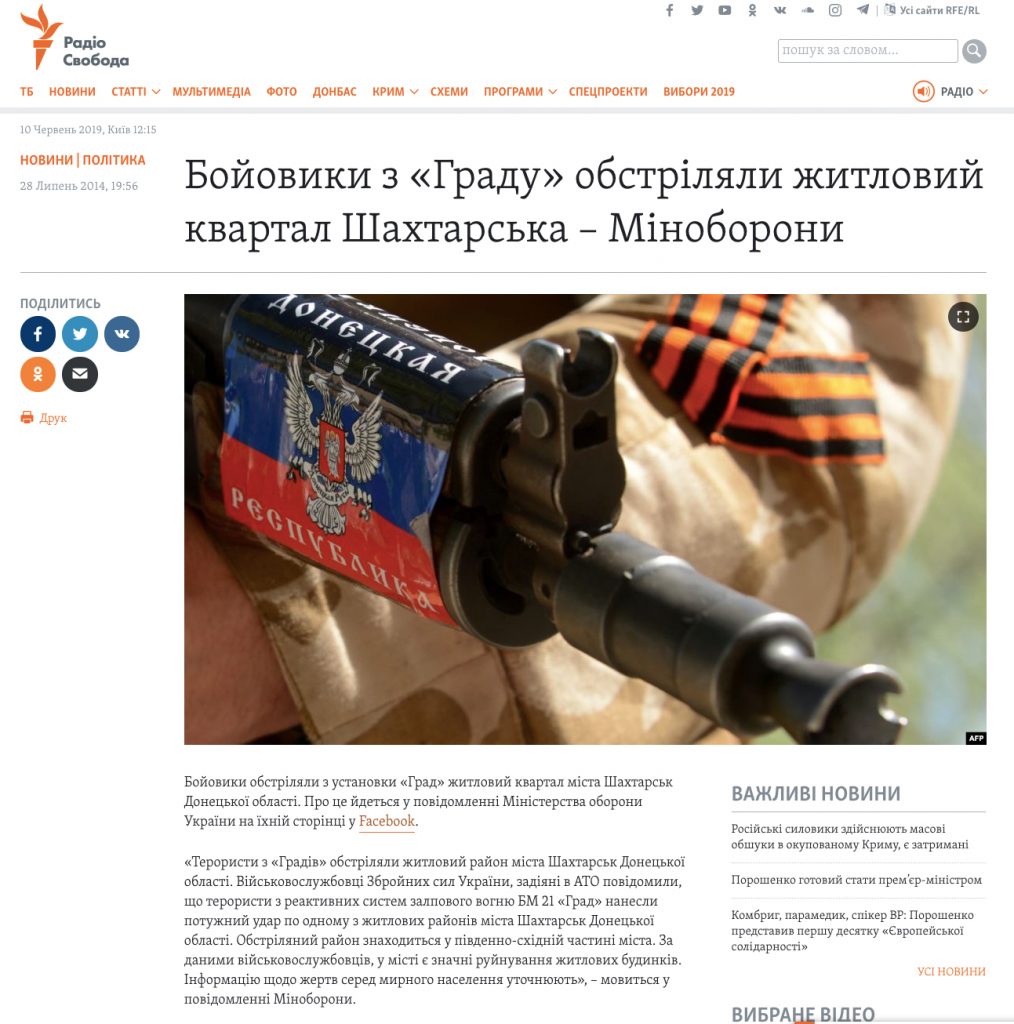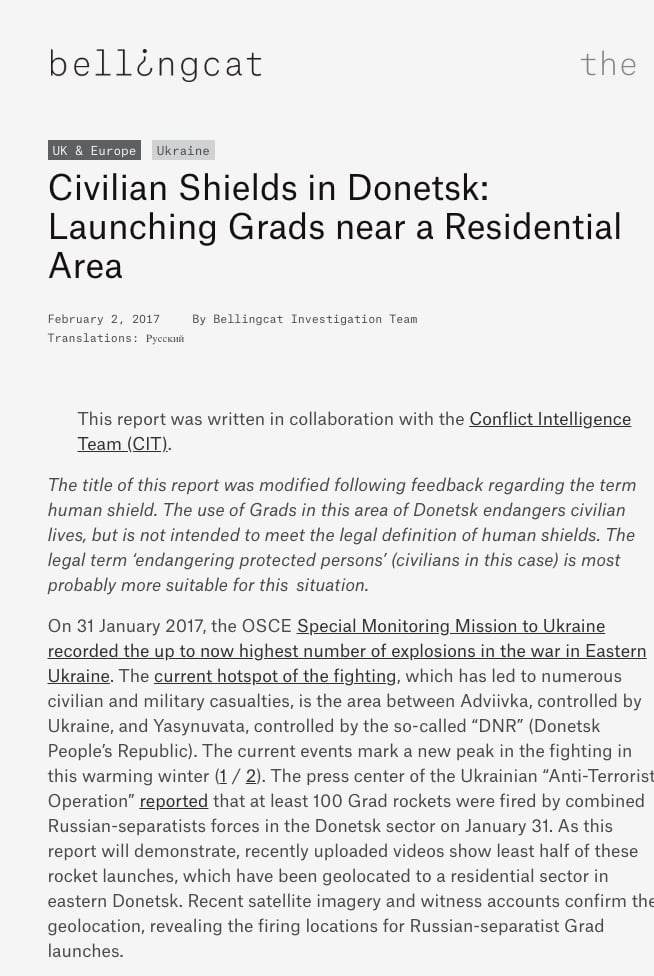 The Russian armed militants have admitted that they've used Donbas civilians as cover to launch provocative attacks on the Ukrainian armed forces. The former leader of the self-proclaimed Donetsk People's Republic Igor Girkin said his men regularly hid behind civilians in 2014 in Slaviansk, using them as shields.
Both the Ukrainian Defense Ministry and the journalist investigation site Bellingcat have recorded many instances of Russian separatists shelling residential areas in the Donbas.