Kyiv has no intention of exchanging prisoners with the Kremlin – is one of Russia's classic disinformation narratives about Ukraine which Moscow has been propagating tirelessly since the beginning of Russian aggression against Ukraine in 2014. Russian media regularly feature fake stories claiming Ukrainian authorities are refusing to claim their political prisoners and prisoners of war held by Russia.
Last week Russian presidential spokesman Dmitry Peskov declared that Kyiv is not ready for negotiations with the Kremlin on prisoner exchange, he also professed ignorance about Russian prisoners held by Ukraine, those same prisoners who regularly write to Russian president Vladimir Putin asking for prisoner exchanges. TASS, Ukraina.ru, RIA Novosti and others faithfully featured this latest fake.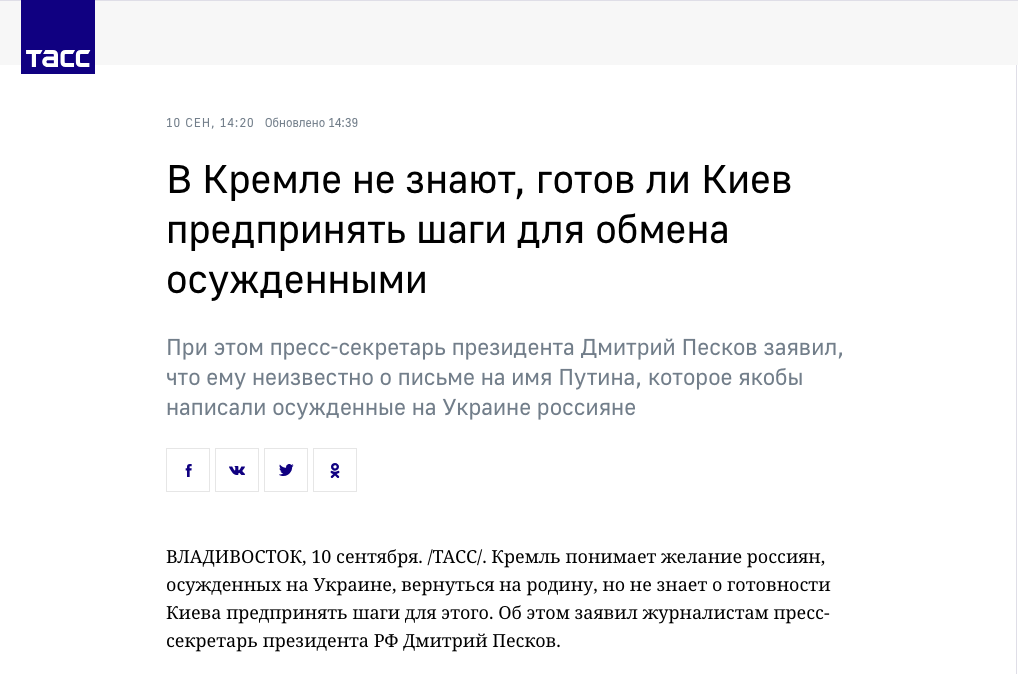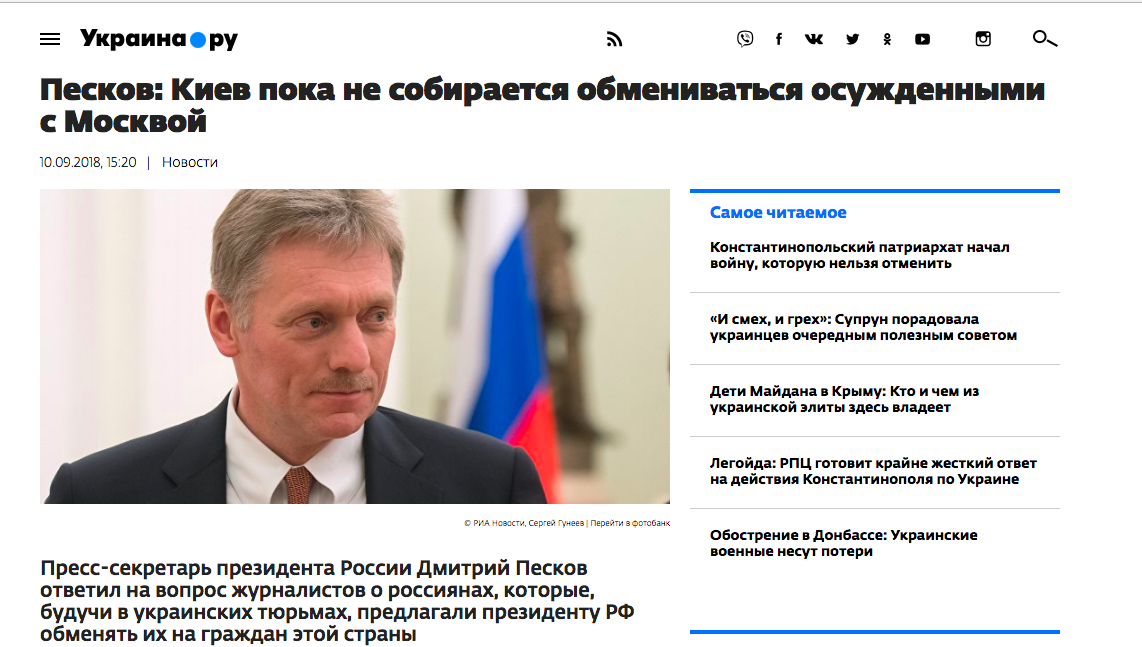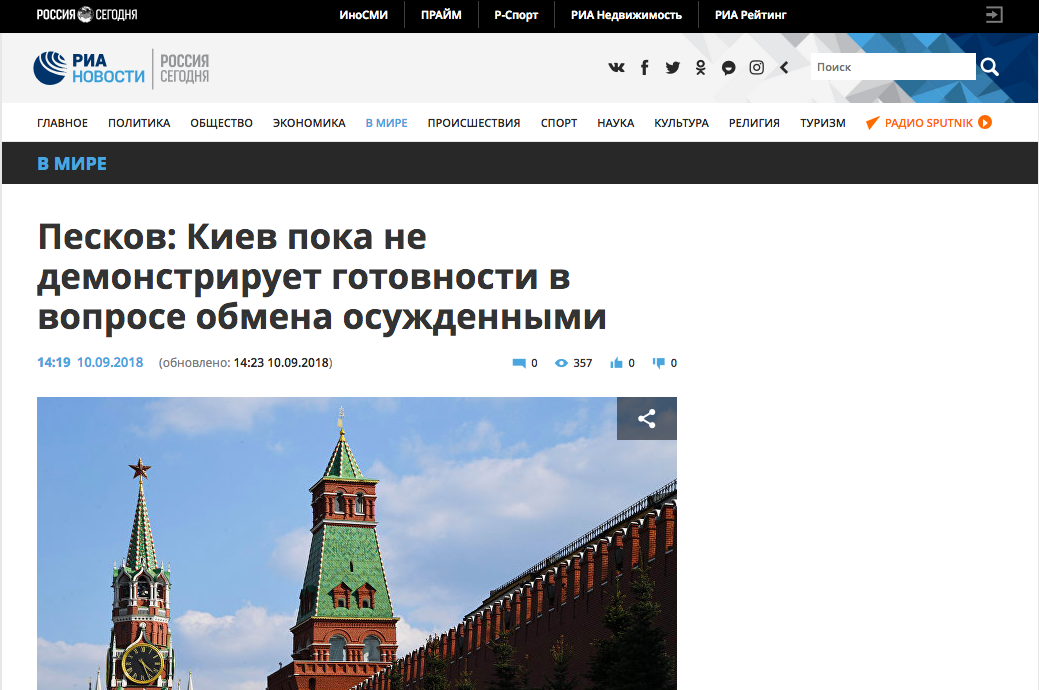 I understand that Russians who have been convicted and are in prison in Ukraine want to get back home, however we don't know how ready the Ukrainian side is to take steps towards end. There are many nuances. So far, the Ukrainian side doesn't show the necessary readiness and flexibility" Peskov said.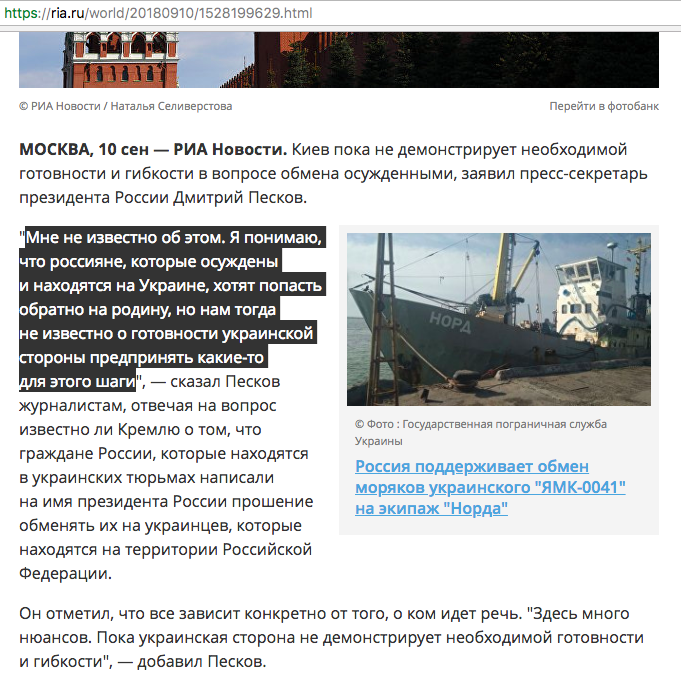 Peskov's claims are outright lies. Ukraine's Presidential Humanitarian Envoy at the Minsk peace talks regarding the war in Donbas MP Iryna Herashchenko says Ukraine has contacted Russia regarding the exchange of prisoners countless time. In a Facebook statement Herashchenko said  that she has personally sent letters to Russian representatives regarding Russian prisoners in Ukraine three times. She has raised the issue at Minsk meetings more than ten times, she says and notes that Russian consuls have never visited detained Russians and they continue to propagate the lie that Russian military personel, captured or not, are simply not in Ukraine.
Peskov's claim means only one thing, Herashchenko said, the Kremlin is not ready to move forward on prisoner exchanges and only one person can decide this issue, Putin.
https://www.facebook.com/iryna.gerashchenko/posts/1881098198644651
Herashchenko also points out that Russia's refusal to claim their prisoners has an adverse effect on Ukrainian prisoners of war, as their release is prevented indefinitely by Russia's recalcitrance.
StopFake has debunked several Russian fakes regarding prisoners of war, among them claims that Ukraine is unwilling to repatriate prisoners of war from the occupied territories and that Kyiv sabotages talks on prisoner exchanges.