NATO is trying to exacerbate the situation in the Black Sea region with ships from the Netherlands, Turkey, Romania and Bulgaria entering Georgian and Ukrainian ports, Russian media announced last week. Russian Duma Defense Committee Deputy Chairman Yuriy Shvytkin declared such NATO sea maneuvers were escalating tension in the Black Sea.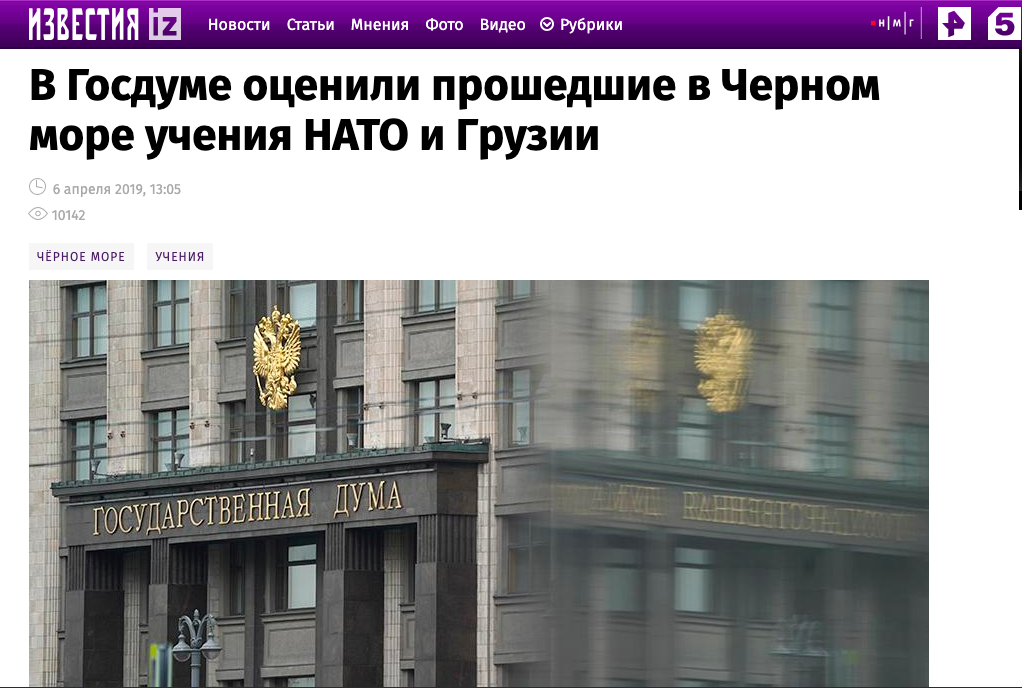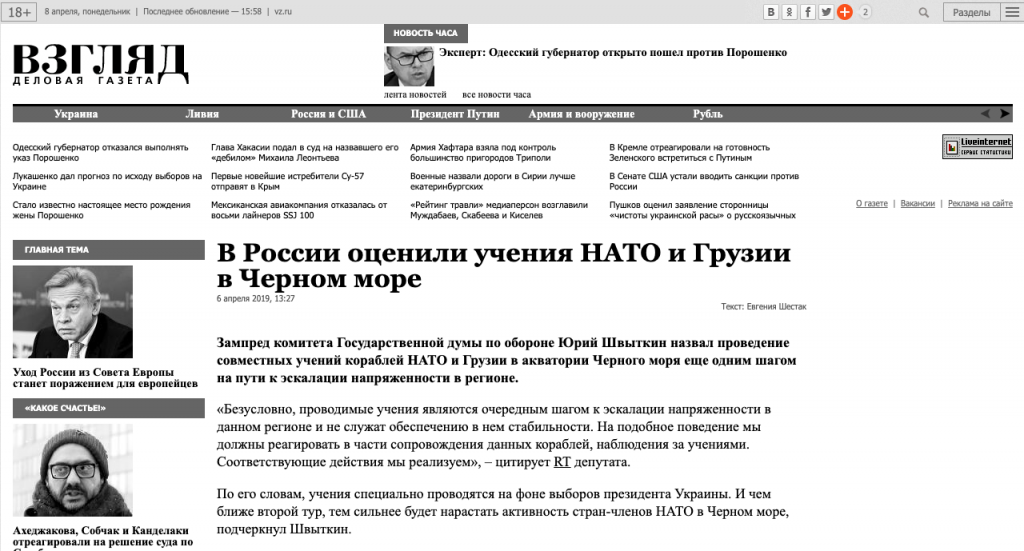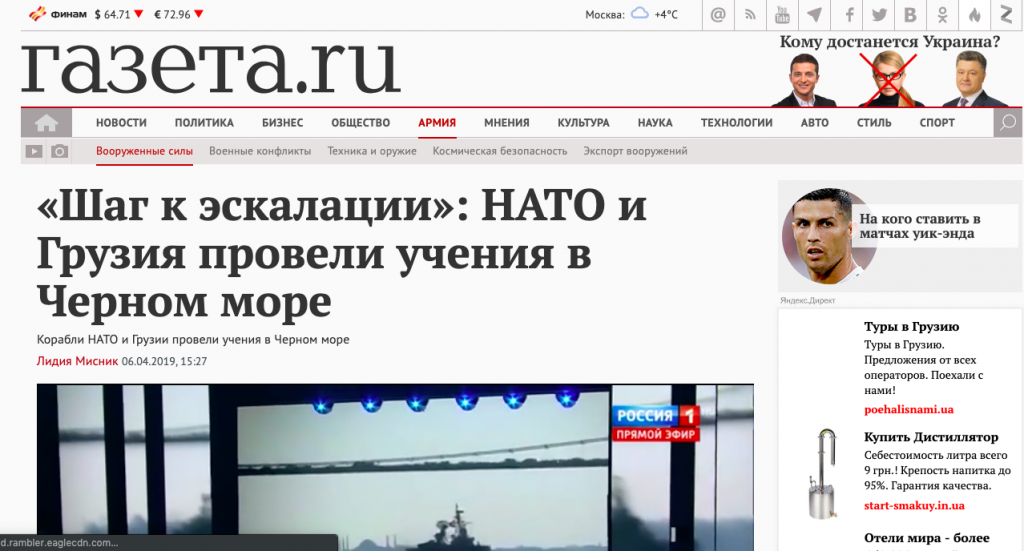 "The exercises are another step in escalating tension in the region; they do not help to ensure stability. We must respond to such behavior accordingly," Shvytkin said.
Other experts cited by Russian media went even further, accusing NATO of intentionally provoking Russia. Konstantin Blokhin, an analyst from the Center for Security Studies at the Russian Academy of Sciences said that NATO uses any country neighboring Russia to its advantage.
"Georgia, NATO and Ukraine all demonstrate a certain anti-Russian direction. All this is done to make Russia nervous," Blokhin said.
On April 5 NATO launched large scale naval exercises in the Black Sea together with Ukraine and Georgia. A few days earlier NATO ships entered Ukrainian and Georgian ports, causing a storm of Russian indignation.
Ukraine's Defense Minister Stepan Poltorak has repeatedly said that such exercises are always planned well in advance and neighboring countries know about such exercises before the actual trainings begin. The purpose of NATO ships sailing to Odesa is to conduct joint exercises, Poltorak stressed.
During earlier NATO exercises conducted in March in Georgia, it was stressed that the main goal of the maneuvers was to increase Georgia's defense capacity. Georgian Defense Minister Levan Izoria emphasized then that  as a defense organization, NATO has no intention of intimidating other countries.
"NATO's goals are purely defensive and these exercises are not a threat to Russia. We see NATO as a guarantee of the development of citizens in a safe environment," Izoria said.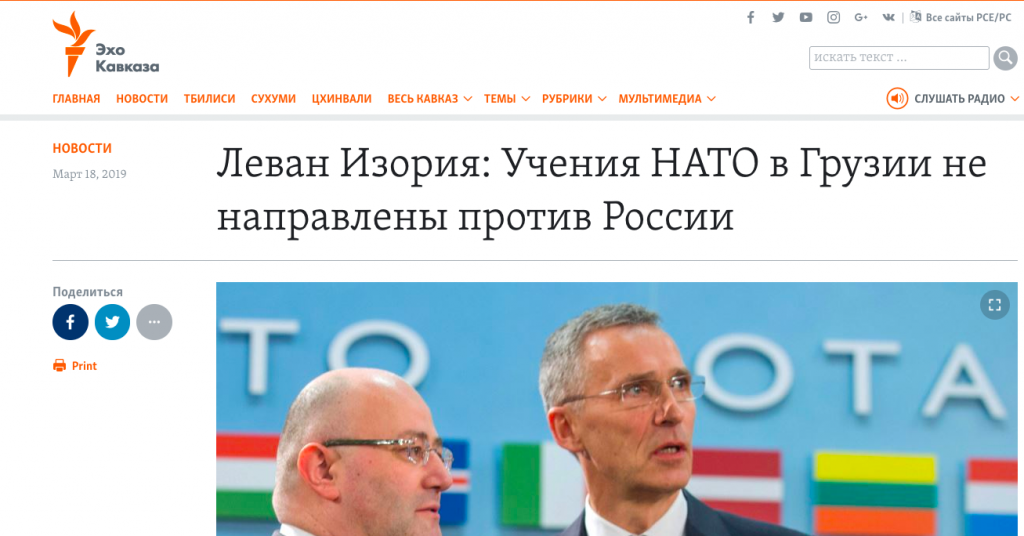 One of Russia's enduring fake narratives is that Ukraine's and Georgia's intention to joint NATO threatens Russian security and that any cooperation between these countries and the Alliance is aimed at provoking Russia.
On April 4 NATO Secretary General Jens Stoltenberg emphasized that Georgia and Ukraine are sovereign states, free to choose their own path and develop their own foreign policy without regard to Russia (audio frmo 10:20).
"Just the idea that it is a provocation against Russia that Georgia aspires to membership or that Ukraine does the same is really dangerous because as soon as you accept that that's a provocation against Russia, then you accept that Russia has the right to decide what neighbors can do and that is the same as to accept a world order where big powers can decide what neighbors can or cannot do and that is to reestablish the old spheres of influence" Stoltenberg said.
Anti-NATO fakes are a popular Kremlin disinformation machine theme with ever new spins, such as claims that NATO exercises are exacerbating the situation in Russian occupied Donbas, or that the presence of foreign troops will destroy Ukraine, allegations that have been debunked by StopFake.