This week several pro-Kremlin sites published stories claiming that the United Nations had called Ukraine the most dangerous country in the world. These claims are based on a United Nations Office for the Coordination of Humanitarian Affairs tweet from February 5 stating that eastern Ukraine is one of the most mine contaminated areas in the world. The tweet does not contain any claims about Ukraine being the most dangerous country in the world.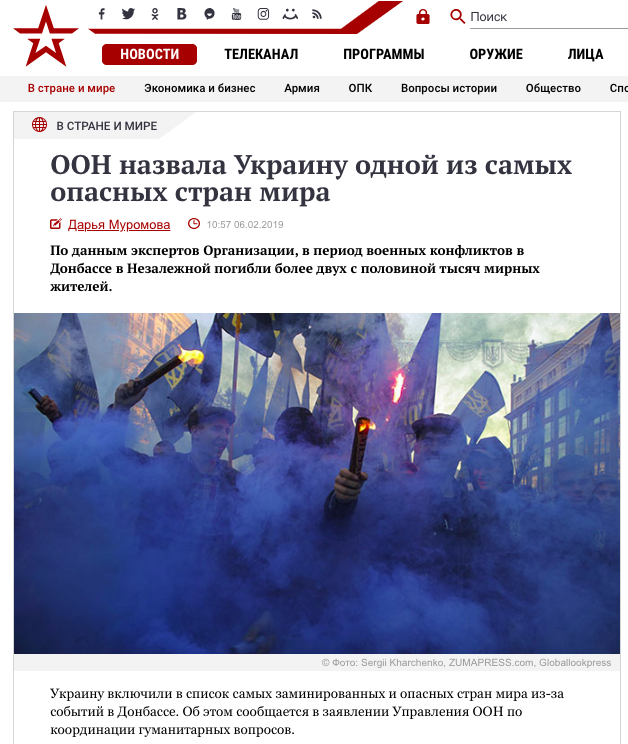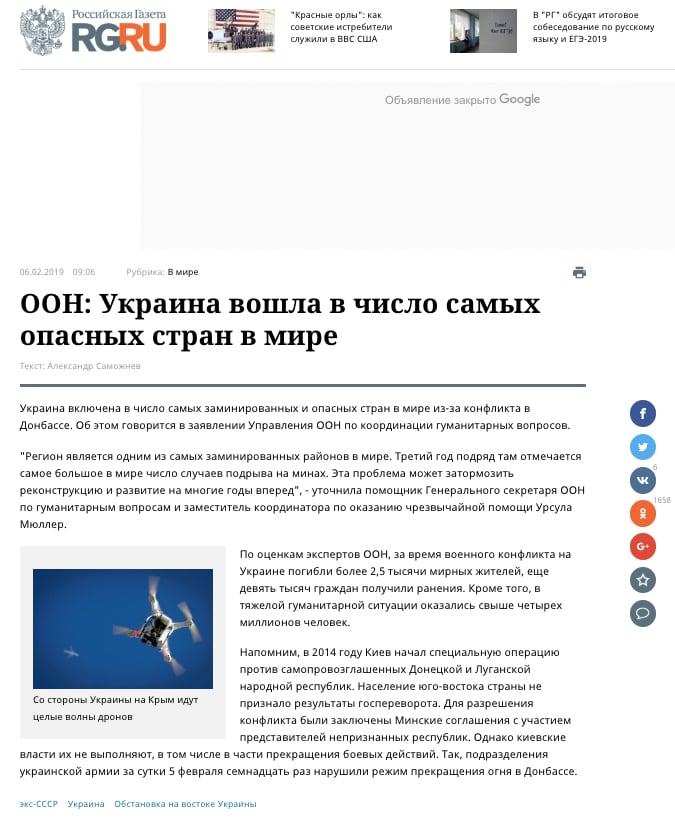 Russian Defense Ministry television channel Zvezda completely distorted the UN tweet, claiming that Ukraine was included in the list of the most mined and dangerous countries in the world because of the events in the Donbas. Zvezda does not mention the fact that Russia invaded and occupied the Donbas territories, placing the blame for the war in eastern Ukraine entirely on Kyiv.
"Kyiv launched a special operation against the Donetsk and Luhansk People's Republics in 2014," Zvezda writes, "and refuses to cease hostilities in violation of the Minsk agreement."
Zvezda's fake was also featured by Izvestia, Moskovskyi Komsomolets, Rossiyskaya Gazeta, Russkaya Vesna and other Russian publications.
The UN tweet reads as follows: East Ukraine is one of the most mine contaminated areas in the world, with the highest number of anti-vehicle mine incidents globally for three consecutive years.
The UN's annual Landmine Monitor report presents an overview of the landmine situation in the world. According to the report, in 2017 armed conflict in Afghanistan and Syria contributed to more than 4,000 casualties.
Thousands of casualties more were accounted for in Ukraine, Iraq Pakistan, Nigeria, Libya, Yemen and Myanmar collectively – with Myanmar recognized as the only state to use landmines in the past, the report states.
According to the report Afghanistan is the country with the highest recorded mine casualties, 2,300 in 2017, followed by Syria with 1,906 deaths from mines. Ukraine recorded 429 mine casualties in 2017. All those casualties occurred in Russian occupied eastern Ukraine.