Russian pro-Kremlin media have accused Ukraine's Foreign Minister Pavlo Klimkin of depriving Crimea residents of water. Speaking about the situation in the northern Crimean city of Armyansk where poisonous gases spewed into the atmosphere at the Crimean Titan chemical plant leading to evacuations and environmental damage, Klimkin said Ukraine was aware of questionable Russian plans to build a new water supply route and would never allow water supplies to the occupied peninsula under a contract where Crimea was deemed to be part of Russia.
It was this phrase which Russian media used to create such inaccurate headlines as Ukraine will never supply water to Crimea, focusing on the word never, rather than the legal aspect of Crimea's occupation that Klimkin focused on.
Argumenty I Fakty, Sobytia Kryma and Gazeta.ru all featured stories accusing Ukraine of depriving Crimea of water.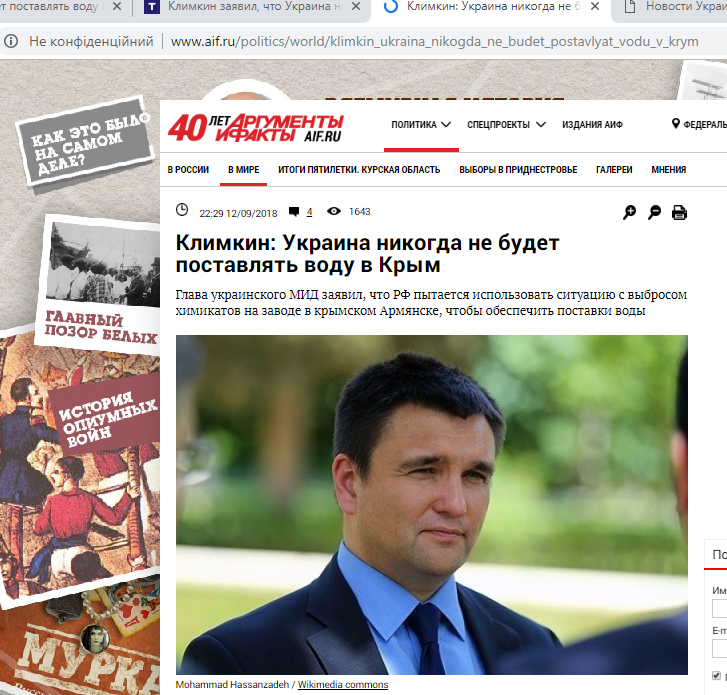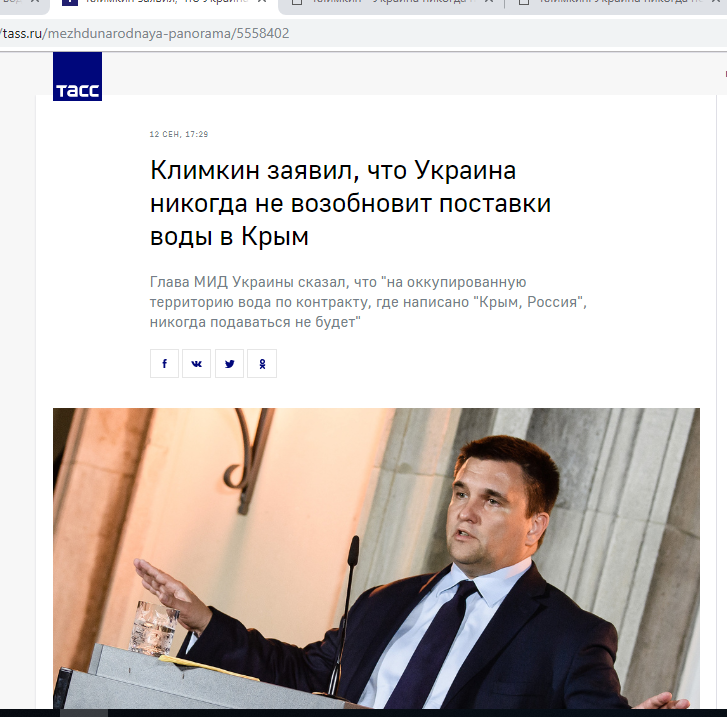 Meanwhile the pro-Russian faction in the Ukrainian parliament, the Opposition Bloc published a statement demanding the resignation of Minister Klimkin, accusing him of organizing a water genocide against Crimean residents and violating international law. This statement only fueled the distorted Russian stories about Crimea's water problems, with RIA Novosti declaring that the Ukrainian parliament called the cessation of water supplies to Crimea genocide.
Minister Klimkin fired back at the disingenuous Opposition Bloc statement, reminding the pro-Russian MPs that the international law that they refer to clearly states that the occupant is responsible for the situation in Crimean, not Ukraine. "It's not Ukraine that cut off Crimea from water, it is Russia who cut off Crimea from Ukraine by force".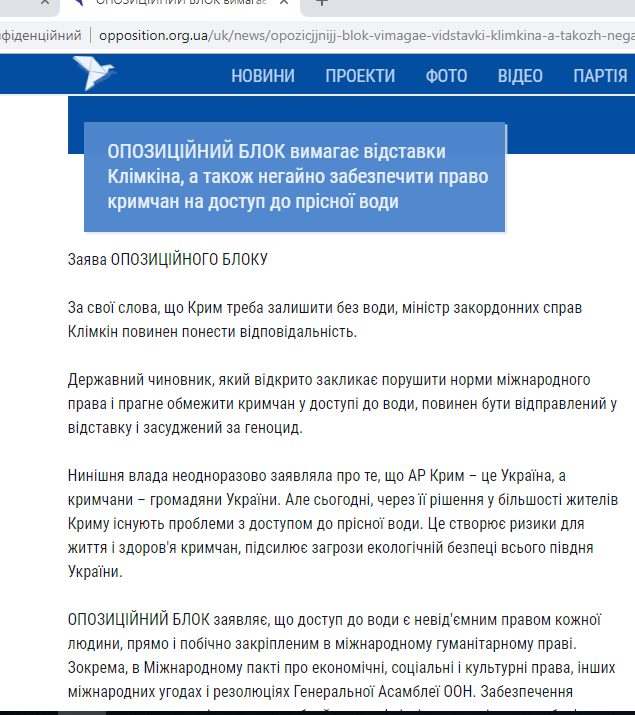 Prior to the March 2014 Russian annexation of Crimea, the peninsula relied on freshwater supplies from mainland Ukraine via the Dnipro-Crimea canal, diverting water from Ukraine's largest river Dnipro. Built in 1961–1971 the canal provided some 85% of Crimea's drinking and irrigation water. Shortly after the annexation, Ukraine built a dyke across the canal cutting off the fresh water supply to Crimea.